Are Perms Bad For Your Hair?
Understand the right way to go about this chemical hair treatment for the best results.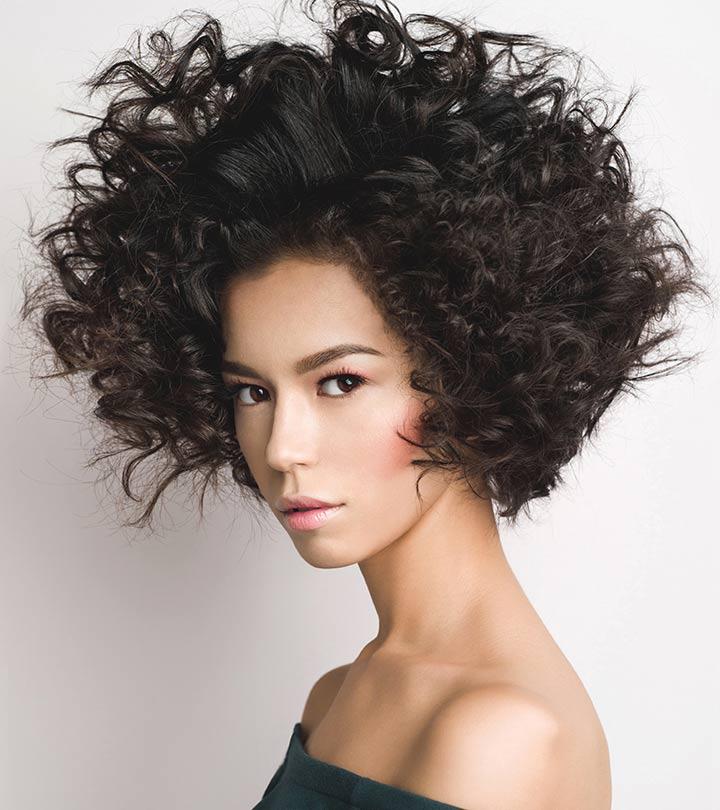 If you plan to perm your hair, go through this article first. Here, we will look into all the details about the topic and know if perms are bad for your hair. Perming gives a curly and wavy texture to your hair. A hairstylist will wrap your hair in rods before putting perm lotion to set the curl. Different types of chemicals are used in this procedure. In this article, we look at the effects of perms on different hair types and more. So, what are you waiting for? Scroll down!
What Is A Perm?
Perming is a technique that alters your hair appearance. Perming usually refers to adding curly or wavy texture to your hair (1). However, modern perm techniques offer different curl patterns (including straight hair) to choose from. A professional hairstylist wraps fabric or sponge rods around your hair. The stylist then applies a solution to alter your hair structure. Another chemical solution is applied to the hair to set the curls. This is a simple process, but is it safe?


Fun Fact
Karl Nessler, a Swiss hairdresser, invented the perming device and the procedure in 1906. He performed it on his wife, who ended up with a head of burnt hair.
Are Perms Safe?
Perming exposes your hair to alcohol, boric acid, hydrogen peroxide, and ammonium thioglycolate (2). These chemicals open up the hair cuticles to make the hair-restructuring process easy and semi-permanent. This, in turn, can make your hair weak and affect hair health (3). However, perming is not as damaging to hair as bleaching.
Also, perming can be safer and less damaging if done by a professional keeping your hair type in mind. We will now see how perming affects different hair types.
Effects Of Perming On Different Hair Types
Colored Hair: Perming colored hair means double exposure to chemical treatments. It would be especially damaging if you have bleached hair. It is recommended you wait for at least a month before perming your colored hair. Your hair, otherwise, may look frizzy, dry, and undefined.
Highlighted Hair: Highlighted hair is always bleached to give your mane that extra dimension and lift. You also probably need to visit the salon more often to maintain the highlights. This would only expose your hair to more chemicals. Perming highlighted hair can cause further damage and make it dry, dull, and frizzy hair.
Dry Hair: Dry/damaged hair must first undergo rebonding treatments. You also can use coconut oil regularly to revive your hair. Perming dry hair will also cause further damage and even lead to hair fall.
Short Layered Hair: Those who have short hair with too many layers must talk to their stylist before perming their hair. Yes, curls look great on short hair; but short layered hair, when permed, may not suit all face shapes.
Virgin Hair: Perming virgin hair (hair that is not colored or processed) would cause the least damage. However, there still would be some damage. Hence, you must take good care of your hair after perming it. How? Find more about it in the next section.

Quick Tip
In the 1970s, acid perms were invented. They were gentler, convenient, and a more efficient chemical process to perm hair. Around that time, perming became a trend.
How To Take Care Of Your Hair Post Perm?
Use a color-protectant shampoo and conditioner. These are better equipped to deal with frizzy, dry, and damaged hair. You can also buy products your stylist recommends. Though potentially expensive, they would be worth the money if you want to keep your hair protected and healthy.
Use argan oil. It is light and will not weigh your curls down. The oil also provides your hair with the required nutrition and it helps protect your hair from oxidative damage (4).
Use a heat protectant. You may want to style your hair or use a blowdryer. Ensure you also use a thermal protectant to protect your hair from the heat (5). Also, do not use heating tools above 300o Fahrenheit.
Use products for curly hair. Using products that women with naturally curly hair use can add definition to your curls. These products will keep your hair hydrated, protected, bouncy, and shiny.
Use a wide-toothed comb. Curls get tangled easily. Use your fingers or a wide-toothed comb to separate the hair strands gently.
Should You Perm Your Hair?
The golden question – should you perm your hair? Well, is your hair bleached? Is it colored? Or is it dry and damaged? Talk to your hairstylist and take the call. If your hair is bleached or processed, wait it out. Also, you should be extra careful if you are pregnant. The chemicals can be harmful. Talk to a dermatologist before you perm your hair during pregnancy or while breastfeeding.
Perming the hair is a great way to create texture and add volume to your hair. This is a chemical procedure and allows you to select any curl style. The new curls can last for months if you take proper care of them. But proceed with caution. Chemicals can have negative consequences. Avoid perming bleached, colored, or dry hair to avoid hair damage and breakage. Always consult a professional and assess the state of your hair before going for perming or any other chemical procedure.
Frequently Asked Questions
How often can you get a perm without damaging your hair?
You can get a perm once every six months without severely damaging your hair.
How long does a perm last?
A perm can last for about 3 to 6 months depending on your natural hair type and hair care practices.
Which is more damaging: perm or color?
Bleaching agents are considered more damaging than perms as they penetrate your hair and permanently change its color. It depends on which process you get done more often. If you perm your hair more, then it can damage your natural hair structure.
Do celebrities get perms?
Yes, celebrities like Mariah Carey, Salma Hayek, and Charlize Theron have sported perms, either for movie roles, red carpet events, or their own preference.
What should you not do after a perm?
Do not wash your hair immediately after a perm. You must also avoid touching it too much, brushing it, or tying it up after a perm.
How often should you wash permed hair?
It is recommended to wash permed hair once a week. Washing permed hair too often can reduce the perming effects.
Can a perm look natural?
Yes, there are different types of perms that you can get to make it look more natural, depending on your hair type.
Can you straighten permed hair?
Yes, you can straighten permed hair, but doing it too regularly can reduce the effect of the perm.
Are perms cancerous?
Research shows that perming and straightening agents may be associated with a higher risk of premenopausal breast cancer (6). However, more research is needed on this matter.
Can you perm gray hair?
Yes, you can perm gray hair, but since it is coarse and does not take on new textures or colors easily, you will need to use an alkaline perming solution or an exothermic perm.
What is the difference between curl and perm?
A perm is a hair styling process that makes straight or wavy hair curly for a long time. Curls are hair types (2C-4C), like straight and wavy hair.
Key Takeaways
Perming puts your hair through chemicals like alcohol, boric acid, hydrogen peroxide, etc.
A perm on already treated hair increases its exposure to more chemicals.
Pregnant or breastfeeding women must see a dermatologist before going ahead with a perm.
Sources
Articles on StyleCraze are backed by verified information from peer-reviewed and academic research papers, reputed organizations, research institutions, and medical associations to ensure accuracy and relevance. Read our editorial policy to learn more.