Some Of The Best Ariana Grande Outfits That Look Awesome
Steal these amazing ideas and get ready to ace the popstar's looks, because, c'mon, YOLO.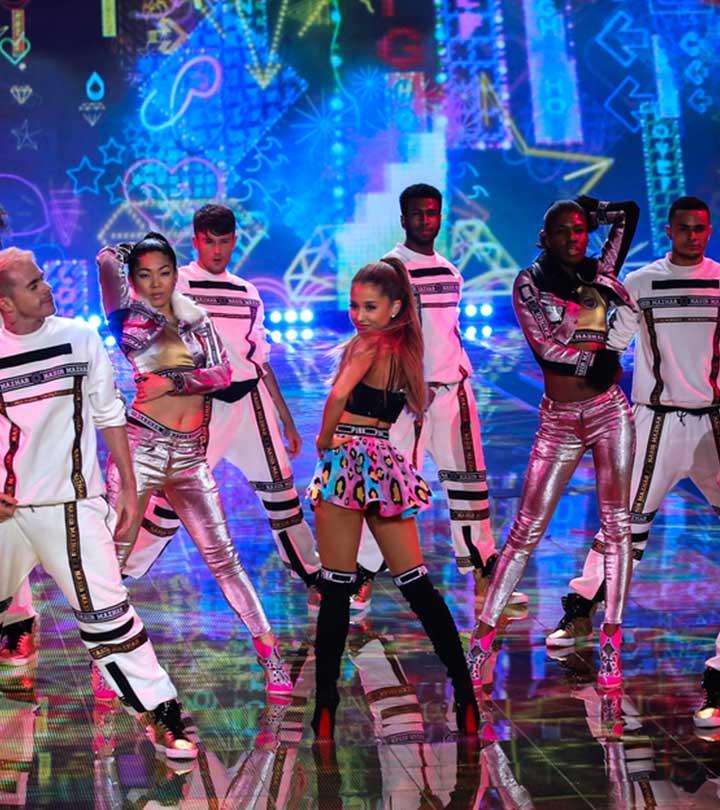 There is no denying that Ariana Grande is a trend-setter apart from being a talented singer! So, if you are on the lookout for some amazing Ariana Grande outfits, then we are glad to inform you that we have got you covered. In this article, we have made a roundup of some of the best looks of the singer. All you have to do is, scroll down and find out all your favorite looks and try them effortlessly. So, go on and give this piece a read.
Cute  Ariana Grande Outfit Styles
1. Ariana Grande Met Gala Outfit
Ariana Grande showed up in a Vera Wang piece that was a reflection of the ceiling of the Sistine Chapel. The theme for the Gala was Heavenly Bodies, and the young singer slew it entirely with her first ever appearance at the festival. She posed with poise and grace and did not look like someone who's appearing there for the first time.
Trivia
Ariana Grande stole the show in the 2020 Grammys when she appeared wearing a magnificent tulle gown in gray custom made by Giambattista Valli.
2. Ariana Grande White Outfit For Concert
Ariana Grande's concert at the famous Wells Fargo Center in Philadelphia was a huge hit and nothing short of a fairy tale for her fans – all because she looked like that and sang just as beautifully. With a white skirt and faux fur, Ariana melted people's hearts away.
3. Ariana Grande All Black Leather Outfit
The not-so-little diva showed us that she could carry pristine whites in fur or badass blacks in leather. With the all-black bodycon dress leather boots and makeup that balances it all, she's always been giving us serious goals.
4. Ariana Grande In Red Sequined Dress
Ariana Grande won the Kohl's artist of the year award in 2013 and walked down the red carpet to receive the award in a red sequin dress. She won all hearts as her fans went gaga over the pop star's dress and how she always creates her style.
5. Ariana Grande Street Style
We often take style inspiration from our favorite celebrities but do not know where to start because of the lack of access to clothing. But Ariana Grande is nothing like that. She has inspired millions of girls with her street style outfits like these and shows us that it is not all that hard to follow your favorite celebrity.
Trivia
Ariana's favorite street style is oversized sweatshirts with high boots. However, she also loves wearing sweat suits and jumpers and manages to look glam in them every time!
6. Ariana Grande In Peach Monochrome
Ariana Grande appeared at The Late Night Show in an all peach monochrome look. Wearing all shades of peach, ash colored, thigh-high boots, and sealed the deal of mixing street style with sophistication.
7. Ariana Grande Pink Dress
Ariana Grande looked like a little button and a girl-next-door in this pink lace dress. The nude boots, neatly done up hair, neutral makeup, and a calm demeanor show the control she has over her success and how well she can handle it.
8. Ariana Grande In Oversized Hoodie
It seems to be her favorite outfit. Ariana Grande is often seen wearing oversized hoodies, distressed jeans, and thigh-high boots even at concerts – but she owns them. The consuming sequin thigh-high boots are giving us all major style goals.
9. Ariana Grande Geometric Blue Outfit
When you think that Ariana is all about street style and simple dressing, she launches herself in dresses like these. The geometric cut pattern bodycon dress brought out the best in her. The nude makeup and black heels are something we cannot get over, mostly because we cannot wait to try the look.
10. Ariana Grande Black Polyvore Outfit
Ariana Grande emerged on the Victoria Secret's stage rocking a black Polyvore bodysuit, boots, and knee-high socks from PINK. The star fit into the scene because that is her natural style too. She styled her hair in a signature high pony, which was perfect for the outfit. The tiny skirt that covered her high-waist skirt made it all pop out.
11. Ariana Grande Black Onstage Outfit
Unlike most pop stars, Ariana Grande has a silent way of dealing with her onstage outfits. She is not outrageous as she launches herself on to the stage but makes sure she sets it on fire. Her fans love her concert outfits because her fashion is relatable and something they can reflect on back home.
12. Ariana Grande For Elle Photoshoot
Ariana Grande's Elle photoshoot was considered one of the best. In a white and black fur coat, fully blonde hair, boots, and a composed look, she brought fierceness in her own subtle way.
13. Ariana Grande Hoodie
Just in case you didn't have enough of Ariana and her street style, there's more! Even though it feels like an easy thing to do, we like how the star adds an element of style and personal touch to the outfit. With black jeans, boots, a hoodie, and her long pony, she takes our breath away every single time.
Ariana Grande has a quintessential look in high ponytails, minis, and thigh-high boots, but that's not all this superstar can rock. She can do oversized hoodies as well as body con mini dresses with equal finesse. When she is not showcasing her street style and sporty look, she is looking like an absolute doll in pastel pink. Ariana Grande's outfits are often so simple that her fans can easily follow her looks. So the next time you are looking for some styling inspiration, you need not look further than the stunning outfits by Ariana shared in this article.
Frequently Asked Questions
Where does Ariana Grande get her stage outfits from?
Most of her outfits are custom made from designer luxury fashion labels like Versace.
Where does Ariana Grande buy her shoes?
She gets her shoes from luxurious brands like Prada and Versace.
Who Is Ariana Grande's fashion designer?
Mimi Cuttrell is known to be her stylist.
The following two tabs change content below.