30 Awesome Ash Blonde Hair Color Ideas For Women To Try
Select one of these elegant hair dye styles to complement your cool-toned skin.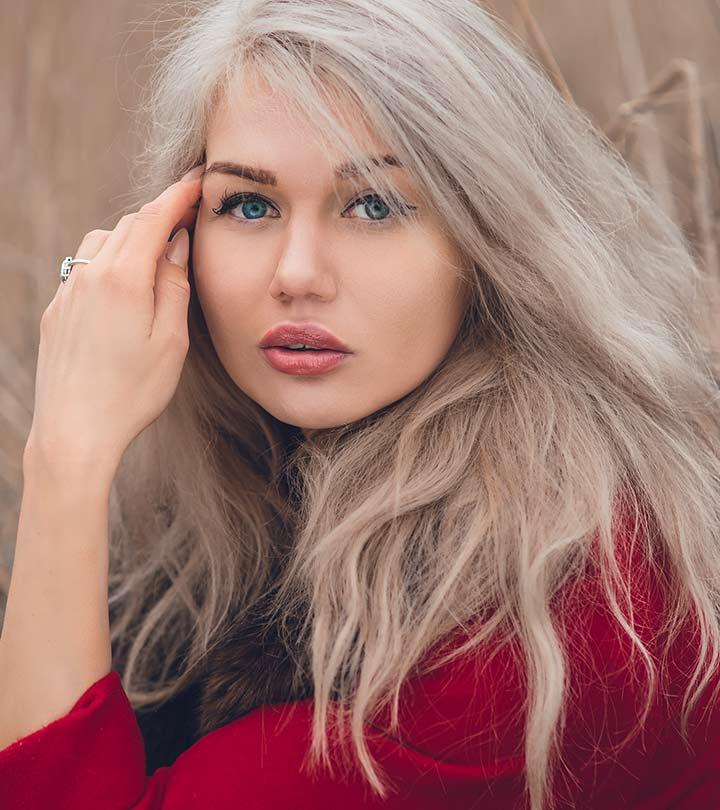 You have probably noticed an ice-cool blonde hair color trending worldwide! It is called the ash blonde hair color. It is a light blonde shade with a silver-gray tint that gives it a cool shiny finish. Because it is a cool-toned shade, it works well with cool-toned skin and pairs nicely with green or blue undertones.
It works best on lighter complexions and blue, gray, or green eyes. However, you can find ash-blonde variations for dark, medium, and olive-toned skin. It is also perfect for winter and autumn! And the best part is that there are so many ways to flaunt ash blonde hair. You can try a balayage, highlights, or an ombre. Or, if you are feeling particularly brave, you can opt for a full hair color change.
This hair color is very helpful if you want to add depth and dimension to your blonde hair. Also, adding ash blonde highlights on brown hair can help frame your face and features. Keep reading to learn how to dye your hair in the hair color right at home and what all hair products you would need! Scroll down to know more!

Quick Hair Color Guide: Ash Blonde
How To Choose A Shade: Light and silvery shades suit cool undertones while smoky or sunkissed shades pair better with warm undertones.
Level Of Maintenance: Medium to high
Suitable For: Fair-medium skin tones and blue, gray, or green eyes. All hair types.
Looks Best With: Blonde or taupe eye makeup, silver or gray eyeshadow, and peach or pink lips
What You Need
Box of ash blonde hair color
Old towel
Sectioning clips
Vaseline
Bowl
Rubber/plastic gloves
Hair dyeing brush
Fine toothed comb
Shampoo
Conditioner
How To Color Your Hair Ash Blonde
Wrap an old towel around your shoulders so that you don't get dye on your good clothes.
Brush out all the knots and tangles from your hair.
Part your hair first from the center of your forehead to the nape of your neck and then from your ear to ear to divide it into 4 sections.
Roll and clip 3 sections of your hair, leaving loose the one you want to start dyeing first.
Apply Vaseline all along your hairline and on your ears to prevent your skin from getting stained.
Put on your rubber/plastic gloves.
Follow the instructions given on the box and mix the hair dye and developer thoroughly in a bowl.
Picking up half-inch sections of hair at a time, start applying the hair dye right from your roots with the help of a dyeing brush.
Use a comb to pull the dye through the length of your hair, adding more color as needed, until you've applied the dye till the ends.
Repeat this process until you have applied the ash blonde hair color on all four sections of your hair.
Leave the dye in for the duration of time indicated on the box.
Wash off the dye with warm water.
Wait for about an hour before shampooing your hair with a shampoo made specifically for dyed blonde hair and condition it with the conditioner that came in the box of hair color. Don't forget to buy yourself some purple shampoo and conditioner to keep that dreaded brassiness (that can develop on dyed blonde hair) at bay.
This is how hair experts would recommend hair coloring. Well, now that you're equipped with the knowledge of how to do your hair, let's dive into the stunning ways that you can color and style your ash blonde tresses!


Trivia
Jennifer Aniston, Naomi Watts, Kate Hudson, Lady Gaga, Beyoncé, Kim Kardashian, Cara Delevingne, Lara Stone, and Jennifer Lawrence are some popular Hollywood celebrities with ash blonde hair.
30 Absolutely Beautiful Ways To Style Your Ash Blonde Hair Color
1. Ash Blonde Ombre
Of course, we had to start out this list with an ombre style! If you're not keen on going for a full head of blonde hair, an ombre style will treat you well. Color the ends of your dark brown bob in a cool toned ash blonde and style it in loose waves with hair accessories to ace the beach look.
2. Buttery Ash Blonde
OK, so we're breaking the rules already. You may have been told umpteen times to never mix warm and cool tones together. I say, go for it. Case in point, this gorgeous warm buttery blonde style highlighted with streaks of cool ash blonde that creates a dynamic hair look.
3. Silver Ash Blonde
Add a metallic tinge to your plain old blonde hair to transform it from drab to fab! Color your long bob in a dark ash blonde near the roots and add some platinum baby lights at the ends. This contrast of light and dark shades will add some beautiful movement and dimension to your hair look.


Quick Tip
Silver ash-blonde hair looks great on women over the age of 35, especially when the hair is cut to medium or short length.
4. Gray Ash Blonde Balayage
The gray hair trend has been ruling the roost for a while now, and rightly so. It shows off your more daring side without being too in-your-face. So, combining this cool shade with ash blonde was inevitable. Go for a gray balayage over medium ash blonde hair to create a hair look that no one can take their eyes off of.
5. Ash Blonde Root Melt
Look and feel like a total badass who is totally in control of her life with this edgy ash blonde look. This root melt style starts off with dark grey roots at the top that transition into a bright ash blonde shade towards the ends. Style this look in some long texturized waves to up its bold factor.
6. Bright Ash Blonde Highlights
A good way to add some light and brightness to your hair is to opt for hair highlights. Highlight your light brown hair with some ash blonde and platinum streaks to create a classy and elegant hair look. Style your hair in a long angled bob to complete your transformation into a mature adult.
7. Dark To Light Ash Blonde
Embrace the duality of human nature, the darkness and the light that exists in us all, by going for a hair look that reflects the same. This hair color starts off with black roots at the top that slowly blend into ash blonde and then platinum to create a stunning contrast of hair colors.
8. Iced Latte Ash Blonde
If you're not taking hair color inspiration from your favorite Starbucks coffee, what are you even doing in life? This ash blonde hair look that looks like the hair version of perfectly made iced latte is everything. The dark roots melt into a neutral ash blonde to make the color look all the more natural.
9. Smoky Ash Blonde
If smoky eye makeup can be a thing, why don't we try out this look on our hair as well? Create a smoky effect by going for black or dark brown roots and an ash blonde hair shade with dark gray undertones throughout the length of your hair. With these color styles in big, sexy curls, you're sure to create an air of mystery around you.
10. Moonlight Ash Blonde Balayage Ombre
Who doesn't want to look like an angel dripped in moonlight and starshine? Like an ethereal being who has descended from the clouds… well, it's quite easy to create that illusion. Just get your hair balayaged in shades of ash blonde and silver to create a super dynamic look. Leave the ends a shade lighter to create a subtle ombre effect.
11. Ash Blonde Sombre
Want to keep things simple and don't want to go for a full-blown ombre look? Then sombre is the way to go! The gradient from light to dark in this sombre is not that drastic as the dark gray ash blonde roots blend into a neutral platinum blonde at the ends. Sport this look in a hairstyle with subtle waves to create the perfect beachy look.
12. Silver Fox Ash Blonde
Girl, if you want to look like a character of a sci-fi graphic novel or an anime, here's a hair look that you will absolutely love. Because there's no way that you can go wrong with an ash blonde balayage over a silver base. Style your long hair in some voluminous curls to create a gorgeously feminine look.
13. Ash Blonde Shadow Root
You've seen balayage, ombre, sombre, and root melt. But you haven't seen everything until you've seen a shadow root. It's quite simple, actually – your roots are just left a darker shade than the rest of your hair. In this particular ash blonde look, only the roots at the crown of her head have been left her naturally dark shade, taking the shadow factor of her shadow root to the next level. The mid-lengths have been colored in an ash blonde and the ends in a golden blonde to create a melange of colors.
14. Solid Ash Blonde
Sometimes, you just have to go all in when you're coloring your hair. So, get your hair colored in a super light ash blonde shade from roots to tips to go for a bolder look. Style your hair in a poker-straight short-bob haircut to amp up the edginess of your look.
15. Ash Blonde Babylights
Mix your warm hair tones with your cool ones to create some movement and complexity in your hair. With dark brown roots and honey blonde ends, there's already a great deal going on with this hair look. Throw in some ash blonde babylights in the mix to totally transform your style.
16. Sunkissed Ash Blonde
The sun, sand, and the sea – what more do you need to make the most of your summer? A totally sexy hair look, of course! This blonde look is unique in the sense that it has warmer roots and highlights running through its cool toned ash blonde base to create the perfect sunkissed effect.
17. Smoke And Mirrors Ash Blonde
Shroud yourself in an air of mystery with this dark ash blonde look that is sure to make some heads turn. This dark at the top and light ash blonde at the ends look imitates the smoke and mirrors effect that magicians use to deceive their audience. Complete the look by styling your hair in some sexy curls.
18. Icy White Ash Blonde
Channel your inner Queen Elsa (Frozen FTW!) by going for this totally cool white hair look. This super light ash blonde style is just the right amounts of daring and muted. Go for a medium length cut and some loose curls to complete the beauty of this look.
19. Caramel Toned Ash Blonde
When you're coloring your hair, it's always good to experiment with combining shades and tones to create a hair color that's tailormade for you. For instance, this medium ash blonde color has caramel undertones to it that lend it a unique flair. Combined with the chocolate roots at the top and the handpainted shaded effect, this makes for a truly gorgeous look.
20. Golden Ash Blonde
Most characters in old English classics have 'flaxen' hair. Did you always wish that you had the same? Well, this golden and ash blonde balayage style will give you just that. Leave your naturally dark roots untouched to lend more dimension to your hair look.
21. All-Over Ash Blonde
Get rid of all your hair color inhibitions and go all-in with your ash blonde hair look. Dye all your hair in a silver toned ash blonde shade to transform your hair completely. Style your hair in a short bob and some side swept bangs to add a cutesy vibe to the whole look.
22. Ash Blonde Gradient
I know, I know, the point of an ombre is to create a gradient of color in your hair. But this particular look creates a shaded effect that surpasses an ombre. The super dark brown hair here have been expertly shaded down to an ash blonde in the middle and platinum blonde towards the ends to create a perfect gradient of colors in her hair.
23. Ash Chocolate Blonde
Wanna add a bit of color to your hair without going too crazy with it? Then highlight your chocolate brown hair with some cool ash blonde streaks to create a look that everyone will surely fall in love with. Style this color in a wavy short bob to get ready for the summer in style.
24. Platinum Ash Blonde
So many of us would love to go platinum but are intimidated by how much we'd have to bleach our hair to get the desired results. I say go for it as the results are totally worth it. This platinum blonde look has grayish ash blonde undertones that give it a beautiful icy effect.
25. Brassy Ash Blonde
I think we've been conditioned to believe that we have to get rid of brassiness in our dyed blonde hair. I say, embrace it because it has a beauty all its own. Take this look, for example. The brassy golden blonde is enhanced by and creates a stunning contrast when combined with the light ash blonde balayage highlights.
26. Ash Bronde
Why choose between brown and blonde when you can go for both? Yes, you heard me right. You can combine the elements of both brown and blonde to create a completely new look. Here, the cool toned brown has been lightened just a couple of shades to create an in-between ash blonde color that skirts the line between brown and blonde. Hence, the name 'ash bronde'.
27. 'Let There Be Light' Ash Blonde
So you don't want highlights or lowlights because you want your hair color to look a bit more natural? Then, babylights are the way to go. Add these super fine and subtle ash blonde streaks to your blonde hair to give them a lightly sunkissed look.
28. Dark Ash Blonde
Dark blonde shades don't get nearly as much love as they deserve. Which is such a shame because they look absolutely stunning. This dark ash blonde shade is just a couple of shades lighter than her naturally light brown base, which makes for a deep and sensual look. The balayage effect only adds to the beauty of this look.
29. Ash Blonde Ends
If you're looking for a casual and carefree hair look, I've got just the style for you. Get the ends of your naturally brown or black hair colored in a neutral ash blonde shade to add a pop of brightness to your dark coloring. The best part of this look is that it supports efficient hair maintenance because it grows out well so you won't have to get it retouched.
30. Ash Blonde Highlights On Dark Hair
So you're not ready to give up your brunette identity just yet, huh? No worries. You can still retain your dark tresses but add a little light flair to it. Go for some ash blonde highlights to complement your cool toned coffee brown hair. Get your hair cut in a long bob and style it in waves to create a chic and stylish look.
Infographic: 7 Cool Ash Blonde Hair Color Ideas
Ash blonde hair has a silver-gray tint that oozes cool-toned vibes. The hair color is suitable for people with lighter skin tones and gray, blue, and green eyes. However, various combinations of this color would suit your skin tone and face. Let's look at the 7 trending ash blonde hair colors you can sport. Check out the infographic below!


After looking through the most stunning ash blonde hair colors trending, it is clear why this hair shade has taken the world by storm and has become a great source of hair inspiration. The ash blonde shade is subtle and cool-toned, suiting most fair and medium skin tones. You can also find ash blonde shades that suit darker, tanned, and olive skin tones too. The shade paints your hair beautifully and enhances your facial features (like eye color) owing to its light color. And with so many options to choose from – ombre to subtle highlights, your hair will never be drab again! It's time to amp up your hair fashion game! Get tresses that look like those done in a hair salon by hair professionals!
Frequently Asked Questions
Does ash blonde hair make you look older?
If not done the right way, ash blonde may sometimes make you appear older as its tone absorbs light.
Does ash blonde cancel out orange?
Blue can tone down orange. But since it is not used in ash color, ash blonde cannot cancel out orange.
When should you use an ash hair color?
You can use an ash hair color whenever you want to tone down the warmth of brunette or blonde shades or any warm tones that appear in your natural hair.
Is champagne blonde the same as ash blonde?
No, champagne blonde is not the same as ash blonde. It is a warmer and more neutral shade. On the other hand, ash blonde has a cooler tone.
Does ash blonde have red tones?
Ash blonde does not have any significant red tones. Instead, it has gray undertones as it is a cool-toned shade.
Key Takeaways
Choose an ash blonde color as per your skin tone, eye color, and natural hair color and be very mindful of hair care too.
It works better with those having lighter complexion and blue or green eyes.
You can get ash blonde hair through a variety of techniques, such as hair coloring, highlights, balayage, or ombre.
Make sure to use shampoo specific for hair dye, and buy a purple shampoo and conditioner to prevent brassiness.

Need a stunning hair coloring guide that is easy to follow and gentle on your pocket? Check out this comprehensive DIY tutorial for light ash blonde balayage to give your hair a complete makeover.

The following two tabs change content below.