6 Potential Benefits Of Avocado Oil For Hair And How To Use It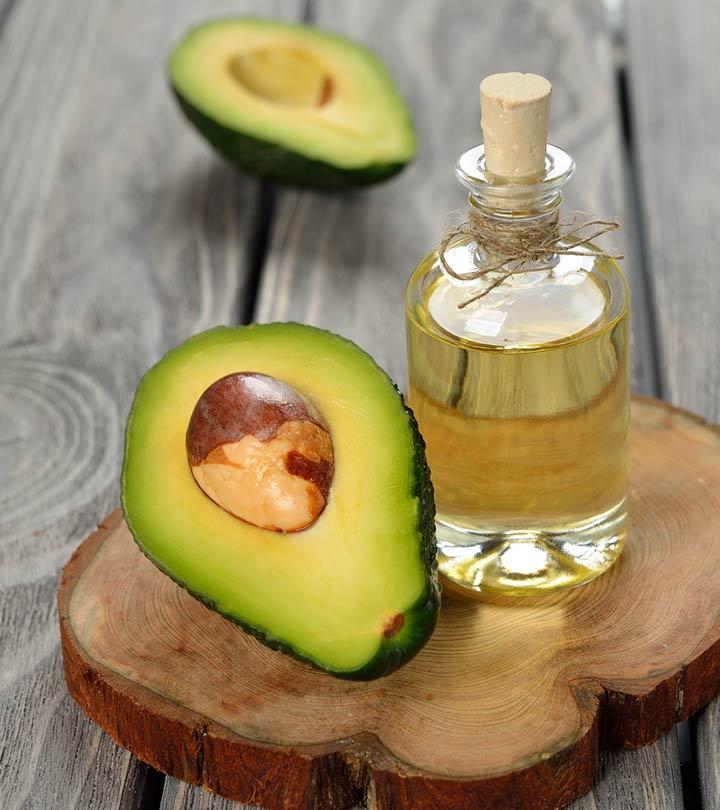 Are you looking for a hair oil that promotes hair growth without being greasy and heavy? Check out avocado oil. This hair oil is derived from the versatile avocado fruit. It has a light texture, high penetration property, and is packed with essential nutrients.
Avocado contains vital minerals, vitamins, and fats your hair needs. Its oil helps moisturize the hair, reduces dandruff, promotes hair growth, protects the hair from damage, and imparts shine. In this article, we have discussed the potential benefits of using avocado oil for hair, its methods of usage, the best avocado oils, and the oil's possible risks. Scroll down for more information.
What Is Avocado Oil?
Avocado (Persea gratissima) oil is a cold-pressed nutrient-rich natural oil primarily used for cooking and cosmetics applications. It is derived from avocado, the only fatty fruit rich in monounsaturated fatty acids like oleic acid. The oil's rapid penetrating properties could help boost hair health. It also is rich in vitamins E and D, and possesses antioxidant and anti-inflammatory properties. These characteristics of the oil make it ideal for boosting hair health.
6 Potential Benefits Of Avocado Oil For Hair
Avocado oil helps promote overall hair health with its wide range of nutritional properties. It is said to improve moisture levels, hair growth, and hair shine.
1. Moisturizes Hair
Dry hair can eventually cause breakage. You can minimize this problem by applying avocado oil, which is rich in fats that provide the essential moisture to the hair. Most oils have a thick consistency and are heavy; they cannot easily penetrate the hair shaft. But avocado oil easily penetrates the hair shaft. Its nutrients moisturize your hair thanks to the oil's rapid penetration properties.
Generally, shampoos and other hair products could strip the scalp of its natural oils (also known as sebum) (1). This could make your hair strands brittle. But the avocado oil, with its excellent hydrating properties, can resolve this problem. Furthermore, vitamins B and E in avocado oil can help strengthen the hair (2), (3). The oil also contains monounsaturated fats (4). These could help strengthen each hair shaft from the inside out. They also may prevent hair breakage.
Also, avocado oil could protect the hair from environmental stressors and pollution. You can add this oil to your favorite leave-in conditioner and enjoy its moisturizing benefits.
2. Effectively Detangles Hair
Dry and fine hair can form knots easily. Weather conditions can also leave your hair in knots. Avocado oil has lubricating properties and can be used as an alternative to conditioner. The vitamins B and E and the fats in avocado oil help condition and smoothen the hair strands. This oil acts as a detangling agent.
You can apply a small amount of the oil to your hair to preserve moisture and prevent breakage. You can then comb your hair with a wide-toothed comb (or your fingers) to remove the tangles.
3. Reduces Dandruff
Color treatments, detergent shampoos, and certain medical conditions can make your scalp more dry and flaky. This scalp condition may lead to dandruff, psoriasis, and seborrheic dermatitis (5), (6). The monounsaturated fats like oleic acid have a quick-penetrating formula (7). Massaging some avocado oil into your scalp before giving it a good wash may help reduce dandruff.
Scalp that is too dry or too oily can be a cause for dandruff. Frequently oiling your scalp is a good starting point to prevent dry scalp. Using a natural oil like that of avocado, topically on your scalp, can help improve scalp health.
4. Promotes Hair Growth
Anecdotal evidence suggests that nutrient-rich avocado oil can help boost hair health and growth. Avocado oil, when used along with essential oils of peppermint or rosemary, can reduce hair loss and promote natural hair growth. Both the essential oils have been found to boost hair health (8), (9). Massaging avocado oil into your scalp may help increase blood circulation to the scalp. This could stimulate the hair follicles and unclog any blocked hair follicles that lead to hair growth.
Also, avocado oil contains vitamin D (10). The nutrient could help in the generation of new hair follicles. However, research is limited in this regard. Following your wash routine, simply massage a small amount of avocado oil into your scalp and style as usual. Do this every couple of weeks.
5. Protects Hair From Damage
Avocado oil can coat the hair with fatty acid-rich moisture and protect it from damage. Common causes of hair damage include exposure to the sun, rough styling techniques, and hot hair tools such as a blow dryer or straightener. Applying avocado oil to hair right before the use of hair styling tools can minimize heat damage.
Furthermore, avocado oil contains vitamin E that can reverse sun damage. It also prevents hair breakage (11), (12). Hair strands can easily break if they are always dry and brittle. To mitigate this issue, you can coat your hair with a thin layer of avocado oil. The deficiency of biotin may also cause hair loss (13). Avocado oil is rich in this vitamin and may reduce hair loss.
6. Boosts Hair Shine
Direct research in this aspect is lacking. Avocado oil is known to impart shine to your hair and enhance all your hairstyles. You can dispense a small amount of the oil into your hands, rub your hands together, and apply it to your hair.
Avocado oil is a powerhouse of all the essential nutrients and vitamins that your hair needs. In the following section, we will look at how you can use the oil to enjoy its hair benefits.
How To Use Avocado Oil For Hair?
Avocado oil gets absorbed easily. It does not leave a greasy film on your scalp. If you use too much of the oil on your hair, you can wash it out thoroughly with a chemical-free shampoo.
 How To Use Avocado Oil As A Hot Oil Treatment
What you need:
Avocado oil
Extra virgin coconut oil
Glass jar
Saucepan
Warm towel
Steps:
Boil water in a saucepan
Depending on the length of your hair, use avocado oil and extra virgin coconut oil in equal parts (3 to 5 tablespoons each). Combine them in a glass jar.
Place the glass jar with the oil in hot water for one or two minutes.
Cool it and do a temperature check before applying it to your hair.
Gently massage the oil into clean hair and wrap it with a warm towel.
Wait for about 20 minutes.
Rinse your hair with cool water and a mild sulfate-free shampoo.
Let your hair air dry.
How To Use Avocado Oil For Scalp Massage
Massaging the scalp with avocado oil moisturizes the hair and also treats dry, flaky scalp. It also helps prevent dandruff.
Massage pure avocado oil into your scalp. It promotes blood circulation, strengthens hair roots, moisturizes the scalp, and encourages overall hair growth.
Use avocado oil as a carrier for essential oils (add a couple of drops of your favorite essential oils like lavender or tea tree oil).
Avocado oil has excellent lubricating properties. The oil can be used as a leave-in conditioner. Apply this oil to detangle your hair.
Twist your hair with avocado oil to preserve moisture and prevent breakage.
How To Use Avocado Oil As A Deep Conditioning Treatment With Hair Mask
Ingredients
1 egg yolk
1 tablespoon of avocado oil
1 tablespoon of honey
How To Make An Avocado Hair Mask:
Whisk the egg yolk and avocado oil together until you get a smooth mixture.
Add one tablespoon of honey to it.
Combine the ingredients.
Apply to clean, damp hair from the root to the tip.
Cover your hair with a shower cap.
Leave it on for about 30 minutes.
Rinse hair thoroughly with cool water and a mild sulfate-free shampoo.
Let your hair air dry.
You can follow this as a hair treatment once every , this can be used once a fortnight if needed.
These are the simplest ways you can include avocado oil in your hair care regimen. In the following section, we have listed the best avocado oils you can include in your routine.
5 Best Avocado Hair Oils Of 2020
The Honeydew Avocado Oil For Hair is a therapeutic-grade 100% pure oil. This cold-pressed, nutrient-rich oil helps hydrate hair. It also doubles as an effective massage oil. It contains beneficial nutrients like vitamins A, E, and K that leave your hair smooth and hydrated. The oil's amino acids and proteins help strengthen hair and impart a shiny glow. The oil can also stimulate hair growth.
Pros
Hydrates hair
Vegan
Cruelty-free
Cons
None
The Maple Holistics 100% Pure Avocado Oil is hypoallergenic. It helps tame dry and frizzy hair. Its high concentration of monounsaturated fatty acids and phytosterols are easily absorbed into the scalp. They work from deep within and reduce the damage to hair follicles.
The oil also offers a moisturizing barrier and stimulates hair growth. It is both cruelty-free and vegan.
Pros
Hypoallergenic
Quick-absorbing formula
Vegan
Cruelty-free
Cons
Overpowering fragrance
Greasy formula
Aunt Jackie's Flaxseed Recipes Soft All Over Multi-Purpose Oil is an excellent moisture therapy for protective styling. This multi-use oil is a great remedy for dry scalp and hair. It is blended with carrier and essential oils, including coconut, grapeseed and jojoba oils, shea butter, and ginseng that soften your hair and boost hair shine.
The oil contains no mineral oil or petrolatum. It also is free of parabens, sulfates, and preservatives.
Pros
Softens hair
Sulfate-free
Paraben-free
Preservative-free
Mineral oil-free
Petrolatum-free
Cons
The Majestic Pure Avocado Oil is a 100% natural cold-pressed oil. This refined, versatile oil can be used to nourish your hair, skin, and nails. It is cold-pressed with no additives or dilutions. The oil is safe for all hair types. It hydrates hair and gets absorbed quickly. Also, this can be used to dilute essential oils.
Pros
Provides superior hydration
Quick-absorbing formula
Cruelty-free
Safe for all hair types
Cons
None
This 100% pure, natural, and premium quality avocado oil is an unfiltered and undiluted cold-pressed product. Massage it onto your scalp and work it through your hair, from the root to the tip. This oil keeps your hair moisturized for long hours. It also helps detangle hair and makes it more manageable.
This product has a light texture and gets absorbed into the skin quickly. When combined with essential oils or conditioners, this versatile oil can be used on the face, body, and nails, too.
Pros
Quick-absorbing formula
Hexane-free
Multi-purpose
No greasy residue
Shields hair from ultraviolet radiation
Easy-to-use pump bottle
Cons
Avocado oil can be a wonderful addition to your hair care arsenal. But it also may cause certain adverse reactions. It is important to know them before you make a purchase.
Risks And Warnings
Avocado (or the oil) is generally safe for use for most people. But those allergic to latex may also develop avocado allergies (14). Using avocado oil may also cause side effects, even if you are not consuming it. If you experience redness or discomfort on the skin, stop using the oil.
Do a patch test on your skin before using avocado oil.
Conclusion
Avocado oil is a versatile hair oil with many benefits. It has high penetrating power and is suitable for almost all hair types. From moisturizing the hair to reducing hair damage, this hair oil helps improve overall hair health. Choosing the right avocado oil for your hair type will help you better reap its benefits. You may start cold-pressed and natural avocado oil. Make your purchase today.
Frequently Asked Questions
How long can you leave avocado oil in your hair?
Apply avocado oil to clean, damp hair and leave it on for half an hour to allow it to soak into your hair follicles. Rinse thoroughly with a chemical-free shampoo and dry your hair properly to reap the benefits.
Can I leave avocado oil in my hair overnight?
Avocado oil gets absorbed quickly and will not leave a greasy film on your scalp. Hence, you can leave it in your hair overnight. But wash it thoroughly with a chemical-free shampoo for the best results.
Can you mix castor oil with avocado oil?
Yes, you can mix this oil with castor oil in equal amounts and apply on your damp hair.
Does avocado oil thicken hair?
Yes. Avocado oil is rich in vitamin E, monounsaturated fats, and minerals that help strengthen hair strands.
Is avocado oil a sealing oil?
Yes, avocado oil is a sealing oil. It can penetrate a little beyond the outer cuticle layer. It seals and lubricates the hair strands and helps prevent moisture loss from the scalp. It also makes hair softer.
Is avocado oil good for fine hair?
Yes, avocado oil is good for fine hair. It is packed with monounsaturated fats that help moisturize and nourish your hair. They also protect your hair from environmental stressors or heat damage.
14 sources
Stylecraze has strict sourcing guidelines and relies on peer-reviewed studies, academic research institutions, and medical associations. We avoid using tertiary references. You can learn more about how we ensure our content is accurate and current by reading our
editorial policy
.
The following two tabs change content below.

Latest posts by Sindhu Koganti (see all)

Sindhu Koganti
Sindhu Koganti is a Biotechnology graduate and has been in the writing field for over 4 years now. She specializes in writing on Health and Wellness. She has hands-on experience in writing articles and press releases on Life Sciences and Healthcare, Food and Beverages, and Chemicals and Materials. When she's not writing, she loves watching movies and listening to music. She also enjoys traveling.