9 Best Ayurvedic Skin Care Brands To Try In 2022
It's time to switch to ancient ingredients to take care of your skin.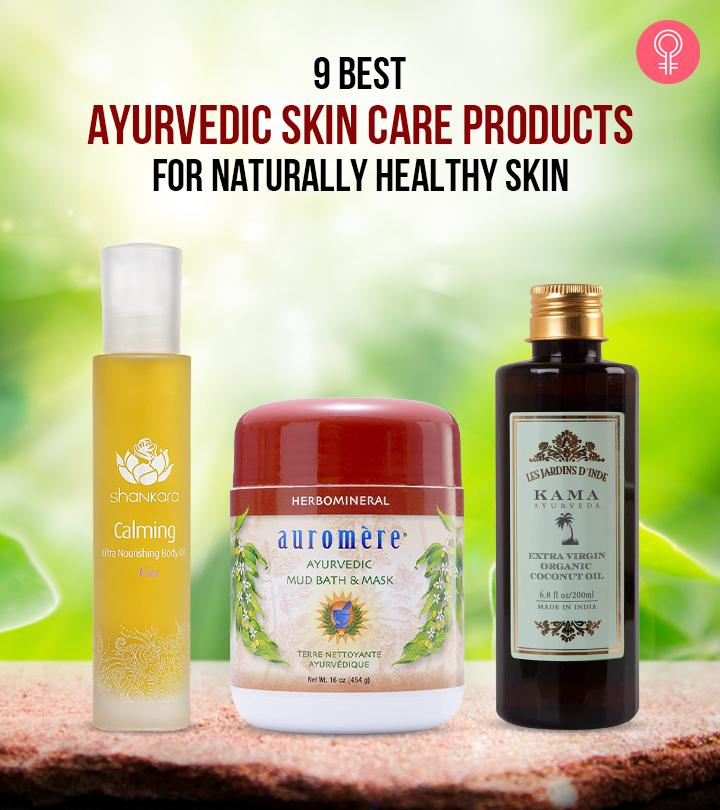 There is absolutely nothing that can replace the best Ayurvedic skin care products. No matter the problem, ancient science has healing answers to almost all your skin needs. While external factors such as pollution, stress, sun damage, and improper nutrition take a toll on your skin and health, taking the help of Ayurvedic products can reverse the damage and bring back the natural glow on your face in no time. Here is a list of the 9 Ayurveda products you need to pamper your skin with. Keep reading.
9 Best Ayurvedic Skin Care Products
This night serum from Blue Nectar is a potent formula that fights dark spots, scars, wrinkles, fine lines, under-eye puffiness, dark circles, and aging to brighten the face. It is infused with 26 Ayurvedic herbs that fight aging signs and impart a radiant glow to your skin. This serum contains natural oils, saffron, sandalwood oil, nagkesar, anantmool, and manjishtha, which diminish dullness and pigmentation and illuminate the skin. The sandalwood oil is gentle on your skin and makes it soft and supple. The bay leaf and Indian madder soothe the skin with their astringent properties. The tinted bottle with a nozzle is convenient for use and application.
Key Ingredients: Natural oils, Saffron, Sandalwood oil, Nagkesar, Anantmool, and Manjishtha
Pros
Gentle
All-natural ingredients
Quickly absorbed
Paraben-free
SLS-free
SLES-free
Mineral oil-free
Cons
The Ayurvedic Herbs Neem Powder from Banyan Botanicals cools, soothes, lightens, purifies, and revitalizes your skin, hair, scalp, and nails. The organic Ayurvedic neem powder cleanses and flushes out harmful toxins and prevents the buildup of germs, dead skin cells, and bacteria. You can use this pack in DIY skin or hair care regimens and as an herbal toothpaste. The versatile powder has internal and external uses.
Key Ingredients: Organic neem leaf powder
Pros
Pure and potent
Chemical-free
Cruelty-free
Gluten-free
100% vegan
BPA-free
No artificial dyes
No synthetic fillers 
Cons
None
The Kama Ayurveda Extra Virgin Organic Coconut Oil is one of the purest forms of coconut oil. It is prepared with modern cold-pressing techniques that retain most of the oil's enriching nutrients and minerals. Use the oil directly on the skin for a good massage, or include a few drops of it in your hair and skin care mixtures, face masks, and more. The antibacterial and antifungal properties of coconut oil fight against skin infections and deeply moisturize and nourish the skin to prevent dryness and cracks.
Key Ingredients: Coconut oil
Pros
Lightweight
Non-greasy
Non-sticky
Cons
The facial oil from INATUR is a rich, organic blend formulated for acne-prone skin. It reverses aging signs while reducing fine lines, wrinkles, whiteheads, blackheads, dark circles, suntan, blemishes, and pimples. The facial oil contains sandalwood that nourishes the skin and vetiver that fades scars and marks. Turmeric has antibacterial properties, while orange oil tones the skin. Rose acts as an astringent and antioxidant, while saffron brightens the skin tone. Regular use of this facial oil has a cleansing and nourishing effect that makes your skin smooth and glowing.
Key Ingredients: Saffron, Orange oil, Sandalwood, Rose, Vetiver, and Turmeric
Pros
Lightweight
Absorbed well
Smells good
Animal fat-free
Paraben-free
Phthalate-free
Mineral oil-free
Preservative-free
Cons
The Forest Essentials Soundarya Radiance Cream is enriched with the legendary Sanjeevani herb and aloe vera to rejuvenate dull skin, activate the skin cells, reduce puffiness, hydrate the under-eye area, and offer a luminous glow. It is infused with 24k gold bhasma to increase skin elasticity and radiance. Licorice has anti-aging, moisturizing, and protectant properties that shield your skin from sun damage, while saffron enhances your complexion. The extra-rich cream is light-textured and gives your skin a natural facelift and preps it for makeup.
Key Ingredients: Gold bhasma, Saffron, Sanjeevani herb, and Licorice
Pros
Lightweight
Non-greasy
Absorbed easily
UV protectant
A little goes a long way
Cons
The Ayurvedic Skin Care Kit from Shahnaz Husain contains a chocolate nourishing facial cream, a rejuvenating facial mask, and a coffee bean scrub. The cream is infused with aloe vera juice, grapefruit extract, rose distillate, olive oil, almond oil, and cocoa butter. The scrub exfoliates the skin and tightens the pores with ingredients like coffee beans and chocolate powder. It also contains aloe vera, coconut oil, and almond to nourish and hydrate skin the skin. The luxury mask boosts cell renewal, improves skin texture, and evens out the skin tone. This kit covers all areas of the skin care regimen, from cleansing to nourishing, hydrating, toning, and rejuvenating the skin.
Key Ingredients: Aloe vera juice, Grapefruit extract, Rose distillate, Olive oil, Almond oil, and Cocoa butter
Pros
Anti-aging
Soothing
Cruelty-free
Value for money
Cons
The Shankara Calming Ultra Nourishing Body Oil is a blend of ingredients infused in the oil through the cold-pressed technique. It contains sesame oil, macadamia nut oil, almond oil extract, evening primrose oil, jasmine, and avocado oil that deeply nourish and hydrate your skin. This body oil improves blood circulation, imparts a warming sensation that relaxes the body, and makes your mind calmer. It moderates the doshas and is suitable for all skin types. You can use this product as a moisturizer, massage oil, and bath oil. The mix of aromatherapeutic essential oils and flower extracts leaves behind a subtle, pleasant, and long-lasting fragrance.
Key Ingredients: Sesame oil, Macadamia nut oil, Almond oil, Evening primrose oil, Jasmine, and Avocado oil
Pros
Absorbed easily
Non-greasy
Light fragrance 
Cons
This skin care product from Avya is enriched with antioxidants and vitamin A that moisturize and repair your skin as you sleep. The luxurious moisturizer provides nourishment, hydration, and Ayurvedic anti-aging treatment by reducing fine lines, wrinkles, dark spots, and circles, blemishes. The anti-inflammatory ingredients like neem, turmeric, and peony reduce skin redness, itchiness, rashes, and skin infections. This cream aids skin renewal and is suitable for all skin types. It is also perfect for very dark, dark, fair, medium, and fair skin tones.
Key Ingredients: Vitamin A (Retinoids), Neem, Turmeric, Peony, and Hyaluronic acid
Pros
Pleasant scent
Non-greasy
Absorbed well
Makes the skin firmer
Cons
The Auromere Ayurvedic Mud Bath & Mask is a 2-in-1 formula for healing, purifying, and rejuvenating the skin. The exfoliating formula works for both facial and body skin. It eliminates dead skin cells, nourishes the skin, enhances healing, and minimizes pores. This mask contains Indian gooseberry, rich in vitamin C, that brightens, tones, and tightens your skin. The antimicrobial and antioxidant mango-ginger treats skin issues and improves the skin tone. Red clay and Fuller's earth reduce oiliness and make your skin radiant. This product is a nice bathing alternative to traditional soaps and contains 12 Ayurvedic herbs and four different types of clay.
Key Ingredients: Indian gooseberry, Sweet flag, Mango-ginger, Red clay, Fuller's Earth, and Yellow clay
Pros
All-natural ingredients
Non-drying
Pleasant scent
A little goes a long way
Cons
Why Trust StyleCraze?
The author of this article, Shiboli Chakraborti, is a certified skin care coach. Her in-depth research and constant focus on various skin care trends help bring the best always for the readers. The list of best ayurvedic skin care products is carefully curated after thorough research and after reading many online reviews from trusted platforms. She says that these products are a valuable addition to your skin care regime, and they effectively combat various skin issues.
Recommended Articles