10 Effective Ayurvedic Solutions For Oily Skin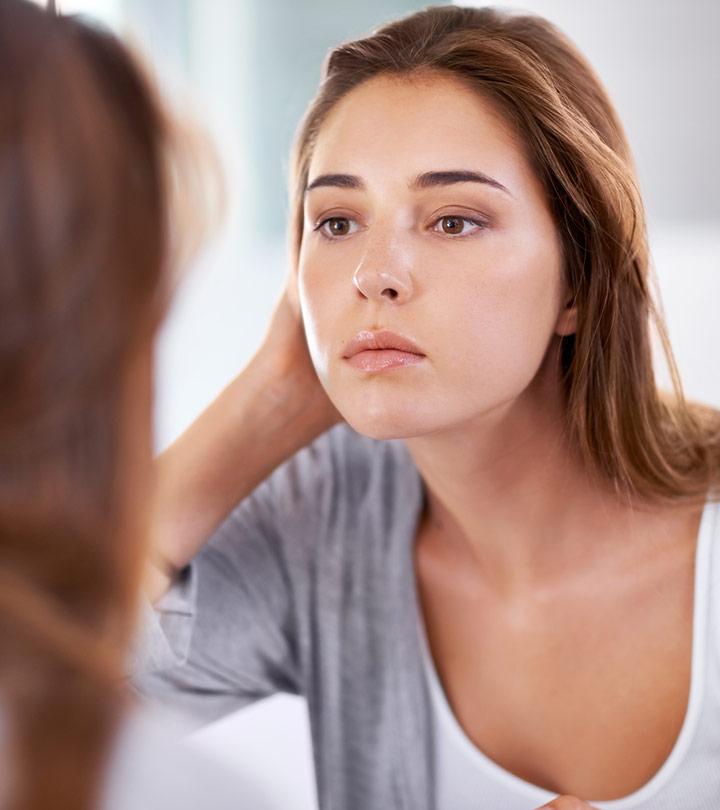 Are you troubled by oily skin and hair? Is summer already taking its toll on you? Summer is upon us, and along with the unforgiving sun, comes a wide array of dermatological issues. The most common amongst these are oily hair and skin problems. Here are some easy Ayurvedic remedies for oily skin, with ingredients you probably already have lying around at home. These are effective and don't take time out of your busy schedule.
Ayurvedic Treatment for Oily Skin – 10 Effective Solutions
1. Milk:
The simple, healing properties of milk will take care of your oily skin problems. Simply soak a cotton ball in milk and wipe your face with it twice a day, at least once before going to sleep. If you feel you need a little extra cleansing, add a few drops of lemon concentrate to the cotton ball.
2. Orange:
Orange concentrate has high levels of Vitamin C that is very good for the skin. Squeeze half an orange into a bowl and apply it on your face with the help of a cotton ball. Keep it on for about ten to fifteen minutes before washing off.
3. Sandalwood and Turmeric:
A paste made from sandalwood and turmeric can be used for both the head and the face. Mix sandalwood and turmeric powder, and add water (or lemon concentrate) to it. Then spread this paste on your face and head, and wait for about ten to fifteen minutes before washing off.
 [ Read: Fairness Tips For Oily Skin ]
4. Aloe Vera:
It would be prudent and useful to simply grow Aloe at home since this plant can cure nearly any dermatology-related issue. Otherwise, Aloe leaves are easily available at supermarkets. Aloe works as an anti-inflammatory agent. Cut the green layers off the leaf and you are left with a transparent, slimy, gel-like substance. In a bowl, mash this gel with your fingers as best as you can. Then apply this on your face and hair, and keep it on for about ten minutes or till it's dry. Then, wash off. This can be the best ayurvedic face wash for oily skin.
5. Honey:
This honey treatment is meant specifically for the hair. Mix one egg yolk with two tablespoons of honey. Add some lukewarm water and mix it. Apply this paste directly on the scalp. Leave it on for a couple of hours and then wash off thoroughly.
6. Water:
Warm some water to make it lukewarm. With a swab of cotton, wipe your face well. This will remove all the dirt from the pores of your face. Then, take an ice out from the freezer and rub it all over your face, especially the "T" zone. This closes up the pores on your face. Do this once a day for a few weeks for slow yet satisfying results.
[ Read: Makeup Basics for Oily Skin ]
7. Eggs and Lemon:
Apart from sounding like the name of a continental breakfast, a mixture of egg yolk and lemon juice is a perfect cure for an oily scalp. Mix the concentrate of two lemons with two eggs. Rub this paste onto your scalp and keep it on for about an hour. Then wash off thoroughly.
8. Neem:
Boil Neem leaves in water and allow the infusion to cool. You can apply this on both your face and scalp. It doesn't require to be washed off; if you feel it's too strong on your skin, wipe away with lukewarm water. One of the wonderful ayurvedic tips for oily skin and scalp!
9. Tea Infusion:
Dab a cold, used tea bag on your face, especially the "T" zone. The tannic acid not only reduces blemishes but also cleans clogged pores that could lead to oil build up.
10. Rose Water:
Dab cotton drenched in rose water on your face, once a day, for about a month. This not only reduces oil build up but also provides a cooling sensation to the skin.
[ Read: Astringents For Oily Skin ]
11. Multani Mitti/Fullers Earth:
To have a smooth, clear and considerable oil free skin, mix 4 teaspoons of multani mitti  with rose water and leave it on your skin for 10 minutes. Wash off with plain water. (I really  hope this girl has Multani Mitti pack on her face, though it's looking yummy like chocolate face pack  LOL !!!, jokes apart chocolate face pack has antioxidant properties but it's not something u'd like to use to control your oily skin's oiliness.
Some More Tips To Help Reduce Oily Skin:
1. Your diet should consist of green leafy vegetables. To control oil secretion drink atleast 8-10 glasses of water each day .
2. Wash your face with a cotton dipped in warm water, to take off excess oil, but don't do this regularly.(Do this very rarely.)
3.Use rose water or neem water as a toner for oily skin.
4.Use oil free moisturizer (use gel based or water based) and you can also use foundations and cosmetics.
5.Do not use harsh oil removing formulas for face wash. Keep it normal, and for controlling oil, wash face with besan and / atta (whole wheat flour ). This will control oil and at the same time is natural.
6.Sometimes (or may be once a day) clean face with a mixture of lemon juice and warm water. Or just a mixture of lemon juice and water in equal parts and wash with a cotton cloth or cotton ball dipped in warm water. This will take all the oil off at once. Follow this by a pore tightening remedy to control oil secretion by using refrigerated rosewater on to skin with a cotton ball.
With these all natural ingredients, fair and glowing skin is no longer a far-fetched dream. Treat your oily skin with these easily available magic potions. Reveal younger-looking, supple skin and luscious hair, whether it's summer or winter. Try these effective solutions of ayurvedic treatment for oily skin and share your success story with us! But you can always consult a doctor if the symptoms still persist even after using these ayurvedic solutions for oily skin.
Recommended Articles:
The following two tabs change content below.