Newborn Hair Loss: Why Do Babies Lose Their Hair?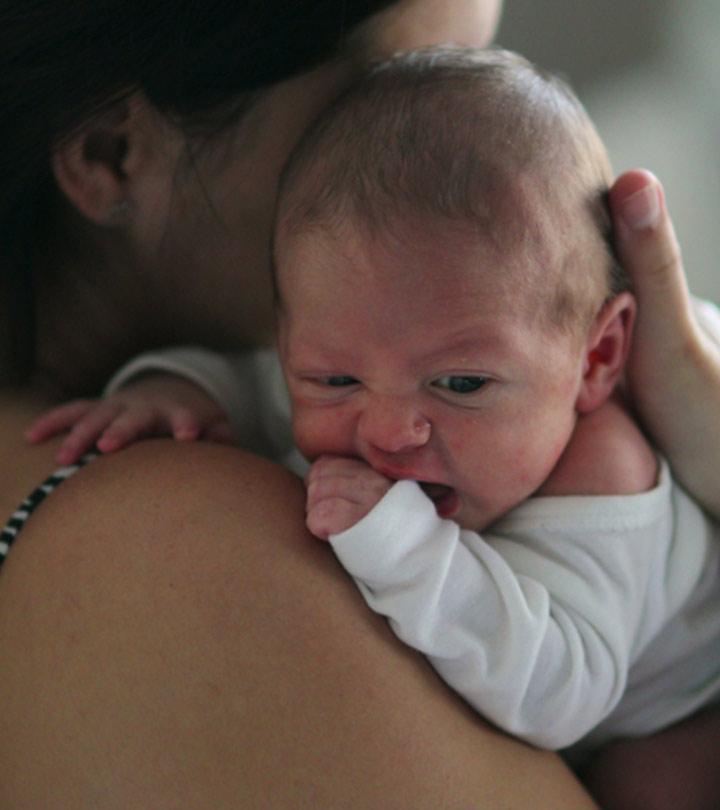 Is your baby losing hair lately? Are you worried about that hair loss? It can sure be disturbing to see your beloved one lose hair. But if the concern is keeping you up at night and you are wondering what you can do about it, we have you covered. Here, we discuss everything you need to know about newborn hair loss. Keep reading.
Why Do Babies Lose Their Hair? Is It Normal?
Most newborns lose their hair during the first few months of their lifetime (1). This hair loss is defined as alopecia and may have various triggers. However, this type of hair loss is temporary. The hair regrowth in babies happens faster. The hair loss does not have to be a cause for concern for the parent as it is quite normal.
How To Recognize Hair Loss In Babies?
Babies lose most of their hair in the first six months. This hair fall is followed by quick hair growth in some babies, causing the actual hair loss to go unnoticed. But there could be cases where the hair growth may not be immediate. You can identify hair loss in your baby with the following signs:
Loose strands come out onto your hand when you stroke your baby's head.
You may find hair wherever your baby rests.
You may find loose hair strands after your baby's bath.
Now you know how to determine hair loss in your baby. But causes this hair loss?
What Causes Hair Loss In Babies?
1. Friction
Stroking/rubbing your baby's head excessively can cause hair loss in them. Your baby's head might also rub against the mattress, stroller, etc., leading to hair loss (also called friction alopecia).
This type of hair loss is often observed in babies whose mothers are less than 34 years of age, had had a vaginal birth, or had delivered full term (1). However, the most accepted cause for this kind of alopecia is friction.
2. Cradle Cap
Cradle cap is a crusty, scaly, and oily patch that might cause hair loss in your baby. There is inadequate information to explain why cradle cap occurs, though doctors believe hormonal changes could be the cause.
This condition is not painful or itchy. But some hair loss may occur when you attempt to remove the scales from your baby's scalp.
3. Ringworm
Ringworm causes hair loss and red, ring-like rashes on your baby's scalp (2). Though it is not known to affect babies under the age of two, it is highly contagious. It could pass on from an infected adult.
Can you treat hair loss in your baby? Let us find out in the following section.
Treatment For Hair Loss In Babies
There is no specific medication to treat hair loss in babies. In most cases, the hair loss in babies (that occurs in the first six months) grows back before they turn one year old. But it is important to consult a doctor if you suspect any serious medical condition (like ringworm) causing hair loss in your baby.
Certain hair care tips can ensure your baby will have a healthy hair growth. We have discussed them briefly in the next section.
What Are Some Baby Hair Care Tips?
Wash your baby's hair with a mild shampoo. Using a strong shampoo may irritate the baby's scalp.
Do not over-wash your baby's hair. Washing 2 to 3 times a week is considered ideal.
Use a washcloth to gently scrub your baby's scalp.
Conclusion
It is important to remember that your baby's hair loss is most likely normal. You would observe hair regrowth in a matter of months. Continue to follow the hair care tips. But should you suspect any underlying condition that could be causing your baby's hair loss, consult your doctor.
Recommended Articles
2 Sources
The following two tabs change content below.

Latest posts by Sucharita Mishra (see all)

Sucharita Mishra
Sucharita Mishra has a Master's degree in Biotechnology and specializes in writing on Health and Wellness. She has worked on determining various heavy metals present in green tea for her Master's dissertation at CSIR- CFTRI, Mysuru. After completing her degree, Sucharita decided to pursue her passion for writing. She is addicted to all things black and aspires to become a bat one day.