15 Best Baby Shampoos Available In India – 2023
Because your little one deserves a comfortable bathing experience.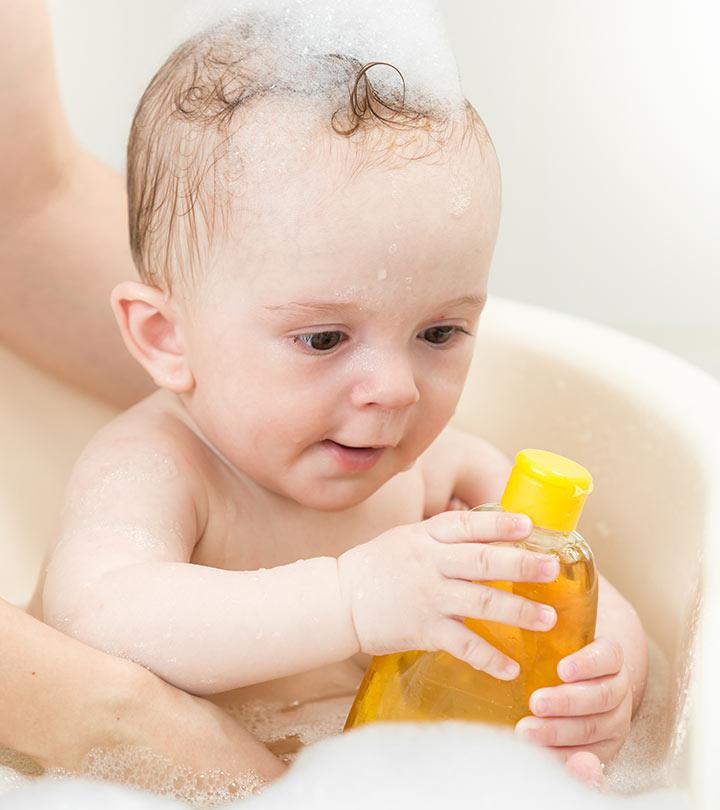 As a mother, you want the best products for your little one. Like all baby products, you need to be particular about the shampoo you use for your baby. A good shampoo not only protects the baby's delicate locks but also prevents them from getting tangled. It provides the necessary nourishment and proteins to the scalp, which can keep your baby's hair soft and healthy.
With so many options available on the market, you are spoilt for choice and may wonder which one to opt for. I have put together a list of the best baby shampoos and their ingredients to help you choose the best one for your little bundle of joy. Scroll down for more information.
15 Best Baby Shampoos Available In India
Himalaya Gentle Baby Shampoo, with its "No Tears" formula, is a perfect choice as it nourishes, cleanses, and softens your baby's hair effectively. It contains unique ingredients like chickpea, hibiscus, and khus grass. While chickpea makes your baby's hair strong, shiny, and soft, hibiscus and khus grass help in conditioning and removing any fungus or bacteria from the scalp.
Pros
Free of SLS and parabens
Prevents dandruff
pH balanced shampoo
Makes hair intensely soft
Has a high safety rating
Cons
None
Rating
4.8/5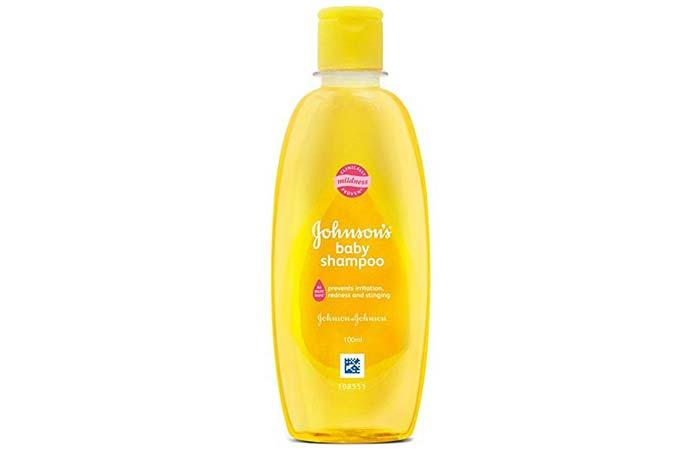 This shampoo is mild and gentle and makes your baby's hair soft, shiny, and manageable. Bathing a newborn baby requires extra care, and you can completely rely on this shampoo as it is clinically tested, safe, and chemical-free. The formula in this shampoo claims to be as gentle as pure water on your baby's eyes.
Pros
Rinses dirt thoroughly
Paraben and soap-free
Dermatologist-tested
Imparts fresh baby smell
Cons
Might take time to wash off oil
Rating
4.7/5
This mild product is perfect for your little one as it gently cleanses their sensitive skin and hair. The oat extracts nourish your baby's skin without making it dry and flaky. The shampoo has a tear-proof formula that makes it safe to use.
Pros
Protects your baby's skin from infection
Free of parabens
Hypoallergenic
Lathers well and imparts a fresh smell
Pediatrician-recommended
Suitable for daily use
Cons
Availability issues
Price
Rating
4.5/7
Chicco is a popular brand for baby products. This shampoo is infused with pot marigold and glycerine that cleanses the hair and scalp gently, conditions baby's hair, and makes the hair manageable. The no-tears formula is safe and doesn't irritate the baby's eyes. Free from harsh chemicals, it suits all skin types, including sensitive skin. Moreover, its iso-lachrymal neutral pH is ideal for baby's sensitive eyes.
Pros
SLS free
Alcohol-free
Paraben-free
Dye-free
No-tears formula
Prevents dandruff formation
Dermatologically-tested
Cons
None
Rating
4.4/5
Mama Earth Gentle Cleansing Shampoo is infused with coconut cleansers and jojoba oil that help nourish your little one's scalp. It provides the necessary moisture that makes your baby's hair look healthy and replenished. With a pH of 5.6, this shampoo is ideal for newborns in all aspects of protection and safety. It has a 'tear-free' formula that allows your baby to enjoy bath time and be covered in soft and instant foam.
Pros
100% toxin-free formula
Cleanses scalp well
Hypoallergenic and neutral pH formula
Clinically tested
Affordable price
Cons
Might not suit all babies
Rating
4.2/5
This shampoo is infused with natural extracts and helps nourish and lock the natural oils in your baby's scalp, preventing hair fall or dryness. It promises to provide a happy and safe bath time with its 'No tears' formula. The high-safety standards of this brand make it impeccably easy for new mothers to trust and rely on this product.
Pros
Cleanses the scalp well
Contains natural fruit extracts
Makes your baby's hair soft and bouncy
Microbiologically tested
Cons
Rating
4.1/5
This clinically proven cleansing shampoo is ideal for a sensitive and delicate scalp. With a pH of 5.5, Sebamed Shampoo leaves your baby's hair looking soft and silky. It contains chamomile herbal extracts that prevent allergies.
Pros
Free of alkalis, SLS, and soap
Ideal for sensitive scalp
Prevents dryness and flaky scalp
Cons
More product required than stated
Rating
4.1/5
Dove has created this shampoo keeping a delicate scalp and fine hair in mind. This shampoo contains moisture cream that retains the moisture levels and prevents the scalp from drying. It not only provides moisture but also protects your baby's hair. Features like the tear-free formula, pH neutral level, and hypoallergenicity make this shampoo an ideal choice for newborns.
Pros
Ophthalmologist and pediatrician-tested
Free of parabens and dye
Cleanses the scalp well
Mild and gentle fragrance
Suitable for daily use
Cons
Might tangle your kid's hair
Rating
4.0/5
This vegan hair cleanser is made of rose, fenugreek, and neem leaf extracts. The protein-rich formula gently cleanses the baby's scalp without disturbing the natural oils. It is a soap-free formula that doesn't irritate the skin or eyes. It strengthens and softens the baby's hair, makes it shiny, and maintains scalp health.
Pros
No toxins
No fragrance or color
Soap-free formula
Vegan
Cons
Rating
4.5/5
This gentle, nourishing shampoo is formulated with ayurvedic herbs such as khus, hibiscus, gooseberry, and aloe vera. It nourishes the baby's hair from the roots and promotes healthy hair growth. This is a tear-free formula that is hypoallergenic and suitable for the baby's delicate and sensitive skin. It is free from harsh chemicals and is dermatologically tested.
Pros
Dermatologically tested
Hypoallergenic
Paraben-free
Phthalate-free
100% soap-free
Artificial color-free
Cons
Might not suit all babies
Rating
4.2/5
Mothers know best! Don't you agree? Likewise, Mothercare knows what's best for your little bundle of joy. With organic ingredients like olive oil and chamomile, this shampoo promises to leave your baby's hair soft, clean, and silky. Olive oil strengthens your baby's hair, and chamomile treats inflammation.
Pros
Contains conditioner
Paraben and fragrance-free
Dermatologically tested
Removes oil efficiently
Gentle for daily usage
Suitable for infants and kids
Cons
Rating
3.9/5
Biotique Baby Shampoo is a blend of pure green apple extract, sea algae, and Centella. These ingredients help in cleansing delicate scalp and hair. Often, your baby's scalp tends to get flaky. This shampoo prevents dryness and helps in rinsing off the dirt, making your baby's hair look clean, fresh, and soft.
Pros
Does not irritate the eyes
Balanced pH levels
Moisturizes skin and hair
Affordable price
Cons
Not suitable for dry hair
Rating
3.8/5
This no-tear shampoo is ideal for everyday use on your baby's sensitive skin. It has a mild formula with gentle surfactants that cleanses the baby's scalp and hair, leaving it soft and moisturized. The shampoo also improves hair texture and adds shine. Moreover, it is effective at treating and preventing cradle caps.
Pros
Sulfate-free
Tear-free formula
Dermatologically-tested
Paediatrician-recommended
Maintains optimal pH of the baby's scalp
Cons
None
Rating
4.⅗
The Moms Co. Baby Shampoo contains rich ingredients that help in hair growth and nourishment. It contains USDA-certified organic oils(argan oil and moringa oil) and vitamin B5 that moisturize and strengthen your baby's soft new hair. It promises to deliver all the hair proteins required for the first three years of a baby's life. It also contains coconut oil that helps in making your little one's hair healthy, silky, strong, and shiny.
Pros
Gentle on the eyes
Cleanses the baby's scalp gently
Hypoallergenic
Free of parabens and sulfates
Cons
Offline availability is an issue
Rating
3.7/5
This shampoo contains a unique blend of natural ingredients like argan oil, aloe vera, oat extract, and wheat germ extract that make your baby's hair shiny and silky. Since it contains natural ingredients, this shampoo is perfectly safe even for newborns. The tear-free formula will cause no trouble to your little one's sensitive eyes.
Pros
Free of SLS and parabens
Gentle on the scalp
Removes dryness
Moisturizes effectively
Suitable for the entire family
Cons
Offline availability is an issue
Rating
3.7/8
These are some of the best baby shampoos that you can buy for your little one. However, before purchasing any of these, consider a few essential points.
Things To Consider When Buying A Baby Shampoo
Babies have a sensitive scalp. So, pick hypoallergenic shampoos as they are mild and do not cause irritation and allergic reactions.
Avoid products that have synthetic fragrances as they may cause allergic reactions. Go for unscented products or look for products that have natural fragrances.
A tear-free shampoo is the best for your baby's eyes as these shampoos do not irritate them.
When buying a shampoo for your baby, go organic. These shampoos do not contain any harmful chemicals and preservatives and are safe for the delicate skin of your baby.
These 15 baby shampoos are the best picks to pamper your tiny tots. Try any of them and tell us about your experience in the comments below.
Recommended Articles: