10 Best Sunscreens For Kids Available In India
Shield your kids' delicate skin from the sun as they play around to their heart's content.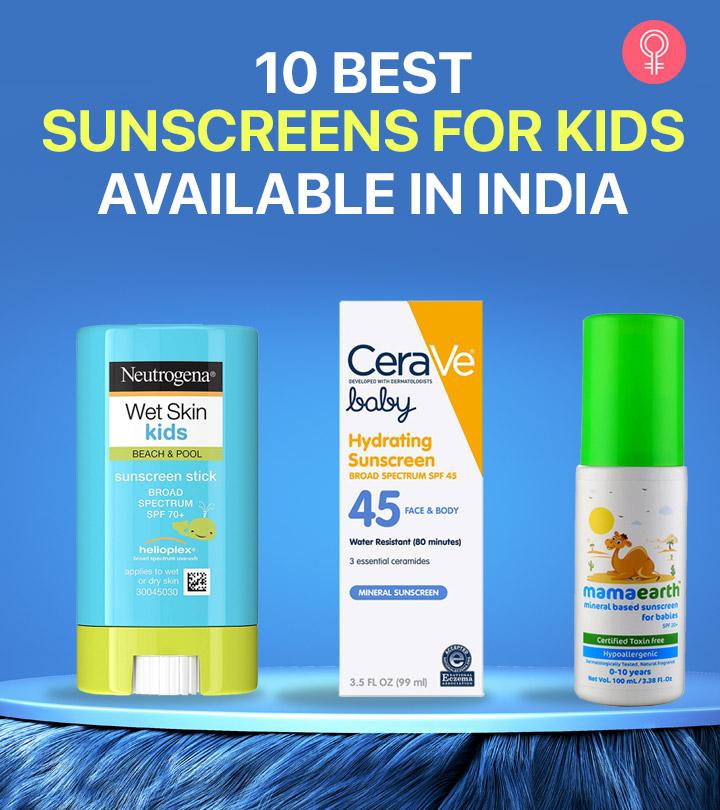 As the summer approaches, your little ones may be spending a lot of time outside, exposing their sensitive skin to sunburn and irritation. Prolonged sun exposure without adequate protection can lead to cancer, long-term skin damage, and premature aging. That is why it is best to invest in an excellent non-toxic sunscreen, proven to protect your kids from the harmful effects of the sun.
Finding the perfect sunscreen that is gentle yet effective on your little one's skin can be pretty challenging. To make things easy for you, here's a list of the top 10 sunscreens available in India that are specifically designed for kids. So, read on and take your pick!
10 Best Sunscreens For Babies In India
This stick sunscreen by Neutrogena is perfect for kids with sensitive and dry skin. The unique formula can be applied to either wet or dry skin, making it an ideal pick for the days at the beach or the pool. Its Helioplex technology offers broad-spectrum protection from both UVA and UVB rays of the Sun. Additionally, it claims to be water-resistant for 80 minutes, allowing the kids an extended time of fun and frolic!
Pros
SPF 70
Hypoallergenic
Oil-free
Non-sticky
Quick absorption
Water-resistant
PABA-free
Dermatologist-recommended
Easy application
Pleasant scent
Cons
This sunscreen by Mamaearth is one of the best baby sunscreens in India. It's a physical sunscreen featuring zinc oxide as the key ingredient. It protects your kids' skin against the harsh UV rays of the sun for at least two hours while playing or swimming. It also deeply nourishes and moisturizes your baby's skin with the goodness of shea butter, cocoa butter, and olive oil. The calendula extracts in this sunscreen soothe irritation and ensure faster healing. It does not leave any sticky or greasy residue when applied on the skin.
Pros
SPF 20
Hypoallergenic
Toxin-free
Non-greasy
Water-resistant
Dermatologist-tested
Made Safe certified
Paraben-free
Sulphate-free
Mineral oil-free
Dye-free
No synthetic fragrance
pH-balanced
Cons
None
This gentle sunscreen by CeraVe is made with naturally sourced ingredients for your kid's delicate skin. It offers protection from both UVA and UVB rays. The formula contains three essential ceramides that preserve the natural protective barrier on your baby's skin. It also contains hyaluronic acid, which leaves your kid's skin hydrated, soft and supple. Niacinamide in the formula calms any irritation. This sunscreen is water-resistant for up to 80 minutes.
Pros
Hypoallergenic
Water-resistant
Non-greasy
Dermatologist-recommended
Accepted by the National Eczema Association
Paraben-free
Sulphate-free
Phthalate-free
Fragrance-free
Cruelty-free
Cons
This physical sunscreen by Lotus herbals is infused with zinc-coated microfine titanium dioxide, which is gentle on your kid's skin and effectively blocks the harsh UV rays of the Sun. It is sweat-proof and waterproof, making it perfect for beach and pool visits. In addition, this sunscreen also nourishes and heals their skin with a blend of ingredients such as coconut oil, calendula extract, and shea butter. The calendula extract has antiseptic properties that soothe the itchy and inflamed skin. This sunscreen is soft and gentle for the baby's skin, with a pH balance of 5.5.
Pros
Water-resistant
Sweat-proof
Absorbed quickly
Non-greasy
Hypoallergenic
Pediatrician-recommended
Clinically-tested
Paraben-free
Mineral oil-free
Alcohol-free
PEG-free
No synthetic fragrance
No synthetic colorant
Cons
This sunscreen by Bey Bee is formulated with SPF 50, providing long-lasting protection from the harsh UVA and UVB rays of the Sun. It is enriched with plant-derived ingredients like aloe vera extract, which replenishes the lost moisture and nourishes your kid's skin. The formula is super gentle and absorbs effectively into the skin without leaving any residue. The shea and cocoa butter in the formula prevents dryness and locks-in moisture for up to 24 hours. In addition, the compact and handy packaging of the sunscreen makes it perfect for traveling.
Pros
SPF 50
Hypoallergenic
Made Safe certified
Long-lasting
Sulfate-free
Paraben-free
Non-sticky
Cruelty-free
Cons
This sun protection cream by Wow Skin Science Kids delivers broad spectrum protection of SPF 30 PA+++! The formula is water-resistant and non-greasy, thus ensuring long-lasting protection and more playtime for the kids. It is infused with raspberry extract, a natural sun blocker, and carrot seed extract, preventing excessive dryness and rejuvenating your kid's skin. It also contains extra-virgin olive oil and avocado oil that nourishes the skin, prevents tan, and reverses the damage caused by the Sun. It is dermatologically tested and is suitable for all skin types.
Pros
SPF 30
Non-greasy
Absorbed quickly
Hypoallergenic
Paraben-free
Silicone-free
Mineral oil-free
Water-resistant
Non-sticky
Vegan
Cons
This all-natural sunscreen by Mother Sparsh is formulated with over 95% plant-based ingredients. It provides broad-spectrum protection of SPF 30+, which shields your little one's skin from the harsh UVA and UVB rays. The luscious cocoa butter in this formula forms a protective barrier over the skin and prevents moisture loss, while calendula oil, rich in antifungal properties, soothes your baby's skin. It also has skin-friendly ingredients like aloe vera, shea butter, wheat germ oil, and vitamin E that nourish and maintain the baby's soft skin. It is ideal for children of 0-10 years.
Pros
SPF 30+
Water-resistant
Hypoallergenic
Non-greasy
Oil-free
Paraben-free
Phthalate-free
NANO-free
Reef-safe formula
Cons
None
This mineral-based sunscreen spray by Mom & World is made with gentle ingredients and plant extracts that provide intensive sun protection. The sunscreen gives long-lasting protection from Sun's damaging UVA and UVB rays. It is infused with soothing ingredients like aloe vera, watermelon, and green tea, reversing skin damage and calming down irritation and inflammation. This sunscreen is also water-resistant and leaves your little one's skin nourished and healthy.
Pros
SPF 50
Long-lasting
Non-greasy
Non-comedogenic
Hypoallergenic
Paraben-free
Sulfate-free
Silicone-free
Mineral oil-free
Cons
The Bio Aloe Vera Baby Sun Block by Biotique is ideal for toddlers who are six months or older. It has an SPF of 20 that shields your baby's skin from UVB and UVA rays of the Sun. It is infused with the goodness of aloe vera extract, which is a natural sun protector and healer. It leaves the skin soothed, moisturized, and soft.
Pros
Non-greasy
Absorbed quickly
Organic ingredients
Pediatrician-approved
Value for money
Cons
May cause irritation
Low SPF factor
This super hydrating sunscreen by Chicco is infused with natural active ingredients like physalis extract and vitamin E, which protect your baby's skin and moisturizes it deeply. The cream offers a very high SPF 50+, and its 3P complex shields your baby's skin against UVA, UVB, and infrared rays. This sunscreen also does not contain alcohol or water, making it perfect for delicate infant skin.
Pros
Lightweight
Dermatologist-tested
Paraben-free
PEG-free
No synthetic fragrance
Phenoxyethanol-free
Cons
None
How To Choose The Best Sunscreen For Kids
Use A Sunscreen With High SPF
Kids and toddlers have thinner skin than adults; that's why it is always safe to invest in a broad-spectrum sunscreen of SPF 30 or higher. It ensures that the sunscreen protects your kid against the harmful UVA and UVB rays of the Sun.
It is always best to choose a mineral or physical sunscreen formulated with zinc oxide or titanium dioxide. Physical sunscreens deflect the sun's rays from the skin, whereas a chemical sunscreen absorbs them. These sunscreens are gentler on your kid's sensitive skin and keeps the coral damaging chemicals out of the oceans. Natural ingredients-based sunscreens are also proving sufficiently effective.
You might think that spray sunscreen is easier to apply on your kid, but they do not cover the whole surface area of the skin, leaving your kid's skin irritated and sunburnt. That is why it is always best to choose sunscreen in lotion form to make sure the whole area is covered effectively. However, for touchups, a spray can come handy.
Choose A Water-Resistant Formula
Kids play and naturally, sweat a lot in the scorching Sun or play in the water, which can wash away their sunscreen, leaving their skin exposed to the harmful rays of the Sun. That is why you must choose a sunscreen that is water-resistant for optimal results. However, even when a sunscreen is labeled water-resistant, you would still have to reapply the sunscreen every two hours.
Choosing any skincare product, like sunscreen, for kids is a difficult task, as it needs a lot of research to suit their delicate skin. The above-listed sunscreens protect them from sun damage and also nourish their skin with gentle hydrating ingredients. So, pick your favorite sunscreen from our list of the 10 best ones in India and let your child enjoy the daylight!
Frequently Asked Questions
Are there any potential risks or side effects of sunscreens on kids?
Although sunscreens are generally safe when used as directed, a few potential side effects could be allergic reactions, eye and skin irritation, and acne aggravation. To minimize the risk of side effects, parents should do a patch test on their kid's forearm or behind the neck.
Can children still get enough vitamin D if they consistently use sunscreen?
Yes, children still get enough vitamin D if they consistently use sunscreen. Everyday use of sunscreen does not lead to a vitamin D deficiency. If you are worried about your child getting enough vitamin D, you can add foods rich in the nutrient to their diet after consulting a doctor and nutritionist.
Is there a difference between sunscreen for infants and sunscreen for older children?
Yes, sunscreen for infants is usually formulated without fragrances and harsh chemicals and is gentle on their sensitive skin. However, it is best to avoid using sunscreen on infants younger than six months. Consult a dermatologist to get alternative sun protection methods. For older children, you can choose a 30+ SPF or above and reapply every two hours.
How should parents choose a sunscreen that is suitable for their child's skin type?
Yes, parents should pick a sunscreen for their kids based on the child's skin type and allergies, if any. Choose a hypoallergenic, fragrance-free sunscreen for kids with sensitive skin. Pick oil-free, water-based, or non-comedogenic sunscreens for children with oily or acne-prone skin. If you're not sure which sunscreen is best for a child's skin type, consult a pediatrician or dermatologist.
Are there any specific sun safety tips or guidelines parents should follow when using sunscreen on their kids?
It is essential to apply sunscreen to the skin 15 to 30 minutes before sun exposure. Reapply sunscreen every two hours for optimal protection.. It is also recommended that the kids wear protective clothing, a hat, and sunglasses.
Recommended Articles