50 Best Long Hair With Bangs Looks For Women To Try In 2022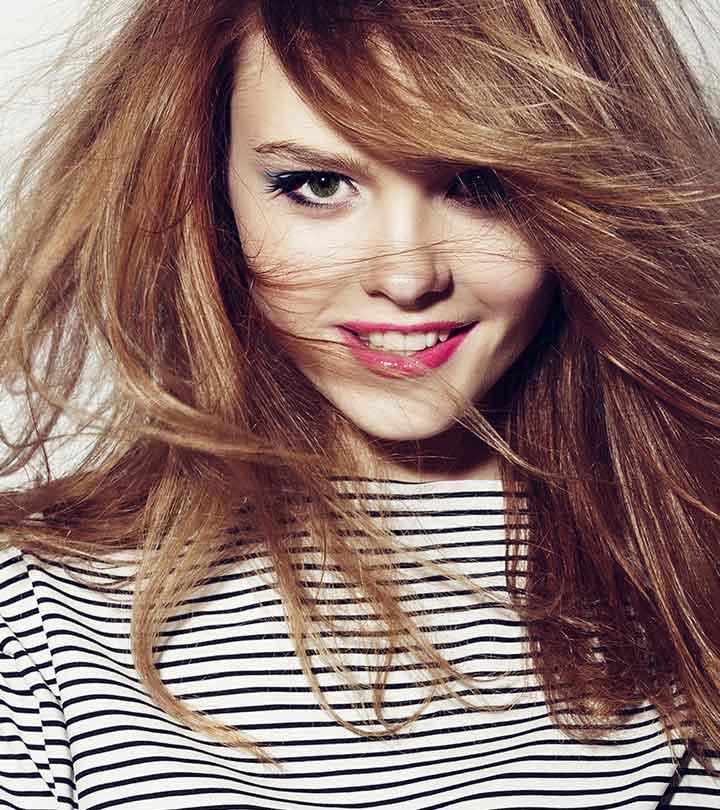 You have colored your long locks, added highlights, and cut them into layers. And now you are wondering what new style you could try on your long flowy tresses. Long hair with bangs is your answer. Bangs can completely change the way you look. Take any drab hairstyle and pair it with some stylish bangs, and you have got a banger. However, you should be warned as there are many bang styles to choose from, and you might get a bit overwhelmed. Here are some pointers for which bangs would suit you to help you choose best. Keep scrolling!
How To Pick The Best Bangs For Your Long Hair
All kinds of bangs do not look good on all people. The way you should style your bangs depends on your face shape. But don't worry, we've got your back. Let's take a look at which one you should opt for.
A. Square Face
If you have a square face, then keep your bangs straight and just below the eyebrows. Straight bangs, feathered in the center, even out your face shape.
B. Round Face
If you have a round face, then an arching straight fringe that ends just below the eyebrows will add to the softness of your face. Deep side bangs also work. A perfect example of this is actress Jennifer Lawernce. She looks stunning in this hairdo!
C. Heart Shaped Face
Arched side-swept bangs that become longer at the sides look amazing on heart-shaped faces. Beautiful Reese Witherspoon looks stunning in this layered side-swept bangs hairdo, and so can you!
D. Oval Face
If you've noticed, Zoey Deschanel looks good with just about every fringe style. That's cause she has an oval face. She is the face of bangs!
It also depends on whether you have a high or short forehead. The way to check that is to see if your forehead is smaller or bigger than your nose. If your nose and forehead are proportional, then you can try out any of these styles and they'll look great on you.
E. Long Face
If you have a long face like the gorgeous Nicole Kidman, then short bangs are a no-no as they will make your forehead look bigger. Try long bangs with either a full center or side swept bangs, and we promise it will look amazing.
F. Short Forehead
If you have a short forehead, then consider a sloped fringe that is longer on one side. It enhances your face structure, making it more prominent. Check out Emma Stone rocking a deep swept bang. Epic indeed!
G. High Foreheads
If you have a high forehead, that's one thing you have in common with Angelina Jolie. The full side swept bangs is the way to go. Let the bangs start at eyebrow level and taper as they reach the sides of your face.
Now, let's look at how we can cut our own bangs. However, it is always better to let a professional do it.
How To Cut Your Bangs
Things you will need:
A rat tail comb
A pair of scissors
Clips and elastic bands
If you want a full center bang, take the front portion of your hair, and with the help of a rat tail comb, put it slightly in the shape of a triangle and cut it evenly. If you want it tapered, then cut it just below your eyebrows and keep making it long as it reaches your ears. If you're wondering how to cut long bangs, follow the same steps keeping the length you desire in mind.
The way to take the side parting right is to make sure it's aligned with your eyebrows. That way when you cut your hair, it's properly cut and not messy and all over the place. Once you are done with the first snip, begin cutting the rest of the fringes a little longer, therein giving it a tapered look. You can follow the same steps to learn how to cut long side bangs, just increase the length to your preference.
How To Add Fake Bangs
Don't want to cut your hair but want bangs?
We have got a solution for you! You can use extensions or simply try a faux bang.
You'll need elastic bands, pins or clips, and depending on how you want the bangs to look, you'll need a curler.
First, tie your hair in a high ponytail. Then, tie the remainder of the pony into a bun, messy or sleek. Leave the ends undone. Secure the bun.
Then, take the ends, and using the pins, fix it at the front of your head. Curl them if you want.
Fluff up your hair.
How To Maintain Your Hair
Wash it every alternate day with a shampoo that works well for your hair.
Trim it every three weeks; fringe hair tends to grow more.
Oil it for nourishment regularly. Oil your hair with warm oil and keep it on your hair for an hour before you wash it.
Now, let's get to it! Here are the 50 best long hairstyles with bangs for women.
1. Long Hair With Side Bangs
Rock messy hair with side bangs. This look is playful and adds definition to your face. This is one of the best long layered haircuts with bangs.
2. Long Layers With Side Bangs
Long layered hair with bangs gives the face a slightly longer look. Perfect if you have a round face and still want straight bangs.
3. Long Layered Hair With Side Swept Bangs
Long layered haircuts with bangs are a deadly combo! Stun with this long layers and side swept bangs. The bangs will add a choppy edge look to the layers.
4. The Emo Bangs
At some point we all knew a person who had this haircut (or like me, I was this person). Choppy, uneven layered long hair with side swept bangs paired with some black eyeliner is the quintessential punk rockstar look.
5. Short Bangs On Long Hair
Short bangs are straight cut center bangs that reach mid-forehead. Short bangs, or baby bangs, bring more focus to the forehead and the shape of your face. Hence, not everyone can pull off this look. If you have a round or a heart-shaped face, it's best to avoid this cut. People with oval faces can pull this look off best.
6. Long Straight Colored Hair With Bangs
If you're looking to change up your look, try this look. The red bangs accentuate your skin tone and eye color. This is a fun way to experiment with your color and cut. Try thinning the edges as well to bring more definition to the hairdo.
7. Long Wavy Hair With Long Wavy Bangs
Long sea wave bangs that just blend in with your long wavy hair give off a slightly vintage and soft look. If you have a long face, you should try this.
8. Long Hair Front Bangs
Messy, uneven bangs, feathered at the center, are perfect if you're going for a carefree look. This is the ideal just-out-of-bed-and-going-to-rock it look.
9.Thick, Uneven Side Bangs Under Side Swept Bangs
If your usual look is sporting side bangs and you have thick luscious hair, then try this look to add a bit more jazz to it. To get this look, take a triangularly shaped parting at the center, take the hair closest to the center point of the triangle, and cut it. This hairstyle looks best with heavy layers.
10. Long Blonde Hair With Traditional Bangs
If you have or love blond hair, then you should try this classic hairdo. Long full bangs on flowy blonde hair look amazing whether it is to make a statement at the office or let loose at a party.
11. Retro Bangs Long Hair With Bangs
Shoutout to all retro hairdo fans! This is a faux rockabilly bangs look. If you have long hair, it adds to the retro feel. Spritz water on your bangs, and put a bit of medium hold gel on it. Using a hair dryer and a comb, turn the edges of your bangs inside towards the forehead.
12. Feathered Center Bangs
If you're looking for something uncomplicated and straightforward, this is it. This is the ready-for-anything hairdo, be it a business meeting, a photoshoot (like the stunning Behati Prinsloo) or a party. Slight wavy locks with front bangs that are thin at the center.
13. Bettie Page Waves
Well hello, Bettie Page! Wavy sharp-edged bangs look terrific, especially if you have longish hair wavy hair.
14. Straight Choppy Bangs
Choppy, uneven bangs are always in fashion. Pair it with straight hair that is tied in a loose ponytail. This look is fresh, simple, and ultra stylish.
15. Full Straight Hair With Tapered Thick Bangs
If you have thick, full hair, try tapered bangs. Don't thin out your hair, flaunt thick bangs. Let the center of your bangs reach just below the eyebrows, and then, as it moves towards the ears, increase the length of the bangs a little.
16. Lightly Feathered Bangs With A Bun
If you are willing to experiment on your bangs, you should try this one. Take a triangular piece of your hair and cut it in a tapered way. Keep the hair closest to your ears a little longer. Color the center part a dark brown and keep using a shade lighter until you reach the hair near your ears. Make a bun and let those stylish bangs get their due!
17. Light Wavy Bangs
Light wavy bangs, till the eyebrows or just above it, make you look younger and fresh. If you have wavy hair, do try it.
18. Really Long Hair Layered With Thick Bangs
This is for the really long-haired women. Look uber cool with this trendy hairdo. This layered step cut paired with sharp baby bangs proves that long hair with bangs will never go out of style.
19. Thick Curly Bangs
Perm your bangs!! As a straight-haired girl myself, I just couldn't take my eyes off this permed bangs look. This hairdo looks spectacular and playful as hell.
20. Thin Slightly Wavy Hair With Straight Bangs
Elegance redefined! You are looking at one of the best summer hairdos. This wavy blunt haircut with feathered center bangs is so chill you just might not notice the heat this summer.
21. Bun With Long Tapered Bangs
Raggedy uneven bangs are a complete #bossbabe. If you have a high forehead, then give this a try. This bangs look takes the focus away from your forehead and accentuates your cheeks.
22. Balayage Bangs
The balayage is here to stay. Straight bangs on a wavy balayage hairdo – trendy. It also gives your face a slimmer look.
23. Razor Side Bangs
If you have thin hair, then this hairdo will work wonders for you. This razor cut with side bangs makes your hair look fuller and adds more focus to your entire face.
24. Messy Ponytail With Bangs
If you're a carefree spirit, you'll love this. The messy wavy bangs, due to the outward tapering, brings the focus to your eyes. Also, the color job is too good.
25. Swept Frontal Bangs
People with oval faces can work this like crazy. This hairdo is for the thick-haired. Try a razor cut if you want your hair to the focus of your look.
26. Curly Do With Long Bangs
This hairstyle oozes attitude! Simply wear it wild, and turn heads wherever you go.
27. Spiky Bangs
Wispy bangs will never go out of fashion. Using a curler, make your hair wavy, and then, at the ends, make it straight. Keep your bangs straight and wispy as well. Fluff your hair to give it that extra volume.
28. Faux Poofy Hair With Thick Side Swept Bangs
If you have a long face with a high forehead, this is the best hairdo for you! To get this look right, you need to have layers cut in your hair. Tie your hair in a low pony, slightly poofing the front part of your hair. Leave your bangs free and loose. This gives it a fake short hair look from the front and brings the focus to your jawline.
29. Wavy Long Fringe With Spiky Ends
Use a curler to get these crisp waves with spiky edges. Straighten out your bangs and keep them a centimeter above your eyebrows. This look adds to the wow factor of your long hair.
30. Vintage Rockabilly Bangs
If you want bangs but don't want to cut your hair, here is a classy vintage hairdo for you. Take a thick triangular parting of your front hair, apply strong hold gel on it, and curl it inwards. Retro mama!
31. Beehive Bun With Long Short Bangs
For this hairdo, let a professional help you. The sleek side swept bang adds classiness to this sophisticated hairdo.
32. Vintage Full Hair Bangs
This is another retro look that will never go out of fashion. Turn your hair outwards using a hair dryer to give it the complete retro feel.
33. Updo Bangs
Using a curler and some hairspray, you can recreate this gorgeous hairdo. Tie your hair in a messy bun, leaving the end to fall out over the bun to give it a short, fuller look. And you can accessorize it as well.
34. Low Messy Bun With Side Bangs
This look is perfect for a late or lazy work day. Instead of using an elastic band to make a bun, use a pencil clip to give it that relaxed messy feel.
35. Turned In Hair With Long Side Bangs
Long bangs are awesome. Recreate this sleek hairdo with a hairdryer and some hairspray. Pairing long layered hair with side-swept bangs amps up your look dramatically. Try it with a triangular zigzag parting. This is an ultra-modern look that you can sport at business meetings.
36. Vintage Wave Bangs
Take a bunch of hair and slightly sweep-curl it outwards. Curl the rest of your hair into a messy cascade of waves. Spritz on some hairspray to keep the do in place. This look works magic at formal events like work parties and weddings.
37. Braided Bangs
If you already have bangs, try this chic hairstyle. These are box braids. This hairdo is all about showing off that sassy attitude.
38. Messy Braid With Side Bangs
This look is super hot and perfect for a day at the beach. Braid your hair on one side, letting all the short hair hang loosely. Let your bang sit on one side of the face.
39. Half Bun With Wispy Side Bangs
This wavy hairdo is one of my favorites. The half bun is undoubtedly a trend right now, and with these side bangs and that dark maroon lipstick, this hairdo will turn heads for sure.
40. Straight Top Knot With Bangs
The half bun looks impressive on straight hair. The straight bangs add an edgy feel to it. Cut your bangs unevenly at eye length to get this uber cool look.
41. Textured Bob With Full Bangs
This look is perfect for those with high foreheads and round faces as it takes the focus away from the forehead and the gives the face a heart shape.
42. Spiky Long Bangs
This textured unkempt long bob is all about style. Using a curler, turn one side of your thin bangs outwards. Curl your hair into wavy textures, leaving the ends wispy. This is the ultimate messy-but-I-love-it look.
43. Long Swept Side Bangs
This look is ultra futuristic and rebellious. If you are tired of your regular fringe, this is the way to go. Turn heads and stun with this gorgeous hairdo.
44. Sleek Side Bangs
Sophistication at its finest. This look is perfect for all the boss ladies out there who run the world!
45. Low Pony Side Sweep Bang
This is the ultimate sweet girl look. Tie the pony, then wrap a part of your hair over it to hide the elastic. Sweep your bangs to the side.
46. Long Bangs
Long bangs are the trend right now, and you can't go wrong with them. This wavy look is so hot that you'll be the source of the heat this summer!
47. Straight Hair With Bangs
This laid-back chill look is perfect for people with long faces. The uneven long bangs draw attention to the features of your face, diverting the focus from the forehead.
48. The Amy Winehouse Look
If you have thick and straight hair, try this super chic look. Pair it with a dark lipstick and matching nail polish, and you are ready to take over the world.
49. The Heavy Wave Deep Swept Bang
Using a hairdryer, curl the ends of your hair inward and sweep your bangs to one side. This hairdo is just stunning.
50. The Half Long/Short Side Swept Bangs
Blunt asymmetrical haircuts never looked better. This hairdo takes long bangs to a whole other level. It is a definite showstopper.
Let us know which one was your favorite!
Infographic: How To Accessorize Your Overgrown Bangs
There are many ways to style your bangs to achieve unique looks. They look great for long as well as short hair, depending on the shape of your face. However, bangs also tend to overgrow and annoyingly get in your way. If you cannot make time for a quick trim, the only way to fashionably work with bangs is to accessorize them. Check out the infographic below on tips to accessorize your bangs.
That is our list of the best hairstyle ideas for pairing long hair with bangs. Long hair by itself is very versatile and gives you the freedom to play around with many hairstyles. Adding bangs to your long hair can change your look completely. You can also play around with these hairstyles with hair accessories like scarfs, headbands, decorative pins, and more. You can pair these hairstyles with caps and beanies during fall and winter. And for summer and spring, you can change up your hair with highlights or a full color change. There are so many ways you can style long hair and bangs!
The following two tabs change content below.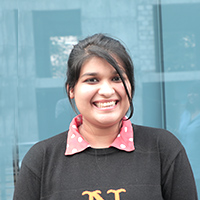 Anjali specializes in hairstyles and hair and skin care and has written over 200 articles in these domains. Her philosophy...
more