Top 15 Barbie Hairstyles That You Can Try Too
Experiment with stunning hairdos that make you look stylish and younger.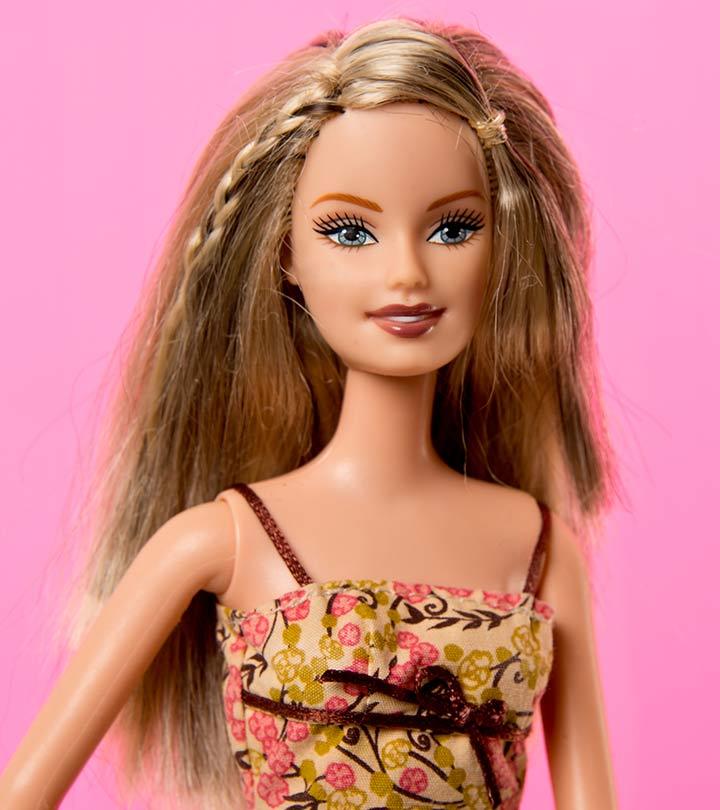 For most women, Barbies were the ideal playmate. You could experiment with her outfits, and more importantly, her lovely silky hair! Most of us have fond memories of styling umpteen barbie hairstyles, trying to pick the right one. But we all secretly harbored the desire to try out those hairstyles ourselves. And now you can!
Did you know that most kids pick Barbie dolls based on their hair color, type, or length instead of their weight? Because while Barbie's weight tends to stay the same size unrealistically, her hair can be changed up constantly! From updos to low buns and ponytails, from long slick straight hair to natural loose curly tresses, and with so many colors to play around with – the amount of Barbie hairstyles is many!
So, let your inner child loose, reminisce, and experiment by trying out these 15 incredibly fun and fashionable Barbie hairstyles on yourself.

Before You Get Started
For a prim-proper and sleek Barbie hairstyle, you must apply a mousse to your hair to create definition and tame flyaways.
You would require volumizing spray and dry shampoo to create voluminous Barbie hairstyles. You will also need to blow dry your hair before creating the look.
Hair accessories like hair ties, bows, and clips are essential for creating most Barbie hairstyles.
1. Halo Braid Afro
Even Barbies are rocking the afro look so well! This barbie should be your inspiration if you have natural hair and prefer the braided half afro look. This elegant medium afro hairstyle is perfect for date nights or weddings.
2. Colored Pushed-Back Bob
This is one of the simple and beautiful hairstyles for a Barbie and for you! If you have straight hair and love to experiment with colors, this short bob in a pastel pink hue is a must-try! You can also use hair straightening tools with heat protectants to achieve this perfect doll-like look.
3. Dutch Braided Ponytail
Who doesn't love Dutch braids? Even this Barbie looks so beautiful in a thick Dutch braid. This easily-manageable hairstyle is simple to achieve and elegant. You have to tie a ponytail at the back of the head and start weaving a Dutch braid from the base and secure the ends. That's it!
4. Messy Bun
A messy bun is highly suitable if you have long hair. You can achieve this look with a sleek ponytail wrapped around its base at the back of the head. This hairstyle imparts a sleek, chic and trendy look and goes with all outfits, and is suitable for all occasions.
5. Simple Side Ponytail
A simple side ponytail offers a more formal-casual look with a lot of movement in the hair. You can just part your hair at one side, gather all your hair at the other side, and tie a ponytail. You can flip the ends outward and may also add accessories.
6. Side Parted Simple Hairstyle
This is the most basic Barbie hairstyle. Here, the hairs are simply side-parted and well combed. This is an evergreen hairstyle which suits all occasions. This hair style is beautiful, simple and very elegant.
7. Two Ponytails
This is another beautiful and simple hairstyle on my list. Simply make two high ponytails, keep some short hairs on your forehead and wear a thick cloth hair-band. This hairstyle looks really beautiful on girls with medium to long hair.
8. Loose Semi-Curls
This is one of the most beautiful hairstyles on our list. Open hair with loose curls looks really beautiful and appealing. This hairstyle is also very simple to do and can be elevated by adding some layers and highlights. I would suggest you to save this hairstyle for a special occasion or an evening party.
9. Braided Ponytail
This Barbie is a Hunger Games Katniss Everdeen Barbie doll. The hairstyle is simple but looks really appealing and smart. It is a perfect hairstyle for a confident, smart and beautiful look. This hairstyle is easy to manage and is perfect for a day-long outing or travelling.
10. Half-Pinned Wavy Hairstyle
Want to flaunt like a Barbie princess? Get this hairstyle done. It is a very beautiful hairstyle. Half-pinned pulled-back hair with beautiful, big, and loose waves will look perfectly pretty on every dress and suit every face-cut. You can easily do this hairstyle by yourself.
11. Braided Bun Hairstyle
If you have long hair, this Barbie hairstyle is perfect for you. You need to make a braided ponytail first. Then with that ponytail, make a high bun just as in this picture. It is a very beautiful hairstyle and would surely make you feel like a Barbie doll.


Trivia
Pouf, sleek Dutch, and Bohemian are some popular types of braided bun hairstyles.
12. Short N' Roll Hairstyle
This is a Marilyn Monroe avatar of Barbie. If you have short hair, you can get it rolled just as in this picture. This hairstyle is very glamorous and beautiful, and suits every girl who has short hair with bangs.
13. Barbie Princess Hairstyle
This is a perfect Princess Barbie hairstyle. This hairstyle is a combination of waves, curls, braids and bun. This beautiful hairstyle is perfect if you have really long and dense hair. If you have short or medium hair, you will find it very difficult to get this hairstyle done.
14. Squirrel Tail
If you wish to look classy, elegant and beautiful, you can opt for this hairstyle. The squirrel tail hairstyle is perfect if you are going clubbing or to any evening party. Don't forget to add that black bow on your squirrel tail, just as shown in the picture.
15. Bob Cut
Last but not the least on our list is this bob cut hairstyle. Though getting this cut can be a good option, you can also attain this hairstyle if you have shoulder-length hair. Simply use a straightener and set this hairstyle. It looks classy, modern and very elegant.


Did You Know?
The bob cut is popular among celebrities. While Sienna Miller rocked a polished bob at the 2015 Golden Globes, Karlie Kloss flaunted her blonde bob at the 2013 MTV Movie Awards.
Almost all of us had a Barbie doll when we were younger. Barbie dolls are like the style and fashion keepsakes. They teach us about Barbie doll-inspired hairstyles and fashion when we are young. How about looking back on those wonderful days with the best Barbie hairstyles? Barbie hairdos and hairstyles are feminine, girly, bright, and lovely, despite the fact that our favorite Barbie is a beauty and fashion obsessive. These are the most appealing and lovely looks. Choose your best and give it a go.
Frequently Asked Questions
What kind of hair do they use on Barbies?
Saran hair is the most common type of hair used for Barbies.
What Barbie has the longest hair?
The Totally Hair Barbie introduced in 1992 has the longest hair, reaching to her toes. This iconic hair length has made this doll the highest selling Barbie in history.
Is there a Barbie with no hair?
Yes. One of the recent lines of Barbie Fashionista dolls has introduced bald Barbies in an attempt to address and represent alopecia.