BB Cream Vs. Foundation: Differences And How To Apply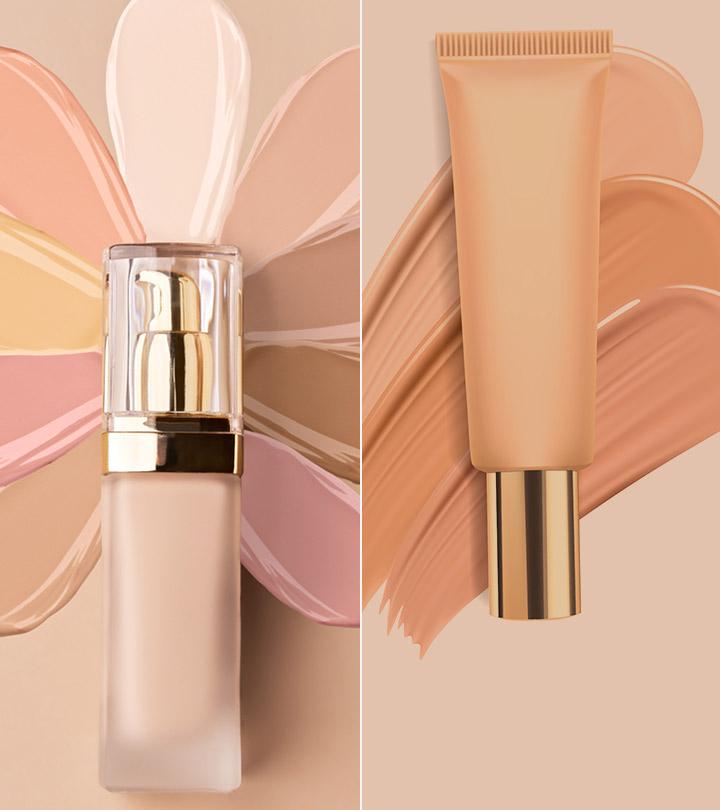 If you are confused by the BB cream vs. foundation debate and are unsure which one to choose, we can help you. Both BB creams and foundations help you even out the skin tone, cover your blemishes perfectly, and offer you the flawless skin you desire. However, both are different in some ways.
This article explains the basic differences that set BB creams apart from foundations. Keep reading to learn more and choose the right one for you.
What Is A BB Cream?
BB cream or 'Blemish Balm' cream helps cover blemishes and also acts as a skin care product. You can think of a BB cream as a multi-tasker that offers multiple benefits – evens out the skin tone, nourishes the skin, and offers SPF protection. This makeup-cum-skin care product helps protect the skin from free radical damage and keeps it hydrated, moisturized, and healthy.
BB creams differ from moisturizers as they offer greater coverage and provide several skin care benefits apart from moisturizing.
What Is A Foundation?
Foundation has been a part of makeup way longer than BB creams. As the name suggests, it acts as the 'foundation' of your makeup and covers skin imperfections like acne marks, pimples, large pores, blemishes, dark circles, and uneven skin tone.
Foundations are available in different shades and tones – from lighter porcelain to darker cocoa. A well-applied foundation acts as a flawless base for stunning makeup.
It is common to confuse a BB cream with a foundation, concealer, and even tinted moisturizers. But what is the difference between a BB cream and foundation? Find out in the next section.
How Is A BB Cream Different From A Foundation?
CoverageThe basic difference between a BB cream and a foundation lies in the type of coverage they offer. A foundation provides complete coverage but forms a thick layer that might feel heavy on the skin. On the other hand, a BB cream is lightweight and offers lesser coverage than a foundation. It provides a natural look and is not as effective in covering scars and blemishes as a foundation.
BB creams are skin care-cum-makeup hybrids, while foundations are makeup products. BB creams even tone your skin, reduce the appearance of wrinkles and acne scars, hydrate your skin, and protect it from the harmful UV rays of the sun.
Most foundations might lack skin care benefits, such as anti-aging and moisturizing properties. They only cover up the blemishes and offer a smoother look.
While both BB creams and foundations are available for different skin tones and shades, only BB creams are made for different skin types. For instance, BB creams for dry skin keep it hydrated and prevent unwanted breakouts. BB creams designed for oily skin help control oil production and mattify the skin.
However, foundations also offer oily skin types a poreless, matte finish, but the effect lasts only as long as you are wearing them. Your skin's oiliness is not controlled as it is with a BB cream. Likewise, foundations for dry skin types offer a dewy finish, but they do not prevent dryness or moisturize the skin.
Foundations offer a wider range of shades than BB creams. On the other hand, BB creams have a very limited range of skin tones and are usually available in the following shades – fair, medium, and dark. This makes it difficult for people with exceptionally fair and dark skin to find a BB cream shade that matches their skin tone.
Most BB creams contain SPF and protect your skin from the sun's harmful UV rays, while the same is not seen with foundations. However, the SPF of BB creams is useful in mild sunlight and shaded areas. It is not enough for intense sunlight or prolonged exposure to the sun.
Using a BB cream is super easy, and it gives you a stunning, natural, and flawless look in a few minutes. So, how does one use BB cream?
How To Apply BB Cream
You can use your fingertips or a brush to apply the cream to your face. You need not apply a primer, sunscreen, or moisturizer separately as the cream is an all-in-one product.
After applying the BB cream, all you need to do is follow it up with a compact, some lipstick, and eye makeup. And voila! You are all set to set the stage on fire.
Makeup artists and skin care specialists highly recommend a BB cream if you have a bad skin day or your skin is acting up in the heat. A gentle BB cream will let your skin breathe and make it look stunning.
If you want to know the right way to apply a foundation, scroll down.
How To Apply Foundation
Cleanse your face and neck and apply toner. Begin with a moisturizer.
Apply primer, followed by the foundation.
Dot your face and neck with a few spots of foundation and spread it evenly using your fingertips, a beauty blender, a brush, or a sponge.
Wait for a few minutes after applying the first layer of foundation and allow it to settle on your skin. You might need another layer of foundation before applying the remaining makeup products.
Note: You can build your foundation from light to full coverage, based on your requirement. However, give enough time between the layers for a well-blended and flawless look.
A foundation is what you need to pick:
When you need complete coverage
For makeup on special occasions
When you are having a bad skin day
When you want a flawless, even-looking skin
A foundation is also very helpful if you need to cover a scar, a blemish, or a pimple that sits oddly on your face.
Key Takeaways
A bb cream is a makeup and skin care product. It nourishes the skin, evens the skin tone, and offers SPF protection.
Foundation is a makeup product that covers acne marks, large pores, blemishes, and dark circles.
Foundation offers complete coverage by forming a thick heavy layer.
BB cream coverage is less compared to the foundation. It also is lightweight.
BB creams and foundations help balance skin tone, conceal blemishes, and give you the beautiful skin you desire. Both, however, are distinct in some aspects. For example, a BB cream has a natural appearance but lacks the coverage of a foundation. On the other hand, a foundation is a makeup necessity that lacks hydrating and other skin-care properties. Now that you know the difference between BB creams and foundations, you can decide which is best for your skin. Of course, BB cream and foundation serve different purposes, and it is fine to choose one over the other on occasion.
Frequently Asked Questions
How safe are BB creams?
There are no potential side effects of BB creams. BB creams provide significant skin care benefits, such as anti-aging, sun protection, moisturization, and blemish coverage. However, the moisturizing benefit may not be enough for dry skin types.
Also, go through the ingredients of your BB cream thoroughly and try to avoid harsh elements, such as phthalates, oxybenzone, or artificial fragrances, that might irritate the skin.
Can you use BB cream instead of foundation, or do you need both?
No, you cannot use BB cream instead of foundation as it will not provide sufficient coverage and base for makeup. Also, BB creams do not come in a wide shade range. If you want a minimal makeup look with light coverage, choose a BB cream.
Can you wear foundation if you have oily or acne-prone skin?
Yes. If you have oily or acne-prone skin, opt for a water-based foundation that stays shine-free and makes your skin glow. Foundations for this skin type help cover enlarged pores and offer a matte finish.
The following two tabs change content below.