10 Best BB Creams For Oily And Acne-Prone Skin
Invest in these creams to achieve a flawless and natural skin complexion.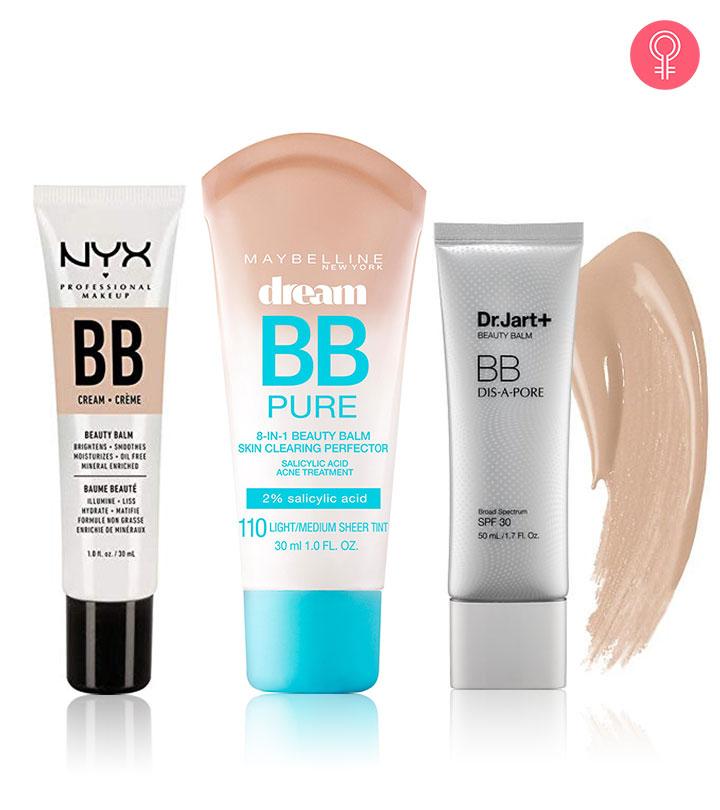 If you have oily skin, finding the right makeup products to suit your skin type becomes tricky. First, you need to ensure that the products you use do not trigger breakouts and other oily skin-related concerns, and then you would want to achieve a flawless and natural-looking complexion. All that is possible if you can get your hands on the best BB cream for oily skin. A good BB cream does not leave your skin oily and provides sheer coverage. In this article, we have compiled a list of the best BB creams for oily skin that will give you a radiant finish. Keep reading to know more!
10 Best BB Creams For Oily And Acne-Prone Skin
Review
Covergirl Clean Matte BB Cream has an oil-free formula that doesn't clog pores, preventing breakouts. It is a water-based, lightweight foundation that hides blemishes and imperfections for an even-toned skin. It glides on the skin smoothly and blends easily, giving you natural-looking, shine-free, and mattified skin all day.
Pros
Non-comedogenic
Lightweight
Suits sensitive skin
Oil-free
Cruelty-free
Cons
None
Price at the time of publication: $4.79
Review
Garnier BB Cream is an oil-free formula that contains perlite, a volcanic mineral powder known to absorb the excess oil and leaves you looking fresh. The salicylic acid in this helps to prevent acne smoothens out your skin while the tint conceals imperfections naturally. It contains SPF 15 that gives you sun protection too.
Pros
Anti-aging formula that works on wrinkles
Minimizes the appearance of pores
Hydrates your skin
Cons
Price at the time of publication: $19.97
Review
The Maybelline New York Dream Pure BB Cream contains salicylic acid. It acts as a concealer and corrector as it reduces the appearance of wrinkles, blemishes, and redness caused due to acne. It is lightweight and non-comedogenic and blends easily – everything a BB cream needs to be.
Pros
Oil-free and lightweight formula
Contains salicylic acid that works on blemishes
Clears up your skin
Cons
Does not give enough coverage
 Review
This BB Cream blurs redness, discoloration, even out skin and offers a natural-looking coverage. It also provides broad-spectrum sun protection against damaging rays. It is enriched with jasmine that retains moisture, giving you an improved skin texture, while Gogi and hawthorn berry brightens the skin.  This tinted cream has a matte finish and offers a youthful complexion to your skin.
Pros
Contains SPF 30
Hypoallergenic
Suitable for all skin types
Paraben-free
Vegan
Cruelty-free
Cons
Expensive
Price at the time of publication: $36
Review
The NYX Professional Makeup BB Cream stays true to its name and offers a professional finish. It acts like a primer and brightens and moisturizes your skin with its mineral-rich formula. A little product goes a long way.
Pros
Professional finish
Blends fully and doesn't look cakey
Long-lasting
Cons
Price at the time of publication: $24.99
Review
A powerful blend of peppermint, chamomile, lavender, jasmine, ylang-ylang, hibiscus and other ingredients like niacinamide makes this one of a kind. It shrinks and tightens your pores, reduces blemishes, tones your skin evenly, and controls and absorbs excess oil produced. It does all of this while protecting your skin from harmful UV rays.
Pros
Offers good coverage
Specifically targets and works on large pores
Works on fine lines and wrinkles
Cons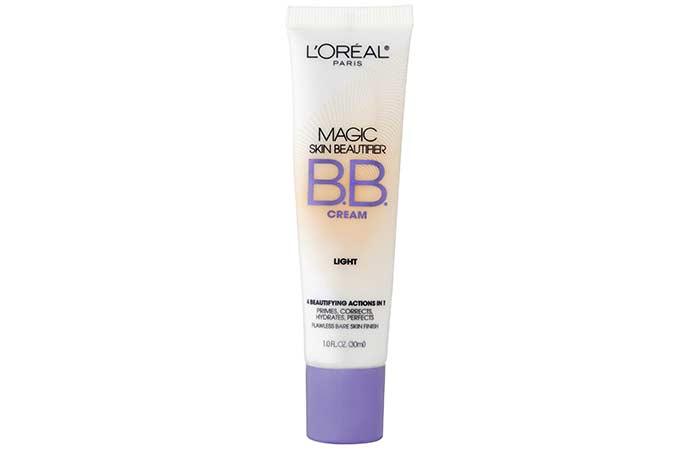 Review
A drugstore cream that does the magic of any big brand is perfect for every day. It is enriched with beautifying beads and antioxidants like vitamins E and C that instantly fill up all kinds of asymmetry to give your skin one natural shade.
Pros
Blends easily
Gives a natural finish
Contains antioxidants
Has hydrating and moisturizing properties
Cons
The effects are not long-lasting.
Price at the time of publication: $22.77
Review
This oil-free, tinted gel is a lightweight formula. It contains plant-based natural moisturizing agents that hydrate your skin without clogging pores or adding an unnatural shine to it. It offers excellent coverage and protects your skin from sun damage.
Pros
Hypoallergenic
Non-comedogenic
Free of sulfates and parabens
Very good coverage
Cons
T-zone starts to look oily after some time.
I need to follow up with a compact powder.
Price at the time of publication: $22.5
Review
The BB cream from La Roche-Posay is perfect for sensitive skin as it is formulated and tested by dermatologists. It is oil-free and non-comedogenic and visibly reduces the appearance of enlarged pores and covers imperfections. It absorbs excess oil and keeps you fresh all day long.
Pros
Has a clear mattifying effect
Dermatologist tested
Suitable for sensitive skin
Free of mineral oils, parabens, or sulfates
Cons
Available in limited shades
Price at the time of publication: $29.99
Review
Physicians Formula Super BB Cream is formulated with pore-filling polymers that magically conceal pores and blemishes and smooth out your skin. It gives a natural, semi-sheer coverage that prevents breakouts and absorbs excess oil. The skin brightening antioxidants and firming botanicals leave your skin feeling supple, luminous, and healthy.
Pros
Doubles up as a primer
Conceals imperfections
Long-lasting formula
Good for sensitive skin
Cons
Feels a little heavy on the skin
Only available in two shades
Price at the time of publication: $16.79
A perfect BB cream acts as a moisturizer, SPF, and general complexion enhancer, all in one! Sounds too good to be true? It is not! Here are a few different factors you should consider when buying a BB cream for oily or acne-prone skin.
What To Consider When Buying BB Creams For Oily And Acne-Prone Skin
Check for SPF: For your BB cream to protect your face from UV radiation, it must contain SPF. Look for products with an SPF if you do not wear sunscreen regularly. Your skin needs protection from the sun year-round, even on overcast days or inside buildings. BB cream with SPF 30 is enough to protect your skin from UV rays.
Toxin-free Formulation: A BB cream that is suitable for oily or acne-prone skin likely contains a minimal amount of emollients and preservatives. Avoid using BB cream with mineral oil, paraben, phthalates, and sulfates. Instead, you can opt for organic BB cream which is rich in grapeseed oil, strawberry extracts, aloe vera, blueberry extracts, and pomegranate extracts which maintains the balance in sebum production.
Non-sticky: Since oily skin tends to produce excessive amounts of sebum, your BB cream shouldn't feel too heavy or sticky on your skin as this could make you feel like you are wearing a full face of makeup every day. Look for a BB cream with a smooth, lightweight, and skin-nourishing formulation that matches the color of your skin.
Skin Tone: BB creams are available in a variety of shades. If you're light-skinned, you should look for a lighter-colored BB cream. This way, the product will not cause your complexion to appear too dark or fake-looking. On the other hand, if you have darker skin, stick to tan or darker shades of BB cream because these tones will match your skin perfectly and are less likely to leave you with an unnatural or cakey appearance.
Hydrating Formula: If your skin is oily or acne-prone, look for products that are enriched with hydrating ingredients like shea butter, jojoba oil, aloe vera, and green tea. These powerful ingredients are natural moisturizers that will help keep your face from becoming too shiny.
Sensitivity: If you have sensitive skin, check the label to see if the product has been tested to ensure it won't cause an allergic reaction in sensitive-skin individuals who are prone to rashes or breakouts.
Why Trust StyleCraze?
Pratima Ati, the author of this article, has a keen interest in fashion and keeps herself updated on everything new in the cosmetics world. Her in-depth knowledge and research about various brands and products provide users an unbiased opinion about the best BB creams suitable for oily and acne-prone skin. The products listed here are water-based and lightweight formulas that do not clog pores.
Frequently Asked Questions
Does BB clear remove pimples?
No, BB clear erases discoloration and improves your skin tone but does not clear pimples.
Can BB cream be used daily?
Yes, BB cream is a perfect choice for everyday use. It imparts your face a foundation-like glow and moisturizes your skin to stay nourished.
How do I find my perfect BB cream shade?
For normal and dry skin types, go with moisturizing BB creams. Pick shades closer to your complexion for a natural look. If you have oily or combination skin, opt for a matte finish BB cream. For warm undertones, choose beige or olive shades. On the other hand, formulas with yellow undertones are suitable for people with Asian skin.
Is BB cream better than foundation?
You can use bb cream, but they do not come in various shades, so find the right shade to replace foundations.
Can I use moisturizer before applying BB cream?
Yes. If you have dry and normal skin, applying moisturizer before applying BB cream is crucial. For oily skin, a BB cream with a lightweight, matte finish is enough.
Recommended Articles: