BBlunt Salon Secret Mahogany Reddish Brown Review
We love all things colorful so much so that sporting different hair colors has become a trend now. I have been coloring my hair for years now. Although I am aware of the harm these chemical-laden products can cause, do I have a choice? The wisest thing to do, perhaps, is to choose a mild one that causes minimum damage to your scalp and hair. Today, I am going to review one such hair color product and tell you why it's the best bet for those with a sensitive scalp. Ready?
I am one of those who love to experiment with their hair, be it in style or color. And I don't mind trying bold colors too! So, during one of such pursuits when I was scouting for a different variant of hair color, I came across BBlunt Mahogany Reddish Brown shade of hair color. Believe me, till then, I had been using BBlunt and loved the product for the reason which I shall soon reveal, without knowing the manufacturer details. The day I picked this up for review, I was told this is from Godrej. Hearing the brand name gave me a sense of reassurance as they have been in the business for long now. Here's my review of BBlunt Salon Secret Mahogany Reddish Brown high shine creme hair color.
Now, before I tell you more about the product, here's what you have to remember before using any hair color.
Precautions To Take Before Applying Hair Color
Never leave the hair color on for too long.
Always apply hair color on a clean scalp for best results.
Never apply color on already colored hair as you might not get the desired results.
Make sure you go through the instructions given on the hair color packet.
Stick to a brand. Never mix products, you could have allergic reactions.
Never use hair color to tint or dye your eyebrows as it could harm your eyes and turn you blind too.
Always use gloves while coloring your hair.
Also, apply vaseline petroleum jelly on the areas outside the hair region to avoid skin discoloration.
If you have sensitive skin, always do a patch test before using the entire product on your scalp.
How To Do A Patch Test For Hair Color?
Dab a little hair color behind your ears and leave it on for 48 hours. Look out for allergic reactions like itching, redness or burning. If you experience none, then the product is good to go on your skin.
BBlunt Salon Secret Mahogany Reddish Brown High Shine Creme Hair Color Contents
A tube of creme colorant
A tube of developer
A tube of shine tonic with silk proteins
A pair of disposable gloves
Instruction leaflet
How To Use BBlunt Hair Color
First things first, put on the gloves, making sure your entire hands are covered.
Squeeze out the contents of the two tubes and the shine tonic sachet into a non-metallic bowl. Mix the contents with a tinting brush until you get a smooth creamy texture.
With the help of the tinting brush, apply the color on to the gray areas first and then wherever required.
Leave it on for a minimum of 30 minutes while you enjoy your favorite TV soap. If you want a deeper color, a few minutes more will do the trick.
Emulsify for a couple of minutes after sprinkling water on your scalp. Rinse till the water runs clear.
Now, use a conditioner on your hair and rinse off.
Air dry or towel dry your hair and TA-DA – you just got a vibrant color on your hair!
How To Ensure Your Hair Color Stays Long
For long-lasting color, use a color protect shampoo every time you wash your hair.
Use lukewarm water instead of hot water for washing your hair.
Restrict hair shampooing to twice a week.
If you are getting into a pool for a swim, make sure you wear a shower cap to protect the color on your head. The chlorine water could react with the hair color and cause allergies.
BBlunt Salon Secret Mahogany Reddish Brown High Shine Creme Hair Color Review
Now, why BBlunt hair color, you ask?
Well, for starters, this comes with a shine tonic enriched with silk proteins, which adds luster to your dull, lifeless hair.
I have a sensitive scalp but never experienced any itching post product use. Yet, I recommend that you do a patch test before use to be on the safer side.
Also, I found that color running out after every hair wash is minimum with this product.
Rating: 4/5
Where Can I Buy It?

Verdict:  BBlunt hair color is an affordable luxury for those wanting to have funky fashion colors on their hair without burning a hole in their pocket. Having used the product myself, I can vouch for the shine on the hair and the long stay of color. It stays anywhere between 4 to 6 weeks with good gray coverage. Most importantly, it's ammonia-free.
FAQs
How Many Shades Does BBlunt Offer?
BBlunt hair color comes in seven shades:
Coffee Natural Brown
Mahogany Reddish Brown
Blueberry Blue Black
Honey Light Golden Brown
Wine Deep Burgundy
Natural Black
Chocolate Dark Brown
How Long Should I Keep The Product Mixed Before Use?
Well, this is no henna to be soaked for hours. Use the product soon after you mix it. Exposure of the product to air for long can result in oxidation, leading to unfavorable reactions.
How Long Should I Keep The Hair Color On After Application?
30 minutes should do.
Can The Mixed Content Be Stored And Reused On The Scalp?
Never.
How Long Will The Hair Color Last?
It depends on a lot of factors, including the number of times you wash your hair, the rate of your hair growth, and exposure to sunlight. If you have faster hair growth, then a root touch-up would do.
When Can I Color My Chemically Treated Hair?
You must wait for at least two weeks after chemical treatment to color your hair.
How Do I Remove Hair Color Stains From My Skin?
Better be safe than sorry. As I mentioned earlier, apply a thin coat of petroleum jelly on your skin before using the hair color. Make sure the color doesn't come in contact with your scalp.
Have you used any of the BBlunt hair color shades? What was your experience? Share them with us in the comments section below.

The following two tabs change content below.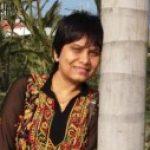 Latest posts by Reshmi AR (see all)