Top 25 Most Beautiful Daffodil Flowers
The incredibly beautiful and popular daffodil blooms come in a variety of colors and sizes.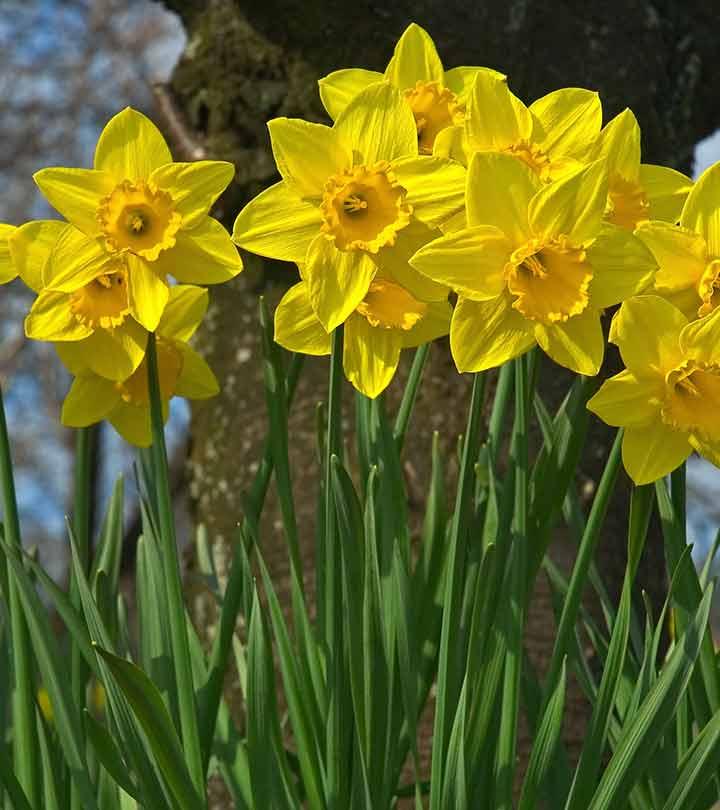 The beautiful daffodil flowers are one of the most popular blooms worldwide, courtesy of their gorgeous and soothing colors. The reasons behind its unmatched fame are apparent. These trumpet perennial flowers that bloom every spring from the bulb are attractive and carry a gorgeous and cheerful appearance. Moreover, they have bright, sunny colors and symbolize rebirth, spring, friendship, and new beginnings. The sight of daffodil flowers in nature fills the heart with joy and rejuvenates the soul.
These flowers belong to the Amaryllidaceae family from the Narcissus genus, and there are over 50 species in their variety. Also, they have beyond 1300 hybrid varieties too. Blooms in the woods, rocky grounds, and grasslands naturally, these gorgeous flowers are categorized into 13 sections. Recurvus, Golden Harvest, and Rijnveld's Early Sensation are most well-known. These flowers are native to the Mediterranean region and can be cultivated everywhere.
From apricot to orange, pink to yellow, line green to cream, and white, these colors come in many colors. The best thing about them is that they can be grown easily and are pretty hardy. However, the flower secretes a sap that can cause harm to other flowers. Therefore, proper care should be taken to condition these flowers, so they do not threaten other blooms.
In this article, we will show you some of the most beautiful varieties of these daffodils among the over a hundred varieties. So go ahead and check them out.
Top 25 Beautiful Daffodil Flowers
1. Jetfire:
Jetfire is one of the most beautiful daffodils, well known for its bold color combination. The flower has clear golden petals surrounded by a contrasting orange trumpet. The flower blooms in early spring in full or partial shade and well-drained soil. The flower would make an amazing cut flower and would look amazing when planted in groups in the gardens.
2. Sentinel daffodils:
The sentinel daffodil flower is a fabulous pink daffodil. The flower has beautiful ruffled petals, with contrasting strong stems. It has a very large cup and a clear white perianth. The blooms open on stems 14 to 16 inches high. The flowers start out apricot and change to a lovely pink. The flower thrives in full sun and well-drained soil. These daffodils flower every year in the mid to late season. The flower will look good, both planted in gardens and in containers.
3. Thalia daffodils:
Thalia is a cheery, bright white daffodil and has a lovely scent. This small bell shaped flower has slightly reflexed petals and blooms every year from March to May. This medium- headed trumpet has a light, feathery quality with narrow petals and a delicate cup. Thalia will create a gorgeous display in your garden. The flower blooms best in moist soil and is a very easy to grow plant. These pure white flowers are incredibly beautiful.
4. Quail Daffodils:
This bold bloomer has clusters of bright yellow flowers on its stem. Its scientific name is Narcissus 'Quail'. The flower is quite long-lasting and is highly fragrant. It has a very delicate appearance and the stem bears 2 to 3 golden flowers on stems, 40 cm high. The flower is 4 inches in size with neat petals and dark green leaves. The Royal Horticultural Society has even awarded this beautiful flower with the Award of Garden Merit (AGM). It is a good choice for containers, rock gardens and dainty spring bouquets.
5. Sorbet daffodil:
Sorbet daffodils are yellow split cup daffodils with bright yellow orange centers that give the flower a very fancy look. It offers white petals with contrasting cream, yellow and orange cups. The flowers are large and substantial on sturdy stems. The color combination is amazing and the split cup adds to its beauty. The flower is exceptionally fragrant and adapts well to most conditions.
Via Pinterest
6. Barrett Browning:
Barrett Browning has been around for 50 years and is named after Elizabeth Barrett Browning, wife of famous poet, Robert Browning. It is a clump forming, bulbous perennial flower with star-shaped leaves. The flower has pure white petals with orange-red cups. The color is very bright and has a striking color combination. The flower is long-lasting and is rodent proof. It blooms in fall winter till mid-spring.
7. Jack Snipe:
This miniature trumpet daffodil has petals that open up and curl backwards which makes the flower look like it has grown in a wind tunnel. The flower has white petals with a yellow center. It forms wonderful clumps and performs best in full sun and well-drained soil. Its white petals are swept back and stick straight out at a 90 degree angle from the stem. The flower has a pleasant fragrant and is good for cut flowers.
8. Sovereign Daffodils:
This regal named daffodil is a large flower with white petals and a bold orange split cup. Split cup daffodils have a central cup that is cut usually for more than half its length. They are even called butterfly daffodils as the cup folds back against the petals, giving it an appearance of butterfly. The plant bears one flower per stem. Sovereign daffodils are one of the showiest daffodils. It looks best in the spring season. The flower grows best in semi-shade and prefers medium levels of water.
Via Pinterest
9. Tahiti daffodils:
Tahiti Daffodils are rounded, double orange and yellow flowers which has won many prestigious awards in Europe. They add a spectacular color and form to the flower exhibition. This alluring flower has deep yellow petals surrounding an orange ruffled cup. This magnificent flower blooms in late spring and has a great staying power. You can even grow this flower in containers on a window sill, indoors. It is particularly great for cutting.
10. Canaliculatus:
Canaliculatus flowers bloom every year in March and April in well-drained soil and partial sunlight. This variety of daffodils produces several fresh flowers on each stem which makes it look very beautiful. The flower has white petals and a small yellow cup. Its fine fragrance and small size make it an amazing addition to your garden.
11. Petit Four daffodil:
This is an award-winning daffodil which offers white petals and a double apricot pink trumpet. It is a double cup of rosy peach highlighted by cream colored petals with strap-shaped leaves. The flower has a great fragrance and would look amazing as cut flowers. The flower is long-lasting and is one of the world's finest pink daffodils. It is easily grown in slightly acidic and sandy loamy soil. This flower can even revert to single form over time.
Via Pinterest
12. Hawera daffodil:
Hawera is a petite daffodil which grows only up to 18 cm. It has a strong, musky smell and is quite long-lasting. It is a pale yellow flower that emerges from grassy stems and leaves and its petals curl back to give it a shuttlecock kind of look. Each bulb produces several stems and is topped with around 2 nodding flowers. The flower symbolizes new beginnings and ensures happiness and well-being. It is also considered as a 10th anniversary flower. The flower thrives in partial shade or full sun and grows beautifully in pots and containers.


Did You Know?
The name 'Hawera daffodil' comes from Hawera, a small New Zealand town. This yellow flower was first raised by Dr. Willam M. Thompson in the 1930s, who was a plant developer in Hawera.
13. Cheerfulness daffodils:
Cheerfulness is a double narcissus that looks great in small drifts in a mixed or shrub border. They grow in fertile, well-drained soil in winter and spring. The plant bears several flowers per stem. It has a sweet fragrance. The blooms of cheerfulness have creamy white petals with white centers, brushed with slight yellow.
Via Pinterest
14. Merlin daffodil:
Merlin daffodil has creamy white petals with a yellow cup, tinged with orange red. The flowers last a very long time and have a very appealing color combination. It has star-shaped leaves and bright green foliage.
Via Pinterest
15. White Lion daffodils:
This one is another creamy, full white bloom of impressive size and has soft yellow petals which contain a few whites sticking out here and there. The flower has a strong and wonderful fragrance. The amazing double daffodil adds a touch of luxury to spring borders. You can grow this flower both outdoors and in containers. This is an official flower for March and December and 10th wedding anniversaries.
Via Pinterest
16. February Gold daffodils:
February Gold daffodils are eager-looking little flowers which have swept back golden petals. The flower grows up to 30 cm and blooms during March and April. This golden yellow flower has long, slender trumpets and is one of the most desirable trumpets. This is the official flower for March and December and for 11th wedding anniversaries. Even though it is an old variety of daffodil, it is still very popular. This cheery, colorful flower should be planted in big clumps for maximum impact.
17. Minnow:
Minnow is a cluster of cup and saucer flowers on top of a pencil length stem. This vibrant daffodils flower has a very sweet fragrance and clumps up rapidly. Minnow prefers full sun and moist soil. The flower fades from yellow to cream as it ages. This petite flower will add charm to your garden.
Via Pinterest
18. Narcissus 'Rijnveld's Early Sensation:
This one is a classic yellow trumpet and is one of the early growing daffodils. The flower can very well tolerate cold and snowy weather and has a long blooming period. This is a two-toned yellow daffodil and is sure to capture the attention of the onlookers.
Via Pinterest
19. Spellbinder:
Spellbinder is a long flowering, traditional yellow trumpet which gradually fades to white with time. The large trumpet opens greenish yellow against a backdrop of lemony yellow petals. The flower blooms every year in March and April and is a terrific naturalizer. It is excellent as cut flowers. This elegant flower is easily grown in medium moisture, organically rich loam and in partial or full sun.
Via Pinterest
20. Dutch Master:
This magnificent yellow trumpet is believed to be the successor to the venerable "King Alfred". This bold bloom has petals drawn slightly forward. It is yellow in color with a single trumpet and has serrated edges and a sturdy green stem. This is a perennial growing flower which grows every year in April. This flower has been given the prestigious Award of Garden Merit by the RHS. Dutch Master loves the sun and partial shade and will do well in beds and containers. It is a true classic flower and is well-known for its simplicity.
21. Manly:
This charming daffodil has been named Manly because of its masculine moniker with a thick, sturdy stem and is extremely robust. The flower is five inches wide and comes in a warm yellow color. The flowers are huge, around 5 inches wide and are borne on 12 to 14 inches stems. It is a double daffodil and has velvety petals which are so thickly layered that they appear as a triple daffodil. The flower opens to a creamy yellow with an orange center and then turns soft white and yellow over time. The flower is richly fragrant and blooms late in the season.
Via Pinterest
22. Cassata:
Cassata is a lightly scented daffodil with its split corona opening in a burst of yellow. It matures to almost pure white, folds back against the pristine white petals, almost completely covering them. This flower is perfect for the border and broad sweeps. It can be easily grown in average, medium and slightly acidic soil in full sun. This flower has striking unusual shapes and has a sweet scent to it.
Via Pinterest
23. Golden Bells:
Golden bells daffodil is a 5 to 6 inches tall, late blooming daffodil and has an unusual bell shape. It is also known as the Yellow Hoop Petticoat narcissi. The cups are large, bell-shaped with small pointed petals. Each bulb produces around 15 blossoms. The flower has a fine, grass-like foliage and would make a good cut flower. It is a late mid-season bloomer.

Did You Know?
The Golden bells daffodil is believed to have come from flower breeders in the Netherlands in the mid 1990s. It is popular for being deer- and rabbit-resistant.
24. Narcissus Tete-a-Tete:
This is a timeless, cute and petite bloom. It is a perfectly formed bloom that stands erect on an 8 inches long stem. The flower, if handled properly, can bloom for almost a month. This flower is suited for smaller containers and will add great beauty to your drawing room. The sweet-looking daffodils are sturdy, dependable, stunning, and adorable. It is one of the favorite flowers amongst the gardeners for its sunshine yellow color and petite proportion. The flower is of deep golden color with slightly reflexed petals and deep yellow cups.
25. Narcissus Avalanche:
This daffodil was once called "Seven Sisters" because it bore 12 to 20 flowers on each sturdy stem. The flower is vigorous, fragrant and is a dainty yellow cup, surrounded by pure white petals. The flower thrives in full sun and well-drained soil and blooms every year in March. It is an old-fashioned variety of daffodil and is full of charm.
Infographic: 5 Exquisite Varieties Of Daffodils
Daffodils herald the onset of spring and bring joy and beauty to our gardens and landscapes. These flowers are a symbol of hope and renewal, and they are full of exuberance. Check out the below infographic for five exquisite varieties of daffodils in all their breathtaking diversity that will leave you awestruck.


Daffodils are one of the most popular flowers worldwide. Although native to the Mediterranean region, today daffodils can be cultivated anywhere in the world. Available in shades of orange, yellow, white, or green, daffodils are a symbol of spring, friendship, and new beginnings. You can go for the yellow Jetfire, orange manly, or the white-yellow narcissus avalanche. These beautiful daffodil flowers can be easily grown in your home or bought from your neighborhood flower shop. What are you waiting for? Get your hands on some gorgeous daffodils today!
Frequently Asked Questions
Which daffodils smell the best?
There are highly fragrant daffodil varieties, like the Narcissus Thalia and the Narcissus Quail, which are equally loved and appreciated by many.
What do daffodils mean in love?
From the perspective of romance, daffodils are known to symbolize broken or unrequited love across many cultures.
How long do daffodil flowers last?
The blooming season for daffodils lasts between six weeks to six months, depending on where you live. Daffodils in a vase will last up to 7-10 days.
Witness the beauty of nature with the most beautiful daffodil flowers in the video below! Enjoy its vibrant colors as it blooms in the springtime. Check it out!
The following two tabs change content below.