10 Beautiful Half Up Half Down Prom Hairstyles You Can Try Today
Girls, preparing to look a million bucks on your big night? Don't worry. We have got you covered. From half-up braided hairstyle to glam bouffant half up-do for the prom princess, we scouted a list of ten half-up, half-down hairstyles for you to rock this season.
So, read ahead, follow these half up half down prom hairstyles to match your dress!
1. Two-Toned Half Updo
At the American Idol Red Carpet, singer Jennifer Lopez looks absolutely striking with this chic half up, half down hairstyle. She sports a pulled back and soft waves in her two-toned blonde hair. Duplicate JLo's look by pulling your hair back and then securing it with a few hair pins. You can add waves to the bottom of your hair with a curling wand, and finish off with some hairspray to keep the half updo in place.
2. Wavy Half Updo
Our favourite Blake Lively looks utterly gorgeous with her blonde hair in a half up, half down hairdo. She wears her hair slightly off-centre, sporting a long, wispy tendrils on one side. Perfect for prom – this half-up 'do is very flattering for her oval-shaped face. We also love her messy, healthy hair, which makes her look even more stunning.
3. Twisted Half Up Half Down
Spanish actress Andrea Duro looks ultra-hot with her half up, half down hairstyle featuring a chic twist. We love this elegant look with its sections of hair slicked at the sides, and straight cascading mane over one shoulder.
4. High, Half Updo
Are you in search of cute half up half down hairstyles for prom? Then here you go! Becky G looks charming and carefree with her high, swept back, half up hairstyle. We love this modern half up, half down hairstyle as the hair is swept straight back, an alternative to classic half updo. You may need to tie your hair high up to keep it in place, and then mist with strong-hold hairspray for a neat finishing touch.
5. Messy Half Updo With Braids
Actress Gillian Jacobs nails two trends in one hairstyle – half updo and side braids. If you have a beautiful wavy hair like Gillian, opt for this messy half up, half down hairstyle with side braids – perfect for a prom or even a date night. Completely Boho!
[ Read: Prom Hairstyles For Short Hair ]
6. Bun, Bangs And Half Updo
Zooey Deschanel looks effortlessly chic with her wavy half up, half down hairdo. Her bun adds some sass while her soft bangs draw attention to her stunning blue eyes. This is a great prom look, and it's very easy to execute – leave your bangs out, and then pull back a section of hair behind your head to create a high bun and secure them together.
7. Round Bob Half Updo
Alice Eve looks divine with her honey-blonde hair in a round half up, half down hairstyle. We love her glossy hair, volume at the crown and her gorgeous makeup. To recreate Alice's look, gather a section of hair, tease it up, pull them back, and secure them behind your head.
8. Half Up Braided Hairstyle
Here comes one of the best half up half down braided prom hairstyles of Naya Rivera's that we're totally jealous of!
We love everything about this flirty hairstyle – cool braids on her crown, subtle layers, multi-colored streaks and that natural hair texture. Pair this fun hairstyle with bronze skin and brown lips for a youthful and edgy final look.
[ Read: Braided Hairstyles Perfect For Prom ]
9. Glam Half-Up Bouffant
The model at the Badgley Mischka Fashion Show keeps her look retro and yet trendy with a bouffant half up, half down hairstyle. With sleek side-swept bangs, the glam hairstyle is versatile and feminine – simply add volume by backcombing your hair at the back, mist your bangs with hairspray and secure it at the sides, et voilà!
10. Half Updo With Headband
Rocking a fancy headband on, what it seems like a retro half-up hairstyle, singer Ariana Grande keeps her entire look trendy and elegant. To mimic her hairstyle, simply tease your hair at the crown, pull your sleek hair back, and adorn a dainty headband to finish your prom hairstyle. Simple and sexy – perfect!
So try out these simple-yet-chic half up half down prom hairstyles at home! Also, let us know how you liked this post! There is a comment box below.
Recommended Articles

The following two tabs change content below.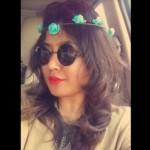 Latest posts by Anisha Pradhan (see all)