Top 10 Must-Try Latest Mehndi Stickers For 2023
Adorn your hands with intricate henna without the struggle of sitting for hours to apply it.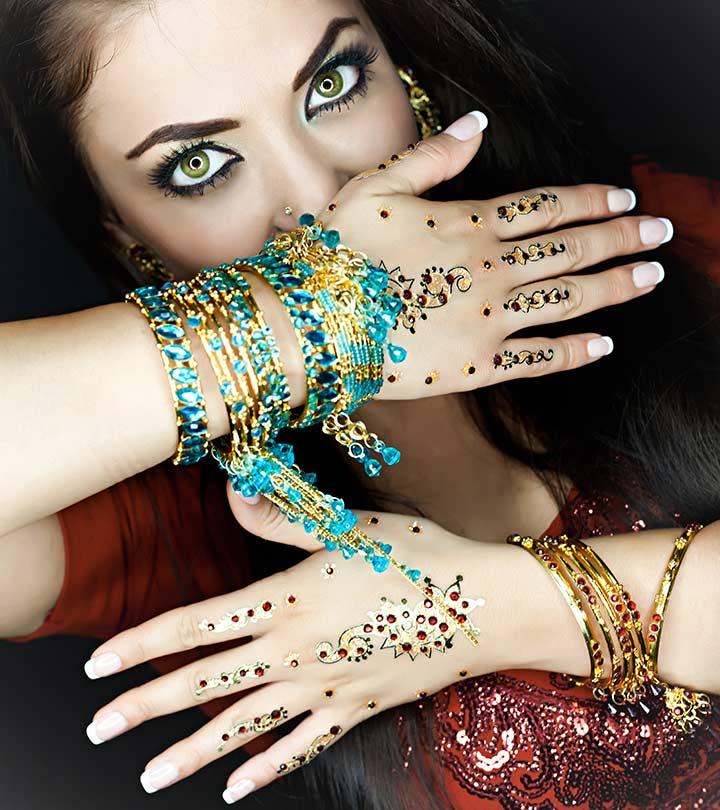 Be it your own wedding, a friend's wedding, a festival, or a party, most girls love to get their hands and feet covered in beautiful mehndi patterns that are intricate and exquisite. Mehndi stickers are undoubtedly one of the best temporary tattoo art forms out there. They also are among the most priceless decorations at weddings! They are highly decorative and creative at the same time. Mehndi can be used in several ways, like a tattoo, or in an elaborate decorative way for weddings. These days the world has become very creative with the art of mehndi. There are mehndi sticker designs available which can be used for temporary tattoos. They come in different designs – from being small to even big ones. The best thing about mehndi stickers is that you can change your tattoo almost every week.
Top 10 Designs Of Mehndi Stickers To Try In 2023:
1. The Classic Peacock Tail:
Via source
Most will agree that the peacock is the most attractive bird, known for its beautiful tail which has vibrant colours. A mehndi peacock tail sticker imitates the colours, shapes and designs of a peacock tail. It can be used on the neck, arms and hands or even legs. They really look beautiful.
2. Mango Madness:
Via source
The mango design is one of the most classic and ever green among mehndi designs. Mango shaped stickers are delicately and intricately designed. Several other designs within the mango shape make the design all the more attractive. These look very good on the nape of your neck or arms. You can also use more than one mango design for a grand look!
3. The Ornate Circle:
Via source
Mehndi designs in circular shapes look very attractive and exquisite. The circular tattoos further are filled with glitters accentuating the finer lines. They look pretty on the ankles and the navel of the stomach. Use your creativity and play with these stickers to create a piece of art on your arm or ankle.
4. Animal Motifs:
Via source
Unleash your wild side with animal faced stickers. You can get mehndi stickers in tiger, dolphin, birds, and butterflies motifs. These stickers look like a tattoo and come in a pack. You can wear a different animal on your sleeve every week! How cool is that!
5. Traditional:
Traditional mehndi stickers are usually ornate. They have several curves and vines with leaves. They are not very big. Sometimes these are also available as long strips to indicate a vine growing over your hand. These look very pretty on the length of your hand or leg.
6. Contemporary and Abstract:
Via source
Mehndi stickers come in various size and shapes. Those who like elaborate designs can opt for bigger patterns, while those who are not outlandish can choose from a variety of modest and cute designs. There are hundreds of creative stickers that you can choose from. A little star, bunches of grapes, snowflakes are just few of the many you can pick. They are sure to look cute on wrists or even on the neck.
7. Kids' Mehndi Stickers:
Via source
Mehndi stickers are also made suitable for kids. If your little princess wants a tattoo, don't say no. You can get her cute mehndi tattoos that she is sure to love. There are many girly patterns that you can choose from. And if you have a son you can pick from several designs of cars, bicycles and motorbikes. What's more? These mehndi tattoos are safe on the skin unlike other sticker tattoos!
8. Beaded Mehndi Stickers:
I for one am always on the lookout for something unique and exquisite and in one such search I stumbled upon beaded mehndi stickers! Mehndi stickers come with additional embellishments such as silver or gold beads. These beads are very tiny, yet lend an elegant look to the tattoo. These beads stay as long as the mehndi stays and fall off eventually. They are very skin friendly and make you look angelic!
9. Floral Motifs:
Via source
You can create beautiful floral designs with these mehndi stickers. Just apply these stickers on your palms and fingers and watch how miraculously you can get exotic flowers and floral designs on your hands. Truly amazing!
10. Paisley Design:
Via source
These are extremely popular. Since time immemorial paisley designs have been incorporated into mehndi designs. Usually, the paisley design is clubbed with flowers or human figures to give it variety. Paisley mehndi stickers are popular for festivals and special occasions, such as weddings and mehndi ceremonies.
No traditional Indian look is complete without a gorgeous, intricate Mehndi adorning your hands and feet. While they are commonly applied before major celebrations like weddings or religious ceremonies, you can adorn these temporary motifs whenever you want. The above collection of designs of mehndi stickers can help you choose the appropriate ones for your festive event. These Mehndi stickers allow you to have a unique look without spending valuable time on a regular Mehndi session. So, go ahead and plan your DIY Mehndi session with your closest friends and family without being worried if your handshakes are a little shaky.
Frequently Asked Questions
How long does a henna sticker last?
A henna sticker can last for two to three weeks.
Can we reuse Mehndi stencils?
Yes, Mehndi stencils are reusable. They can be used 4 – 5 times.
How do you remove mehndi stickers?
They can be removed by using soap and warm water. You also can use micellar water, baby oil, lemon juice, and baking soda.
The following two tabs change content below.