Top 15 Most Beautiful Morning Glory Flowers
I am biased towards flowers. According to me, flowers are one of the most beautiful creations by God. And when talking about Morning Glory Flowers, they are amongst the most cheerful and beautiful flowers I have ever seen. Morning Glory is actually a common name for all the flowers which are trumpet-shaped with slender stems and heart-shaped leaves. It belongs to a genus which has over 1000 species.
Most beautiful aspect of these morning glory flowers is that these unravel into full bloom in the early morning, just like its name. They are glorious, they are beautiful and they are lively. But there are also some morning glory flowers, which are exceptions as they are night-blooming ones.
It is said that morning glory flowers were first known in China because of its medicinal uses. It has laxative properties in its seeds. In 9th century, Japanese introduced it as an ornamental flower because of its beautiful colors and shapes.
Morning glories need mesic soils and full solar exposure throughout the day. They need to be watered regularly. There are over 1000 species but here I will be sharing the top 15 and most beautiful morning glory flowers.
The top 15 and most beautiful Morning glory flowers
1. Ipomoea Nil or Ivy Morning Glory:
It is a very beautiful flower in shade of purplish-blue with a white & purple center. It is a climbing annual herb which has three pointed leaves that are 3 cm to 8 cm long. This is the most common type of blue morning glory flower.
2. Pink Morning Glory Flower:
Pink morning glories are usually small in size. These have light pink petals with pure white center. This flower looks amazingly beautiful with dew drops on it, when it blooms in the early morning.
3. White Dwarf Morning Glory Flowers:
As its name suggests, it is a dwarf plant and a typical climber. Flowers are small in size and white in color. White dwarf morning glories are yellow-centered which looks very peaceful and mesmerizing.
[Read:Beautiful Marigold Flowers]
4. Peaceful Morning Glories:
The first bloom and sight of this peaceful morning glory flowers is just amazing. They are light purple in color with white stripes on it. These flowers are just like their names, peaceful and glorious.
5. Convolvulus Morning Glory:
This is a three-colored morning glory flower. Outer part is blue with second part white with a bright yellow center. They are tiny in size but grow on a very fast pace. These bright looking flowers look really beautiful on fences.
6. Convolvulus Arvensis Morning Glory Flowers:
These flowers are similar to convolvulus morning glories but they are in lightest-pink shade. A lily-like flower shape of white color can be seen on its petals while the center is yellow with white buds coming out from it. They may be big or small but has a perfect round shape.
7. Merremia Umbellata:
Merremia Umbellata or yellow merremia is a thin vine growing which are yellow in color. They are single colored and have maximum thickness of 2 cm. These cute little yellow flowers are used for decorative purposes on occasions like wedding, engagement etc. Some women use them as a head ornament, which looks really beautiful.
8. Rivea Corymbosa:
Rivea Corymbosa is beautiful specie of morning glory which is a Christmas vine. They bloom usually after 30th October and beautify your winter garden landscape. They somewhat look similar to white dwarf morning glories but what makes them different is their heart-shaped petals and darkest green center. Light green stripes can also be been on the petals of these flowers. They are perfect to enhance your winter landscape.
[Read:Most Beautiful Hydrangea Flowers]
9. Morning Glory Red Picotee:
Very unique and beautiful species of morning glory flowers, red picotee morning glory are pink in color with pointed petals. Its petals are joined with each other. They look really beautiful. What makes them unique and lovable is the white outline on their petals. It gives a very heartwarming and lovable feeling when looked upon.
10. Red Morning Glory Vines:
Small trumpet shaped red morning glory flowers look really beautiful. They are dark red in color. Although they look really beautiful in gardens, but people also use them as a gift for their loved ones. They really enhance the look of flower bouquet.
11. Japanese Morning Glory Flowers:
The shape of these morning glories is similar to red picotee morning glory Flowers, but what make them different are the dark pink shibori stripes on its petals. It seems as if someone has sprayed the dark pink color on their white petals. It is one of the most beautiful morning glory flowers.
12. Hawaiian Bell:
Hawaiian Bell or Stictocardia is a very dramatic shaded flower which has very rich tones of colors on it. It can bloom in sun as well as under shade. It has large tropical-looking velvet petals which can be 2 to 3'' wide. This Hawaiian Bell Morning Glory loves to bloom sporadically throughout the year with profuse splashes around Jan, March, June, September and December.
13. Woolly Morning Glory:
It is also known as Elephant creeper or Hawaiin baby Woodrose. It is native of Bangladesh and Eastern India. This beautiful Woolly Morning Glory can grow up to 9 mts. The petals are ovate-cordate which are tightly clustered with each other. This is a vigorous twiner which can reach to the treetops. They are usually kept trimmed to form a mound-like shape.
[Read:Most Beautiful Zinnia Flowers]
14. Beach Morning Glory Flower:
These beautiful morning glories love to bloom on sand dunes and beaches. They are usually found above the high tide line and subtropical regions in the world. They are light-pink crepe-paper like flowers. They are small and can be easily grown in a container.
15. Milky Way Morning Glory Flower:
Last but not the least on our list of top 15 most beautiful morning glories is Milky Way Morning Glory Flower. It is a white and peaceful-looking flower which has five purple-blue stripes on it. It is round in shape and has petals tightly clustered with each other.
Hope you like this article on top 15 morning glory flowers. Which one is your pick? Do share your comments.

The following two tabs change content below.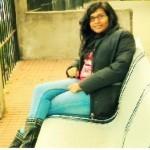 Latest posts by Anamika M (see all)