10 Beautiful South Indian Hairstyles For Girls
Look like a belle from the South at any event you attend with a traditional hair look.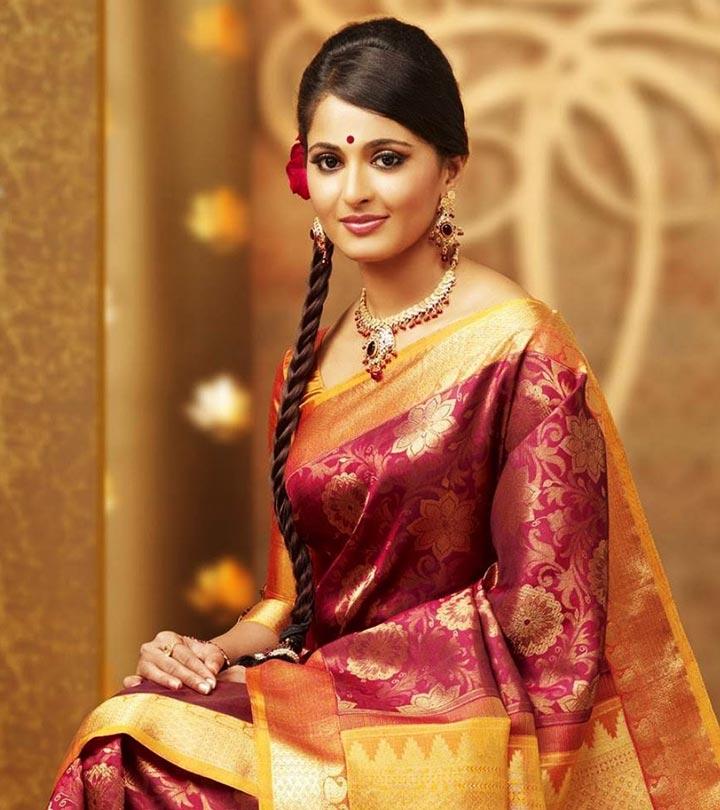 For our desi and non-desi women who want some styling tips, these South Indian hairstyles for girls are bound to fill up your idea bank of hairstyles for special occasions. Having luscious, thick, and dreamy hair is a common sight among the beauties in the South. A traditional touch to their hairstyles reflects elegance and poise like no other. One of the most popular trends is experimenting with braiding hairstyles while getting ready for a special occasion.
Hair accessories like gajra and maang tika are also a big part of glamorizing these beautiful hairdos. If you are a sucker for trying something new, grab inspo from these intricate South Indian looks that will be the main attraction of your entire look. Whether it is a big fat wedding, a dinner night, or any traditional event, the following hairstyles will never fail to impress.
1. A Simple Braid With 'Maangtika' and Floral Accessories:
This can be a lovely hairstyle, provided you get the choice of the 'Maangtika' right. A 'Maangtika' is a hair accessory which comes with bands for adorning the hair. Use some strands of jasmine to conceal the knot from where the braid would originate. This is by far the best of the south Indian bridal hairstyles for long hair!
2. 'Maangtika' on Hair With Mid Parting and Back Pleats:
To get this look, the first step would be to section the hair in the middle at the crown. The 'Maangtika' should be made to sit on the parting with a tight teasing of the hair at the back from where the pleated section would start. Use of fresh flowers like white jasmine can add a regal touch.
3. An Elegant Back Bun:
Elderly women too can sport this stylish hairstyle for a party or a get-together. You would need a false hair accessory like a bun to give some volume to the hair.
4. Retro Style With Pleats:
This retro-style hairdo can be achieved by doing a bouffant to add some volume to the hair and then coupling it with a neat pleat running along one side. Once the bouffant is in place, the remaining hair needs to be brushed to a side and then braided so it stays on that side only. If you do not have hair long enough to justify this look, then the use of hair extensions is recommended. The use of a big flower completes the retro look.
5. The Pleated and Jewelled Look:
Another popular simple hairstyles for south Indian girls which imparts a glamorous look is quite simple to style. Try this one out only if you have the right kind of accessories. In case of short hair, this look can be achieved by lengthening the hair with hair extensions.
6. The Bun Hairstyle With Accessories:
This style is a nice twist to the traditional bun which is generally worn by the elders at the nape of the neck. Make a teased back bun, not necessarily at the top. Complete the look by adorning the front of the head with a nice hair accessory which is in line with a 'Maangtika' but does not have the middle parting.
7. Braided Hairstyle With A Bun and A Floral Twist:
This can be a lovely hairstyle if you like to use fresh flowers in your hair. You would need flowers of two contrasting colours. Place it in a twisted fashion around the neatly braided hair and accessorize with jewels.
8. The Crowned and Garland Look:
This look would be incomplete without the use of bold hair accessories.  At the very top is a small crown to impart a celestial look. Attempt this look only if you have the luxury of having lots of flowers at your disposal.
9. Floral Wrapped and Braided Hairstyle:
Braid the hair neatly to its entire length. Add tassels at the end of the braid. Now wrap the braid with floral strands such that there are no gaps between the strands. Use of a hair accessory is optional.
10. The Full Length Floral Look:
This is yet another braided hairstyle which is covered the entire length with flowers. A middle parting with a rather heavy 'Maangtika' finishes the look.
Hair accessories like maang tikka and flowers play a key role in south Indian hairstyles for girls. Maang tikka on hair with mid parting and back pleats, an elegant back bun, retro style with pleats, and the pleated and jeweled look are some of the beautiful south Indian hairstyles. So grab some inspiration from this list of cute yet simple hairstyles and get ready for any wedding or party and be the center of attraction with your look.
Image source: 1 , 2 , 3 , 4 , 5 , 6 , 7 , 8 , 9 , 10
The following two tabs change content below.