20 Best Makeup Tips For Women Over 50
Be the object of envy in your peers with the best makeup hacks to look gorgeous and young.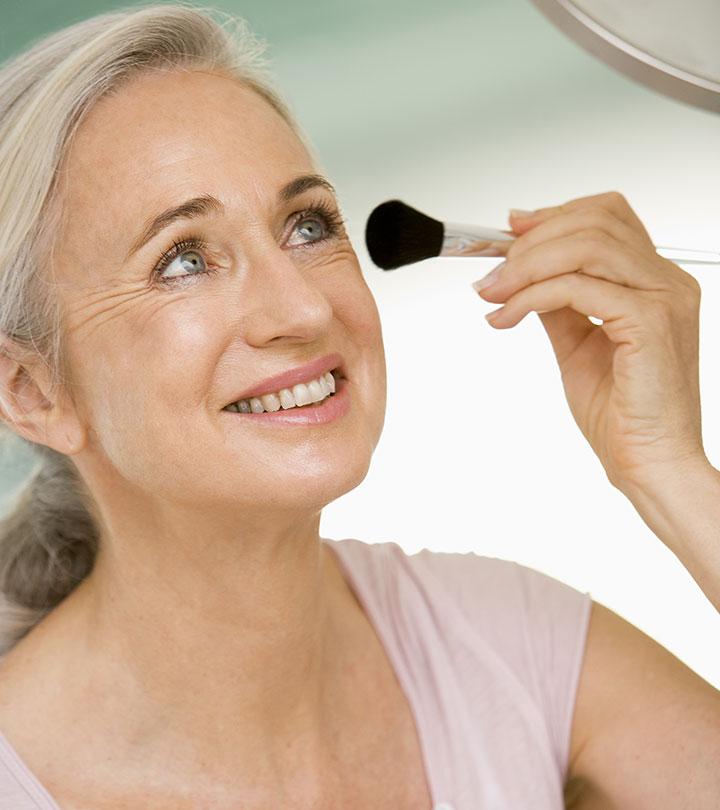 Audrey Hepburn says the beauty of a woman grows with passing years, and we completely agree with it.
If you are someone in your 50s and looking for a new makeup and beauty routine, we can help you. We have some of the latest makeup tips for women over 50 that will level up your makeup game. But, of course, you need to do things a little differently in your 50s than in your 20s and 30s and use different beauty products while following different beauty trends. So, are you ready to glam up?
It is time for you to set your own beauty goal, while we let you in on some good beauty tricks! Let us help you upgrade your makeup routine and give you some beauty advice. This article lists makeup tips for women over 50 to help them achieve that age-defying and glam look. Keep reading to know more about these amazing beauty hacks!
Makeup Tips For Women Over 50
1. Take Care Of Your Skin
Because the healthier your skin is, the lesser makeup you need. And the secret to good skincare is pretty easy:
Never Forget Your Moisturizer
There's nothing better for your skin than a moisturizer. It is an absolute beauty essential! It keeps your skin hydrated and radiant. A good moisturizer can also make your makeup products settle and glide on more easily.
A survey conducted on 3,978 Americans found that 17% of women never moisturized their skin. It was further noted that nearly 49% of women moisturized their skin daily, 33% did so less frequently, and 17% of women never moisturized their skin as part of their daily skincare routine.
Retinol Is Your New Best Friend
Retinol helps in decreasing fine lines and wrinkles and it used to be a beauty secret until recently It can penetrate deeply into your skin's layers. Consult your dermatologist before using this product.


Quick Tip
Make sure your moisturizing cream contains hyaluronic acid, ceramides, and niacinamide. They help boost hydration and reduce aging signs.
If your skin is dry and flaky, your makeup will not blend into your skin and end up looking patchy. Regular exfoliationi  XThe process of removing dead skin cells and dirt from the skin's surface using a chemical, granular substance, or exfoliation tool. is the best way to remove dead skin cells and make your skin softer, smoother, and more radiant.


Quick Tip
It is recommended to use a physical exfoliator like coffee grounds and sugar scrub, 2-3 times per week, and chemical peel like glycolic acid and salicylic acid, once per week.
Always Take Off Your Makeup Before Going To Bed
It feels good to wake up with a fresh face rather than a face covered with clogged poresi  XA common skin condition due to the buildup of dead skin cells, oil, or dirt trapped in the skin that often leads to acne. and, of course, makeup all over your pillows!
Protect Your Skin From the Sun
The risk of pigmentationi  XA common, usually harmless condition where some areas of the skin are darker than the surrounding skin. , sun spots, and blemishes increases with age. So, apply sunscreen whenever you go out in the sun. Cover your face, neck, hands, and other exposed areas with sunscreen. Wear sunglasses and hats.
2. Prep Your Skin: Moisturize, Prime, Conceal
Preparing your skin with moisturizer, primer, and concealer is the first step in makeup application. Never miss these steps. Moisturizer keeps your skin hydrated and helps it breathe. Primer smoothens out your aged skin. Concealer blurs fine lines so they are less visible. Always read the labels and get a moisturizer containing hyaluronic acid.
3. Select The Right Foundation: Go For The Dewy Look
This is important. You cannot continue using the same foundation that you used in your 30s. Go light on the foundation. Opt for a more tinted look instead. It's best to use a CC cream because it covers skin imperfections impeccably, improves the texture of your skin, and covers up pores. Moreover, it gives your face a dewy finish, which makes your skin look younger and fresher.
4. Say 'No' To Face Powder
Too much face powder can make your skin look cakey and your wrinkles more prominent. You can use just a little bit to dust your T-zone for shine removal and on your eyelids to stop your eyeliner from creasing. Otherwise, applying face powder is a strict no-no.
In fact, it is better to switch to creamy formulas because, with age, your skin tends to become dry. Setting powders only work well on oily and combination skin types. Be it a foundation, blush, or any other makeup item for your face, opt for cream-based formulas.
5. Plump Up Your Lips
As you age, you will notice your lips getting thinner. You don't need extra products like lip liners. Nothing works better than a lip gloss to give them a plump look. Add a dab of lip gloss over your lipstick for that plump look.


Quick Tip
Opt for natural lip plumpers like cinnamon to boost your lip volume.
6. Kiss 'Goodbye' To Super Dark Lipsticks
Super dark lipsticks don't look flattering at your age. Unless you have a dark skin tone, it is better to avoid super dark lipsticks. Always choose a shade that's just one shade darker than your natural skin tone. Avoid shades of brown and plum and go for pinks and rosy reds instead.
7. A Hint Of Color On Your Cheeks
Just a light pop of blush on the apples of your cheeks can brighten up your face instantly. Liquid or cream blush is the best option for your aging skin. Choose one that doesn't have any glitter or sparkle in it because these tend to settle in your wrinkles and lines. Just apply a little bit and blend well. It should not be obvious that you are wearing blush.
8. Work On Your Eye Makeup
With age, the shape of your eyes changes. Eye makeup for beauties over 50 is a real challenge when you've got hooded eyes. Avoid both bright and dark eyeshadows. Bright eyeshadows make your hooded eyes look overtly dramatic, and dark eyeshadows make them appear smaller. So, it is best to use natural and light colored shadows. They make your eyes pop, and you look youthful. Also, enhancing your eyes makes them the focal point of your face. This will take the attention away from your wrinkles and fine lines.
9. Those Lashes
Yes! Don't forget to play with those lashes! Curl them with an eyelash curler. This is the best way to make your eyes pop. And if you know how to play around with false eyelashes, no one can stop you from slaying! Another great hack is to warm up the curler using a blow dryer for just 3 seconds and then use it. This will make it easier for you to curl your lashes without any fuss.
10. Fall In Love With Black Mascara
Black mascara makes the whites of your eyes look brighter, and your lashes thicker. Another good trick is to use a tinted primer. This will add more depth to your eyes. Also, if possible, buy a good lash enhancing serum. With age, eyelashes tend to get thinner. The serum will make them less prone to breakage.
11. Use Pencil Liners
Liquid eyeliners may look too harsh on your mature skin. Instead, switch to a pencil liner. Create soft lines using it. You can even smudge the line using a brush.
12. Don't Forget The Undereye Area
Undereye puffiness and dark circles are two of the biggest complaints among ladies over the age of 50. Use an undereye cream for treating puffiness, and a color corrector for concealing dark circles. Apply the color corrector first, follow up with a concealer, and then layer foundation over it.
13. Play With Your Features
If you are into makeup, you know what contouring is. It is a very useful makeup trick for women over 50. The idea is to use a bronzer and a contouring brush to define your face and highlight the best areas. Create shadows and highlight the best features of your face, such as your jawline and cheekbones. This can also be used to downplay any feature of your face, such as thin lips or a double chin.
14. Maintain Your Brows
Well-defined eyebrows make you look younger. They make you look like you had a facelift surgery without actually going under the knife. However, don't over-pluck your brows as they do not grow back easily. Here are a few tips to get those perfect brows:
Use a brow pencil to make your eyebrows appear fuller. Use a mascara wand to brush them. The best way to do this is to clean a mascara brush and spritz some hairspray over it before brushing your brows.
Drawn-in brows are a strict no-no. Pencil thin lines drawn on bare skin look fake. Instead, fill in your thin brows.
Avoid overplucking by getting your brows done by a professional. Also, avoid tweezing gray brow hair. Instead, use brow powder to conceal them.
15. Illuminate!
If you think that highlighters and illuminators are only meant for younger women, you are wrong. A simple highlighter or illuminator can lift up your face without any makeup. Highlight your favorite areas – the jawline, the nose tip, the temples, or the apples of your cheek. You can use illuminating lotions, creams, and pens to define your face.
16. Stay Close To Being Natural
When you have crossed 50, less is more. Don't just pile on too many products. Heavy lipstick, layers of foundation, eyeliner – too much makeup will destroy the elegance of your face. Keep it natural and light.
17. Blend Well
No matter what you put on your face, blend it well. In most cases, people go wrong with makeup because they do not have the patience to blend it out well. Make sure that there are no signs of foundation on your cheeks. The lipstick should not make your lips look like they are bleeding, and your brows should not look like they are painted on your face. Apply just a little bit of everything and blend well.
18. Don't Forget Your Teeth
Now, you may be wondering what your teeth have to do with makeup. But, just like your skin, your teeth can reflect your age. Keep them in good shape and avoid too much caffeine and red wine to keep them white. Use over-the-counter products to keep your teeth white. If they are chipped or in bad shape, get them fixed.
19. Don't Skip Sleep
A good night's sleep is all you need to make a difference to your skin. Lack of sleep makes it look dull and lifeless and creates dark circles and puffiness around your eyes.
20. Smile!
Because that's the best makeup! If you are unhappy on the inside, no amount of makeup can make you beautiful. If you work on your inner self and are happy from within, it will automatically reflect on your face. This might be the best beauty tip ever!
Infographic: 7 Useful Makeup Tips For Women Over 50
Women's needs for beauty change as they age. Makeup techniques that once worked may no longer be as effective as the skin becomes drier and wrinkles and fine lines become more obvious. So, does this mean all is over? No way! We have compiled a few tips that can help you enhance your natural beauty. These can make anyone over 50 apply makeup confidently and look beautiful for any occasion. Take a look at the infographic below for more details.


As you age gracefully, your makeup routine also changes, and try to figure out the best makeup for women over 50. The makeup you did in your twenties and thirties won't apply in your fifties anymore which calls for a new beauty regimen. The dark lipsticks and foundation you used to wear before won't be needed anymore. You need to include anti-aging skincare into your everyday routine while you make some changes to the way you wear your makeup. That is why it is essential to moisturize and exfoliate your skin to keep your skin soft and glowing before going for your cosmetics. Other than this, having defined eyebrows, using a cream blush, adding lighter colors to your lips, highlighting your best features with highlighters and illuminators, and getting your beauty sleep are some of the best makeup for women over 50. You can draw some beauty inspirations from celebs who share similar facial features and shapes for a complete beauty transformation!
Frequently Asked Questions
Does eyeliner make you look older?
Yes, applying thick eyeliner under your eyes can potentially make you look older and tired. You can apply thin eyeliner on the top to give a more open and fresh look.
Does eyeshadow make you look older?
Yes, bright and dark eyeshadow can make your eyes look smaller and droopy. Use neutral and light-colored eyeshadow to make your eyes look youthful.
How to do natural makeup for older women?
For a natural makeup look, start by using a lightweight foundation that won't look heavy on your skin. Make sure you take care of your skin by cleansing, moisturizing, and exfoliating. Consider using rosy shades for your blush and lipstick to enhance your natural beauty. Remember to apply your makeup in light layers to avoid a heavy or unnatural look.
What type of makeup is best for older skin?
Cream makeup is highly recommended for older women as they offer numerous benefits for mature skin. They are very easy to apply and lend a natural look by acting as a second skin. They also have good blendable and buildable coverage for getting the desired skin-tone color without looking caked. Finally, they also work great as a blush, as the skin of older women is more prone to dryness.
Is powder or cream eyeshadow better for over 50?
When it comes to eyeshadow for women over 50, there's a debate about whether powder or cream is better. Some experts suggest powder eyeshadow as it creases less, tends to blend well, and creates a natural look. However, others suggest cream eyeshadow as it's hydrating, creates a smooth texture, and is easier to apply to the skin. Ultimately, it depends on personal preference and skin type, as cream eyeshadow can settle into fine lines while powder eyeshadow may accentuate dryness.
How can I use makeup to hide age spots and hyperpigmentation?
To hide age spots and hyperpigmentation, choose a foundation that matches your skin tone and provides full coverage. After applying the foundation, use a concealer that is pigmented to cover spots quickly. Consider using a color corrector to neutralize the discoloration before applying foundation and concealer. Green color correctors can help neutralize redness, while peach or orange color correctors can help with dark spots and hyperpigmentation.
Key Takeaways
It is important to take care of your skin with a daily skin care regimen and drinking enough water.
Always prep your skin with a moisturizer, primer, and concealer.
Avoid using a face powder as it may appear cakey and enhance fine lines and wrinkles.
Use an undereye cream and color corrector to conceal puffiness and dark circles.
Wear makeup that accentuates your facial features while maintaining a natural look.

Are you over 50 and looking for ways to look younger? Check out this video to know five tips on achieving a youthful appearance using only drugstore products. TUne in now!

The following two tabs change content below.