How To Apply Liquid Eyeliner Like A Pro – Beginner's Tutorial And Tips
Master this craft no matter if you are a beginner or have hooded eyes or monolids.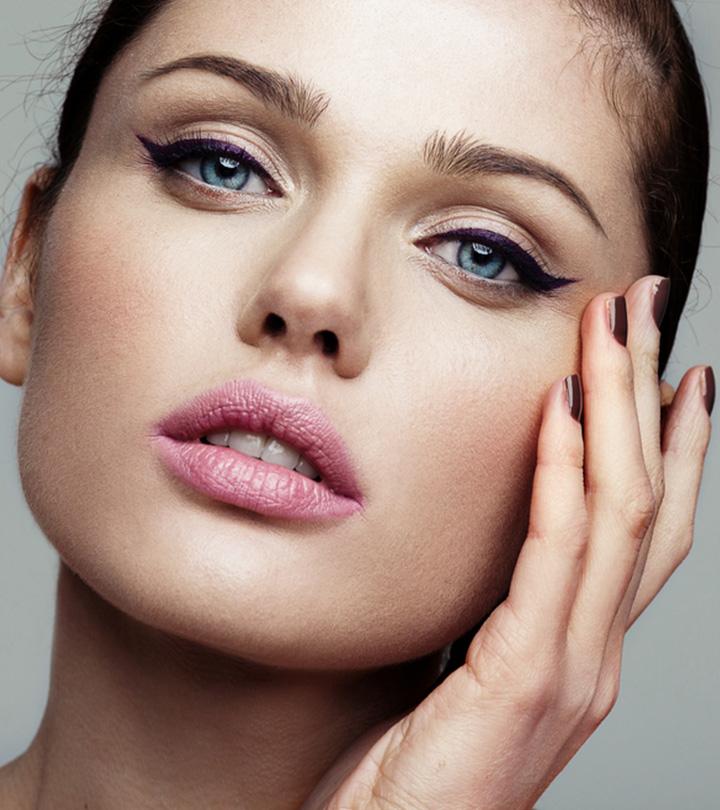 If you know how to apply liquid eyeliner with precision and perfection, it can help enhance your beauty like nothing else. But applying the eyeliner might be tricky, especially if you are a novice. One wrong application stroke can make you look like a disaster. However, little patience can help you practice the skill and master it quickly. This article provides a guide on applying eyeliner and wings smoothly and without any scope of error. Take a look to know more about applying liquid eyeliner. Keep scrolling!


Keep In Mind
Dots and Dashes: Put small dots or dashes on your eyelids and connect them if you are a beginner with shaky hands.
Brush: An angled brush is the most effective tool for beginners when applying liquid eyeliner.
Clean: Clean your liquid liner applicator and remove excess product before applying to avoid any smudges.
Right Step: Apply eyeshadow before eyeliner. Powder shadows help a liquid liner stay in place, so it doesn't smudge through the day.
Tightline: Gently lift your eyelid and apply the liner between your lashes as close to the root as possible to create a polished look with your eyeliner,
Which Type Of Liquid Eyeliner Should You Choose?
For beginners, it is best that you choose a felt-tip eyeliner. This liquid eyeliner is like a pen. Holding it is easy, the eyeliner brush is compact, and it enables you to get sharp lines without smudging or messing it up. Here are a few felt-tip eyeliners you can check out. But, liquid eyeliner with a thin nail polish brush can also work. The only thing is, you'd have to be extra careful with your hand. With the right tool, you are ready to give your eyes wings! Scroll down to learn how. 

Trivia
Liquid eyeliner was first launched in the 1950s by brands like Maybelline and Max Factor, which paved way to the phenomenon of the "cat eyes", a dramatic and bold eye makeup style.
Learn How To Apply Liquid Eyeliner For Beginners
Here's your step-by-step tutorial on how to apply liquid eyeliner if you are a beginner. Use an eye primer or a concealer and set it with powder to prep your eyes and make your eyeliner and shadow go on smoother and last through the day.
Step 1: Hold The Brush Flat
Start by shaking up your eyeliner tube well, so the formula is nice and smooth. The most important thing for perfect eyeliner application is to hold the brush flat. If you go in with the brush straight, it tends to get messy.
Step 2: Start In The Middle
Get as close to the lash line as possible and start in the middle while you drag to the outer corners. Use the leftover product to line the inner corners.


Quick Tip
For greater control, lay the elbow of the arm (that you are using to apply the liner) flat on a surface near your mirror and rest the little finger (pinky) of that hand against your cheek as you hold the eyeliner brush.
Step 3: Create The Wing
Follow your lower lash line, going upwards to create a wing. This step helps you make sure that your liner is equal.
Step 4: Add Some Lash Action
You can either use falsies or apply a few coats of mascara to your lashes to complete the look.
The Final Look
See! Isn't that a good trick to perfectly apply liquid eyeliner? Don't worry if you mess up a bit. Practice makes perfect. So, keep at it, and you will become an expert in no time!
If you like the Arabic or Egyptian eyeliner look, you also need to learn how to line your lower lids. Lining the lower lids also helps make your eyes look more prominent and creates the illusion of bigger eyes. Scroll down for a tutorial with pictures.
How To Apply Liquid Eyeliner To Lower Lid (Pictures)
What You Need
Liquid eyeliner
A thin brush or an angled brush
Step 1: Start From The Outer Corners
Use a thin brush to draw a line on your lower lash line, starting from the outer corners and dragging the formula outwards to meet the wing. This not only helps frame the eyes but also elongates them.
Step 2: Move Towards The Center
Continue applying the color on your lower lash line, moving towards the inner corners. Place your brush as close as you can to the root of your lashes and wiggle the brush once it is on the skin. According to Marin McCarthy, the founder of Marin eve Makeup, "A good way to get closer to the lashes is going in with a pencil afterwards. Sometimes harsh lines on the lower lash line can look messy."
Step 3: The Inner Corners
The key aspect of making the eye look bigger is to drop the eyeliner by about two millimeters lower than the tear duct area of your eye. Extend the line out in the inner corner from the top lid.
Step 4: Fill In The Color
To create a subtle version of the cat-eye look, fill in the gaps with your liner brush on your lower lashes, moving the brush forward and backward.
The Final Look
Note: Make sure you are not allergic to the eyeliner you are using.
Creating a dramatic eye look is easy if you follow these tutorials. But, things can be a little tricky if you have hooded eyes. The eyelid space does not show as it gets hidden away as soon as you open your eyes. Not lining it the right way can make your eyes look small and droopy, and the eyeliner can transfer all over your eyelids. Here's a fun video on how to apply eyeliner if you have hooded eyes. Scroll down. 
How To Apply Liquid Eyeliner On Hooded Eyes (Video)
Having trouble applying eyeliner? Check out this beginner's tutorial video that will show you how to achieve the perfect eyeliner look in three simple steps and say goodbye to shaky lines.
Just a few tricks, and you can apply eyeliner on hooded eyes like a pro. Another eye shape that can be a little tricky to apply eyeliner on is monolid. Check the next section for a step-by-step tutorial. 
How To Apply Liquid Eyeliner On Monolids
Monoids do not have a defined crease. You need to apply eyeliner in a way that does not smudge all over your eyelids. Here's a pictorial tutorial on how to apply liquid eyeliner on monolids.
Step 1: Line Your Upper Lids
Use a gel eyeliner to line your upper eyelids. Do not worry about it being too precise.
Step 2: Curl Your Eyelashes And Apply Mascara
Do this before actually lining your eyes because the eye shape can change, which will determine the shape of eyeliner you want to go for.
Step 3: Hold And Draw
Hold the outer corner of your eye ever so lightly. Hold a gel eyeliner pen or a felt-tip eyeliner straight on the outer corner of your eyes and start sketching a wing upward.
Step 4: Join It Back For A Defined Wing
Now, from the point where the wing ends, draw a line back to join it to the outer corner of your eyes.
Step 5 : Use A Felt Tip Eyeliner For A Clean Line
Finally, use a felt-tip eyeliner to draw along your eye shape as well as the wing you have drawn with the gel eyeliner to make the lines more clean and precise. Here's a tip from Marin: "Set with a translucent powder to avoid transfer throughout the day and make sure to use a primer."
Final Look
There you have it! Now you can line your eyes no matter which eye shape you have. Speaking of which, your eye shape determines a lot when it comes to eyeliner. How? Scroll down to find out.
How Does Eye Shape Matter?
Whether you are going for a winged eyeliner, cat-eye eyeliner, or fox eye eyeliner look, your eye shape will determine how each of these should be drawn to accentuate your eyes. Also, the thickness of the line drawn or the starting point and extension of the wing also change and have a different effect on different eye shapes. The best way to find out what suits your eyes the best is to try various eyeliner styles.
Here are a few tips to help you achieve that. Scroll down.
Tips To Perfect Your Liquid Eyeliner Skills
Choose The Right Eyeliner: When buying an eyeliner, look for a pigmented, long-lasting formula, waterproof, smudge-proof, and transfer-proof formula to keep your eyeliner from dripping down your face, midday, especially if you're going to be using it on the lower lash line.
Rest Your Hands On A Surface: You need a steady hand to execute that perfect eyeliner flick. If your hands are really shaky, try this – sit down and plant your elbow on a table or a flat surface. Now, rest your pinky on your cheek and apply your liner. This technique helps stabilize your hand and calls for fewer mess-ups.
Connect The Dots: You can draw dots or dashes and slowly connect them if you're new to liquid eyeliner.
Curl Your Lashes: Curl your lashes before applying liner to keep from making an utter mess on your eyelid.
Apply Mascara: Applying mascara also adds an extra lift to the eyes, which can determine the starting point of the eyeliner wing.
Dot The Wing: To make sure your wings are even, place a dot at the outer corner of each eye before using your liquid liner to match the sides up.
Line Halfway: If you have small eyes, do not line your entire eye. Doing so will close them off and make them look smaller.
Build Up The Drama: Always start with thin lines. You can build up the thickness to match the other eye as you go.
Not Too Late To Fix It: A dab of primer or concealer with a Q-tip can go a long way to fix smudges or blunders. If neither is available, a moisturizer works as well.
Don't Tug Or Pull: Don't pull or tug your eye too much when you draw on your eyeliner because when you release it, it will create a bumpy, weird texture. It can also cause wrinkles! Instead, try to use your fingers to anchor your skin.
Use Scotch Tape: You can also use tape to help create a fool-proof cat-eye look.
Draw It Close To The Lashes: Having a gap between your lashes and liner does not look flattering. To avoid this, use a pen-style eyeliner and try to draw the line as close to the lashes as possible.
Set Your Eyeliner: It's important to set your eyeliner to prevent it from transferring onto the lid. To do this, let your eyeliner dry, and then use an angled brush to line the eyes with a black eyeshadow. This keeps it from breaking down, transferring, and smudging. Sometimes, though, even black eyeshadow will transfer. Marin recommends letting it be if it's a waterproof eyeliner, but setting it with translucent powder if it is a pencil or cream.
Infographic: 8 Tips For Lining Your Eyes Perfectly
Applying eyeliner might seem easy, but those who regularly use makeup know how challenging it can be. Making your wings look symmetrical requires quite a bit of precision and technique. Check out the infographic below to find the best tips to get perfectly lined eyes every time.


That's all, folks – your perfect guide on how to apply liquid eyeliner. Like most cosmetics, learning to apply a liquid eyeliner like a pro will take consistent practice. The steps discussed in the article are easy to follow and perfect for beginners to draw perfect wings. So, get yourself an eyeliner with a felt-tip, and do not worry if you do not get it right in the initial stage. After a couple of trials, you will be able to apply the liquid eyeliner just like a professional. Make sure to buy a good quality eyeliner to avoid eye irritation. So, go ahead. It is time for you to flaunt some beautifully defined eyes!
Frequently Asked Questions
Which goes first, eyeliner or eyeshadow?
Apply eyeshadow first as it covers the entire eyelid area, and then apply the eyeliner.
Can you put liquid eyeliner on your waterline?
No. Putting liquid eyeliner on your waterline is not recommended as it could slip under the lower lid. However, you may use eyeliner pencil or kohl on the waterline.
Does eyeliner on the waterline make your eyes look smaller?
Yes. Eyeliner on the waterline creates a shadow effect, as opposed to the effect it has on upper lids and makes your eyes look smaller. Marin McCarthy, a professional makeup artist, states, "A great way to make the eyes appear brighter and larger is to use a skin toned or white pencil on the waterline and to use a highlighter or light shimmer eyeshadow in the inner corners of the eyes."
Key Takeaways
Choose a waterproof and smudge-proof eyeliner.
Opt for a felt-tip eyeliner if you are a beginner.
Curl your lashes before applying the eyeliner.
start by drawing a thin line and eventually build up the thickness.
The following two tabs change content below.