How To Apply Liquid Eyeliner Like A Pro – Beginner's Tutorial And Tips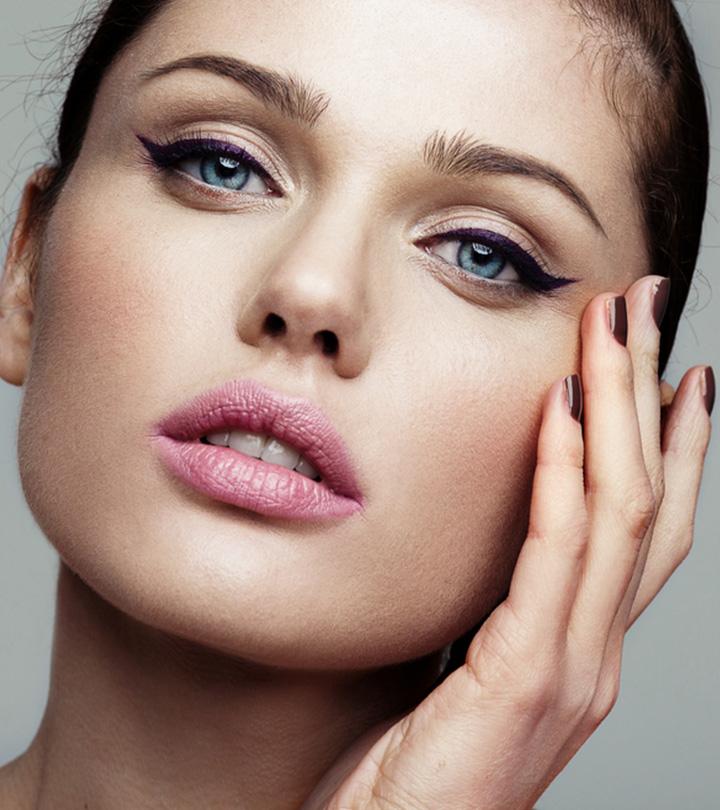 Applying liquid eyeliner can be intimidating, especially if you're a beginner. You need to have a really steady hand, and one wrong move spells disaster. Pretty scary, right? But, with a little bit of patience and practice, you can eventually master the skill of applying liquid eyeliner with ease. This article is a step-by-step guide to transform you into the wing wiz that you were always meant to be. If you're keen to learn, read on to become enlightened on how to apply liquid eyeliner properly.
Which Type Of Liquid Eyeliner Should You Choose?
For beginners, it is best that you choose a felt-tip eyeliner. This liquid eyeliner is like a pen. Holding it is easy, the eyeliner brush is compact, and it enables you to get sharp lines without smudging or messing it up. Here are a few felt-tip eyeliners you can check out. But, liquid eyeliner with a thin nail polish brush can also work. The only thing is, you'd have to be extra careful with your hand. With the right tool, you are ready to give your eyes wings! Scroll down to learn how. 
Learn How To Apply Liquid Eyeliner For Beginners
Here's your step-by-step tutorial on how to apply liquid eyeliner if you are a beginner. Use an eye primer or a concealer to prep your eyes and make your eyeliner and shadow go on smoother and last through the day.
Step 1: Hold The Brush Flat
Start by shaking up your eyeliner tube well, so the formula is nice and smooth. The most important thing for perfect eyeliner application is to hold the brush flat. If you go in with the brush straight, it tends to get messy.
Step 2: Start In The Middle
Get as close to the lash line as possible and start in the middle while you drag to the outer corners. Use the leftover product to line the inner corners.
Step 3: Create The Wing
Follow your lower lash line, going upwards to create a wing. This step helps you make sure that your liner is equal.
Step 4: Add Some Lash Action
You can either use falsies or apply a few coats of mascara to your lashes to complete the look.
The Final Look
See! Isn't that a good trick to perfectly apply liquid eyeliner? Don't worry if you mess up a bit. Practice makes perfect. So, keep at it, and you will become an expert in no time!
If you like the Arabic or Egyptian eyeliner look, you also need to learn how to line your lower lids. Lining the lower lids also helps make your eyes look more prominent and creates the illusion of bigger eyes. Scroll down for a tutorial with pictures.
How To Apply Liquid Eyeliner To Lower Lid (Pictures)
What You Need
Liquid eyeliner
A thin brush or an angled brush
Step 1: Start From The Outer Corners
Use a thin brush to draw a line on your lower lash line, starting from the outer corners and dragging the formula outwards to meet the wing. This not only helps frame the eyes but also elongates them.
Step 2: Move Towards The Center
Continue applying the color on your lower lash line, moving towards the inner corners. Place your brush as close as you can to the root of your lashes and wiggle the brush once it is on the skin.
Step 3: The Inner Corners
The key aspect of making the eye look bigger is to drop the eyeliner by about two millimeters lower than the tear duct area of your eye. Extend the line out in the inner corner from the top lid.
Step 4: Fill In The Color
To create a subtle version of the cat-eye look, fill in the gaps with your liner brush on your lower lashes, moving the brush forward and backward.
The Final Look
Note: Make sure you are not allergic to the eyeliner you are using.
Creating a dramatic eye look is easy if you follow these tutorials. But, things can be a little tricky if you have hooded eyes. The eyelid space does not show as it gets hidden away as soon as you open your eyes. Not lining it the right way can make your eyes look small and droopy, and the eyeliner can transfer all over your eyelids. Here's a fun video on how to apply eyeliner if you have hooded eyes. Scroll down. 
How To Apply Liquid Eyeliner On Hooded Eyes (Video)
Just a few tricks, and you can apply eyeliner on hooded eyes like a pro. Another eye shape that can be a little tricky to apply eyeliner on is monolid. Check the next section for a step-by-step tutorial. 
How To Apply Liquid Eyeliner On Monolids
Monoids do not have a defined crease. You need to apply eyeliner in a way that does not smudge all over your eyelids. Here's a pictorial tutorial on how to apply liquid eyeliner on monolids.
Step 1: Line Your Upper Lids
Use a gel eyeliner to line your upper eyelids. Do not worry about it being too precise.
Step 2: Curl Your Eyelashes And Apply Mascara
Do this before actually lining your eyes because the eye shape can change, which will determine the shape of eyeliner you want to go for.
Step 3: Hold And Draw
Hold the outer corner of your eye ever so lightly. Hold a gel eyeliner pen or a felt-tip eyeliner straight on the outer corner of your eyes and start sketching a wing upward.
Step 4: Join It Back For A Defined Wing
Now, from the point where the wing ends, draw a line back to join it to the outer corner of your eyes.
Step 5 : Use A Felt Tip Eyeliner For A Clean Line
Finally, use a felt-tip eyeliner to draw along your eye shape as well as the wing you have drawn with the gel eyeliner to make the lines more clean and precise.
Final Look
There you have it! Now you can line your eyes no matter which eye shape you have. Speaking of which, your eye shape determines a lot when it comes to eyeliner. How? Scroll down to find out.
How Does Eye Shape Matter?
Whether you are going for a winged eyeliner, cat eyeliner, or fox eye eyeliner look, your eye shape will determine how each of these should be drawn to accentuate your eyes. Also, the thickness of the line drawn or the starting point and extension of the wing also change and have a different effect on different eye shapes. The best way to find out what suits your eyes the best is to try various eyeliner styles.
Here are a few tips to help you achieve that. Scroll down.
Tips To Perfect Your Liquid Eyeliner Skills
Choose The Right Eyeliner: When buying an eyeliner, look for one that's waterproof, smudge-proof, and transfer-proof to keep your eyeliner from dripping down your face, midday, especially if you're going to be using it on the lower lash line.
Rest Your Hands On A Surface: If your hands are really shaky, try this – sit down and plant your elbow on a table or a flat surface. Now, rest your pinky on your cheek and apply your liner. This technique helps stabilize your hand and calls for fewer mess-ups.
Connect The Dots: You can draw dots or dashes and slowly connect them if you're new to liquid eyeliner.
Curl Your Lashes: Curl your lashes before applying liner to keep from making an utter mess on your eyelid.
Apply Mascara: Applying mascara also adds an extra lift to the eyes, which can determine the starting point of the eyeliner wing.
Dot The Wing: To make sure your wings are even, place a dot at the outer corner of each eye before using your liquid liner to match the sides up.
Line Halfway: If you have small eyes, do not line your entire eye. Doing so will close them off and make them look smaller.
Build Up The Drama: Always start with thin lines. You can build up the thickness to match the other eye as you go.
Not Too Late To Fix It: A dab of primer or concealer with a Q-tip can go a long way to fix smudges or blunders.
Don't Tug Or Pull: Don't pull or tug your eye too much when you draw on your eyeliner because when you release it, it will create a bumpy, weird texture. Try to use your fingers to anchor your skin instead.
Use Scotch Tape: You can also use tape to help create a fool-proof cat-eye look.
Draw It Close To The Lashes: Having a gap between your lashes and liner does not look flattering. To avoid this, use a pen-style eyeliner and try to draw the line as close to the lashes as possible.
Set Your Eyeliner: It's important to set your eyeliner to prevent it from transferring onto the lid. To do this, let your eyeliner dry, and then use an angled brush to line the eyes with a black eyeshadow. This keeps it from breaking down, transferring, and smudging.
Final Thoughts
Ladies, may the wings of your eyeliner always be even and may they always be sharp enough to kill! That was our take on applying liquid eyeliner for beginners. We hope you find this article useful and it helps you hone your skills and take them to a whole new level. Take care!
Recommended Articles:
The following two tabs change content below.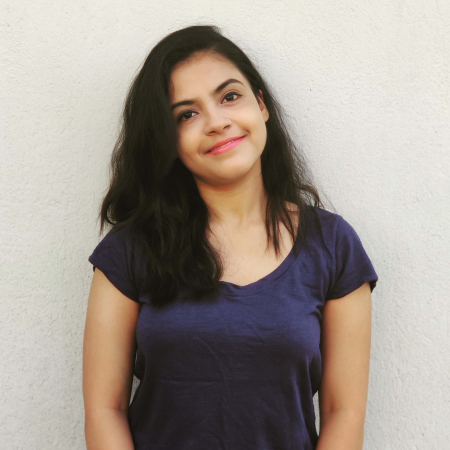 Oyendrila Kanjilal has a Master's Degree in English Literature. As a Beauty and Lifestyle writer, she writes about everything that the modern woman needs to know about grooming and self-care. She also reviews makeup, skin care, and lifestyle products to help readers make the best purchase. She is a trained classical dancer and loves binge-watching web series of different genres.