Brown Sugar: Health Benefits, Side Effects, And Recipes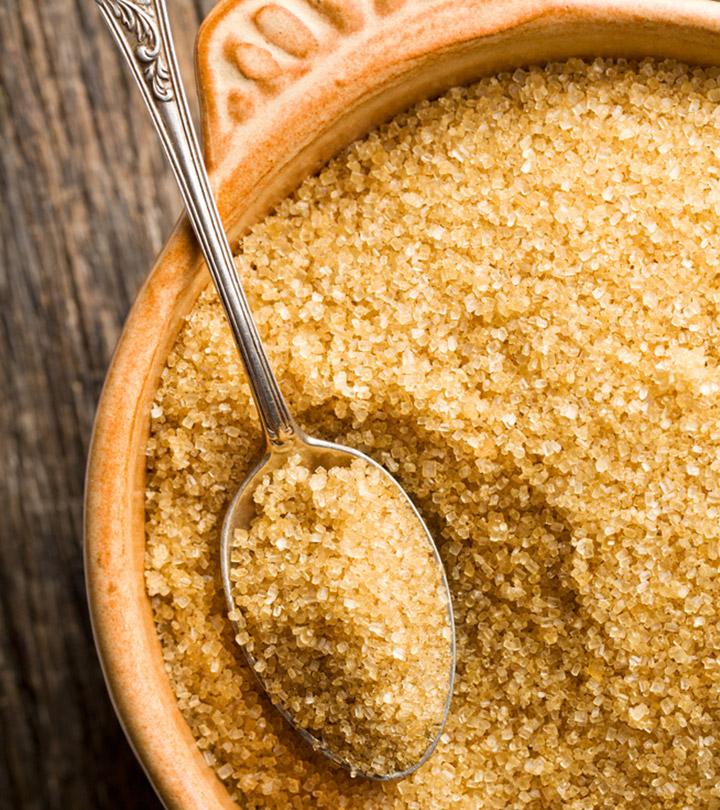 Brown sugar is a popular sweetener made from sugarcane. Its brown color is due to the presence of molasses. The benefits of brown sugar are linked to its molasses content. This sugar is often used in the baking process and is rich in vitamins and minerals. It is available in both refined and unrefined forms. It can help relieve menstrual cramps, prevent constipation, and act as a natural skin exfoliator. This article explores brown sugar varieties, nutrition, health benefits, preparation method, recipes, and possible side effects. Keep reading.
What Is Brown Sugar?
Brown sugar is made by infusing white sugar with molasses — a dark brown liquid obtained from raw sugar during the refining process. It has a caramel-like flavor with a soft, clumpy consistency. Brown sugar often feels wet to the touch due to the moisture present in the molasses. It has many culinary applications and is generally considered a healthier option than white sugar.
Brown sugar is available in four different types. What are they? How do they differ from one another? Let's discuss these in the following section.
Types Of Brown Sugar
1. Dark And Light Sugar
The amount of molasses added to refined sugar defines the color of brown sugar. Light brown sugar has a caramel taste and consists of 3.5% molasses. Similarly, dark brown sugar contains 6.5% molasses and has a deeper taste.
2. Demerara Sugar
This unrefined medium brown sugar is named after the place it originated from — the Demerara region of Guyana, South America. The sugarcane juice is boiled until the water evaporates to reveal the large sugar crystals containing molasses. These crystals are then spun in a centrifuge to remove more moisture.
3. Muscovado Sugar
This is unrefined, very dark brown sugar with a stronger flavor than the other types. The sugarcane juice is heated and pan-evaporated. It is then pounded to get the final product, which has a sandy, sticky texture. Muscovado brown sugar retains all the natural minerals of sugarcane.
4. Turbinado Sugar
Turbinado sugar is also known as "raw sugar". It is partially refined and has a caramel-like flavor and brown hue. It contains a small amount of molasses and is made by heat-evaporating sugarcane juice and then crystallizing it.
Does brown sugar provide the essential nutrients that your body needs? Continue reading to know the nutritional profile of brown sugar.
Brown Sugar Nutrition Facts
According to the U.S. Department of Agriculture, one teaspoon (4.6g) of brown sugar contains (1):
| | |
| --- | --- |
| Calories | 17.5 |
| Protein | 0.006g |
| Carbohydrate | 4.51g |
| Sucrose | 4.35g |
| Glucose | 0.062g |
| Fructose | 0.051g |
| Calcium | 3.82g |
| Iron | 0.033 mg |
| Magnesium | 0.414 mg |
| Phosphorus | 0.184 mg |
| Potassium | 6.12 mg |
| Sodium | 1.29 mg |
All these nutrients make brown sugar a healthy and nutritious dietary option with immense health benefits. Check them out below.
Benefits Of Brown Sugar
1. Relieves Menstrual Symptoms
Traditional Chinese medicine uses brown sugar to reduce menstrual cramps. A review published in the Journal of Ethnobiology and Ethnomedicine suggests that brown sugar may alleviate menstrual symptoms and the associated illness. It may also help nourish women from the blood loss during menstruation (2). Besides, brown sugar tea may also help relieve menstrual cramps (3).
Much anecdotal evidence suggests that brown sugar, blended with ginger tea, may eliminate the discomfort caused by painful periods. This sugar is also said to relieve cramps and discomfort during pregnancy.
2. Prevents UVB-Induced Skin Aging
According to a study conducted by the Ehime University Graduate School of Medicine (Japan), applying non-sugar fraction of brown sugar topically may prevent UVB-induced skin aging. Both 1% and 3% non-sugar solutions were found to prevent skin thickening and loss of skin elasticity in rats. The 3% solution also prevented wrinkles and melanin pigmentation besides increasing the diameter and length of skin blood vessels (4). Brown sugar can also be used as a skin exfoliant as its rough texture helps eliminate dirt and dead skin cells from your skin. This is attributed to the presence of alpha-hydroxy acids (a popular peeling agent) in brown cane sugar (5).
3. May Help Treat Constipation
Red sugar (another name for brown sugar in China) may prevent constipation in children and has a similar effect as fig syrup (a drug used to treat constipation). Brown sugar was found to be more effective in reducing anorexia (an eating disorder) and relieving pain during excretion. Moreover, it has not shown any side effects (6).
Anecdotal evidence suggests that consuming boiled water with slices of ginger and brown sugar is extremely helpful in treating the common cold and asthma. Besides, brown sugar is said to be a natural energy booster (for a short period).
You can prepare brown sugar scrubs easily at your home to get glowing skin. Listed below are the two simple and most effective brown sugar scrubs to try.
Brown Sugar Scrubs
1. Brown Sugar And Coconut Oil Scrub
Monolaurin, an acid component of coconut oil, exhibits antimicrobial activity and acts against acne-causing bacteria (7).
What You Need
Brown sugar: ½ cup
Unrefined coconut oil: ½ cup
Any essential oil: 2-3 drops
How To Prepare
Mix the brown sugar and unrefined coconut oil in a bowl.
Add your favorite essential oil.
Apply to your face and scrub in a circular motion for 10 minutes
Wash off with cold water.
2. Brown Sugar And Olive Oil Scrub
Olive oil exhibits anti-inflammatory and antioxidant properties and may help repair the skin barrier (7).
What You Need
Brown sugar: ½ cup
Extra virgin olive oil: 2 tablespoons
How To Prepare
Mix brown sugar and extra virgin olive oil in a bowl.
Massage on your face with your fingertips for 10 minutes and wash.
You can also mix honey with brown sugar and apply the mixture to your skin. It offers a soothing effect and is suitable for all skin types.
Excess intake of sugar is considered unhealthy. Is it any different for brown sugar? Let's discuss this further in the following section.
Side Effects Of Brown Sugar
Consuming brown sugar in moderation is generally considered safe. However, its excess intake may cause dental problems. The American Dental Association (ADA) recommends that people limit their added sugar intake to less than 10 percent of total calories consumed per day (8). Besides, people with type 2 diabetes should watch their brown sugar intake to avoid spikes in their blood glucose levels.
Does the molasses portion of brown sugar make it a healthy alternative to white sugar?
Is Brown Sugar A Healthier Alternative To White Sugar?
Brown sugar contains fewer calories and more minerals than white sugar due to the presence of molasses. Molasses provide vitamins and minerals, including potassium, calcium, iron, magnesium, and choline (9). However, brown sugar contains only a small amount of molasses. Moreover, no sweetener can be termed as healthy or better if consumed in large quantities. You are good to go with a sweetener of your choice as long as your consumption remains moderate.
You can prepare brown sugar easily at home with just two ingredients. Here is how?
How To Prepare Brown Sugar?
What You Need
Granulated sugar – 1 cup
Molasses – 1 tablespoon
Process
Combine sugar and molasses in a bowl.
Mix well until sugar turns brown.
Store in an airtight container to prevent drying out.
Brown sugar has many culinary applications, especially in baking. You can use it as a sweetener in cookies, cakes, and brownies. In the next section, we list three easy brown sugar recipes to try at home.
Brown Sugar Recipes To Try
1. Brown Sugar Cookies
What You Need
Dark brown sugar – 2 cups
Flour – 2 cups
Sugar – ¼ cup
Unsalted butter – 14 tablespoons
Baking soda – ½ teaspoon
Baking powder – ¼ teaspoon
Salt – ½ teaspoon
Egg yolk – 1
Egg – 1
Vanilla extract – 1 tablespoon
Process
Preheat the oven to 350°F. Line a baking sheet with parchment paper.
Melt ten tablespoons of butter over medium-high heat in a skillet. Whisk constantly until the butter starts to turn brown (for about 3-4 minutes).
Pour into a bowl, add the remaining butter to the same bowl, and set it aside.
Whisk sugar, ¼ cup brown sugar, flour, baking soda, and baking powder in a separate bowl.
Add the remaining brown sugar and salt to the butter. Whisk until the mixture turns smooth. Whisk in the egg, egg yolk, and vanilla extract.
Combine the butter mixture with dry ingredients, stirring until a dough forms.
Roll the dough either into half-inch thick and use a cookie-cutter or into a ball and place on a cookie sheet. Sprinkle it with sugar.
Bake for 12-14 minutes or until the cookies begin to set.
2. Brown Sugar Cake
What You Need
Light brown sugar – 1½ cups
All-purpose flour – 2¼ cups
Salt – ½ teaspoon
Eggs – 4
Baking powder – ½ teaspoon
Granulated sugar – ¾ cup
Butter – 1 cup
Vanilla extract – 2 teaspoons
Milk – ¾ cup
Process
Heat oven to 350°F.
Grease the bottom and sides of a 12-cup fluted tube cake pan or a 10-inch angel food (tube cake) pan with the shortening. Lightly flour.
Mix flour, baking powder, and salt in a medium bowl. Set aside.
Beat the brown sugar, granulated sugar, and softened butter with an electric mixer on low speed for 30 seconds. Scrape the bowl constantly.
Beat on medium speed for about 5 minutes, scraping the bowl occasionally until the mixture turns light and fluffy.
Add one egg at a time. Beat well after each addition.
Add vanilla extract. Beat in the flour mixture alternately with milk on low speed until smooth. Pour into the pan.
Bake 60 to 70 minutes or until a toothpick inserted in the center of the cake comes out clean.
Let it cool for 10 minutes and remove from the pan to the cooling rack.
Let it cool completely (about 2 hours).
3. Brown Sugar Brownies
What You Need
Brown sugar – 1 cup
All-purpose flour – 1-1/3 cups
Butter – ½ cup
Salt – ½ teaspoon
Baking powder – 1 teaspoon
Vanilla extract – 1 teaspoon
Egg – 1
Chopped walnuts – ½ cup
Process
Preheat the oven to 350°F.
Lightly grease a 9 x 9 x 1 ¾ inch pan.
Sift together the flour, baking powder, and salt. Set aside.
Beat butter, sugar, egg, and vanilla in a large bowl until the mixture turns smooth.
Add the flour mixture and nuts.
Stir well and spread evenly in the pan.
Bake for 25-30 minutes or until the surface springs back when gently pressed.
Let it cool slightly. Cut into bars with a sharp knife while still warm.
How long does brown sugar last? How to store it to avoid spoilage? Continue reading to know the answers.
How To Store Brown Sugar
Brown sugar lasts two years once you open the package. But you may observe a slight change in the quality, like its taste and texture. It smells off and turns clumpy when it goes bad. It is better to store brown sugar in a cool, moist area in a rustproof container with a tight-fitting lid.
Brown sugar tends to clump together and gets very hard when exposed to air. Storing it in the refrigerator is not recommended. If you want to store brown sugar in a freeze dryer, place it in an airtight bag.
The Takeaway
Brown sugar provides slightly more minerals and has fewer calories than white sugar due to the presence of molasses. This popular sweetener helps alleviate painful menstrual cramps, relieve discomfort during pregnancy, and protect skin from photodamage. However, its excess intake may cause dental problems. Besides, people with type 2 diabetes are advised to limit its consumption.
Key Takeaways
Brown sugar provides fewer calories and more nutrients than regular sugar.
Its appearance and color differ depending on the amount of molasses used.
Brown sugar is also known for its skin benefits, like preventing aging signs.
References:
Articles on StyleCraze are backed by verified information from peer-reviewed and academic research papers, reputed organizations, research institutions, and medical associations to ensure accuracy and relevance. Read our editorial policy to learn more.
The following two tabs change content below.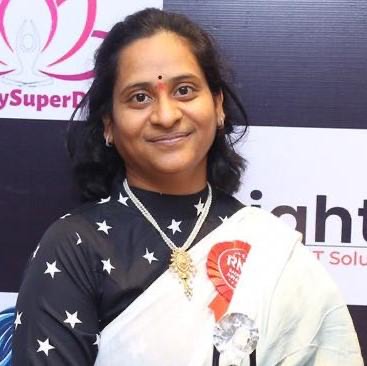 Mayuri Aavula
(MSc)

Mayuri Aavula is one of the top nutritionists in Hyderabad, India, and has won several awards and accolades. She started...

more