Top 5 Benefits Of Caprylic Acid + Critical Side Effects
Boost your digestive and reproductive systems through this nutritious fatty acid.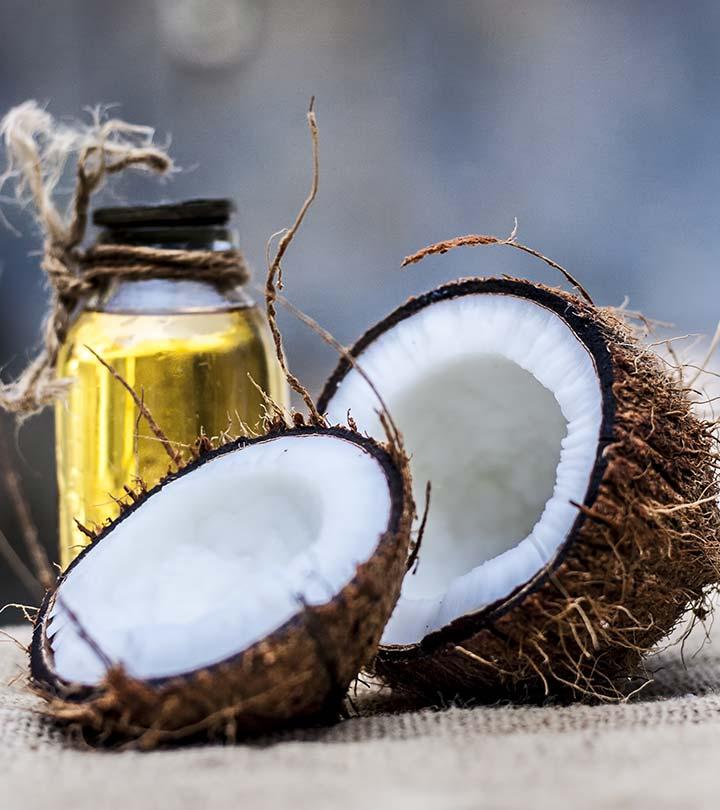 Coconut oil has long been considered beneficial for health and wellness, but this largely comes from its abundance of fatty acids, such as caprylic acid. Caprylic acid benefits range from boosting your well-being to enhancing your complexion. In addition, this fatty acid promotes gut and heart health and has powerful antifungal properties. This article examines caprylic acid's benefits and side effects, including its sources and recommended dosage. Take a look.


Know Your Ingredient: Caprylic Acid
What Is It?
One of the fatty acids found in coconut oil.
What Are Its Benefits?
It may boost skin health, promote digestive health, reduce bad cholesterol levels, aid in weight loss, and treat yeast infections like oral thrush or vaginal yeast.
Who Can Consume It?
It is safe for most people who are not allergic to it.
How Often?
You can consume it daily but in moderation.
Caution
Overdose of caprylic acid may cause liver disease, and reduce blood pressure levels. It is not advised for people with Mcad deficiency and pregnant/breastfeeding women.
What Is Caprylic Acid?
Caprylic acid is one of the three fatty acids in coconut oil (the other two are capric acid and lauric acid). Recent studies have shown caprylic acid to particularly benefit the digestive and reproductive systems. The acid also has potent antifungal properties and helps fight infections like candida.


Trivia
Caprylic acid was first discovered in 1937 by Snell and colleagues.
There are other ways this acid can make your life better. Let's check them out now.
What Are The Benefits Of Caprylic Acid?
1. Offers Antifungal And Antimicrobial Benefits
Caprylic acid works great in treating candida overgrowth and yeast infections. Some of these infections include oral thrushi  XA fungal infection commonly seen in babies, where there is an excess build up of the fungus Candida in the mouth, causing white lesions. , nail fungus, ringworm, and vaginal yeast infections.
A 2011 study tells us how caprylic acid can be far more effective than Diflucan (an antifungal medication) in treating fungal infections (1).
Experts believe that caprylic acid can achieve this by breaking down the membranes of candida cells. The fatty acid inserts itself into the fungal membranes and disturbs the membrane – thereby increasing its fluidity and leading to its eventual death (2).
Caprylic acid, when taken orally, also reduces the yeast growth in the digestive tract. It also helps the beneficial bacteria to thrive at the same time. And as it is natural, the acid doesn't pose any risk or cause any side effects as other synthetic antibiotics.
Studies also show how caprylic acid can offer antibacterial benefits. The acid inactivates harmful bacteria by creating an acidic environment around it (3).


Quick Tip
Caprylic acid, along with other natural antifungals, works great against Candida albicans species (
10
).
2. Can Boost Skin Health
The antimicrobial properties of caprylic acid help treat skin infections and may aid in effective skin care. One such infection is dermatophilosis, a bacterial infection resulting in painful and dry scabs. Thanks to the antimicrobial properties of the acid, it can kill the bacteria living in the skin and help treat the condition.
Caprylic acid can also help combat acne. A Taiwanese study shows how the antimicrobial properties of the acid can help fight acne (4). Anecdotal evidence suggests that it is also beneficial in treating skin disorders such as eczema and psoriasis. However, more research is warranted to support this claim.
3. Promotes Digestive Health
The anti-inflammatory properties of caprylic acid can help treat inflammatory bowel disorderi  XA spectrum of illnesses that lead to gastrointestinal pain and swelling from chronic inflammation. , a painful digestive disease (5). This condition typically involves internal inflammation and bacterial infections – both of which can be treated with caprylic acid.
Studies also suggest that medium-chain fatty acids, like caprylic acid, suppress the secretion of inflammatory enzymes. This helps treat severe digestive ailments like Crohn's diseasei  XA chronic inflammatory bowel disorder that damages the lining of the digestive tract, causing inflammation and swelling. , bloating, and bleeding (6).
The medium-chain fatty acids also protect the epithelium, which is the gut's first line of defense.
4. May Reduce Weight And Cholesterol Levels
More research is warranted here – in terms of weight loss. Existing studies state that caprylic acid may enhance metabolism and reduce serum ghrelin levels (ghrelin is a hormone secreted in the stomach that is responsible for an increased appetite) (7).
And given that caprylic acid is a medium-chain fatty acid, it can help lower total cholesterol. A 2006 study found that intake of medium-chain triglyceride oils had comparatively lower cholesterol levels (8). This can lead to a lowered risk of aortic accumulation of cholesterol, thereby preventing heart disease.
5. Cuts The Risk Of Antibiotic Resistance
Antibiotic resistance is a growing problem – where the microbe resists the antibiotic medication that was once treating the microbe successfully. Caprylic acid can cut the risk of antibiotic resistance. In a study, the acid could reduce five different types of bacteria in contaminated milk, including the dangerous E.coli (9).
Apart from the above benefits, the presence of caprylic triglycerides in caprylic acid may help in treating Alzheimer's disease, a type of dementia, and epilepsy in children (10). Anecdotal evidence suggests that caprylic acid may help in treating Parkinson's, wound healing, and hair growth. However, studies are warranted to support this claim.
So, these are the ways caprylic acid can optimize your health. What foods contain this acid? Coconut oil is one of them. Any other foods?
What Other Foods Contain Caprylic Acid?
Apart from coconut oil, other sources of caprylic acid include full-fat cow's milk, palm fruit milk, peanut butter, and even human breast milk. But we recommend coconut oil for caprylic acid as it is the richest source.
The best way to take caprylic acid is by ingesting coconut oil or applying it to the skin. You can start by adding a teaspoon of coconut oil (or less) to your diet. You may also want to add it to other recipes.
Or you can go for caprylic acid supplements.
Caprylic Acid Supplements – What's The Dosage?
Check with your health care provider. Sources suggest that caprylic acid can be far more effective in capsules than in the liquid form. This is because the capsules slowly release the acid into the bloodstream so that they reach the intestinal tract without any side effects.
Talking about the dosage, no recommended daily intake has been established. But experts recommend taking 500 to 1,000 milligrams, a total of three times a day in capsule form, for best results. In case you are just starting off, you can take 500 milligrams of caprylic acid two times a day. You can then increase the dosage gradually as you feel comfortable.
But hold on – there are a few considerations. If taken in excess, caprylic acid may have a few side effects.
What Are The Side Effects Of Caprylic Acid?
Issues During Pregnancy And Breastfeeding
Not enough is known in this regard. Hence, please stay safe and avoid use.
If you have any form of liver disease, stay away from caprylic acid. The acid is broken down by the liver. But in people with liver disease, this may not happen as efficiently – leading to the build-up of the acid in the blood. This can be fatal.
Excessively Low Blood Pressure
Caprylic acid can lower blood pressure. But if you are someone prone to low blood pressure or are already on blood pressure medications, steer clear of the acid.
Also called medium-chain acyl-CoA dehydrogenase deficiency, this makes it hard for people to break down caprylic acid. Please avoid this acid as its intake can increase blood levels of caprylic acid – and even lead to coma in severe cases.
Infographic: 3 Main Benefits Of Caprylic Acid & Major Side Effects
The antimicrobial and anti-inflammatory benefits of coconut oil primarily depend on the presence of caprylic acid in it. While this natural acid's consumption and topical application can heal various health conditions and impart energy, it must be used with caution. Check out the infographic below to know the top benefits of caprylic acid and a few of its significant side effects.



Caprylic acid is a fatty acid found in coconut oil. The many benefits of caprylic acid can be attributed to its antibacterial, anti-inflammatory, and anti-fungal effects. It may help boost skin health and immune system, promote digestion, reduce bad cholesterol levels, enhance brain function, aid in weight loss, and minimize the risk of antibiotic resistance. It is available in supplement form. However, an overdose of caprylic acid may cause liver disease, reduce blood pressure levels way too much, and lead to issues during pregnancy. Hence, use it in the recommended dosage levels to avoid the side effects. Consult your doctor in case of emergencies.
Frequently Asked Questions
Is there caprylic acid in coconut milk?
Yes. Coconuts contain caprylic acid. Hence, this compound is present in its milk as well.
Is caprylic acid prebiotic?
There is insufficient scientific evidence to suggest that caprylic acid is prebiotic.
How is caprylic acid different from other medium-chain triglycerides (MCTs)?
The main difference between other MCTs and caprylic acid is that it has a shorter carbon chain length that makes it easier for the body to break it down and utilize it for energy.
Key Takeaways
Caprylic acid may help treat yeast infections like oral thrush or vaginal yeast,
Caprylic acid may soothe internal inflammation and reduce internal bleeding, bloating and other digestive issues.
It is a medium-chain fatty acid that may help you lower cholesterol levels.
Caprylic acid can be obtained from full-fat cow's milk, palm fruit milk, and peanut butter.
It is best to avoid caprylic acid if you are pregnant, on blood pressure medication, or have a liver disease, low blood pressure, or a mcad deficiency.
Caprylic acid is a naturally occurring fatty acid found in coconut and palm oils. Learn more about its benefits and uses in this informative video. Click on it to get started!
Sources
Articles on StyleCraze are backed by verified information from peer-reviewed and academic research papers, reputed organizations, research institutions, and medical associations to ensure accuracy and relevance. Read our editorial policy to learn more.
The following two tabs change content below.