Castor Oil For Eyes – 9 Surprising Benefits & How To Use It
Learn how this widely-trusted oil can help aid several eye-related ailments.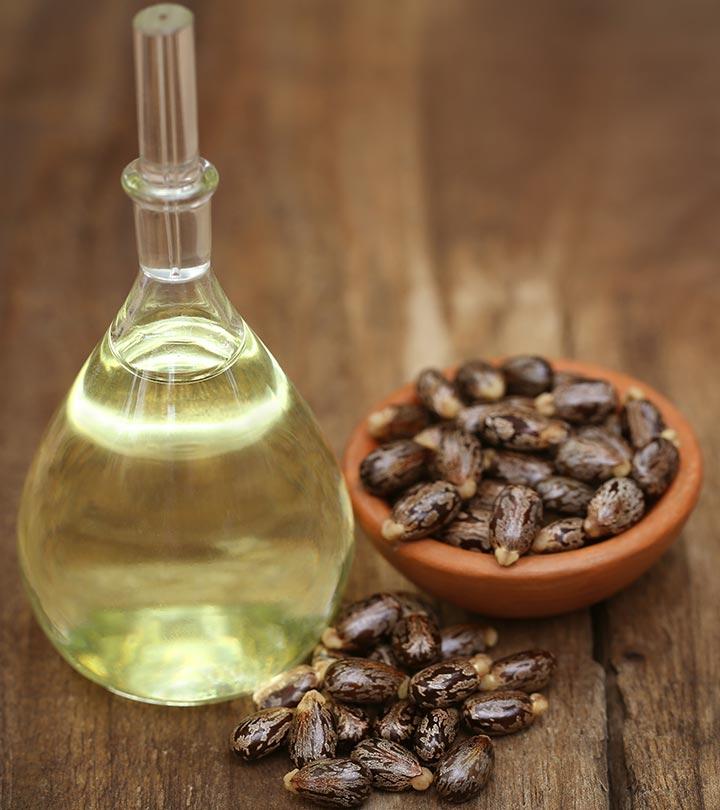 The benefits of castor oil for eyes are fast gaining popularity. It is one of the most used ingredients in Ayurvedic remedies to promote eye health. It is used to treat many eye ailments, including cataracts, itchy eyes, and red eyes (1), (2). Learn here about castor oil and the benefits it offers for the eyes. Continue reading.

Know Your Ingredient: Castor Oil
What Is It?
A colorless and pale vegetable oil derived from castor beans.
What Are Its Benefits?
Its anti-inflammatory properties may prevent eye allergies and it may treat dry eyes by inhibiting the evaporation of tears.
Who Can Use It?
Apart from pregnant women and children under 6 years, anyone can use castor oil.
How Often?
People can use castor oil for their eyes once to twice per day for achieving the best results.
Caution
Stop using castor oil on the eyes if you experience itchiness, swelling, or redness.
Is It Safe To Use Castor Oil For Eyes?
Yes. Castor oil contains powerful fatty acids and other antioxidants that can benefit your eyes (3), (4). But it is always best to use safer castor oil products available particularly for your ailment, which are sterile and chemical-free. You can procure them following an appointment with an ophthalmologisti  XA medical practitioner that specializes in the branch of medicine concerned with the treatment of eye diseases. .
The American Academy of Ophthalmology doesn't recommend the use of just about any castor oil (or any other non-sterile material) for the eyes (5). It recommends the use of safer products for your eyes.
Brooke Pieke, MS, a nutrition educator and clinical researcher, adds, "Currently, castor oil is an ingredient in FDA approved artificial tear medications. It is not approved solely for intraocular use."
Simply put – please discuss the remedies we mention here with your ophthalmologist and use the castor oil that he/she recommends.
 The only issues are sterility and safety, which may not be matters of major concern with your nearest supermarket store. Because they may not care about your vision health. But your ophthalmologist does.


Trivia
Rumor has it that Cleopatra used to put castor oil in her eyes to make the whites of her eyes appear brighter.
Which takes us to our next section.
What Type Of Castor Oil Is Good For Your Eyes?
Whatever your ophthalmologist recommends. Though there are different types of castor oil, the one that works best for your eyes is cold pressed castor oil.
This type of castor oil involves pressing organic seeds without adding heat. It has the maximum nutrients and comes in two varieties – refined and unrefined. Refined has its impurities removed.
 Use 100% organic castor oil for eyes. Also, ensure it is 'hexane-freei  XOils that lack hexane, a harmful organic compound used in the extraction process of seed and vegetable oils. '. There are other varieties of cold pressed castor oil that your doctor might recommend – these can include pharmaceutical grade castor oil or sterile castor oil.


Trivia
Castor oil is available as over-the-counter eye drops or prescription eye lubricants, which are most suitable for contact lens wearers, especially those who have dry eyes that cannot be relieved by water-based artificial tears.
But like we said, go by what your ophthalmologist recommends. Post that, you can go by these benefits.
What Are The Benefits Of Castor Oil For Eyes?
Brooke says, "Science shows us that castor oil has anti-inflammatory, microbial, analgesic, and antioxidant properties. It has wide uses for personal care products, wound dressings, and drug delivery systems." The anti-inflammatory properties of castor oil (thanks to the ricinoleic acid) help reduce redness and swelling of the eyes (4). The oil also soothes the skin, and this can help reduce wrinkles and fine lines around the eyes.   
1. Treats Eye Allergies
Castor oil encourages lipid production in the eyes and inhibits the evaporation of tears, treating dry eyes (1). And the anti-inflammatory properties of the oil help treat allergies and eye redness (6).
 What To Do
Purchase a clean dropper and wash it properly with soapy water.
Suck the 100% organic cold pressed castor oil for eyes (the one recommended by your doctor) into the clean dropper.
Administer just one drop into each eye before going to sleep. Though your vision might turn cloudy, it will subside by the time you wake up the next morning.
You can do this once every night until your allergies subside. It could be dry eyes or red eyes or any other form of allergy.
2. Treats Bloodshot Eyes
This condition is a severe form of redness, where you might also see red veins in your eyes. The anti-inflammatory properties of castor oil can help ease bloodshot eyes.
What To Do
Take some castor oil and collect it in a sterilized dropper.
Add one drop of the oil in each eye – you can repeat this three to four times in a day.
After application, you can sit with your eyes closed for about 15 minutes. The cloudiness will subside, and you can go about your daily duties.
3. Might Supplement Cataract Treatment
Severe forms of cataract require surgery, and there is no other way. Not yet. But you can use castor oil to accelerate recovery post surgery or even use it before surgery to reduce damage.
Brooke adds, "While there are claims that castor oil removes cataracts and, in turn, improves vision, there are no research studies that suggest that it can be used to treat these conditions. Please consult your optometrist before using castor oil for these conditions."
What To Do
Using a sterile eyedropper, suck the castor oil and put one drop into each eye, just once a day.
You can do this preferably before going to bed as that will give the oil enough time to carry out its healing process.
You might find crusts formed around your eyes by morning – which are nothing but the

calcified

i

  X

Accumulation of hardened calcium salt deposits in soft tissues, arteries, and other areas of the body.

deposits of the other compounds in castor oil. You can wash them off.
 4. Treats Itchy/Irritated Eyes
The oil works as a great moisturizing agent to fight dryness, and this helps treat itchy eyes (1).
What To Do
Simply put a drop of the oil (using a sterilized dropper) into each of your eyes before you sleep.
Do it every night until you see some results.
5. Treats Puffy Eyes
Pour two drops of castor oil on your fingertip. Gently apply to the puffed up areas under your eyes before bedtime to reduce puffiness. Wash your face the next morning. Repeat this every night – you will see results in a few days.
The same remedy can work well for sunken eyelids as well. The soothing properties of castor oil benefit you in this regard.
6. Treats Swollen Eyes
Also called blepharitis, this condition causes inflammation or swelling of the eyelids (7). Castor oil contains ricinoleic acid, which acts as an anti-inflammatory agent.
What To Do
Wash your eyelashes with lukewarm water.
Apply a warm compress to the affected eyelid for 5 minutes.
Using a cotton swab, apply a few drops of castor oil on the affected eyelid (closed). Use hexane free castor oil for eyes.
You can also apply on the lashes to prevent the formation of crusts. Do this before bedtime.
Rinse your eyes with warm water the next morning. Repeat once daily for a few days.
7. Removes Under-Eye Dark Circles
The important fatty acids in the oil nourish the skin and lighten dark circles.
What To Do
Take a couple of drops of castor oil on your fingertips and rub them together to warm the oil a bit.
Massage the oil under your eyes for a minute.
Leave it on overnight and wash with warm water the next morning.
Repeat this for a few days. 
8. Reduces Wrinkles Around The Eyes
The natural emollient properties of castor oil provide hydration that can help reduce wrinkles around the eyes.
What To Do
Cleanse your face with a normal cleanser. Pat dry with a clean towel.
Rub a cotton ball saturated with a toner over your face. This removes any residue of the cleanser.
Take a drop of castor oil on your palm, and using your finger, apply it to the wrinkles around your eyes.
Apply the oil along the entire length of fine lines and wrinkles.
You don't have to wash your face after this as the oil gets absorbed into your skin in 10 to 20 minutes.
 You can also use rose water instead of a facial toner. Rosewater and castor oil work wonders for the eyes and skin. Continue this remedy every day until you see visible results.
9. Thickens Your Eyebrows
The proteins and fatty acids in castor oil nourish the hair follicles and promote eyebrow growth.
 What To Do
Cleanse your face and eyebrows with warm water and remove all traces of makeup.
Dip a cotton swab (or an eyeliner brush) into castor oil, and apply it to your eyebrows.
Gently massage your eyebrows for about 2 to 3 minutes using your fingertips. Do this before bedtime.
The next morning, wash your face and eyebrows with lukewarm water.
 Continue this remedy for at least a month.
Infographic: Benefits Of Castor Oil For Eyes
Castor oil is one of the few oils proven to benefit the eyes. Not only is it safe, it also boosts eye health, relieves common eye problems, and has useful beauty and skincare benefits. All of this is possible due to its high nutrient content.
Check out the infographic below to discover how castor oil works and how it can improve your eye health.


Castor oil is a popular choice for cooking. However, it can also be used for other purposes, including vision health. The health benefits of castor oil for the eyes can be attributed to its rich nutritional profile of essential fatty acids, antioxidants, minerals, and vitamins. As recommended by your ophthalmologist, cold-pressed, purified castor oil can relieve many eye problems. It has anti-inflammatory properties that minimize eye swelling and redness. Additionally, the oil can reduce the early signs of aging around the eyes. However, do note that it may cause issues when used in excess. If you experience any adverse effects, limit its use and seek medical advice.
Frequently Asked Questions
Does castor oil make your eyes lighter?
According to Brooke Pieke, "Using castor oil might seem tempting to alter your eye color. However, remember, genetics determine our eye color and cannot be altered with the use of castor oil."
She adds, "Alternatively, castor oil is a popularly used externally to reduce under-eye darkening. The oil locks moisture in, giving the under-eye area a hydrated, plump look."
Can we use castor oil for eyes daily?
Yes. Castor oil can be applied multiple times a day and can help lower inflammation, manage dry eyes, and deal with an infection. However, consult your ophthalmologist before use.
Which oil is best for use under the eyes?
Castor oil, almond oil, lavender oil, tea tree oil, and fennel oil are some of the oils good for use under the eyes. They also help manage under-eye dark circles.
Can I put oil in my eyes?
Yes, but only a few drops. Oils are rich in essential fatty acids and nutrients that are beneficial for supporting the vision and managing eye health issues like dry eyes.
Key Takeaways
Castor oil contains fatty acids and antioxidants that help treat allergies, redness, and swelling of the eyes
The emollient properties of castor oil help reduce the appearance of dark circles, fine lines, and wrinkles around the eyes.
Castor oil possesses fatty acids and proteins that may help promote eyebrow growth.
Always opt for cold-pressed and hexane-free castor oil for use.
Unlock the secret to relieving dry eyes using castor oil! Check out this video to get tips on how to apply castor oil safely and effectively for maximum relief.
Sources
Articles on StyleCraze are backed by verified information from peer-reviewed and academic research papers, reputed organizations, research institutions, and medical associations to ensure accuracy and relevance. Read our editorial policy to learn more.
The following two tabs change content below.