6 Health Benefits Of Chayote Squash, Nutrition, And How To Cook
Add that crunchy texture and mild savory flavor with this unique-tasting squash.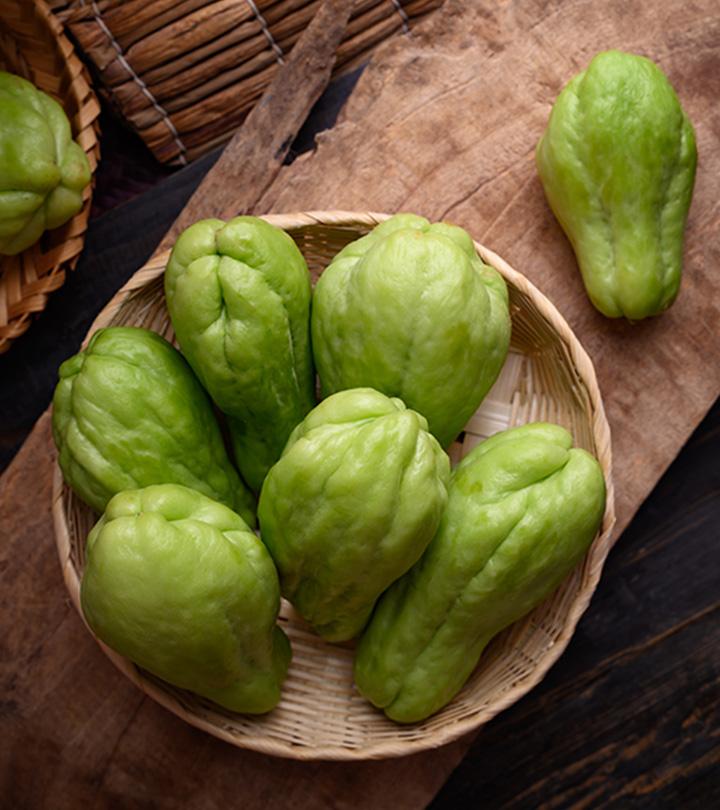 Squashes are popular for their high water and low calorie content, and a unique savory flavor. One such squash to watch for is the chayote. The health benefits of chayote squash are many, and its tender texture and unique taste make it more popular. You can consume this squash raw, or even add it to salads and toasts. Read to know how chayote benefits your health.

Know Your Ingredient: Chayote Squash
What Is It?
A green, pear-shaped fleshy vegetable with a mild, savory taste.
What Are Its Benefits?
It helps reduce blood sugar levels, lowers blood pressure, promotes heart health, prevents kidney stones and manages hypertension.
Who Can Use It?
All except those who are allergic to it.
How Often?
Regularly, but in moderation.
Caution
No known side effects. Consult a doctor in case you are allergic to it.
What Is Chayote Squash?
Chayote squash is a fruit that is used as a vegetable. It is native to southern Mexico. It is also known as mirliton, choko, vegetable pear, and custard marrow. This squash is especially used in many cuisines all over the world for its unique savory taste and tender edible flesh.
Chayote squash has a unique mild savory flavor. It can be easily mixed with any other vegetable. Raw chayote squash tastes like an apple with a mild crunch and slightly sweet taste, and a ripe one tastes like a cucumber.
A blogger tried chayote squash and shared her experience in her blog. She writes, "The squash is sweet, it reminds me of a green pepper in its texture and flavor, it is very crisp and fresh tasting it almost looks like a green apple, but it smells like earth, and it has a solid consistency that would be good in salad or even a soup…. I will be having this vegetable again because it could replace some other vegetables and switch up boring recipes (i)."

Trivia
It is believed that chayote squash was a staple diet in the diet of Aztec and Mayan people. The word 'chayote' comes from the Aztec word 'chayohtli.'
Let us look at the nutrition facts of chayote squash in the following section.
Chayote Squash Nutrition Facts
Chayote squash (100 grams) contains the following nutrients (1):
Calories: 19
Water: 94.2 grams
Fat: 0.1 gram
Fiber: 1.7 grams
Carbohydrates: 4.5 grams
Protein: 2.0 grams
Vitamin C: 7.7 milligrams
Vitamin E: 0.1 milligrams
Vitamin B6: 0.1 milligrams
Total Folate: 93 micrograms
Copper: 0.1 milligrams
Potassium: 125 milligrams
Magnesium: 12 milligrams
Phosphorus: 18 milligrams
Zinc: 0.7 milligrams
This graph from a 2022 study published in Plants shows the accumulation of soluble sugars in chayote fruit varieties. Fructose accumulation was compared to glucose accumulation, and no sucrose was discovered. The average values recorded were 1.04% for fructose and 0.76% for glucose, which were comparable to the values reported for other chayote varietal groups, such as nigrum spinosum, virens levis, and nigrum xalapensis, which were 2.03 and 2.42%, respectively.

Accumulation Of Soluble Sugars In Fruits Of Chayote Squash
Source: Alcohol drinking patterns and liver cirrhosis risk: analysis of the prospective UK Million Women Study
Thanks to these nutrients, chayote squash is known for its important benefits. We have discussed them in the next section.
Health Benefits Of Chayote Squash
1. May Help Manage Blood Glucose Levels
Chayote squash is low in calories and is suitable for a low-sugar diet as it is diabetes-friendly. In a study, chayote was found to significantly reduce blood sugar levels after regular consumption (2). Research also found that the juice of chayote, when taken before a starch-rich diet, may significantly manage the rise in postprandial blood glucose levels in rats (3).
2. May Help Manage Hypertension
A study has shown that chayote squash has potassium and alkaloids (4). These exhibit diuretic properties that may help kidneys remove excess fluid and salt from the body. This effect might reduce blood pressure.
In another study, the juice of chayote was found to significantly reduce hypertension in pregnant women (5). However, if you are pregnant and wanted to consume chayote for its benefits, consulting your doctor is recommended.
3. May Help Reduce The Risk Of Cardiovascular Disease
As stated, the potassium and alkaloids in chayote squash are diuretics. Research has shown that this diuretic property can reduce hypertension and prevent the hardening and calcificationi  XIt refers to the process where calcium accumulates in body tissue and causes the tissue to harden, which could be normal or abnormal. of arteries (4). This reduces the possibility of a heart attack.
As per another study, the administration of chayote juice may significantly reduce triglyceridesi  XLipids or fats that are present in your blood which are either produced by your body or obtained from the diet. and LDL cholesterol and improve HDL cholesterol levels in rats (6).
4. May Help Prevent Kidney Stones
Chayote squash is rich in potassium. Research has proven that potassium exhibits diuretic properties that help eliminate the extra fluids in the kidneys and prevent the formation of kidney stones  (4). You can have chayote squash juice or as raw chopped pieces in a salad.
The juice from chayote leaves may also help one manage kidney stones. However, more information is warranted in this regard.
5. May Promote Skin Health
Chayote squash is rich in vitamin C. Anecdotal evidence suggests that regular consumption of chayote squash may minimize acne and dark spots. Studies show that vitamin C is a potent antioxidant that exhibits many beneficial effects on the skin (7). However, more research is needed to further determine the benefits of chayote on skin.
6. May Offer Anti-Aging Benefits
Chayote squash plants are widely used in the cosmetic, skin care, and pharmaceutical industries. Their fruit extracts were found to protect skin cells from UVA damage. They also may help reduce any harmful substances present in the skin cells (8). This way, they may possibly slow down premature aging.
Around 20 to 25% of adults worldwide are believed to have metabolic syndrome (MetS), and aging is a significant factor contributing to its occurrence. Consuming chayote squash has been found to help reduce DNA damage and increase the stability of the genetic material that may help reduce the signs of aging. The squash also contains antioxidants and has anti-inflammatory properties that help manage metabolic syndrome and the associated issues with aging (9).
You can include chayote in your regular diet to reap its benefits. Now that we have discussed how chayote benefits your skin and health, let us look at a few tasty and healthy recipes using chayote.
5 Easy And Tasty Recipes With Chayote
1. Chayote Gratin
What You Need
1 medium chayote squash
150 grams cheese
2 teaspoons butter
2 small onions
4 crushed garlic cloves
1 cup fresh cream
1 teaspoon salt
1 teaspoon chopped cilantro
Method
Peel the chayote squash and wash with saltwater.
Slice into medium pieces and keep them aside.
Add butter to a thick-bottomed frying pan.
Add the finely chopped onion and garlic.
Add the chayote pieces and stir fry gently.
Add the cheese and mix gently.
Sauté in low flame until the cheese melts.
Add salt and pepper and mix slowly.
Fry on low flame for 15 minutes.
Switch off the flame and add chopped cilantro.

Trivia
Chayote squash was introduced into the United States in the 18th century.
2. Stir-Fried Chayote
What You Need
1 medium chayote
5 tablespoons butter
½ tablespoon minced ginger
3 crushed garlic cloves
1 tablespoon chili flakes
½ tablespoon mustard seeds
½ tablespoon cumin seeds
1 tablespoon salt
Method
Peel the chayote and cut them into medium-sized pieces.
Wash them in salt water and keep them aside.
Add 5 tablespoons of butter to a thick-bottomed frying pan.
Add the minced ginger and crushed garlic once the butter starts to melt.
Add mustard seeds and cumin seeds after 2 minutes. Let them splutter.
Add the chayote pieces and mix gently.
Cover with a lid and let the mixture simmer for 5 minutes.
Once the chayote pieces become soft, sprinkle the salt and chili flakes.
Mix gently. Do not over stir them as they may break into small pieces. Leave them for 5 minutes.
Turn the heat to medium and keep stirring for 10 minutes. Switch off the flame and transfer into a serving dish.
3. Pickled Chayote
What You Need
1 medium chayote
2 small onions
1 medium garlic
1 tablespoon whole black peppercorns
1 tablespoon salt
2 cups white vinegar
¾ cups granulated white sugar
Method
Peel the chayote and cut it into medium pieces.
Wash the pieces with saltwater and strain them. Keep them aside.
Strain the chayote pieces and let them air dry.
Peel the onions and garlic and keep them aside.
Add vinegar, sugar, and 1 tablespoon salt in a thick-bottomed saucepan.
Bring it to a boil on medium heat. Add the black peppercorns.
Keep the pickling mixture aside and let it cool completely.
Add the chayote pieces, onions, and garlic cloves.
Mix gently and transfer into an airtight jar. Seal with a lid.
Store in the refrigerator. Do not freeze it. It can be stored for 1 month.
4. Stuffed Chayote
What You Need
2 medium chayotes
2 medium onions, minced
2 tablespoons butter
1 tablespoon salt
½ tablespoon pepper
2 eggs, beaten
200 grams cheese
150 grams minced meat
1 cup sweet corn
Method
Cut the chayotes in half and remove the seeds.
Place them in boiling salted water, and cook until tender, approximately for 15 minutes.
Scoop out the pulp and keep the shells aside.
Chop the pulp and drain the excess water.
Fry the onions in butter until they turn transparent.
Add the pulp of the chayote and minced meat and corn. Mix gently.
Add salt and pepper and let it simmer for 5 minutes.
Add the 2 beaten eggs to this mixture and cook on low heat for a few minutes. Keep stirring the mixture to avoid charring.
Stuff the chayote shells and top with grated cheese.
Place inside a hot oven, at 400 degrees, until cheese is melted and golden.
If you are cooking on a frying pan, place the pan on medium heat, grease it with butter, and place the stuffed chayote on it. Cook it until the cheese turns golden brown.
5. Chayote Coconut Milk Soup
What You Need
1 medium chayote
150 grams beans
100 grams cabbage
5 tablespoons crushed ginger
1 large onion
2 tablespoons butter
1 cup coconut milk
1 ½ teaspoon sugar
2 tablespoons lemon juice
½ tablespoon salt
¼ teaspoon pepper
2 sliced red chilies
1 cup vegetable broth
Method
Heat the butter in a large nonstick pot and add the onion. Stir fry until lightly browned, for 3 to 4 minutes.
Add salt and pepper.
Remove from heat and set aside.
In the same pot, cook ginger over medium heat for 2 to 3 minutes.
Now add chayote, beans, and cabbage and cook over medium flame. Keep stirring until they are lightly browned for 5 to 7 minutes.
Add vegetable broth, coconut milk, and simmer for 15 to 20 minutes.
Add onion and cover with a lid and let it cook for 5 minutes.
Cook till chayote is tender. Do not overcook.
Sprinkle some pepper and sliced red chilies. Switch off the flame. Serve hot.
Consume it immediately.
The high water content in chayote squash makes it prone to spoilage. Proper storage can enhance its shelf-life. Effective storage methods are discussed in the next section.
How Do I Store Chayote?
Chayote can be stored in a refrigerator for 3 weeks. Wipe chayote with a dry cloth. Wrap it in a thin cotton cloth and place it in a plastic bag. Do not freeze chayote. If you observe any spots or molds, discard the squash as it may be rotten and unfit for consumption.
Can Chayote Squash Interact with Any Medications?
To date, there are no known interactions of chayote squash with any medications. It is a low-calorie and nutrient-dense food and suitable for regular consumption unless one is allergic to it. However, consult your doctor before eating chayote if you are on any medications.
Infographic: Top 4 Benefits Of Chayote Squash
Chayote squash is a versatile veggie that packs a punch with health advantages galore. It can help you manage blood sugar levels and hypertension and much more. Take a step towards a healthier, happier you by adding chayote squash to your plate. Check out the infographic below to find out about the incredible benefits of chayote squash.

The benefits of chayote squash are numerous. Including it in your regular diet can help manage blood glucose levels and hypertension and reduce the risk of cardiovascular diseases. Also, the high potassium content of chayote squash can prevent the formation of kidney stones, and its rich vitamin C content can promote skin health. However, some people are allergic to chayote squash so check for the same before you start eating it regularly. If you are not allergic to this squash, adding it to your diet will help you reap its benefits. Try any of the recipes mentioned above to enjoy chayote squash in a healthy manner.
Frequently Asked Questions
Is chayote high in uric acid?
No. But the purinei  XIt refers to the natural, white, crystalline chemical compounds in foods and is produced naturally by the body. found in chayote can increase uric acid levels in the blood.
Can chayote cause anemia?
No. On the other hand, chayote contains vitamin B12 and iron, which may prevent and manage anemia.
Should you boil chayote?
You can prepare chayote in any way you prefer. It can be boiled, steamed, or grilled. It depends on the dish you are making.
Is chayote easy to digest?
As discussed above, chayote has a high amount of fiber. Therefore, it may be easy to digest.
Is it OK to eat chayote skin?
Yes, it is okay to eat chayote skin as all its parts are edible. However, you can remove it with a peeler if you do not want to eat it.
Is chayote similar to zucchini?
They both belong to the same gourd family and can be used as substitutes for each other. However, the flavor of zucchini is stronger with a slightly softer texture and higher water content than chayote.
Are chayote and green papaya the same?
Though identical, these two are not the same. However, they can be prepared the same way and have the same texture when cooked.
Key Takeaways
Raw chayote squash tastes like an apple, while the ripe one tastes like a cucumber.
It is low in calories and helps reduce blood sugar levels.
Drinking chayote squash may help manage hypertension, prevent kidney stones, and promote skin health.
Explore the nutritional benefits of chayote. Watch this video to learn more about how this wholesome vegetable can improve your overall health and well-being.
Personal Experience: Source
i. Chayote squash… The last Sensory Evaluation
https://redtaildrummer.wordpress.com/2014/10/03/chayote-squash-the-last-sensory-evaluation/
Sources
Articles on StyleCraze are backed by verified information from peer-reviewed and academic research papers, reputed organizations, research institutions, and medical associations to ensure accuracy and relevance. Read our editorial policy to learn more.
The following two tabs change content below.