5 Health Benefits Of Chayote Squash, Nutrition, And How To Cook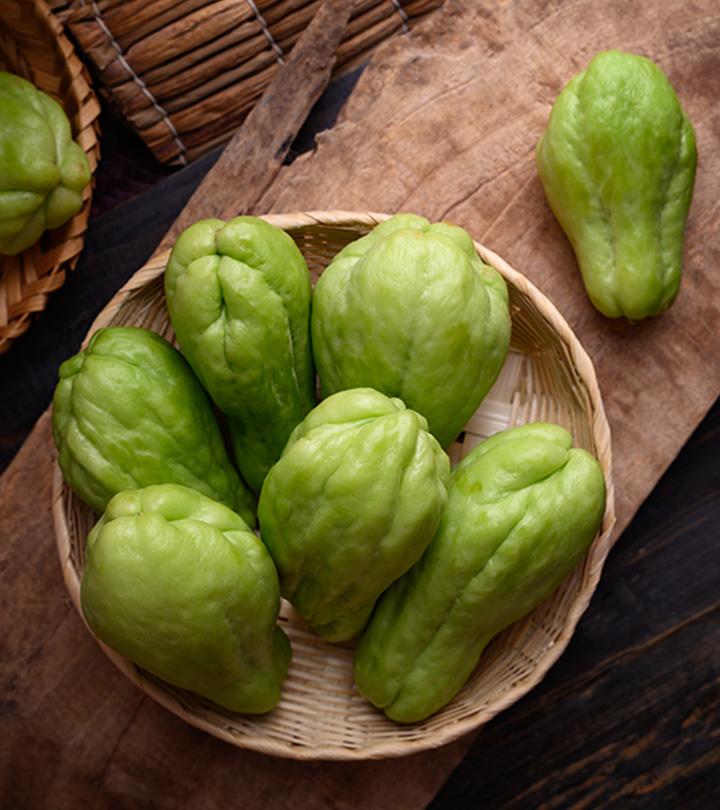 Squashes are known for their high water content, low calories, and unique savory flavor. One such squash is chayote. It has a tender texture and unique taste, and can be added to salads and toasts or even consumed raw. Its low calorie content makes it a perfect addition to a regular diet. Read on to know more about chayote squash and its health benefits.
What Is Chayote Squash?
Chayote squash is a fruit that is used as a vegetable. It is native to southern Mexico. It is also known as mirliton, choko, vegetable pear, and custard marrow. This squash is especially used in many cuisines all over the world for its unique savory taste and tender edible flesh.
Chayote squash has a unique mild savory flavor. It can be easily mixed with any other vegetable. Raw chayote squash tastes like an apple with a mild crunch and slightly sweet taste, and a ripe one tastes like a cucumber.
Let us look at the nutrition facts of chayote squash in the following section.
Chayote Squash Nutrition Facts
Chayote squash (100 grams) contains the following nutrients:
Calories: 19
Water: 94.2 grams
Fat: 0.1 gram
Fiber: 1.7 grams
Carbohydrates: 4.5 grams
Protein: 2.0 grams
Vitamin C: 7.7 milligrams
Vitamin E: 0.1 milligrams
Vitamin B6: 0.1 milligrams
Copper: 0.1 milligrams
Potassium: 125 milligrams
Magnesium: 12 milligrams
Phosphorus: 18 milligrams
Zinc: 0.7 milligrams
Thanks to these nutrients, chayote squash is known for its important benefits. We have discussed them in the next section.
Health Benefits Of Chayote Squash
1. May Help Manage Blood Glucose Levels
Chayote squash is low in calories and is suitable for a low-sugar diet. In a study, chayote was found to significantly reduce blood sugar levels after regular consumption.  Research also states that the juice of chayote, when taken before a starch-rich diet, may significantly manage the rise in postprandial blood glucose levels.
2. May Help Manage Hypertension
A study has shown that chayote squash has potassium and alkaloids. These exhibit diuretic properties that may help kidneys remove excess fluid and salt from the body. This effect might reduce blood pressure.
In another study, the juice of chayote was found to significantly reduce hypertension in pregnant women. However, if you are pregnant and wanted to consume chayote for its benefits, consulting your doctor is recommended.
3. May Help Reduce The Risk Of Cardiovascular Disease
As stated, the potassium and alkaloids in chayote squash are diuretics. Research has shown that this diuretic property can reduce hypertension and prevent the hardening and calcification of arteries. This reduces the possibility of a heart attack.
As per another study, the administration of chayote juice may significantly reduce triglycerides and LDL cholesterol and improve HDL cholesterol levels.
4. May Help Prevent Kidney Stones
Chayote squash is rich in potassium. Research has proven that potassium exhibits diuretic properties that help eliminate the extra fluids in the kidneys and prevent the formation of kidney stones. You can have chayote squash juice or as raw chopped pieces in a salad.
The juice from chayote leaves may also help one manage kidney stones. However, more information is warranted in this regard.
5. May Promote Skin Health
Chayote squash is rich in vitamin C. Anecdotal evidence suggests that regular consumption of chayote squash may minimize acne and dark spots. Studies show that vitamin C is a potent antioxidant that exhibits many beneficial effects on the skin. However, more research is needed to further determine the benefits of chayote on skin.
You can include chayote in your regular diet to reap its benefits. We have mentioned a few tasty and healthy recipes using chayote in the next section.
5 Easy And Tasty Recipes With Chayote
1. Chayote Gratin
What You Need
1 medium chayote squash
150 grams cheese
2 teaspoons butter
2 small onions
4 crushed garlic cloves
1 cup fresh cream
1 teaspoon salt
1 teaspoon chopped cilantro
Method
Peel the chayote squash and wash with saltwater.
Slice into medium pieces and keep them aside.
Add butter to a thick-bottomed frying pan.
Add the finely chopped onion and garlic.
Add the chayote pieces and stir fry gently.
Add the cheese and mix gently.
Sauté in low flame until the cheese melts.
Add salt and pepper and mix slowly.
Fry on low flame for 15 minutes.
Switch off the flame and add chopped cilantro.
2. Stir-Fried Chayote
What You Need
1 medium chayote
5 tablespoons butter
½ tablespoon minced ginger
3 crushed garlic cloves
1 tablespoon chili flakes
½ tablespoon mustard seeds
½ tablespoon cumin seeds
1 tablespoon salt
Method
Peel the chayote and cut them into medium-sized pieces.
Wash them in saltwater and keep them aside.
Add 5 tablespoons of butter to a thick-bottomed frying pan.
Add the minced ginger and crushed garlic once the butter starts to melt.
Add mustard seeds and cumin seeds after 2 minutes. Let them splutter.
Add the chayote pieces and mix gently.
Cover with a lid and let the mixture simmer for 5 minutes.
Once the chayote pieces become soft, sprinkle the salt and chili flakes.
Mix gently. Do not over stir them as they may break into small pieces. Leave them for 5 minutes.
Turn the heat to medium and keep stirring for 10 minutes. Switch off the flame and transfer into a serving dish.
3. Pickled Chayote
What You Need
1 medium chayote
2 small onions
1 medium garlic
1 tablespoon whole black peppercorns
1 tablespoon salt
2 cups white vinegar
¾ cups granulated white sugar
Method
Peel the chayote and cut it into medium pieces.
Wash the pieces with saltwater and strain them. Keep them aside.
Strain the chayote pieces and let them air dry.
Peel the onions and garlic and keep them aside.
Add vinegar, sugar, and 1 tablespoon salt in a thick-bottomed saucepan.
Bring it to a boil on medium heat. Add the black peppercorns.
Keep the pickling mixture aside and let it cool completely.
Add the chayote pieces, onions, and garlic cloves.
Mix gently and transfer into an airtight jar. Seal with a lid.
Store in the refrigerator. Do not freeze it. It can be stored for 1 month.
4. Stuffed Chayote
What You Need
2 medium chayotes
2 medium onions, minced
2 tablespoons butter
1 tablespoon salt
½ tablespoon pepper
2 eggs, beaten
200 grams cheese
150 grams minced meat
1 cup sweet corn
Method
Cut the chayotes in half and remove the seeds.
Place them in boiling salted water, and cook until tender, approximately for 15 minutes.
Scoop out the pulp and keep the shells aside.
Chop the pulp and drain the excess water.
Fry the onions in butter until they turn transparent.
Add the pulp of the chayote and minced meat and corn. Mix gently.
Add salt and pepper and let it simmer for 5 minutes.
Add the 2 beaten eggs to this mixture and cook on low heat for a few minutes. Keep stirring the mixture to avoid charring.
Stuff the chayote shells and top with grated cheese.
Place inside a hot oven, at 400 degrees, until cheese is melted and golden.
If you are cooking on a frying pan, place the pan on medium heat, grease it with butter, and place the stuffed chayote on it. Cook it until the cheese turns golden brown.
5. Chayote Coconut Milk Soup
What You Need
1 medium chayote
150 grams beans
100 grams cabbage
5 tablespoons crushed ginger
1 large onion
2 tablespoons butter
1 cup coconut milk
1 ½ teaspoon sugar
2 tablespoons lemon juice
½ tablespoon salt
¼ teaspoon pepper
2 sliced red chilies
1 cup vegetable broth
Method
Heat the butter in a large nonstick pot and add the onion. Stir fry until lightly browned, for 3 to 4 minutes.
Add salt and pepper.
Remove from heat and set aside.
In the same pot, cook ginger over medium heat for 2 to 3 minutes.
Now add chayote, beans, and cabbage and cook over medium flame. Keep stirring until they are lightly browned for 5 to 7 minutes.
Add vegetable broth, coconut milk, and simmer for 15 to 20 minutes.
Add onion and cover with a lid and let it cook for 5 minutes.
Cook till chayote is tender. Do not overcook.
Sprinkle some pepper and sliced red chilies. Switch off the flame. Serve hot.
Consume it immediately.
The high water content in chayote squash makes it prone to spoilage. Proper storage can enhance its shelf-life. Effective storage methods are discussed in the next section.
How Do I Store Chayote?
Chayote can be stored in a refrigerator for 3 weeks. Wipe chayote with a dry cloth. Wrap it in a thin cotton cloth and place it in a plastic bag. Do not freeze chayote. If you observe any spots or molds, discard the squash as it may be rotten and unfit for consumption.
Can Chayote Squash Interact with Any Medications?
To date, there are no known interactions of chayote squash with any medications. It is a low-calorie and nutrient-dense food, and is suitable for regular consumption unless one is allergic to it. However, consult your doctor before eating chayote if you are on any medications.
Conclusion
Its low-calorie content makes chayote an excellent addition to your diet. It is replete with many nutrients and offers several health benefits. You can add it in salads, soups, or even eat it raw. If you are not a fan of bland or mild flavors, you can try any of the above-mentioned recipes and enjoy chayote your favorite way.
Expert's Answers For Readers' Questions
Is chayote good for the stomach?
Chayote is low in calories and has many beneficial nutrients that may improve digestion. It can be included regularly in your diet to support your gut health.
Does cooking change chayote's flavor?
Yes, cooking chayote can slightly change its flavor. Chayote tastes slightly sweeter when ripe and bland when cooked.
Sources
Articles on StyleCraze are backed by verified information from peer-reviewed and academic research papers, reputed organizations, research institutions, and medical associations to ensure accuracy and relevance. Read our editorial policy to learn more.
The following two tabs change content below.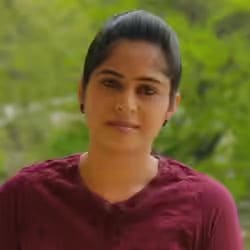 Aparna is a professor-turned-content writer with over 5 years of experience in life sciences. Her passion for writing and interest in the healthcare and wellness industry pushed her toward a career in content writing. She has a master's in Microbiology and aims to use her knowledge of life sciences to break down complex information into easily understandable content for the readers. When she's not working, Aparna loves cooking and collecting keychains.