8 Benefits Of Eating Bitter Gourd During Pregnancy
All the expecting mothers - time to reap the benefits of bitter gourd, no matter the taste.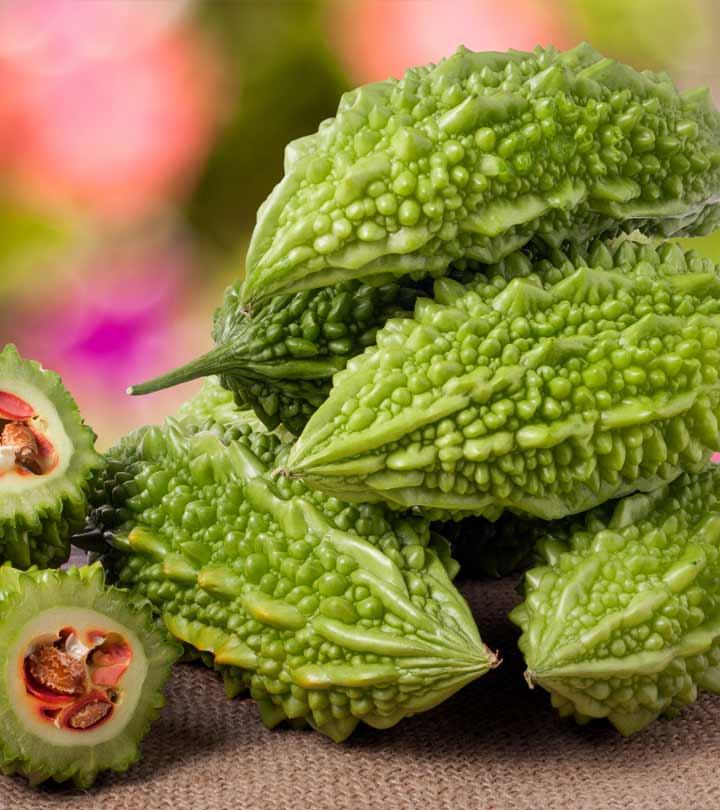 Pregnancy is the time for happiness but also for utmost caution. This is when many questions and doubts about the right nutrition for the baby abound. Here, we shall understand the safety of bitter gourd during pregnancy. Bitter gourd, also known as bitter melon or balsam pear, is a medium sized-vegetable with a distinct bitter taste. It is enriched with nutrients and minerals and is considered a very healthy vegetable. However, many vegetables normally deemed safe may pose some health risks during pregnancy. As with raw papaya, the intake of bitter gourd during pregnancy is also mired in controversy. While eating bitter gourd has many advantages, it may lead to certain side effects during pregnancy. To help you make an informed decision, we have listed the possible concerns and advantages of consuming bitter gourd during pregnancy. Read to know the facts.
Benefits of Eating Bitter Gourd during Pregnancy
Check out here what are the benefits of eating bitter gourd during pregnancy.
1. High Folate Content
Folate is a vital requirement for pregnant women. This mineral aids in healthy fetal development by keeping the new born safe from the possible neural tube defects. Bitter gourd contains a very high amount of folate (1). It contains one quarter of the daily requirement of this mineral in pregnant women.
2. High Fiber Content
This vegetable is packed with fiber and it gives you a sense of satisfaction (2). It decreases your food cravings for high-calorie food or junk food. This vegetable helps you remain slim even during pregnancy.
3. Curbs Digestive Tract Disorders 
The two major problems faced by most pregnant women around the world are constipation and hemorrhoidsi  XInflamed or swollen veins in the rectum and anus usually caused during bowel movements or pregnancy.  (3). The fiber content of bitter gourd helps in lessening these problems.
4. Anti-Diabetic
Bitter gourd has anti-diabetic properties and you must consume it every day (3), (4). It has insulin-like hypoglycemic proteins that help lower blood sugar levels. Nutrients like charantini  XPhytochemicals or phytonutrients found in bitter gourd used to treat diabetes and high blood sugar. and polypeptide-Pi  XA well-known hypoglycemic agent (that controls blood sugar) that is extracted from fruits, tissues, and seeds of bitter gourd. may also help in fighting gestational diabetes during pregnancy.
5. Antioxidant And Antibacterial
Bitter gourd contains vitamin C which is an antioxidant and helps pregnant women fight against harmful bacteria (2), (3). It also has antibacterial properties that prevent infections from bacteria like Staphylococcus aureus and candida albicans which may otherwise cause skin issues (5). It also helps in building the immunity of the expecting mothers.
6. Regulates Bowel Movement
This vegetable can also help in promoting peristalsisi  XA series of automatic muscle movements that start in the esophagus transport food through the digestive tract. that later helps regulate the bowel movement and the digestive system of pregnant women. However, more research is needed in this regard.
7. Great Source Of Nutrients Needed By The Foetus
Bitter gourd is a great source of some vitamins and minerals (6). It contains Iron, niacin, potassium, pantothenic acid, zinc, pyridoxine, magnesium and manganese. It can easily be called a super vegetable as it plays a vital role in the growth of the fetus.
This vegetable also contains other vitamins and minerals like riboflavin, thiamine, Vitamin B1, B2, B3 etc. and it is a rich source of calcium and beta carotene.
8. Source Of Other Nutrients
This vegetable also contains other vitamins and minerals like riboflavin, thiamine, Vitamin B1, B2, B3 etc. and it is a rich source of calcium and beta carotene.


Quick Tip
You can consume bitter gourd by stir frying, deep frying, boiling or steaming it. You may alternatively add it to a green juice and drink it.
Risks of Eating Bitter Gourd During Pregnancy
Causes Toxicity: Bitter gourd consists of alkaline components like resins, quinine, saponic glycosides and morodicine. These are some of the substances that spread toxicity in the human body. This toxicity can lead to stomach pain, nausea, and dimness of vision, vomiting, redness on face, diarrhea, extreme salivation and weakness of the muscles in pregnant women (7).
Excess Consumption Can Cause Stomach Related troubles: Diarrhea, cramps in abdomen and other stomach problems can occur (7).
Causes Sensitivity In Some: The seeds of bitter gourd contain vicine that can cause symptoms of favism in some sensitive beings (8). The red arils found in the seed are toxic for children. Therefore, this is not a favored vegetable for pregnant women.
Pre-Term Labour: Bitter gourd can also lead to some troublesome uterine activities that can actually lead to a pre-term labor in most women.

Quick Tip
You should not consume bitter gourd if you have been diagnosed with and prescribed medications for gestational diabetes without consulting with your gynecologist.
Note:
 No tests have been done on women who consumed bitter gourd during pregnancy. Hence, ensure you consult a gynecologist before including it in your diet.
Bitter gourd, if eaten for the first time, can cause cramps in the abdomen, gastritis, and other such stomach-related diseases. But pregnancy is a time which is special. Pregnant women must always consult their gynecologist before choosing their diet, especially when including an item they have not eaten before.
Infographic: Top Reasons To Have Bitter Gourd During Pregnancy
Look beyond the bitter taste of this vegetable and marvel at the various benefits it can provide you. Bitter gourd has many nutritional benefits and properties hidden beneath its rugged texture. It might just be the one-stop solution to deal with the common issues faced during pregnancy.
Check out the infographic below to learn more about the top reasons to have a bitter gourd during pregnancy.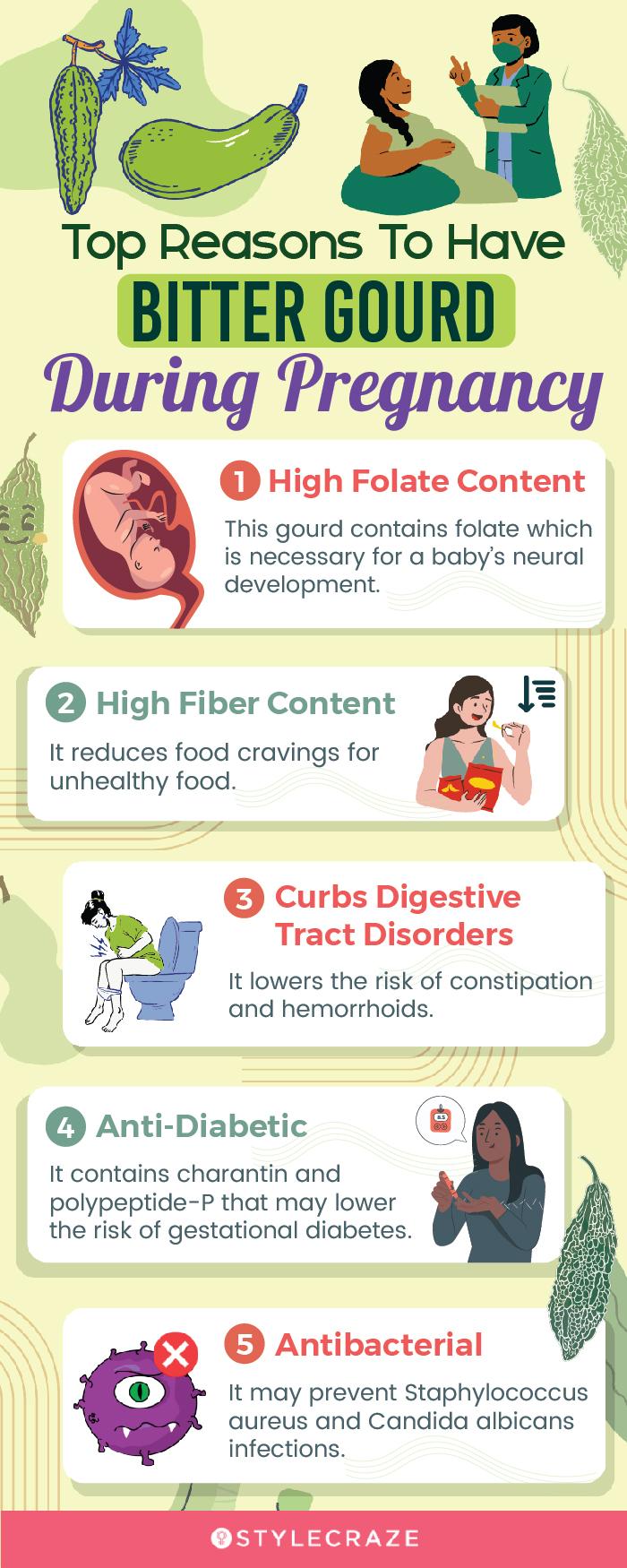 Hope you liked our post on eating bitter gourd during pregnancy. It's always best to keep on the safe side of diets and eat carefully. If you have never tried it before, don't try eating bitter gourd during pregnancy. Have a safe and healthy pregnancy!
Frequently Asked Questions
Is raw bitter gourd poisonous?
Blanca Garcia, Registered Dietitian Nutritionist, says, "Not at all! Fresh bitter gourd provides a good amount of vitamin C, folate, iron, and potassium. These nutrients are essential during the neural growth and development of a baby. However, if consumed excessively, raw bitter gourd may cause allergic reactions or digestive problems for some. Also, proper food handling and good hygiene are essential when preparing raw bitter gourd since pregnant women are vulnerable to infection and other diseases."
Should we remove the skin of the bitter gourd?
According to Garcia, "There is no need to remove the skin of the bitter gourd. It is tender and edible. But if you prefer eating it without skin, take note that by doing so, you may not be maximizing its nutrient content, since the skin also contains a good amount of beneficial nutrients."
Why should bitter gourd not be eaten at night?
Garcia says, "There is no scientific explanation for limiting the consumption of bitter gourd at night. While there is no specific time to consume it, some may experience gastric discomfort when they consume it at night, possibly due to its citric juices that may contain irritants."
Is bitter gourd good for fertility?
No. The presence of triterpenes, alkaloids, and flavonoids in bitter gourd may exhibit anti-fertility activity (9). However, more studies are warranted in this regard.
Is bitter gourd considered a heat food for the body?
Yes. According to Ayurveda, bitter gourd is a heat food for the body. It has hot potency and may cause a burning sensation in the stomach.
Key Takeaways
Bitter gourd helps regulate bowel movement and treat digestive tract disorders.
The charantin and polypeptide-P present in bitter gourds help fight gestational diabetes.
Excess consumption of bitter gourds may cause toxicity and preterm labor in some people.

Learn about the 12 benefits and 3 risks of eating bitter gourd during pregnancy. Check out this video to learn how it can help you and your baby.

Sources
Articles on StyleCraze are backed by verified information from peer-reviewed and academic research papers, reputed organizations, research institutions, and medical associations to ensure accuracy and relevance. Read our editorial policy to learn more.
The following two tabs change content below.