Benefits Of Ginger And Turmeric: The Good, The Bad, And The Ugly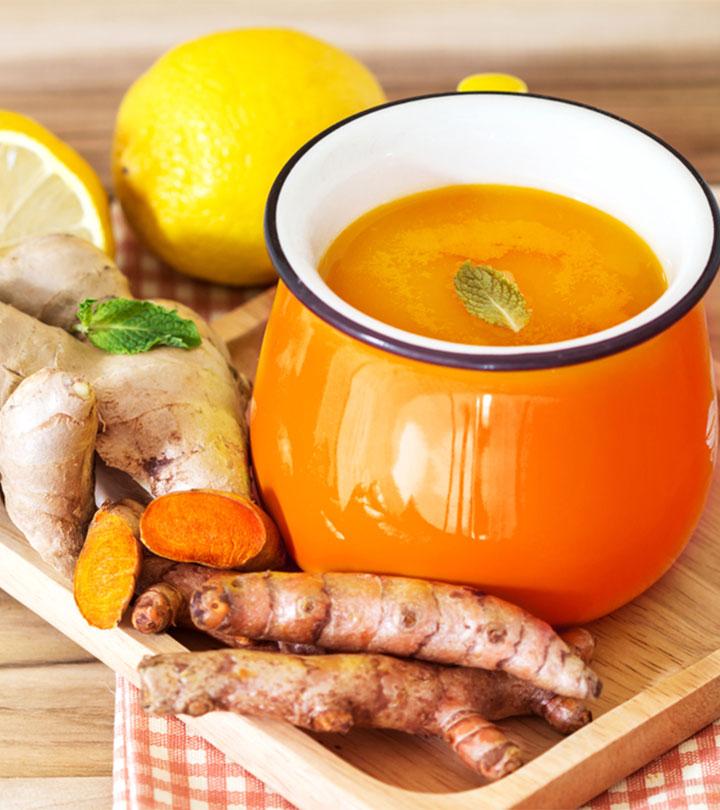 Turmeric and ginger have taken the modern world by storm. While many people are waking up to the magic of ginger and turmeric now, many civilizations have been using them since ancient times. Ancient India and China used ginger to treat a variety of medical conditions (1). Even though turmeric has its roots in India, it was used by ancient Greco-Roman, Egyptian and other civilizations all over the globe for cooking, fabric dyeing, and cosmetics (2).
Now that you know the roots of these two, let us delve into the benefits of ginger and turmeric and how we can incorporate them into our daily diet.
What Is Turmeric And Ginger Tea Good For?
Turmeric and ginger belong to the rhizome family. This means our terrific tubes grow not only roots but also shoots that are similar to a root system. While turmeric and ginger are primarily used as a spice and for cosmetic purposes, you can make your own turmeric and ginger tea every day and reap the benefits of it!
Helps In Reducing Nausea And Vomiting
If you get bouts of morning sickness every day or you are going through chemotherapy, the side effects of which make you feel nauseous, then a good cuppa of ginger tea can sort that out! Researchers conducted a systematic review to understand the role of ginger in nausea induced by pregnancy and chemotherapy. The results showed that ginger played a beneficial role in reducing nausea and vomiting, thus proving the mighty power of ginger (3). Ginger tea provides a healthier alternative to people who are not very keen on taking anti-nausea medications.
Helps In The Prevention of High Blood Pressure
Are you looking for a natural alternative to help keep your blood pressure under control? Then look no further! A study was conducted to understand the correlation between daily consumption of ginger and the prevention of chronic diseases such as high blood pressure. The results showed that daily consumption of ginger is associated with a lower risk of developing high blood pressure (4).
Boosts Your Immune System
Dubbed "The Golden Spice", turmeric comes with a lot of benefits. One of them includes boosting your immune system. Research shows that curcumin, the orange-yellow compound found in turmeric, helps in the activation of t-cells, which are responsible for developing the immune response in our body (5). Make tea out of this earthy spice and spice up your immune system!
Helps Improve The Symptoms Of Rheumatoid Arthritis
Who knew this tangy spice is packed with so many benefits? Turmeric has been shown to help manage the symptoms of rheumatoid arthritis. Rheumatoid arthritis is a medical condition that is characterized by inflammation of the joints. This condition develops when the body's own immune system turns against its own body and attacks the cells. A study was conducted where researchers split forty-five patients with rheumatoid arthritis into three groups. One group was administered turmeric and the other two groups were given an anti-inflammatory drug alone or combined with turmeric. The result showed that the group administered turmeric alone showed signs of improvement in their symptoms, thus showing the medical potency of turmeric (6).
Now that you know the benefits of turmeric and ginger tea and how they can improve your health, let us have a look at the benefits of ginger and turmeric in general.
10 Benefits Of Ginger and Turmeric
As you can see, the dynamic duo, in any form, is good for your health. But in their purest form, what are the benefits of ginger and turmeric? Let us read further to find out.
1. Ginger Can Help You Shed Those Extra Pounds
If you are looking to shed those extra pounds naturally, go gorge on some ginger. Researchers conducted a systematic review to see the effect of consumption of ginger on weight loss in overweight and obese people. The researchers concluded that the consumption of ginger saw a decrease in body weight and an increase in HDL cholesterol (good cholesterol) levels in the subjects, thus proving the goodness of good old ginger (7).
2. Ginger Is Beneficial For Indigestion
Do you ever feel gassy, bloated or a burning sensation in your chest, chances are that you might be suffering from indigestion. It is more common than you think. One in every four people in the USA is affected with indigestion or dyspepsia every year (8). A study was conducted to see how ginger affected gastric motility in people with functional dyspepsia or chronic indigestion. The subjects were given three ginger capsules or a placebo followed by a soup after an hour. The results showed that the subject's gastric emptying was faster after consuming ginger supplements than placebos (9). This is essential because gastric emptying is associated with relieving discomfort from indigestion.
3. Ginger Helps Reduce Period Pains
Ladies, if you suffer from painful period pains and no amount of hot water bags is helping you drive that pain away, then behold the zingy ginger. Research has shown that ginger is as effective as non-steroidal inflammatory drugs in reducing period pains in women (10). So, if you are looking to say bye to those painkillers and go natural, then ginger is the way.
4. Ginger Improves Brain Function
Did you know that ginger can improve your brain's functionality? Research says so. Researchers conducted a study to see the effect of ginger extract on middle-aged women's cognitive function. Sixty women were given ginger extract for two months and the results were promising as the women showed an improvement in their working memory and general brain functionality (11).
5. Ginger Lowers Your Cholesterol Levels
High cholesterol levels have been linked to an increased risk of developing heart diseases. You can develop cholesterol when large deposits of LDL cholesterol (bad cholesterol) form in your blood vessels, narrowing the blood flow to your heart, ultimately leading to a heart attack or stroke (12 ). How can you get your cholesterol levels down? In a study conducted in 2018, people ranging from the age of 18 to 70 years were asked to take 5 grams of ginger every day for three months. The results showed an astounding 17.41% decrease in LDL cholesterol levels and an 8.83% decrease in total cholesterol levels (13).
6. Turmeric Decreases Your Risk Of Developing Cardiovascular Diseases
Did you know that turmeric and ginger belong to the same family? Then you will not find it surprising that the health benefits of turmeric and ginger are many. Research shows that turmeric is excellent for maintaining good heart health. A study was conducted to see how curcumin, which is found in turmeric, affects heart health in young, healthy adults. Fifty-nine adults were given curcumin extract for eight weeks and saw a 3% increase in heart function (14). This suggests that curcumin decreases your risk of developing cardiovascular diseases.
7. Turmeric May Help Decrease Symptoms Of Depression
Depression has been dubbed "The Silent Killer". WHO estimates that 280 million people around the globe suffer from depression (15). A controlled study trial was conducted with sixty people diagnosed with major depressive disorder to see the effect of curcumin on their symptoms. The results showed that taking 1000 mg curcumin for six weeks had the same effect as the antidepressant, Prozac (16).
8. Turmeric Helps Lower Your Blood Sugar Levels
Although most research studies done today have been conducted on animals, they still show promising results when it comes to turmeric and its effect on blood sugar levels. A study was conducted to see how curcumin affects insulin levels in obese mice. The mice were given curcumin for a period of sixteen weeks with their insulin levels being monitored daily. The results reported lower levels of insulin in the mice along with lower body weight (17).
9. Turmeric Makes Your Skin Healthy
If you suffer from any skin disease or you simply want some smooth and shiny skin, then turmeric can give you that. A systematic review was done to examine the effects of turmeric on skin health. The researchers concluded after reviewing 234 articles that curcumin, the active compound in turmeric, had a beneficial impact on skin health in relation to skin conditions such as alopecia, dermatitis, etc (18).
10. Turmeric May Help In Preventing Eye Diseases
This golden spice has been used by ancient Indian and Asian cultures for thousands of years due to its pharmacological properties. One of the benefits it provides is it helps in the prevention of many eye diseases. Research shows that curcumin plays an active part in slowing down degeneration in eye diseases such as macular degeneration, retinal cancer, and diabetic retinopathy (19).
As you can see, the spicy twins— turmeric and ginger, offer innumerable benefits that can help us lead a healthy life. Let us dive into how we can use ginger and turmeric in our daily lives.
How To Use Ginger And Turmeric
Ginger is a spice that is used by various cultures around the globe, be it Chinese, Japanese, or Indian, ginger is a household staple in these cultures. It is not only used for medicinal purposes but also forms an essential part of their cooking. Here is a simple recipe on how to make a nice, warm ginger tea at home.
Ginger Tea
Ingredients
Instructions
Slice and peel 1 small piece of ginger.
Take a saucepan and boil 1 cup of water.
Add the sliced ginger and 1 teaspoon of honey to the boiling water.
Bring the mixture to a boil and then bring it down to a simmer.
Let the mixture simmer for 5 minutes.
Remove the ginger from the mixture.
Pour the mixture into your favorite cup and sip it hot.
Turmeric Milk
Ingredients
turmeric powder
pepper powder
milk
honey
Instructions
Take 1 cup of milk in a saucepan.
Boil it till it becomes slightly hot.
Add 1 teaspoon of turmeric powder.
Add 1 teaspoon of pepper powder.
Stir it well till the powders mix well.
Add 1 teaspoon of honey and stir it.
Pour it into your favorite cup and sip it.
A nice, hot cuppa of ginger tea in the evening or a warm cup of turmeric milk can energize you and give you the much-needed break from work. Let us take a peek at some of the side effects of turmeric and ginger.
Side Effects
Just like everything else in this world, turmeric and ginger have their benefits and side effects.
Higher Chance Of Developing Kidney Stones
Research states that turmeric contains oxalates, which are compounds that are expelled from the body during excretion. Too much oxalate can increase your risk of developing kidney stones. This was seen in a study conducted by researchers to see the effect of turmeric and cinnamon on the excretion of urinary oxalate. The results show that high doses of turmeric lead to a comparatively higher rate of urinary oxalate excretion, increasing the risk of developing kidney stones (20).
Ginger Can Cause Gas And Bloating
The National Center for Complementary and Integrative Health states that one of the side effects of ginger consumption is that it may cause gas and bloating (21).
Other than the above-mentioned side effects, consuming turmeric and ginger in moderation is the best way to go about it. Now, let's check out whether ginger and turmeric can help you fight pain and sickness?
Can Ginger And Turmeric Help Fight Pain And Sickness?
This dynamic duo has countless benefits that are essential for us. But can ginger and turmeric reduce pain? Let us see what research has to say about that. A study was conducted in the year 2016 to see the effect of ginger extract and echinacea on the pain and inflammation of patients with osteoarthritis of the knees. The patients were given ginger extract and echinacea extract and their level of improvement was tracked for 30 days. The results showed a significant improvement in pain and inflammation in the patients, proving the effectiveness of ginger as a remedy for pain (22).
Research suggests that turmeric is an effective pain reliever. A study was conducted to examine the effect of curcuminoid in patients with knee osteoarthritis. The patients were either given curcuminoid or placebo for 6 weeks. The researchers found a remarkable decrease in pain and a marked improvement in the physical function of the knees (23).
Ginger and turmeric together have proven to be very successful in fighting pain, especially in people diagnosed with osteoarthritis. Let us look into whether ginger and turmeric are good for every day consumption.
Is It Good To Consume Turmeric And Ginger Every Day?
Modern research does not suggest the exact amount of turmeric and ginger you can consume on a daily basis. But consuming a moderate amount of turmeric and ginger with water or milk on a regular basis is recommended and can go a long way in developing a healthy lifestyle.
The terrific tubes, ginger, and turmeric are the superstars that have been extensively studied and researched by the scientific community for centuries. Be it individually or combined, the benefits of ginger and turmeric are numerous. From reducing pain and nausea to being beneficial to our memory and body, these two rhizomes are what we need to spice up our lives. You can incorporate small amounts of ginger and turmeric in your routine by making ginger tea or turmeric milk and see the benefits that they provide.
Sources
Articles on StyleCraze are backed by verified information from peer-reviewed and academic research papers, reputed organizations, research institutions, and medical associations to ensure accuracy and relevance. Read our editorial policy to learn more.
The following two tabs change content below.