6 Benefits Of Iceberg Lettuce, Nutrition, And Side Effects
Boost your health and immunity by including this cabbage look-alike in your diet routine.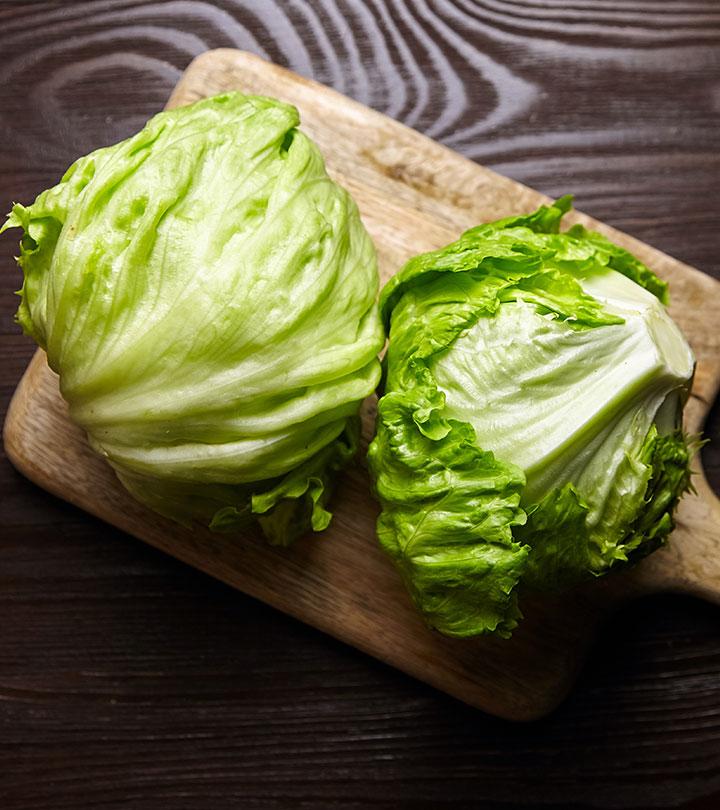 Iceberg lettuce, a cruciferous vegetable, has tightly furled leaves and a crunchy texture. It is often used in salads or on burgers.
Various beneficial nutrients are responsible for the health benefits of iceberg lettuce. Incorporating it into your regular diet may offer protection against various diseases. Here, we discuss the benefits and nutrition profile of iceberg lettuce and its recipes. Keep reading to know more.
What Is Iceberg Lettuce?
Iceberg lettuce is a variety of crisphead lettuce widely consumed across the world. It has tightly furled, crunchy leaves and a mild flavor. It is rich in water and low in calories. It can be consumed raw or cooked and resembles a cabbage.
Trivia
Iceberg lettuce was developed for growth in 1894 in the northern United States by Burpee Seeds and Plants.
Continue reading to know the nutrition facts of iceberg lettuce.
Iceberg Lettuce Nutrition Facts
These are the nutrients in 100 grams of iceberg lettuce (1):
| | |
| --- | --- |
| Energy | 14 kcal |
| Protein | 0.9 grams |
| Fat | 0.14 grams |
| Fiber | 1.2 grams |
| Calcium | 18 mg |
| Iron | 0.41 mg |
| Magnesium | 7 mg |
| Phosphorus | 20 mg |
| Potassium | 141 mg |
| Vitamin C | 2.8 mg |
| Thiamin | 0.041 mg |
| Vitamin B6 | 0.042 mg |
Health Benefits of Iceberg Lettuce
 1. May Promote Cardiovascular Health
Animal studies show that regular consumption of lettuce promotes cardiovascular health (2). Lettuce may increase the excretion of total cholesterol levels. It also may boost the body's antioxidant status.
2. May Help Regulate Cholesterol Levels
Regular consumption of lettuce has been proven to promote cholesterol metabolism. In a study, rats fed with lettuce for 3 weeks had shown a significant decrease in liver cholesterol levels. Their ratio of LDL/HDL cholesterol had also improved.
3. May Help With Weight Management
In a study, a salad made with lettuce, carrots, celery, and cucumber was found to improve satiety and decrease the amount of food intake (3). This may eventually contribute to healthy weight loss. Regular consumption of lettuce in the form of salads is highly recommended for effective weight loss and weight management.
4. May Improve Bowel Health
Iceberg lettuce is rich in fiber. Regular fiber intake is associated with many beneficial health effects. As per a study, fiber improves bowel health by preventing the formation of hemorrhoids (4). It also increases bowel movements by absorbing water and softening the stool. Iceberg lettuce is low in calories, and eating more of it means you have more fiber in your system.
5. May Improve Skin Health
Iceberg lettuce is rich in vitamin C (5). Research shows that vitamin C helps reduce skin dryness, sagging, and hyperpigmentation (6). It also may delay the signs of aging.
These are the few important benefits of iceberg lettuce. This lettuce is available in various varieties to choose from. We have discussed the same below.
6. May Help Prevent Birth Defects
Iceberg lettuce is a good source of folate, which when consumed by pregnant women helps prevent birth defects, such as spina bifida.
Iceberg Lettuce Varieties
Ballade: This variety is especially known for its heat resistance. It has crisp leaves that are bright green in color.
Crispino: It has glossy green leaves with a mild, sweet flavor. This variety grows in warm weather and is known for its resistance to humid climates.
Ithaca: This variety produces crisp leaves especially suitable for sandwiches and salads. It grows in warm weather.
Legacy: This variety grows with medium-large heads that are deep green. It grows effectively under cool conditions. Its recommended harvest is winter to early spring.
Salina: This variety grows with medium heads. The heads have full outer leaves. This lettuce is especially suitable for salads.
Sun Devil: This is a unique iceberg variety that thrives in hot, desert climates. It has large green heads with tightly furled leaves, which are widely used in salads and sandwiches.
Iceberg lettuce is often confused with Romaine lettuce. However, they two have some basic differences.
Iceberg Lettuce Vs. Romaine Lettuce
| Iceberg Lettuce | Romaine Lettuce |
| --- | --- |
| It is a moderate source of phenolic compounds. | It is a good source of phenolic compounds. |
| Has moderate vitamin K | Rich in vitamin K |
| Round in shape, resembling a ball with tightly furled leaves | Longer, greener, and leafier in appearance |
| 100 grams provide 14 calories | 100 grams provide 17 calories |
| Is pale green in color | Is dark green in color |
| Has a mild flavor | Has a slightly sweeter and bolder flavor |
 It is important to select and store iceberg lettuce properly to enjoy the maximum benefits. Read on for more information.
How To Select And Store Iceberg Lettuce
Always select iceberg lettuce that is heavy and has fresh leaves. The leaves should be firm and should not show any signs of wilting or browning.  Also, the lettuce should have a compact and firm head.
While storing the iceberg lettuce, wipe it with a dry cloth to remove any extra moisture. Store it in a loose plastic bag and wash it under running water only before consuming it. Do not refrigerate iceberg lettuce as it may lead to browning or wilting of the leaves and also minimizes its shelf life.
Fun Fact
Since iceberg lettuce is heat-sensitive, it was transported in crushed ice, which made its head look like an iceberg. Hence, it came to be known as iceberg lettuce.
Incorporating iceberg lettuce in your diet is simple. The following recipes can help.
Iceberg Lettuce Recipes
Beetroot Cucumber And Lettuce Salad
 What You Need
1 medium slice of iceberg lettuce
1 medium beetroot
1 small cucumber
1 small onion
1 tablespoon of sesame seeds
1 tablespoon of olive oil
½ a tablespoon of salt
2 tablespoons of lemon juice
Method
Take a slice of iceberg lettuce and cut it into medium-sized pieces.
Peel the beetroot and onion. Dice them into small pieces.
Slice the cucumber into medium-sized pieces.
Transfer the vegetables into a mixing bowl and give a gentle mix.
Dry roast sesame seeds on low flame for 1 to 2 minutes and add them to the mixing bowl.
Add 1 tablespoon of olive oil and ½ a tablespoon of salt and mix thoroughly.
Sprinkle lemon juice and mix gently.
Consume immediately without storing it.
 What You Need
1 medium iceberg lettuce
3 chilis
½ a teaspoon of soy sauce
2 teaspoons of sesame oil
½ a teaspoon of sugar
1 teaspoon of salt and pepper
1 tablespoon of salad oil
4 garlic cloves
Method
Wash and dry lettuce leaves for about 20 minutes.
Tear or cut the leaves into medium-sized pieces.
Separate the leaves and air dry them for 5 minutes to remove any excess moisture.
In a small bowl mix soy sauce, sesame oil, and sugar. Keep it aside.
Place a frying pan on medium heat.
When it is hot, add the salad oil. Add chopped garlic cloves and chilis.
Stir fry until the garlic begins to change color.
Add lettuce and stir fry until slightly crisp.
Stir in the soy sauce mixture and toss well.
Add salt and pepper.
What You Need
1 medium iceberg lettuce
2 small potatoes
2 small onions
3 tablespoons of butter
1 cup of fresh cream
1 tablespoon of salt
¼ a tablespoon of pepper
300 ml water
Method
Chop the leaves of iceberg lettuce finely.
Dice the potatoes into small pieces.
Chop the onions finely.
In a pan, add the butter and allow it to melt.
Add potato and onions. Fry them for 5 minutes.
Add water and bring it to a boil.
Add the lettuce leaves and let them cook for 10 minutes. Allow to cool down.
Transfer the vegetable mix to a blender jar and blend to a smooth paste.
Heat a pan and pour the blended paste into it. Add the fresh cream and mix thoroughly.
Add salt and pepper to taste. Serve hot.
These simple recipes offer you a convenient way of enjoying the goodness of iceberg lettuce. But before you start consuming it, you need to consider something – does iceberg lettuce have any side effects?
Are There Any Side Effects Of Iceberg Lettuce?
Iceberg lettuce is usually safe for most people. However, anecdotal evidence suggests that it may cause gastrointestinal discomfort in some individuals.
Raw intake of iceberg lettuce may cause gastric pain and bloating in some. Few may also experience a mild tingling sensation on the tongue. The exact mechanism of these reactions remains unclear.
If you experience any of these side effects, stop the intake and drink plenty of water to minimize any discomfort. Most side effects subside on their own without any medical assistance. But if the discomfort persists, consult your doctor without further delay.
Infographic: Tips To Use Iceberg Lettuce
Iceberg lettuce, with its mild flavor, adds a nice crunch and texture to many salads, dressings, and other foods. It also blends well with other leafy greens and fruits. Click on the infographic below to know how you can use iceberg lettuce to make the most of its taste and nutrition.


Iceberg lettuce is a low-calorie, light, and crunchy vegetable featured in many salads, burgers, and delicious dishes. It is often compared to Romaine lettuce, but it is paler, milder, and rounder than it. It is loaded with beneficial nutrients, antioxidants, vitamins, and minerals that promote good health. Iceberg lettuce's benefits include promoting heart health, improving bowel movements, and aiding weight management. However, its excessive consumption can lead to a few side effects. There is a possibility that it may induce gastrointestinal issues. If you experience any adverse effects, limit its use and seek medical advice.
Frequently Asked Questions
Which is healthier: iceberg lettuce or spinach?
Spinach is more nutritious than iceberg lettuce and may offer additional benefits.
Is iceberg lettuce better than normal lettuce?
Not really. Iceberg lettuce has low nutrient values when compared with other types of lettuce.
Is iceberg lettuce hard to digest?
No. Iceberg lettuce is very digestive.
Which is healthier: kale or lettuce?
Kale is healthier than lettuce due to its rich nutritional value. Kale is three times higher in carbs than lettuce.
Key Takeaways
Iceberg lettuce has crisp, tightly furled leaves that are often used in salads and burgers.
It is low in calories and offers an array of highly beneficial nutrients like calcium, phosphorus, and vitamin C.
Its rich nutritional profile reaps a variety of benefits, such as promoting heart, skin, and bowel health.
Sources
Articles on StyleCraze are backed by verified information from peer-reviewed and academic research papers, reputed organizations, research institutions, and medical associations to ensure accuracy and relevance. Read our editorial policy to learn more.