Kaolin Clay For Skin: What Is It, Benefits, And How To Use It
Exfoliator, detoxifier, and sebum regulator — explore this clay's many skin care miracles.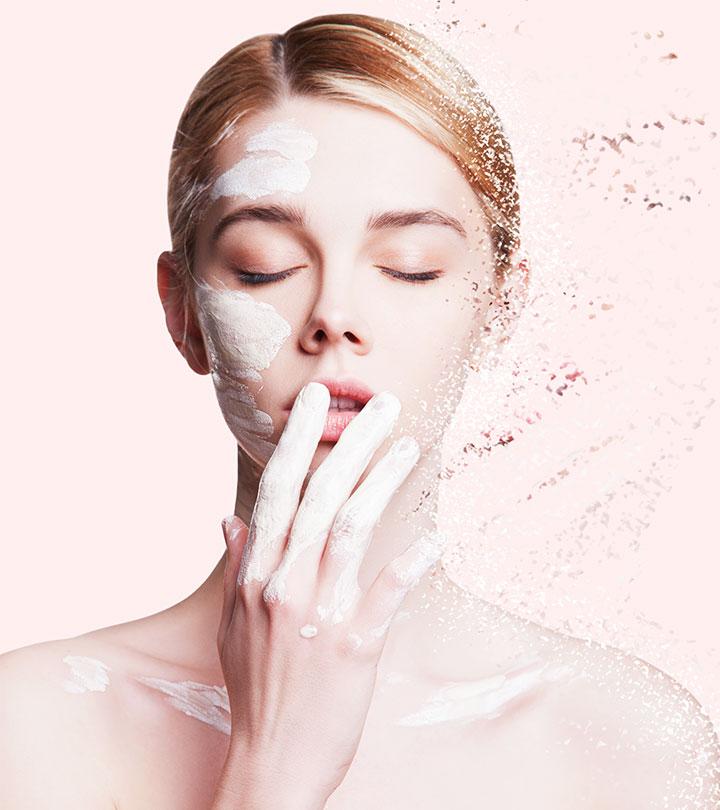 Kaolin clay for the skin was quite popular before K-beauty masks and chemical peels made their way into the skin care industry. It helps get rid of excess sebum from the skin and reduces the risk of acne breakouts (1). Moreover, clays are available in different types, and you can pick one depending on your skin type. However, some clay types have hyper-drying effects on the skin. Fortunately, kaolin clay does not dry out the skin and is ideal for people with dry and sensitive skin. In this article, we will explore the benefits of kaolin clay, some DIY recipes to try at home, and how to incorporate it in natural remedies. Keep reading.

Know Your Ingredient: Kaolin Clay
What Is It?
White clay with a soft texture.
What Are Its Benefits?
Kaolin clay makes your skin soft and healthy, removes excess sebum, exfoliates the skin, and keeps it cleansed.
Who Can Use It?
Suitable for all skin types.
How Often?
1 to 2 times a week for 10 minutes.
Caution
If you have dry skin, you might want to limit/moderate the use of this clay to avoid excessively dry skin.
What Is Kaolin Clay?
Kaolin clay or China clay is the most gentle among all the other types of clays used in skincare. The name "Kaolin" originates from "Kaoling," a hill in China from where this clay was first obtained or mined. In China, this clay is mostly used for making porcelain and also as a medicine for treating diarrhea.
Kaolin clay is white and has a very soft texture. It is rich in "Kaolinite," a type of mineral. Although it is usually white, it may also come in different colors (mainly pinkish and greenish), depending on the type of other minerals present in that clay. The whiter the clay, the purer and better it is.
Kaolin clay has a neutral pH and is rich in silica dioxide. Compared to other clays (such as bentonite clay), Kaolin clay does not make your skin dry. It is gentle on your skin and makes it soft and healthy. Hence, Kaolin clay is suited for people with mature, sensitive, and dry skin. It has recently gained popularity and is one of the common cosmetic ingredients in beauty products.


Trivia
Another old name for kaolin is "lithomarge," meaning "stone of marl." It is derived from the Greek word "litho" and "marga" from Latin.
Kaolin clay has multiple benefits when used topically and in different DIY skin care recipes. Let's take a look at what it does to your skin.
Kaolin Clay Benefits
1. It Helps Control Oiliness
Even though Kaolin clay is not a great absorbent like other clays, especially Bentonite clay, it can remove excess sebum from your face (2). It clears the skin pores, but without stripping your skin of the natural oils (which are also essential to keep it moisturized).
2. It Is A Natural Detoxifier And Exfoliator
Kaolin clay cleans traces of dirt, pollution, grime, and bacteria effectively from your skin. It does not clog the skin pores and cause breakouts. It removes traces of dead skin cells without causing any redness or irritation (3).
3. It Can Soothe Rashes And Irritation
Be it bug bites or itchy rashes, Kaolin clay can help your skin calm down. It has mild healing properties, and when applied to the affected area, it soothes inflammation immediately (4). However, it shouldn't be considered as the only healing option. Instead, use it for initial and temporary relief.


Trivia
Kaolin clay particles are soft and safe enough to be featured across many baby powders to soothe diaper rashes.
4. It Tones Your Skin
Kaolin clay stimulates your skin cells. When used regularly, it brightens and tones your skin. However, you will not see immediate effects. You need to use it for a long time before you see any results.
5. It Can Be Used As A Natural Shampoo
Kaolin clay can also help to keep your scalp clean. Since it can remove dirt, oil, and other impurities, it can be used as a natural shampoo. It can strengthen the roots and boost blood circulation to your scalp. It does all of this without stripping the scalp of its natural oils.


Trivia
In the US, the "white gold" belt is a region of central Georgia where kaolin is primarily found. Sandersville city is referred to as the "Kaolin Capital of the World" because of the wealth of kaolin deposits present.
Making DIY face masks with Kaolin clay is very easy. Want to try? Check out these recipes.
DIY Kaolin Clay Recipes To Try
1. Kaolin Clay And Green Tea Face Mask
You Will Need
1 tablespoon Kaolin clay
2 teaspoons green tea (cooled)
1 teaspoon aloe vera gel
2 drops lavender essential oil
Method
Mix Kaolin clay with green tea in a bowl.
Add aloe vera gel and lavender essential oil to the mixture. Stir to make a paste.
Apply it all over your face with a brush and leave it on for 5-10 minutes.
Clean it with lukewarm water and then splash your face with cold water.
Pat your face dry and follow up with a face serum.
2. Kaolin Clay And Avocado Face Mask
You Will Need
2 tablespoons Kaolin clay
1 teaspoon avocado (mashed)
3 tablespoons rosewater
Method
Combine all the ingredients in a bowl and make a paste.
Apply the paste all over the face with a brush or your fingers.
Once it starts to dry (check for the color change), clean it with warm water.
Splash your face with cold water (to shrink the pores) and apply a face serum or moisturizer.
3. Kaolin Clay And Apple Cider Vinegar Face Mask
You Will Need
1 tablespoon Kaolin clay
2 tablespoons apple cider vinegar (use the one with mother)
1 drop frankincense essential oil
Method
Combine all the ingredients in a bowl and mix well.
Apply the mixture to your face, avoiding the eye area.
Let it sit for 10 minutes or until it dries.
Wash with warm water and then with cold water.
Apply a face moisturizer.
4. Kaolin Clay And Honey Face Mask
You Will Need
2 teaspoon Kaolin clay
1 teaspoon honey
1 tablespoon rose water
Method
Mix the clay, honey, and rose water.
Spread evenly on your face, avoiding the area around your eyes.
Let it dry for 10 minutes.
Wash with warm water and then splash your face with cold water.
5. Kaolin Clay And Witch Hazel Face Mask
You Will Need
½ tablespoon Kaolin clay
1 tablespoon witch hazel
Method
In a bowl, mix the clay and witch hazel.
Apply on your face and leave it on for 10-15 minutes.
Use warm water and a washcloth to clear the face mask.
Clean your face with cold water.
Follow up with a moisturizer.
Infographic: Why Use Kaolin Clay For Your Skin?
Kaolin clay is an all-natural ingredient that has many skin care benefits. It is gentle and suits almost all skin types, especially sensitive skin. Kaolin clay is used in skin care extensively as it has many potential benefits, including oil absorption and pore cleansing. Check out the infographic below to learn about the benefits of using it for the skin.


Although pre-made clay facial masks are available in supermarkets and cosmetic stores, using natural clay is the best option for your skin. Kaolin clay is suitable for all skin types and helps clean your face gently. It aids effective pore cleansing, detoxification, exfoliation, and acne treatment. You can follow the tips and recipes to use Kaolin clay for the skin and easily add it to your beauty routine. However, avoid using the clay masks frequently as excess exfoliation may dry out the skin, cause redness, rashes, and irritation. If you have oily skin, you can use them twice a week. Otherwise, it is best to use clay masks once a week.
Frequently Asked Questions
Is kaolin clay the same as Multani mitti?
No, the most crucial difference between kaolin clay and Multani mitti is the formation process. The two chemical formulas are also different, implying that they serve different purposes.
Can I mix kaolin and bentonite clays?
Yes, you can mix kaolin and bentonite clays.
Does kaolin clay reduce wrinkles?
Kaolin clay may help reduce the appearance of wrinkles by improving skin elasticity and firmness.
Does kaolin absorb toxins?
Kaolin clay has the ability to absorb toxins and impurities from the skin, making it a popular ingredient in facial masks and cleansers.
Is kaolin anti-inflammatory?
Kaolin clay has anti-inflammatory properties that help soothe irritated or inflamed skin.
How can you maintain the health and hydration of your skin when using kaolin clay, and what other steps should you take to ensure optimal skin health?
It's important to moisturize your skin regularly and drink plenty of water to keep it hydrated. Additionally, adjust your skincare routine based on its changing needs. Use products suitable for your skin type and issues.
Key Takeaways
Kaolin clay is a good source of kaolinite (a mineral), has a neutral pH, and does not make your skin dry.
Originated in China and popular in the K-beauty world, this clay is ideal for sensitive, dry, and aged skin.
It does not suck skin's natural oils and keeps skin moisturized and soft.
Moreover, DIY kaolin clay recipes are easy to prepare and do not consume much of your time.
Kaolin clay is a natural skin care ingredient with amazing benefits! Dive into this video to learn how it can improve your skin's health and appearance.
Sources
Articles on StyleCraze are backed by verified information from peer-reviewed and academic research papers, reputed organizations, research institutions, and medical associations to ensure accuracy and relevance. Read our editorial policy to learn more.
The following two tabs change content below.