8 Amazing Benefits Of Kiwi Juice For Skin, Hair And Health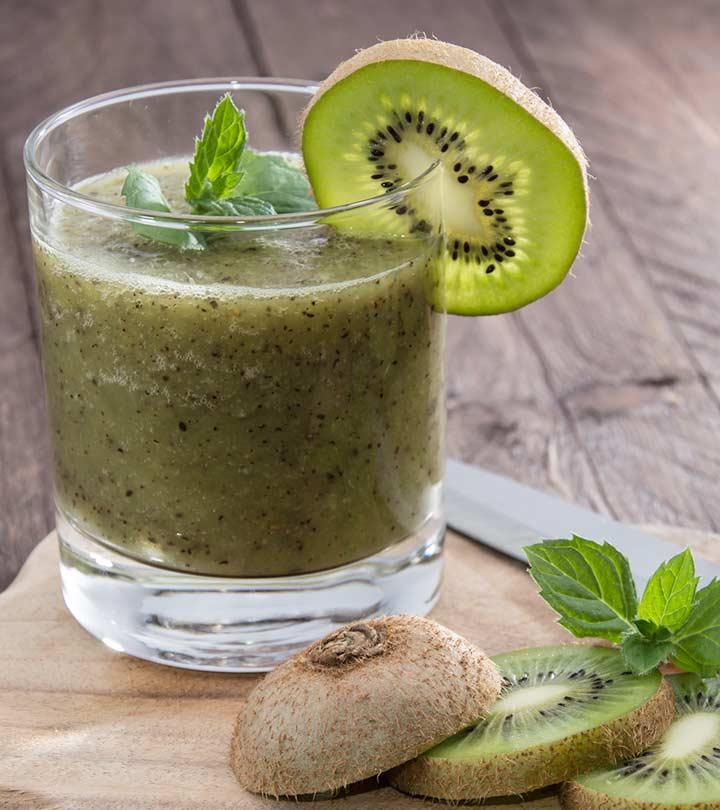 You would be surprised to know that kiwi fruit tops the chart amongst other fruits when it comes to nutrition density. Nutrition density is the amount of minerals and vitamins found per gram. It is a greater source of vitamin C when compared to oranges. Just like the fruit, kiwi juice is loved by people across the globe. It is especially loved for its tangy taste and the combination of soft textured juice with crunchy seeds. But in my opinion, kiwi fruit juice should not just be loved for its taste but the numerous benefits that it has on offer. Read on to know more about the benefits of kiwi juice for skin, hair and health.
Skin benefits of kiwi juice
1. Fights and prevents wrinkles:
Kiwi juice is packed with antioxidants. These help fight free radicals and delay the ageing process. Regular consumption of kiwi juice can help you fight wrinkles in a much easier way than most commercial products would. It also makes you look younger.
2. Clearer complexion:
Kiwi juice detoxifies your entire system and hence helps get a clearer skin. Your skin glows when your system is clear from within. So drinking kiwi juice everyday is the way to get best results. It can give you a vibrant looking skin.
3. Heals skin wounds:
Kiwi juice contains good amount of potassium. This helps repair tissues and hence quickens the healing process of cuts and wounds on skin. You may also replace it for expensive skin creams that just claim to render a great looking skin. Kiwi juice is much more powerful than most other skin products.
[ Read: Dates Juice Health Benefits ]
Hair benefits of kiwi juice
4. Hair growth:
Kiwi juice is very rich in Vitamin E. Vitamin E is essential for good hair growth and health. A good consumption of Vitamin E can help grow your hair really fast. So you must drink at least a glass of kiwi juice everyday for good hair growth.
5. Hair fall:
Kiwi juice is very rich in minerals and vitamins. These are very important for a stronger immune system. When your immune system is strong, it will obviously promote overall well being. Good immune system can help you lessen your hair fall problems.
6. Shining hair:
Kiwi juice concentrate can also be used to cleanse your hair. You may take fresh kiwi juice and add it with other juices for cleansing your hair once in a while. It should be diluted with water to avoid harming hair as it is acidic. This will leave your hair healthy and shining.
[ Read: Benefits of Barley ]
Health benefits of kiwi juice
Treats respiratory disorders – Studies show that kiwi juice is really beneficial for treating respiratory disorders. It has been found extremely effective in treating respiratory problems like asthma, shortness of breath and even cough.
7. Low risk of cardiovascular diseases:
People who drink kiwi juice on a regular basis are found less prone to cardiovascular diseases. The juice helps prevent the blood clots and it also reduces blood pressure levels for patients who are found to be hypertensive. All these in turn lower the risk of strokes and attacks.
8. Combats stress and helps restore electrolytes:
If you hit the gym regularly, make sure you sip on kiwi juice regularly to restore all the lost electrolytes during the exercise. It also helps you manage stress better. Serotonin, found in the juice, affects our moods. Kiwi juice will help you be calm and composed and avoid getting stressed and depressed.
[ Read: Epsom Salt ]
Apart from the above mentioned benefits, kiwi juice is an amazing appetizer and is packed with dietary fiber and magnesium. What's more? It also helps lose weight. Rarely would you come across such natural fruit juice which is not just delicious to taste, but packed in with various benefits as well. So next time you decide to have juice, you know what to look for.
Hope you found this article interesting. Please leave a comment if you liked it and share your views. Thanks.
The following two tabs change content below.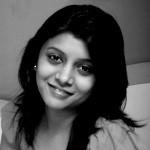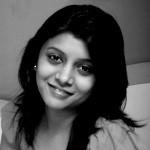 Akruti
Hello, I am akruti, a free lancer who loves to write articles related to lifestyle and health. I believe a healthy outside begins from inside. I am a fun loving person who tries to see the brighter side of life Hope you all love my blogs and articles!!!