11 Best Benefits Of Moringa Oil For Skin, Hair And Health
Achieve glowing skin and healthy hair with the help of this powerful golden elixir.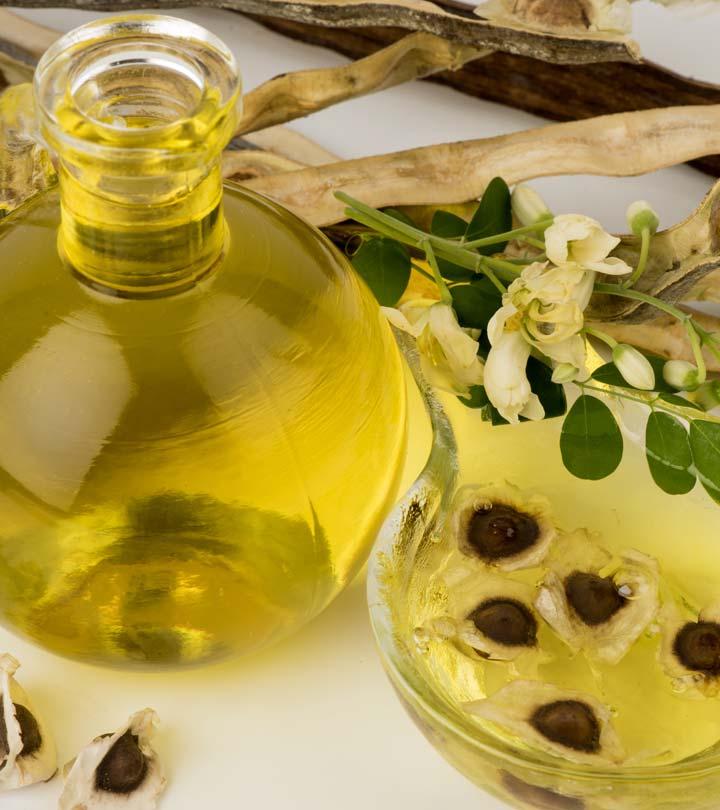 Moringa is a commonly found, highly nutritious vegetable used in many culinary preparations, especially in India! While it has been used since ancient times for its many health benefits, moringa oil benefits are lesser known! Extremely rich in phytonutrients and fatty acids, moringa oil is especially beneficial for your skin and beauty regimens! To help you know more about the various ways moringa oil benefits your health overall, we have summed it all up for you here! Read on to delve deeper!
Best Benefits Of Moringa Oil
Benefits Of Moringa Oil For Skin
This oil is getting popular day by day in the cosmetic industry purely because of its excellent anti-aging benefits and other important properties. Here are the skin benefits of Moringa oil:
1. Anti-aging oil:
This nutrient-dense oil is famous for its anti-aging properties. It helps remove wrinkles and prevents the sagging of facial skin as well. It comes filled with antioxidants that slow the aging process down and help curb the activity of free radicals (1), (2).
2. Natural glow:
Moringa oil actually helps fight skin fatigue and its oil secretion. It is really great in counterfeiting the ill effects of pollution on your skin. It's a great skin purifier, making it glow naturally.
3. Fights acne, black heads and dark spots:
Moringa oil is also known for its outstanding properties of curing acne. It works wonders in removing black heads and spots from your skin (3). A flawless skin is what we all crave for, Don't we?


Quick Tip
Moringa oil acts as a skin moisturizing agent and has been used in skin cosmetics since ancient Egyptian times (
5
). Apply moringa oil as the final step in your nighttime skincare routine or before using a sunscreen lotion in the morning. People also use Moringa oil for eczema treatment and psoriasis treatment, but there is limited scientific evidence substantiating its efficacy.
4. Cures cuts, burns and rashes:
Moringa oil is also known to be good antiseptic and anti-inflammatory oil. It helps in wound healing and minor skin cuts, rashes, or even burns. You may also use it for healing insect bites (3).
Moringa Oil Benefits for Hair:
Moringa Oleifera is popularly known as super-food across the globe for its numerous health benefits. While it is said to aid in digestion and even improve heart health, here are the top health benefits of Moringa oil:
5. Moisturizes scalp:
Moringa oil is really famous as the massage oil. You may wet your hair first and then simply massage some Moringa oil onto your scalp gently. This way it will reach your roots and moisturize your scalp. It is ideal for people with dry scalp  (4).


Quick Tip
Use moringa oil for your hair alongside a weekly cleansing shampoo as it can help prevent excess buildup on your hair and scalp.
6. Stronger hair:
Regular use of Moringa oil on your hair can actually help you gain stronger hair. It strengthens your hair by delivering important minerals and vitamins to the hair follicles. It kind of rejuvenates your hair from deep within (3).
7. Fights dandruff and split ends:
These same minerals and vitamins make your hair stronger and fight dandruff and split ends. It has great healing properties which makes it ideal for hair care.


Did You Know?
Moringa (also called tree of life) is referenced in more than 300 folk medicine remedies
Moringa Oil Benefits for Health
Moringa Oleifera is popularly known as super-food across the globe for its numerous health benefits. Here are the top health benefits of Moringa oil:
8. Vitamin C:
Moringa oil is rich in vitamin C. You can use this edible oil in regular cooking for immune system support and it might help in regulating cholesterol control and blood sugar control. However, not too many people use it for daily cooking due to its price.
9. Supplies energy:
Moringa oil is packed with a whole lot of antioxidants. These help give you a much needed energy boost and keep you feeling fresh all day long.
10. Induces good sleep:
Moringa oil is an excellent cure for people with insomnia. It induces a good night sleep and also helps lower and control blood pressure.
11. Protects bones, soothes nervous system:
Moringa oil can be nourishing and may boost protection for bones as well. It also soothes the nervous system and creates a lot of good cholesterol in the body.
Infographic: Tips For Choosing Moringa Oil
Moringa oil is gaining wide popularity for its skin, hair, and health benefits all over the world. It is also available in the form of various health and cosmetic products. Thus, it is important to be able to identify and select the right kind of moringa oil suitable for the intended usage. Click on the infographic below for more details.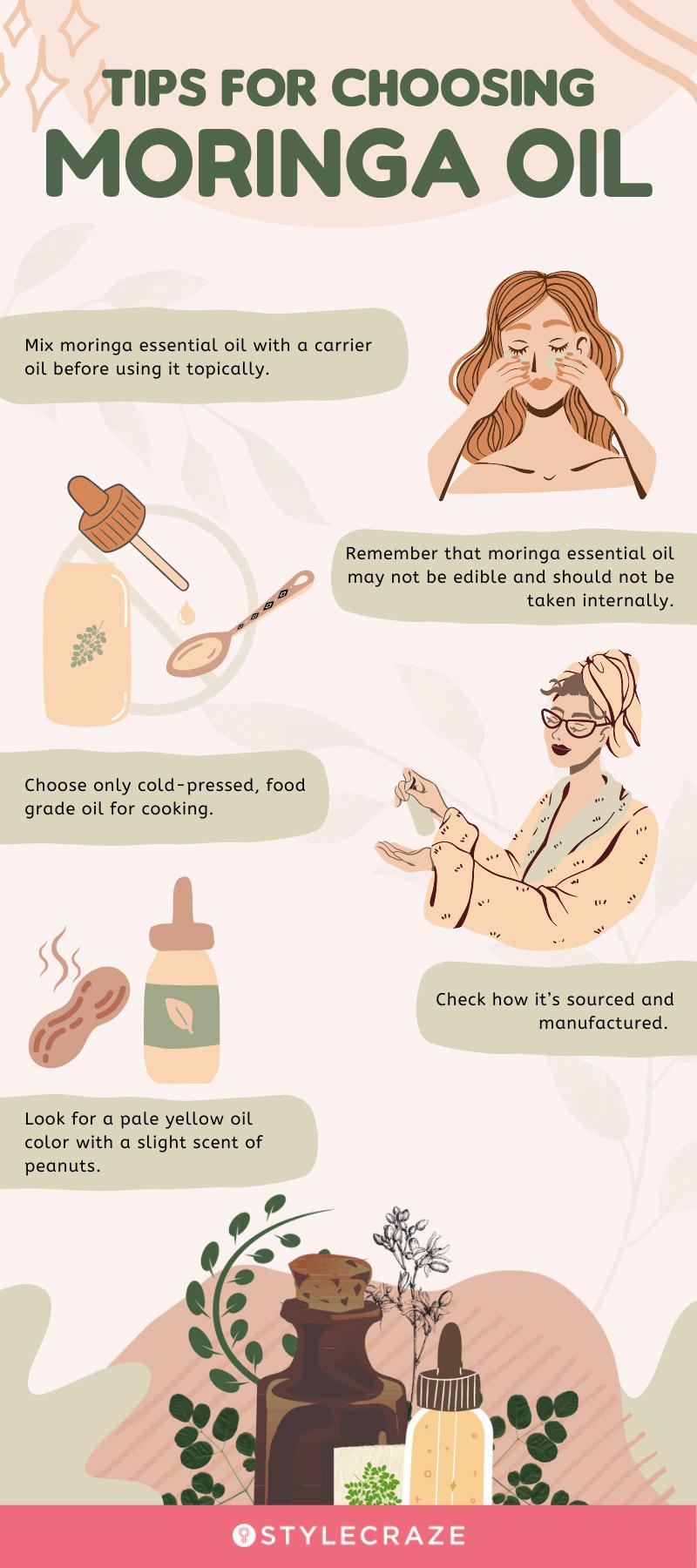 Moringa oil is extracted from the seeds of moringa. It is rich in phytonutrients, proteins, and antioxidants. The benefits of moringa oil include the delayed appearance of wrinkles, tighter skin, improved skin complexion, work as an acne-treatment, and dark spots. In addition, it induces good sleep, lowers blood pressure, and protects your bones. So start using this nutrient-dense oil and enjoy its benefits.
Frequently Asked Questions
Can I use moringa oil directly on my face?
Yes. Moringa oil has skin moisturizing properties and can protect your face from harsh weather conditions.
Does moringa oil lighten the skin?
Moringa oil is rich in skin-loving vitamins such as vitamins E, A, and C that help reduce hyperpigmentation and lighten the skin.
Can I use moringa oil around my eyes?
Moringa oil is a lightweight oil with hydrating properties, which may help reduce the appearance of dark circles under the eyes.
Is moringa oil good for stretch marks?
The skin-soothing effects of moringa oil may help reduce the appearance of stretch marks.
Key Takeaways
Moringa oil may help reduce wrinkles as the antioxidants in it slow the aging process.
It may fight acne and remove blackheads.
It may moisturize the scalp, and fight dandruff as it contains vitamins and minerals.
Consuming moringa oil may keep you energized the whole day as it is packed with antioxidants.
It may help with insomnia and may lower blood pressure
Sources
Articles on StyleCraze are backed by verified information from peer-reviewed and academic research papers, reputed organizations, research institutions, and medical associations to ensure accuracy and relevance. Read our editorial policy to learn more.