The Health Benefits Of Mushrooms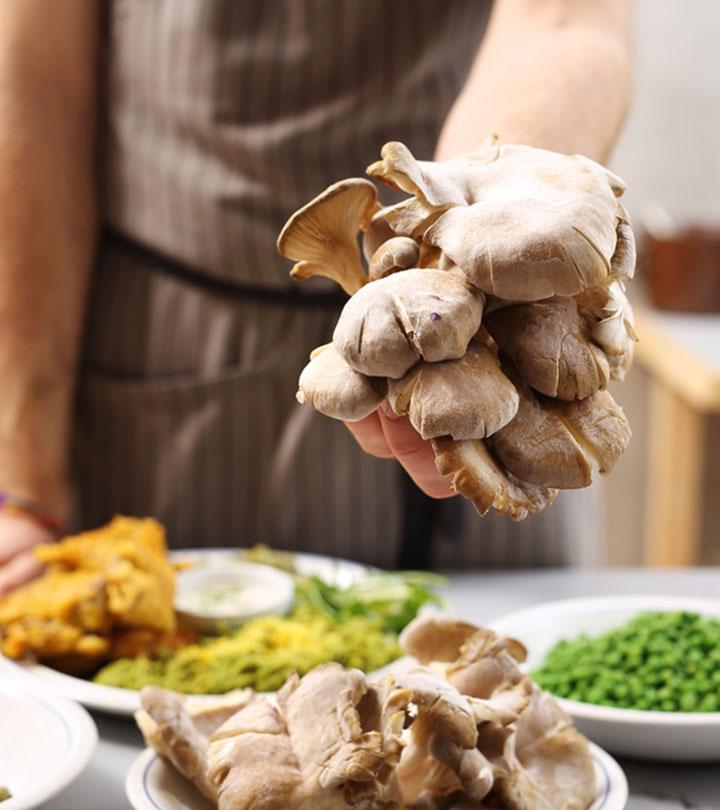 If your body is the reflection of your health, your food plate is the source of it. A colorful, well-balanced plate of food is your entryway to living a wholesome and healthy life. When it comes to healthy foods, most of us associate them with the color green. But there is an exception – mushrooms.
Mushrooms are available in different varieties and have a unique flavor. You can eat them on their own or pair them with other vegetables in multiple cuisines. If you have ever wondered if mushrooms are good for you, this article will clear all your doubts. Keep reading to find more about the health benefits of mushrooms.
Benefits Of Eating Mushrooms
Mushrooms are a powerhouse of multiple vitamins, minerals, and antioxidants that are essential for the healthy functioning of your body. Their benefits are as follows:
1. Prevent Cognitive Impairment
Eating mushrooms can reduce the risk of neurological conditions and cognitive impairment. A study involving 663 participants aged 60 years and above found that those who consumed two portions of mushrooms per week had a reduced risk of mild cognitive impairment (MCI). The researchers concluded that the bioactive compounds in mushrooms could delay neurodegeneration (1).
2. Rich In Antioxidants
Mushrooms are a rich source of antioxidants, ergothioneine, and glutathione. These components are crucial for minimizing oxidative stress in the body, one of the main reasons for inflammation, cell damage, and premature aging (2). Moreover, antioxidants build your immunity and may slow down visible signs of aging.
3. Improve Heart Health
Mushrooms have a lesser quantity of sodium than other savory foods and are ideal if you have a heart condition. They contain a B vitamin called niacin, which reduces LDL cholesterol and triglycerides and increases HDL cholesterol levels to promote your heart health (3), (4).
Mushrooms also contain several micronutrients like copper and zinc, crucial for promoting cardiovascular health (5), (6).
4. Ideal Pregnancy Food
Pregnancy is when a woman needs ample nutrition, and mushrooms are ideal foods for pregnancy. Some mushrooms like chanterelle, morel, and oyster contain folates, a crucial nutrient that women require during the early stages of pregnancy (7), (8). However, consult a doctor before consuming mushrooms and avoid consuming uncooked ones.
5. Promote Gut Health
Mushrooms contain beta-glucans that have metabolic and gastrointestinal effects and may reduce the symptoms of irritable bowel syndrome. Beta-glucans modulate the gut microbiome, alter lipid and glucose metabolism, and reduce cholesterol levels (9).
6. Strengthen Your Bones
Mushrooms contain significant amounts of vitamin D as compared to other unfortified vitamin D food sources. Vitamin D is crucial for bone development and maintaining bone health. Consuming mushrooms can prevent vitamin D deficiencies (10), (11).
7. May Promote Weight Loss
Mushrooms belong to the category of lower-energy-dense foods and have low calories. Thus, adding them to your diet will make you feel satiated for a longer time.  If you are watching your weight, mushrooms can be great for your weight loss plan.
Let us look at the nutritional value of mushrooms and understand why they are called superfoods.
Nutritional Content Of Mushrooms
Note: The nutrient content may differ as per the variety of mushrooms.
A hundred grams of mushrooms contain the following nutrients (3):
| Nutrient | Amount In 1 Cup Of Mushrooms | Recommended Daily Intake |
| --- | --- | --- |
| Energy | 21 kcal | 1,600 – 3,200 kcal |
| Protein | 3.09 g | 46 – 56 g |
| Carbohydrate | 3.26 g | 130 g |
| Calcium | 3 mg | 1,000 – 1,300 mg |
| Iron | 0.5 mg | 8–18 mg |
| Magnesium | 9 mg | 310 – 420 mg |
| Phosphorus | 86 mg | 700 – 1,250 mg |
| Potassium | 318 mg | 4,700 mg |
| Sodium | 5 mg | 2,300 mg |
| Zinc | 0.52 mg | 8–11 mg |
| Copper | 305 mcg | 890 – 900 mcg |
| Selenium | 9.3 mcg | 55 mcg |
| Vitamin C | 2.1 mg | 65 – 90 mg |
| Vitamin D (D2+D3) | 0.2 mcg | 15 mcg |
| Folate | 17 mcg | 400 mcg |
| Choline | 17.3 mcg | 400 – 550 mg |
| Niacin | 3.61 mg | 14 – 16 mg |
Though mushrooms are botanically classified as fungi, they are considered vegetables. They have found their way to various cuisines, but people are skeptical about their safety.
Is It Safe To Eat Mushrooms?
Yes, but not all mushrooms are safe to eat. Only 38,000 varieties of mushrooms are edible, while the rest are highly poisonous. Edible mushrooms have a pale, muted, and dull color, while the poisonous ones are brightly colored. Edible mushrooms are safe for consumption unless you are allergic to them.
Always make sure that you cook them before eating. Raw mushrooms are tough to digest and may cause gastrointestinal issues. Here are a few ways to eat mushrooms.
How To Prepare Mushrooms
1. Stir Fry Mushrooms
You Will Need
1 cup of mushrooms (roughly chopped)
1 tablespoon of olive oil
Salt and pepper (as per taste)
Method
Heat a wok and add olive oil to it.
Sauté the chopped mushrooms for five minutes.
Season with salt and pepper before serving.
2. Mushroom Omelet
You Will Need
1 cup of mushrooms
1 tablespoon of olive oil
2 eggs
Method
Sauté the mushrooms for five minutes.
Crack two eggs in a bowl, add salt and pepper and mix well.
Pour the egg mixture on the mushrooms.
Cover and let it cook for a few minutes and serve hot.
To Conclude
Mushrooms are a rich source of dietary fiber, nutrients, and antioxidants. They have low calories and are perfect for anyone who is trying to lose weight. They are delicious and versatile, go with most cuisines, and have immense health benefits. However, keep in mind that not all mushrooms are edible, especially the wild, bright-colored ones. Avoid picking them from the wild and get the edible ones from your local farmers' market. Also, if you are pregnant, consult a doctor before consuming mushrooms.
Expert's Answers For Readers' Questions
Can we eat mushrooms at night?
Yes, you can eat mushrooms any time of the day.
Are mushrooms hot or cold for the body?
It is believed that eating mushrooms can have cooling effects on the human body. Their nutritional profile and the abundance of vitamins, minerals, and antioxidants make them a suitable option if you are trying to avoid heat-inducing foods.
Are mushrooms bad for skin?
No. Consuming mushrooms can do wonders for your skin. The antioxidants present in them can slow aging by fighting the free radicals in your body.
Is it alright to eat too many mushrooms?
Mushrooms are a rich source of dietary fiber, and eating more than the daily recommended amount of fiber can cause gas, bloating, constipation, and stomach ache.
Sources
Articles on StyleCraze are backed by verified information from peer-reviewed and academic research papers, reputed organizations, research institutions, and medical associations to ensure accuracy and relevance. Read our editorial policy to learn more.
Recommended Articles
The following two tabs change content below.