The 5 Best Pantothenic Acid (Vitamin B5) Skincare Products – 2023
Say goodbye to acne and its marks with these expertly formulated vitamin B5 products.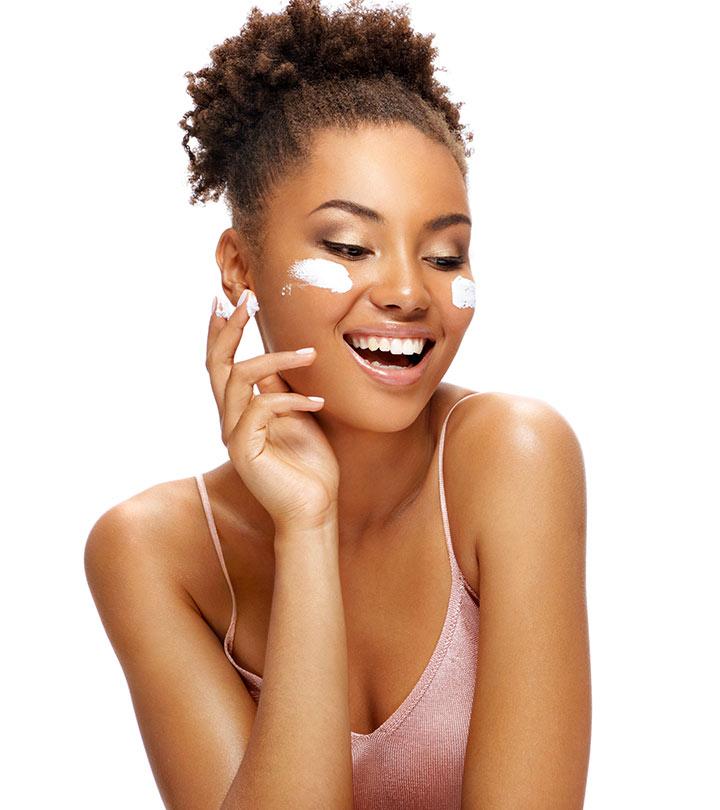 What Is Pantothenic Acid Or Vitamin B5?
Vitamin B5 is a water-soluble vitamin and is mainly found in plant- and animal-based foods, such as eggs, meat, vegetables, legumes, cereals, and milk. It is one of the B-complex vitamins, which regulate multiple physiological processes inside your body and are considered the building blocks of your overall health.
Vitamin B5 is commercially available as pantothenic acid, which is a chemical prepared in laboratories. Pantothenic acid is widely used in skin, hair, and nail health care products and also in medicines and supplements for oral consumption.
Provitamin B5 (or panthenol) is the alcohol form of vitamin B5 or pantothenic acid.
Your body needs vitamin B5 to
Improve liver health and maintain a healthy nervous system
Ensure energy metabolism and improve digestive system health
Aid red blood cell formation (RBCs) to supply oxygen throughout your body
Enhance cellular repair for better skin, hair, and eye health
You can easily maintain a supply of vitamin B5 by following a balanced diet that includes:
Fish and seafood (such as salmon and lobster)
Meat (such as beef, chicken, and turkey)
Dairy products (such as yogurt, milk, and milk products)Legumes (such as soybeans and split peas)
Grains (especially whole grains)
Vegetables (such as broccoli, avocado, cauliflower, cabbage, tomatoes, corn, and sweet potatoes)
Panthothenic acid or vitamin B5 is listed in skin care products under the names d-panthenol (Provitamin B5), dexpanthenol, and dl-panthenol.
Pantothenic acid helps to maintain the skin's quality by rejuvenating and soothing it. Let's understand what it does to your skin in detail.
Skin Benefits Of Pantothenic Acid Or Vitamin B5
1. It Keeps Your Skin Moisturized
Applying vitamin B5 prevents water loss from your skin and helps in retaining moisture. This, in turn, prevents dry skin, flakiness, and itchiness and maintains softness and elasticity of your skin (1). It also helps to maintain the skin barrier function (2). This property of vitamin B5 is beneficial in healing atopic dermatitis (3).
2. It Prevents Skin Redness And Inflammation
Dexpanthenol has an anti-inflammatory effect on your skin. When applied topically, it protects your skin from erythema or redness caused by UV exposure (1).
A study found that dexpanthenol minimized skin roughness and inflammation caused by SLS (Sodium Lauryl Sulfate), an ingredient commonly found in skin and hair care products (4).
Another study also found that it could help in managing skin irritation and napkin dermatitis or diaper rash (3).
3. It Can Heal Wounds
Applying pantothenic acid can heal wounds and make scars less visible (1). This is because pantothenic acid boosts the development of structural proteins (such as collagen) that your skin needs.
4. It Is An Effective Antioxidant
Provitamin B5 or d-panthenol boosts the production of glutathione in your skin. This component binds the free radicals and peroxides, which, in turn, reduces the formation of melanin and minimizes the appearance of dark spots on your face (5).
5. It Has Anti-Aging Effects
Pantothenic acid or Provitamin B5 helps in the production of fibroblasts in the middle layer of your skin (the layer where wrinkles form) and boosts glycan, elastin, and collagen production, which makes your skin appear youthful (5).
Impressive, right? Bet you can't wait to use it on your skin and see the magic! Here is a list of vitamin B5 products that you may try.
Best Skin Care Products With Vitamin B5 Or Pantothenic Acid
This is a powerful blend of hyaluronic acid and vitamin B5 that enhances the hydration levels of your skin. It calms dry skin and strengthens the barrier repair function to make your skin soft and supple and improves its texture. Here's a personal video review featuring the tester's experience to help you get a better understanding of the product.
Pros
Unflavored
Hydrating
A little bit goes a long way
Vegan
Cons
Does not come with a safety seal
This soap-free cleanser soothes and hydrates your skin. It takes care of your skin by deeply cleansing it without irritating it as it contains panthenol and allantoin that prevent moisture loss, soften the skin, and remove dead skin cells and dirt without irritating the skin. This product is supported by many positive reviews that vouch for its effectiveness.
Pros
Gel-based
Non-drying
Mild
Suitable for dry, sensitive, and normal skin
Cons
None

Timeless B5 Hydration Serum works wonderfully to cleanse, moisturize, and repair your damaged skin. It is enriched with vitamin B5, which gives a calming effect on the skin. The serum also contains hyaluronic acid that helps to retain moisture for longer periods and ot plump the skin. It helps to conceal the common aging signs such as wrinkles, fine lines, dullness, and dark circles. It is lightweight, oil-free, and does not clog the pores. The breathable formula improves the glow and softness of your face and works wonders on extra-sensitive skin. The lotion also soothes common skin issues such as dryness, breakouts, redness, and allergy. It does not have an overpowering fragrance and is suitable for all skin types.
Pros
Non-comedogenic
Suitable for sensitive skin
Lightweight
Fast absorbing
Smoothes skin texture
Soothes the skin
Stimulates skin healing
Minimizes scarring
Fragrance-free
Oil-free
Budget-friendly
Cons
None
If you are aiming for soft, smooth, and hydrated skin, you must try the L'Oreal Paris HydraFresh Toner. This light and gentle toner on the skin but truly effective in removing stubborn dirt and impurities from the pores. It adjusts the pH balance of your skin, improves your skin health, and keeps it hydrated. It is loaded with beneficial ingredients such as pro-vitamin B5 that keeps the skin hydrated for a long time. It also contains beta hydroxy acid, which increases the glow of your skin. It is easy to apply and fast absorbing and it also promotes the permeability of your skin. This dermatologist-tested toner can be used daily without any unwanted side effects. Plus it absorbs other skin care products quickly. It is also free from any overpowering fragrance and gives a calming effect when applied.
Pros
Refreshes skin tone
Enhances skin health
Brightens complexion
Gentle
Non-drying formula
Increases skin hydration
Improves skin elasticity
Suits all skin types
Budget-friendly
Alcohol-free
Fragrance-free
Dermatologist-tested
Cons
None
This body lotion is specially formulated for very dry and rough skin. It provides intense hydration and claims to soothe your skin after just one application. This cream is dermatologically tested. Need more information on the lotion? Watch this video with the reviewer's experience.
Pros
Suitable for dry skin
Long-lasting moisture
Pump dispenser
Ideal for daily use
Cons
*The prices provided in this article are based on the latest available information. However, they may vary due to changes in pricing by the seller and/or promotional offers.
Incorporate vitamin B5 into your daily skin care routine for visible results. Try any of these products and don't forget to share the results with us in the comments section below.
Why Trust StyleCraze?
Shiboli Chakraborti, the author of this article, is a certified skin care coach. She loves pantothenic acid for its rejuvenating properties. She conducted deep research by talking to various skin care enthusiasts and going through their feedback and reviews to compile this list of vitamin B5-based skin care products for all skin types. These products reduce redness, eliminate roughness, and diminish premature signs of aging.
Frequently Asked Questions
Is panthenol comedogenic?
No, panthenol is non-comedogenic. This means it does not clog pores and is safe for acne-prone and oily skin.
Which skin types are best suited to vitamin B5?
Vitamin B5 is suitable for every skin type. However, it particularly works wonders on dry skin and also ensures acne prevention.
Which skin types should avoid vitamin B5?
There are no particular skin types that need to avoid using vitamin B5.
Is vitamin B5 the same as hyaluronic acid?
No. While hyaluronic acid only tends to hydrate the skin, vitamin B5 hydrates (infuses your cells with water and increases the skin's ability to absorb nutrients) as well as moisturizes (locks in moisture to improve your skin's natural texture and barrier) the skin. The two work wonders for your skin if used together.
How does pantothenic treat acne?
Pantothenic acid repairs your skin's moisture barrier while keeping harmful toxins away. Being non-comedogenic, it does not clog pores and reduces the appearance of large spots and pores.
Sources
Recommended Articles