5 Best Products For 2C Curly Hair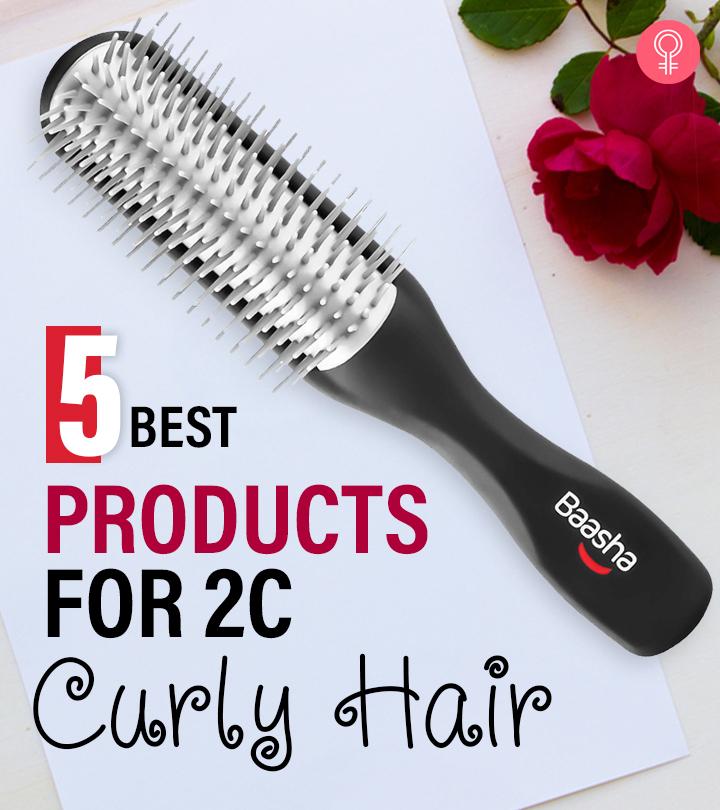 Only girls with 2C curly hair will know the importance of keeping their curls healthy and hydrated. The 2C curly hair is thick and coarse compared to other hair types. It is commonly associated with dry hair textures that are more susceptible to frizz. Such thicker and coarser tresses must be dealt with a lot of TLC.
Hence, incorporating 2C hair products for hydration or styling is important. From brushes to moisturizing gels, these 2C hair products are a perfect way to tame down the frizz and style hair in better ways. Here, we have listed the 5 best products for 2C curly hair. Take a look!
5 Best Products For 2C Curly Hair
The Baasha 2C Curly Hair Brush is a gel hair brush that reduces frizz and gently detangles your curls. This brush has 9 rows with round-ended soft nylon pins that help separate, shape, and define your curls even when your hair is wet. It helps straighten and boost hair shine and volume without being harsh on your curls. It works seamlessly on both wet and dry hair.
This 2C curly hair brush has an ergonomic handle that provides a firm grip and tension to ensure you use it without straining your wrist. It is lightweight, travel-friendly, and can also be used with a hair dryer for smooth styling and straightening.
Hair Type: Dry, curly, thick, and straight
Material: Nylon
Pros
Lightweight
Ergonomic handle
Controls static
Works even when hair is wet
Detangles hair
Cons
Not suitable for thin hair
The Segbeauty Dandruff Brushes come in a pack of two and are ideal for type 2C hair. These are soft and their durable bristles gently massage your scalp to remove dry flakes or dandruff. They also help improve blood circulation and help boost hair growth and reduce hair loss. The bristles are long and can easily brush through thick or bushy hair without tugging or breaking tangled hair.
The multiple holes at the brushes' base ensure water flows smoothly down and away from the hair, speeding up the hair drying process. The brushes also evenly distribute shampoo or conditioner in your hair when used in the shower. These brushes are suitable for all age groups. They are non-toxic and odor-free.
Hair Type: Thick and thin
Material: Polypropylene
Pros
Flexible, long bristles
Prevents hair loss
Non-toxic
Odorless
Strong heat resistance
Also suitable for pets
Cons
None
The AmazingBeauty Black Wavy Clip-in Hair Extensions can help you add some length or volume instantly. They are made with 100% Remy human hair that is considered the highest quality. These extensions have the softest texture and feel. They offer thick, long, and flowing waves that blend well into natural hair and offer a seamless look within minutes. These are easy to wash, style, or dye.
The pack comes with 7 pieces of extensions with 18 easy stainless steel clips firmly attached to each hair strand. The clips can be attached to actual hair without any hassles. These type 2C hair extensions have a shelf life of 3 to 12 months, depending on the usage. They are available in different length options, including 10 inches, 12 inches, 14 inches, 16 inches, and 20 inches.
Color: Body wave
Material: Synthetic
Hair Length: 16 inches
Pros
100% Remy human hair
Rust-resistant clips
Blend seamlessly with natural hair
Easy to style or dye
Cons
The Cantu Shea Butter for Natural Hair is a moisturizing curl activator cream. It brings your curls back in shape. This lightweight curl-enhancing cream meant for type 2C hair helps supercharge your curls and leaves them naturally bouncy, full of life, and voluminous.
This product is formulated with pure shea butter that infuses moisture, body, and shine to your curls. It also combats frizz.
Pros
Gluten-free
Mineral oil-free
Paraffin-free
Sulfate-free
Paraben-free
Silicone-free
Phthalate-free
Lightweight
Cons
The Cantu Shea Butter for Natural Hair Moisturizing Twist & Lock Gel is a cream-gel used for styling your curls. It ensures their bounce remains intact. It is formulated with shea butter and helps moisturize hair, tame frizz, and enhance hair manageability.
This nourishing formula is great for twists and braid-outs. It promotes soft, shiny-looking twists and locks. It also keeps frizz under control.
Pros
De-frizzes hair
Boosts hair manageability
Gluten-free
Mineral oil-free
Sulfate-free
Paraben-free
Silicone-free
Phthalate-free
Paraffin-free
Cons
May tangle hair
Gives a crunchy finish
Conclusion
The 2C hair type requires care and styling as it is more prone to frizz and dehydration. These aforementioned type 2C hair products work seamlessly to tame down frizz, style curls better, and ensure they are soft and naturally bouncy. If you do not have any of these yet, it is time to own them. They will sure make your life easy and your curls frizz-free!
Frequently Asked Questions
What is a 2c hair type?
The 2C hair type has more defined waves starting at the roots with loose spirals similar to 'S' shaped ringlets. This hair type is more prone to frizz as it is slightly thicker than other hair types.
Is 2c hair curly or wavy?
The 2C hair type is loosely curly with subtle waves.
Recommended Articles