20 Best 3D Tattoo Designs and Inspiration For Women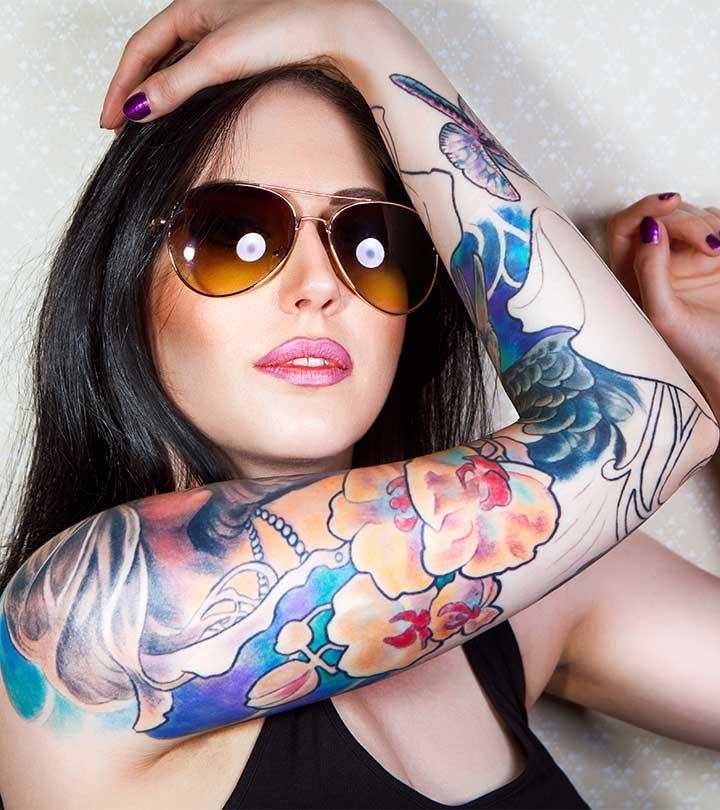 Tattoos have been one of the most popular forms of body modification. 3D tattoos have recently gained a lot of attention from tattoo enthusiasts. As the name suggests, these tattoos are three-dimensional images.
These tattoos give an illusion that something is part of your skin or rather sitting on top of your skin. To achieve this, the tattoo artist usually highlights, shades, blurs, or adds shadows to both the object and the skin. Due to their realistic appeal, they have become extremely popular. Here are some 3D tattoo designs you can consider.
Stylish 3D Tattoo Designs And Meanings  – 2019
1. 3D Sleeve Tattoos
These 3D tattoos are popular among men. Biomechanical tattoos, like the one in the image, have recently become a popular option for 3D sleeve tattoos. The intricate detailing imparts a realistic feel. 3D sleeve tattoos are stylish and have bold meanings associated with them. They unravel the insatiable desire for complex and real ink. These tattoos have the exceptional ability to transform your skin into a world of its own.
[ Read: Best Tattoos With Meaning Behind Them ]
2. 3D Black Lace Ribbon Tattoo
These 3D tattoos are popular among women and symbolize remembrance or mourning. There is no ideal position for getting this tattoo. However, you can get it done on the forearm or the back. This 3D tattoo compliments a backless dress well when placed on the upper back.
3. 3D Watch Tattoo
A 3D watch tattoo can be designed to incorporate a variety of symbolic and meaningful elements. It tends to be comparatively large to accommodate the detail and shading in the watch and its mechanism. Anyone can wear this tattoo as it can be designed to look masculine, feminine, or neutral. This tattoo can also have a variety of meanings associated with it, the most obvious being time. It can also symbolize a special moment in your life or even your views on life or mortality. Another popular symbolism of this tattoo is endless love.
4. 3D Star Tattoo
3D star tattoos are one of the most common 3D tattoos. The pentagram shape represents the five elements, namely, earth, water, air, fire, and spirit. They have also been used as a symbol for the five senses, the five wounds of Jesus Christ, the forces of nature, and the devil.
While some prefer intricate pattern and color combinations, others use it as an inlay effect for text or other images, as shown in the image above.
5. 3D Colored Full Sleeve Tattoo
3D sleeve tattoos carry deep meaning and symbolism. They usually tell a story and are a huge commitment. Flowers are often a common choice in full sleeved 3D tattoos for women. The colors add a lot of vibrancy to this intricate design and make it look absolutely stunning.
6. 3D Forearm Tattoo
This 3D forearm tattoo of a raven looks very intriguing. The raven has been associated with good as well as evil. It can mean death, darkness, and pain, but it also can symbolize the future, magic, mystery, intelligence, protection, and wisdom. This tattoo shows a raven on the backdrop of a full moon, which symbolizes wisdom.
7. 3D Rose And Skull Sleeve Tattoo
The 3D roses and skull sleeve tattoo holds multiple contrasting meanings. However, together as a sleeve tattoo, it indicates the only truth of existence, life, and death. It also denotes the duality of human nature in the form of good and evil.
8. 3D Roses With Rainwater Tattoo
These tattoos have different meanings and symbolism attached to them. They represent attractiveness and are symbolic of both outer and inner beauty. Red roses are regarded as a sign of true love. However, they also represent memorial or sacrifice.
9. 3D Bear Tattoo On The Arm
If you intend to get a 3D tattoo on your arm, a 3D bear tattoo can be a wonderful option. The grizzly bear signifies the strength, power, confidence, spirituality, and resurrection (emergence of the bear after hibernation).
10. 3D Flower Back Tattoo
3D flower back tattoos are a popular symbol of femininity. These may include flowers, like hibiscus, rose, lotus, and sunflower. A rose symbolizes forever love, balance, hope, promise, and sacrifice. A lotus symbolizes awakening or transformation, while a sunflower symbolizes energy, happiness, hope, and warmth.
11. 3D Zombie Sleeve Tattoo
Zombies are the fictional characters that feed on the dead. They have been associated with Gothic culture. People often get zombie tattoos to showcase their rebellion against societal norms.
12. 3D Butterfly Neck Tattoo
Butterfly tattoos are extremely popular. They are symbols of the changes in life. They indicate that human life is uncertain and witnesses constant evolution. They also show that no phase in life lasts too long. People undergoing difficult phases in their life often choose this tattoo as it ignites hope. It acts as a source of inspiration as it signifies the transformation from a caterpillar to a beautiful winged fly.
13. 3D Celtic Rose Tattoo
Celtic tattoos have been one of the most popular designs among warriors for decades as these were used as intimidation tactics. The cross is a symbol of Christianity. When integrated with a rose, it can symbolize the loss of a loved one.
[ Read: Latest Celtic Tattoo Designs ]
14. 3D Spider Tattoo
The spider is a symbol of wisdom, fertility, harmony, and balance. However, it has several negative meanings, such as entrapment or even the struggles of life. Make sure you choose the meaning that resonates with you the most while opting for a 3D spider tattoo design.
15. Eye-Catching 3D Tattoos
In the past, tattoos were used to identify prisoners and slaves. But today, tattoos are symbolic of courage and endurance. 3D arm tattoos are one of the most eye-catching types of tattoos. Having a tattoo on the sleeve is one way of expressing one's beliefs, personality, or desires. Tribal designs, like this one, can have many meanings, like happiness, love, peace, or strength.
16. 3D Tattoo For Women
Floral designs, ornaments, and insects, such as dragonflies or butterflies, are a common choice among women for 3D tattoos. Even when opting for 3D sleeve tattoos, women prefer more colors and finer designs as compared to men.
[ Read: Best Tribal Tattoo Designs For Women ]
17. Adorable 3D Tattoos
While much of this article concentrates on larger 3D tattoos, there are some small and adorable designs that add to your overall appeal. These 3D tattoo designs usually consist of floral designs with smaller flowers. They also include insect tattoos, such as beetles, ladybugs, etc.
18. Colorful 3D Tattoos
Gone are the days when tattoos were only done in black ink. Beautiful colors are now added to make the art more vibrant and realistic. Adorable flower tattoos are among the top choices for 3D colored tattoos. These are also more common among women as compared to men.
19. 3D Dragonfly Tattoo Designs
Dragonfly tattoos hold different meanings, such as being symbols of positive forces, peace, prosperity, maturity, strength, purity, luck, and harmony.
They are also a symbol of independence. This tattoo can be placed anywhere, such as on the neck, arm, shoulder, ankle, wrist, foot, or ear.
20. 3D Cross Tattoo Designs
While in some cultures, the cross represents the event of Jesus Christ's crucifixion, in the others, it represents the union between masculine and feminine principles, ultimately representing life.
3D tattoos are breathtakingly phenomenal. However, their placement plays a vital role in enhancing their beauty.
Ideal Placement Of 3D Tattoos
The most preferred locations for 3D tattoos are the arms, forearms, and the chest area.
To make your 3D tattoo look realistic, shadows and highlights are crucial. Working with different skin tones to create the perfect contrast to make the tattoo truly 3D looking is also important. All these factors come together to impart a vividly realistic feel to the 3D tattoo.
3D tattoos have gained popularity in the recent decade due to the added dimension and the overall realistic feel. However, it is important to go to an expert tattoo artist as not everyone is skilled to draw one. Here are some tips you need to follow to take care of your tattoo.
Which of these 3D tattoo designs did you like a lot? Let us know in the comments section below.
Recommended Articles:
The following two tabs change content below.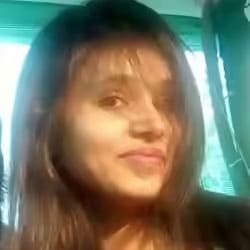 Jyotsana Rao is an engineering graduate from NIT, Nagpur, who discovered her love for writing during her undergraduate days. She is passionate about writing about everything related to beauty - makeup, fashion, hairstyles, skin care, or hair care. When this social media junkie isn't stalking the world of fashion and glamour, she loves spending her time traveling.