10 Best 5-Liter Pressure Cookers Available In India
Take the pressure off cooking and cook delicious dishes just as easily as your mom does it!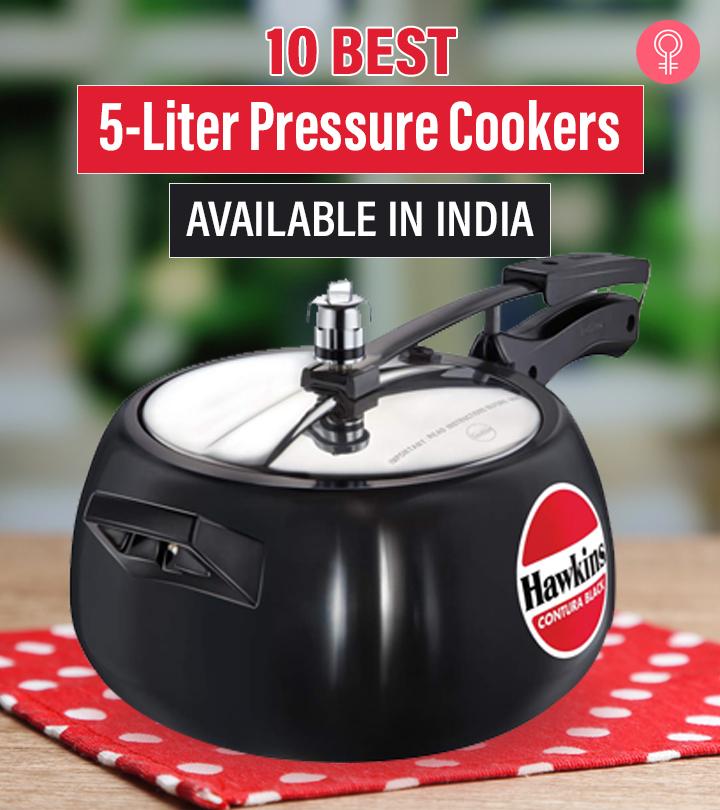 The pressure cooker is one of the most used, handy cookware in Indian kitchens. This multifunctional utensil cooks food faster, saves gas, and retains the food's natural flavor and nutrients. You can use a pressure cooker to cook rice, vegetables, lentils, dals, idlis, sambar, and more. With the wide range of brands and models available on the market, finding the right pressure cooker that fulfills your kitchen needs can be difficult. We have curated a list of the 10 best 5-liter pressure cookers in India for all your cooking needs. Check them out!
10 Best 5-Liter Pressure Cookers In India
The lightweight 5-liter pressure cooker from Hawkins is made from hard-anodized food-grade aluminum and comes with a stainless steel lid. It has a durable and sleek black finish that makes the unit look new for longer. This pressure cooker features a flat base and a unique curved body that allows free motion while seasoning and stirring the contents inside. It is perfect for cooking dishes for 5 to 7 persons and is compatible with gas stoves.
Pros
Easy to handle
Convenient to clean
Dishwasher-safe
5-year guarantee
Lifelong free authorized service
Sturdy finish
Stay-cool handles
Cons
The lid doesn't fit easily.
Prestige is one of India's most trusted brands that makes pressure cookers and other kitchen essentials for the past few decades. This 5-liter pressure cooker from its Popular range is made from virgin aluminum and is a cult favorite. It features a non-induction thick base with an outer lid for convenience. The metallic safety plug and gasket release system enable you to cook your food without any mishaps in the kitchen.
Pros
Lightweight
Elegant design
Long-lasting
Ideal for separator and direct vessel cooking
Sturdy and strong handles
Dishwasher-safe
Metal spoon-friendly
Cons
The new stainless steel pressure cooker from Hawkins is a perfect example of how to make good things better. It is big enough to cook for 5 to 7 people. The pressure cooker's body and lid are made of premium stainless steel with aluminum sandwiched in the base for better heat distribution. The lid has a steam vent to let out excess steam, and the heat-resistant handles enable you to pick up the cooker without burning your hands. This cooker is suitable for gas, electric, ceramic, induction, and halogen cooktops.
Pros
Durable
Ideal for light and deep-frying
Corrosion-resistant
Automatic safety valve
Easy to clean
Hygienic
5-year warranty
Cons
Steam escapes through the lid.
This pressure cooker from Pigeon is made from premium quality virgin aluminum that helps you cook food faster and lasts longer. It features a flat induction-compatible base, making it ideal for cooking on both gas stoves and induction cooktops. This cooker comes with an outer lid that retains the heat and pressure, enabling you to cook dishes to perfection.
Pros
Ergonomic handle
Precision weight valve
Metallic safety plug
ISI certified
Dishwasher-safe
5-year warranty
Cons
The induction plate detaches easily.
The stainless steel 5-liter pressure cooker from Prestige is ideal for every Indian kitchen. The innovative alpha base distributes heat evenly throughout the pressure cooker, while the unique lid design prevents spillage. Some of the built-in safety features include pressure indicators, a controlled gasket release system, a steam vent, and a safety plug. The Svachh pressure cooker is compatible with gas stoves and induction cooktops.
Pros
Food-grade
Cool-touch handles
Dishwasher-safe
Easy to handle and maintain
10-year manufacturer warranty
Cons
The Miss Mary 5-Liter Pressure Cooke is another bestseller from Hawkins and an updated version of their traditional cookers. It features a wider base that holds a larger quantity of vegetables, meats, and other ingredients required to prepare tantalizing meals. The thick base enables it to withstand high temperatures and pressure. The steam vent safely lets out the excess steam to prevent your food from burning, spills, and accidents. This pressure cooker is compatible with gas stovetops.
Pros
Leakproof
Sturdy handles
Non-toxic
5-year warranty
Cons
This ergonomically designed pressure cooker from Butterfly guarantees a long service life. The steam pressure, built gradually without sudden spikes, ensures the food is cooked evenly. This versatile and aesthetic pressure cooker comes with heat-resistant, cool-touch handles for safety.
Pros
Heat-resistant handles
Durable
Sturdy
2-year warranty
Cons
The Hawkins Futura Hard Anodised Pressure Cooker cooks 46% faster than a microwave oven. It has a sleek and stylish design that blends well with any kitchen décor. The pressure cooker has a base diameter of 179 mm, which helps you easily stir the contents and prevents them from getting stuck or burnt underneath. Another unique feature is the fingertip pressure release system that releases excess pressure and prevents the steam vent from getting clogged. The base is flat and double-walled, enabling it to heat up evenly. This cooker is compatible with gas, electric, ceramic, and halogen cooktops.
Pros
Dishwasher-safe
Durable
Sturdy
Easy to clean
Built-in pressure regulator
Cons
This cooker from Butterfly is made of superior quality stainless steel that distributes heat evenly. The ergonomically designed body, the stay-cool handles, and unique gasket release system make this cooker a popular option. This induction-base 5-liter pressure cooker opens in a unidirectional rotation motion.
Pros
Rust-proof
Dishwasher-safe
Peel-proof
Well-designed weight set
Durable safety plug
5-year warranty
Cons
The Borosil Presto Pressure Cooker is designed to cook faster and conveniently. It is made of food-grade SS 304 stainless steel that retains the food's natural flavor and aroma. Due to its unique 7mm thick base, the cooker can withstand high heat temperatures. This pressure cooker is compatible with both gas stoves and induction cooktops. The state-of-the-art cooking technology makes it fuel-efficient. The Bakelite handles offer a good grip and do not absorb and transfer heat from the cooker's body.
Pros
Durable
Heat-resistant handles
Dishwasher-safe
Long-lasting gasket
Cons
None
Pressure cookers are best suited for Indian cooking. You can make various dishes – like vegetables, rice, soups, idlis, idiyappam, dhoklas, meat, biriyanis, and more – with ease. They are designed for daily use as they save a lot of time, fuel, and energy. Get a 5-liter pressure cooker from the above list and indulge in the sheer pleasure of cooking food the right way.

Recommended Articles