The 11 Best Ab Mats – Reviews
Take your workout session to a notch above safely and hit your fitness target faster.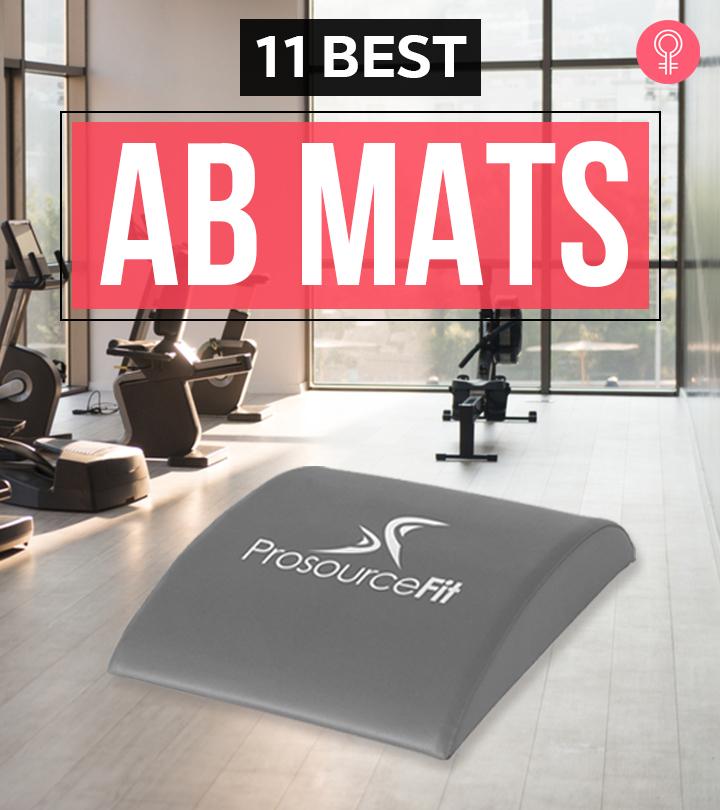 Ab mats are quite the hype among fitness enthusiasts, and for the right reasons. Getting the best ab mat, or what's also called abdominal mat, helps stretch your spine out completely, making it easier for you to perform crunches. It's also a great way to keep your tailbone protected from injury. Martin Sharp, a CPT with 4 years of experience, says, "Control is an important part of any exercise to ensure it is performed safely and for maximum effectiveness. Ab mats offer you great control over your body and impart a comfortable position. Having a comfortable position to work with makes the experience more enjoyable, so you are more likely to return for more beneficial movements as part of your regular routine."
Making various exercises a cakewalk, it totally makes sense to get one for your workout sessions. And we're here to help with our list of the 11 best abdominal mats that are available.
11 Best Ab Mats You Can Buy
This ab mat from Synergee supports your back's natural arch. It helps the lumbar spine stay in the neutral position and enables full extension and contraction of the abdominal muscles during the workout. It also orients your pelvis at the optimal angle to reduce strain while exercising. This ab mat is compact and light and available in two sizes. The long one provides additional cushioning for the tailbone. This mat has an anti-slip base and is made of high-density foam for maximum support. It is also useful for doing handstand push-ups, couch stretches, and lunges. It comes in four different colors and is portable and easy to store.
Specifications
Dimensions: 14 x 12 x 3 inches
Weight: 3.5 lbs
Pros
Durable
Affordable
Sweatproof
Extra support
Cons
Price at the time of publication: $23.95
The Prosource Fit Abdominal Mat is a one-size-fits-all ab mat. It allows a full range of motion that you may not get from standard sit-ups and isolates the abs for optimal results. This multipurpose ab mat can be used as a headrest for handstands. It is durable and is made of high-density foam that supports your spine and challenges the core muscles. It is lightweight and easy to transport and store. You can use this abdominal mat for sit-ups, crunches, and leg lifts. It is available in three colors.
Specifications 
Dimensions: 15 x 12 x 2.5 inches
Weight: 1 lb
Pros
Affordable
Good grip
Multipurpose
Durable
Portable
Easy to clean
Cons
Price at the time of publication: $9.63
This ab mat by Rage Fitness has vinyl-covered padding for maximum comfort. It is perfect for all abdominal muscle exercises, especially lower back raises. It cushions the back and reduces the stress on the spine. This ab mat is compact, portable, and skid-proof. It has a standard size and is affordable.
Specifications
Dimensions: 14.75 x 12 x 2.75 inches
Weight: 1.39 lb
Pros
Affordable
Skid-proof
Compact
Multipurpose
Cons
Price at the time of publication: $17.79
This ab mat by Iron Bull Strength has a unique ergonomic contoured design. It supports your back muscles and ensures maximum extension and contraction during each rep. The mat has a high-density foam core, which is not too soft and not too hard – perfect for beginners. It provides stability and tension during workouts. The exterior is made of heavy-duty PU vinyl material that is durable and easy to clean. This non-slip, heavy-duty ab mat feels comfortable and improves your performance.
Specifications 
Dimensions: 14.65 x 12.13 x 2.83 inches
Weight: 0.6 lbs
Pros
Ergonomic design
Non-slip material
Double stitching
Affordable
Easy to clean
Durable
Cons
Price at the time of publication: $19.95
The Rep Fitness Ab Mat helps ease lower back strain and reduce hip flexor activation. It is designed for Cross Training/HIIT style workouts and is ideal for anyone who needs extra back support. This ab mat has a high-density and medium-firm core and comes in a non-slip durable PU textured vinyl cover. It has an ergonomic design and is thick on one side and sloped on the other to follow your back's contours. It comes with an optional tailbone protector that prevents tailbone injury during high-intensity workouts. You can also used it as a head or neck support while doing handstand push-ups.
Specifications
Dimensions: 15.04 x 12.36 x 2.83 inches
Weight: 1.44 lbs
Pros
Ergonomic design
Non-slip
Comes with a tailbone protector
60-day return guarantee
Cons
Not suitable for plus-sized people
Price at the time of publication: $22.99
This is the original abdominal trainer, the first ab mat that was invented in 1997 by the renowned strength coach, Fred Koch. This brand is globally recognized, and the mat is designed for an all-inclusive abdominal muscle group workout. It assists in various exercises that isolate the upper and lower abs, the obliques, and the lower back muscles. This ab mat is contoured towards the lower back for support and injury prevention. It comes in a variety of colors and sizes and is made of vinyl and foam. It has a non-slip body and is comfortable to use.
Specifications
Dimensions: 15 x 12 x 3 inches
Weight: 1.5 lbs
Pros
Firm padding
Portable
Non-slip
Cons
Expensive
Doesn't come with a manual
Price at the time of publication: $39.95
The POWER GUIDANCE Ab Exercise Mat features a streamlined dual-core design that supports your ab muscles during heavy crunches, leg lifts, and situps. It is made of waterproof and non-slip PVC leather, along with high-density foam that supports you while you are busy working out. This mat offers a full range of motion while targeting your abdomen muscles. It also helps during core workouts and stays firm without wobbling sideways. You can use this portable mat outdoors or during vacation. The curve-shaped design allows your body to stretch, while the ergonomic structure helps you remain comfortable even during intense workout routines.
Specifications
Dimensions:16 x 13.78 x 2.95 inches
Weight:17 lbs
Pros
User-friendly
Ergonomic design
Lightweight
Waterproof
Non-slip PVC leather
Does not wobble
Portable
Suitable for outdoor workout
Cons
None
Price at the time of publication: $22.99
This affordable ab mat from Athlos Fitness gives all-round support to your back. It isolates the abs and hip flexors to help you do perfect sit-ups, crunches, and leg lifts. The mat provides stability, constant tension, and supports a full range of motion. It is compact, foldable, and portable. This ab mat has a foam tailbone support pad to prevent skin abrasion and skidding. It also comes with a one-year warranty.
Specifications
Dimensions: 14.7 x 12.6 x 3.3 inches
Weight: 1.5 lbs
Pros
1-year warranty
Provides tailbone support
Affordable
Suitable for short people
Versatile
Cons
Price at the time of publication: $32.99
The Yes4All Ab Exercise Mat/Abs Wedge supports your lower back while you concentrate on sculpting your abs. This lightweight mat is perfect for abdominal, back, and oblique workouts. It also provides great stability during leg lifts and sit-ups. The high-quality support foam does not tear, flatten, or lose shape even after repeated use. The non-slip PVC cover offers a firm grip as you practice stretching or crunches. The comfortable contoured design helps avoid injuries and prevents your abdominal mat from slipping during intense exercises.
Specifications
Dimensions:15 x 12.4 x 3 inches
Weight:54lbs
Pros
Premium-quality build
Lightweight
Suitable for abdominal exercises
Tear-resistant
Non-slip
Contoured design
Cons
Price at the time of publication: $32.99
Get your hands on the Rogue Fitness Abmat Abdominal Training designed for beginners' comfort and ease. This ab mat makes your sit-ups even more refined and easy. It has an arched back that allows you to do your abs without breaking the momentum. The design gives your spine proper support and comfort without causing nerve pull or muscle damage. It is designed for low compression and stability for the pelvis and padding for the spine, and the firm foam padding is comfortable on your spine. It stabilizes the pelvis as you rise and gives you a proper ab workout experience. This ab mat is suitable for indoor and outdoor surfaces.
Pros
Comfortable
Stable on any surface
Low compression set foam
Durable vinyl exterior
High quality
Best suitable for beginners
Built for spine and pelvis support
1 year limited warranty
Cons
None
The Solofit Ab Exercise Mat offers the perfect amount of support for sit-ups. It is made of high-density foam and durable non-slip PVC leather, ensuring complete protection during strenuous exercises. This mat targets the entire abdominal area and helps with your stretch exercises. The arched design provides proper lower-back support, making your exercises painless. The ergonomic design also helps with handstand pushups and does not slide or wobble.
Specifications
Dimensions:84 x 13.66 x 3.39 inches
Weight:06 lbs
Pros
High-density foam
Ergonomic design
Durable
Non-slip
Suitable for stretching
Cons
None
These are the best ab mats that you can buy for your home gym. If you are a beginner and have no idea how to use it, we have got you covered. Check out the next section for more information.
 How To Use Ab Mats
Place the ab mat and the tailbone support on the floor.
Sit at the mat's edge, keeping the thicker part of the ab mat at the hips.
Stretch your legs, place the soles of your feet together, and touch your feet with your hands.
Lie down on the ab mat and stretch your hands above your head. Try to close the space between your hips and ribs by curling upwards.
Pull yourself back up again, flex the abdominal muscles, stretch your arms forward, and touch your feet. Repeat it several times.
If you do not feel comfortable using the ab mat, do a few hip exercises and stretches first. If the discomfort continues, stop using it.
Why Trust StyleCraze?
The author of this article, Aditi Naskar. holds a diploma in health and wellness. She is an expert in reviewing health and fitness-related products. Her list of the best ab mats has been curated keeping in mind your workout needs. The recommendations comprise budget-friendly options that offer durability and a safe experience. Not only do these mats help a fitness enthusiast in performing crunches, but are also durable, sustainable and sweatproof.
Frequently Asked Questions
What's an Ab mat?
AbMat is a piece of comfortable core equipment that you position underneath your lower back while doing sit-ups. Its construction protects your back while assisting in core strength development.
Are Ab mats effective?
Yes, Ab mat supports and guides your core during sit-ups so that you may move through the entire range of motion.
Should you use a mat for sit-ups?
Yes, using an Ab Mat during a sit-up will help concentrate and engage the proper muscles, which can lessen the strain placed on the leg muscles.
What muscles do ab mat sit-ups work?
Ab mat sit-ups work on the core muscles.
Are Ab mats good for your back?
Yes, ab mats protect the back and make sit-ups more comfortable.
Recommended Articles