14 Best Ab Rollers Of 2023 For A Slim And Strong Core
It's time to pump mad energy from within your core with a user-friendly roller. If you've been crunching and toiling every day to achieve those dream 6-pack abs, it might be time to try the best ab rollers out there. Compact, portable, and functional, this exercise equipment has a non-skid wheel attached to the handle. You can work it by holding the handle with both hands, falling into a knee push-up position, and rolling the wheel in and out. The machine targets everything from abs, waist, obliques, and shoulders to your upper back, biceps, and chest. It allows you to tone your body, increase strength, and lose weight as well. Don't know where to find one? Here are our top 14 recommendations!
Here, we have listed the 14 best ab rollers of 2023. Take a look!
14 Best Ab Rollers Of 2023 To Buy Online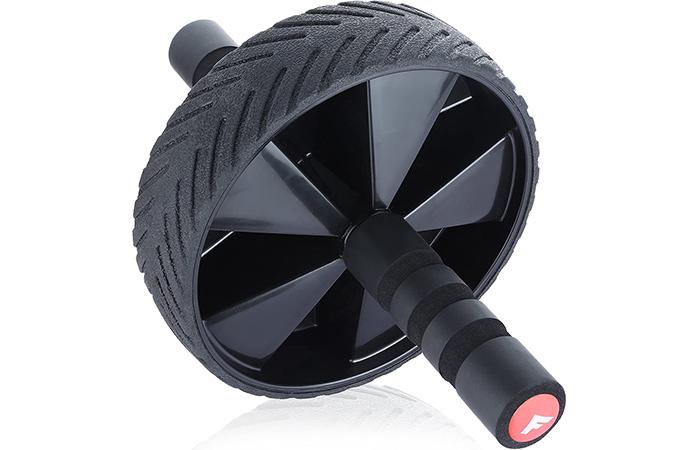 The Fitnessery Ab Roller is made of strong, durable material that ensures safety and offers the best workout you can get. Sculpt your abs, burn calories, build muscle, and improve endurance with this ab roller. The wheel is made of stainless steel, anti-skid rubber, and PVC. The handles are lined with comfortable EVA foam padding. The non-slip wheel helps get grip on any kind of floor. It comes with three gifts – an ab nutrition book (Six Pack Abs Nutrition E-book), an ab workout book (Ultimate Ab Workout E-book), and a comfortable knee pad. 
Pros
Durable and portable
Anti-slip wheels designed for stable, smooth movements
Comfortable hand grips
Strengthens shoulders and arms
3 FREE bonus gifts
Life-time money back guarantee
Easy to assemble
Cons
The foam lining is thin.
The free e-books may not have a downloadable link.
Price at the time of publication: $17.99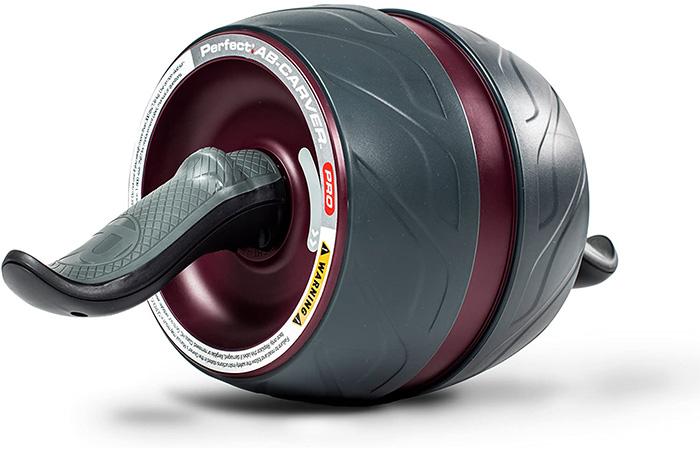 The Perfect Fitness Ab Carver Pro Roller is an ultra wide ab roller. It has built-in resistance and ergonomic handles that help maximize the results of ab roll out exercises. Its ultra wide wheel offers stability when rolling to the left, right, or center for oblique exercises. The ergonomic handles activate the arm and core muscles for six-pack abs. An interior kinetic engine uses a carbon steel spring to provide the resistance and intensity required for abdominal muscles and arm workout.
Pros
Ultra wide rolling wheel
Built-in resistance
Ergonomic handles
Improves shoulder and arm muscle tone
Supports up to 300 lbs
Compact
Easy to store
Easy to assemble
Stable
Comfortable
1-year warranty
Cons
Roll back issue
Minimum lat workout
Heavy
Noisy
Handles may feel loose
Price at the time of publication: $39.99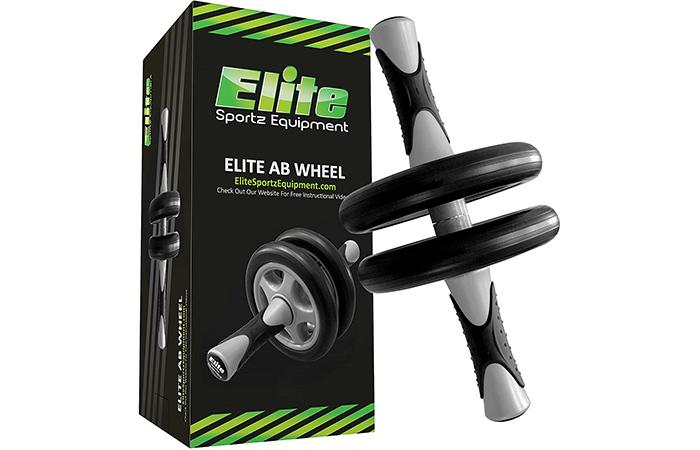 The Elite Sportz Equipment Ab Wheel Roller is a one of a kind double-wheel ab roller. It is wobble-free, lightweight, sturdy, and ensures smooth rolling. It comes pre-assembled and with comfortable handles made of rubber and plastic for good grip. You can also get a video demo of how to use this ab roller for various exercises for core strength on the website.
Pros
Double wheels for extra stability
Sturdy
Durable
Lightweight
Wobble-free
Smooth rolling
Pre-assembled
Targets the , back, shoulders, and arms
Comfortable and good grip handles
Exercise video on website
1-year warranty
Cons
Size can be too small.
Handles may feel made of cheap quality plastic.
Cannot support heavier weights.
Price at the time of publication: $17.99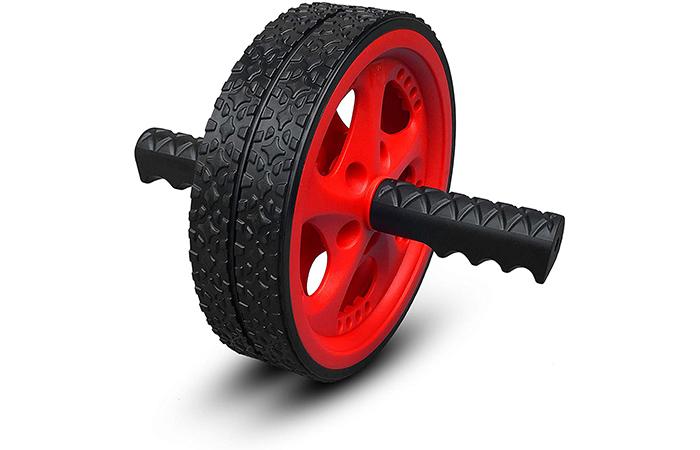 The Valeo Fit Ab Wheel is a dual wheeled sturdy ab roller. It allows smooth, controlled rolling of the wheel and targets the abs, shoulders, and arms. It is lightweight, portable, and has easy grip handles. The non-skid, durable PVC wheels have a stainless steel core, and the ergonomic handles offer comfortable grip to keep your wrists aligned. This dual ab wheel is lightweight and portable and also comes with a fitness guide for beginners and for home workouts.
Pros
Easy to assemble
Sturdy
Comfortable grip
Lightweight
Portable
Tones the abs, shoulders, and arms
User guide for beginners
Pocket-friendly
Cons
2" wide wheel does not provide much comfort compared to other wider wheels.
Cannot support heavier weights.
Price at the time of publication: $31.62
The Sunny Health & Fitness Ab Roller Wheel is excellent for upper body strengthening. The ab rollers are lightweight, compact, and weigh just 1.6 lbs, making them highly portable to carry around the house or at the gym. With two wheels design, this ab roller ensures stability and weight-bearing assurance without feeling wobbly. The wheel's surface has textures that add stability and proper control. It has anti-slip handlebars for a firm and secure grip without causing hand fatigue. This ab roller helps in building your core gradually by starting from a kneeling position and leading up to performing rolling push-ups. These ab rollers are suitable for advanced users and trainers for holding push-up positions and other intensive workout plans.
Pros
Lightweight
Portable
Versatile and ergonomic design
Dual wheels ensure stability
Easy to use
Non-slip grips
Suitable for beginners and advanced trainers
Suitable for gym and at home
Sturdy handle bars
Best for upper body strengthening
Easy to assemble
Cons
Handlebars are not adjustable
Price at the time of publication: $11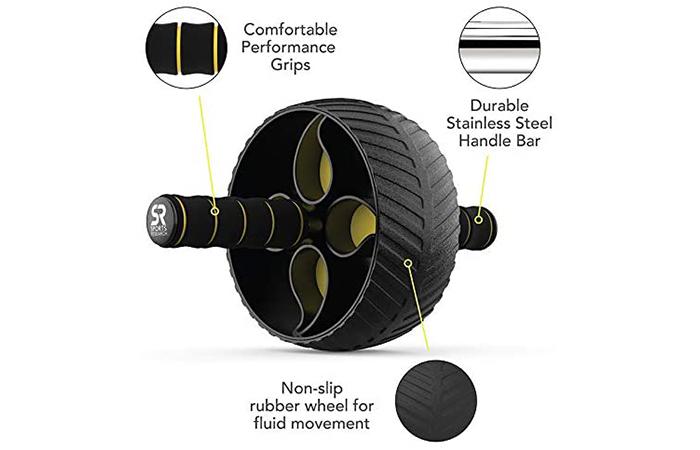 The Sports Research Ab Wheel Roller provides a 3" wide wheel and ergonomically designed handle grips. These promote intensive workouts by offering superior stability. This ab roller is lightweight, has a sleek design, and is easy to assemble. It helps burn calories and sculpt abs and strengthens the core. The handles are removable, which makes the unit easy to store and transport. The package includes a free foam knee pad, a handy workout guide, and a free sample of Sweet Sweat workout enhancer.   
Pros
3" wide wheel
Stable
Ergonomically designed handle grips
Free foam knee pad
Free workout guide
1-year warranty
Easy to assemble
Cons
Handle is too long.
Wheel may wobble.
Handles may come undone.
Price at the time of publication: $23.79
The N1Fit Ab Roller Wheel is wobble-free and made of sturdy material for increased stability while rolling out and in. It is designed for beginners as well as experienced users. The non-slip PVC handles offer the perfect grip and prevent strain on your hands. The surface of the wheel surface is made of high-density rubber that helps safeguard the flooring.
Pros
Wobble-free
Stable
Slip-resistant handles
Beginners and experienced users can use
2-year warranty
Easy to assemble
Increases strength and stamina
Cons 
Foam handles are not durable.
Price at the time of publication: $9.58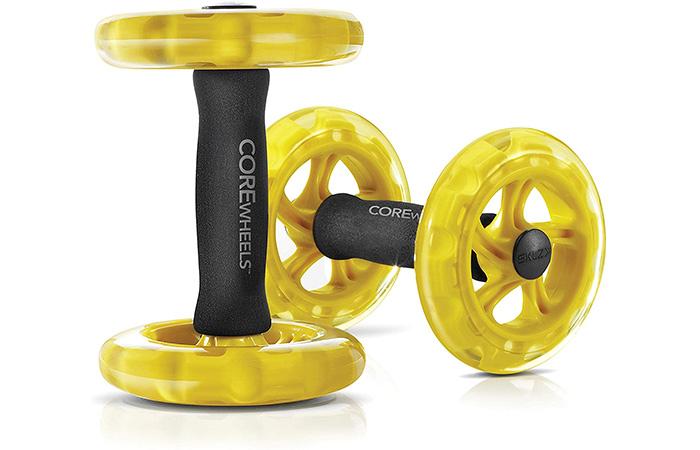 The SKLZ Core Wheels are a unique set of ab rolling wheels that look like dumbbells. The set features a foam-lined handle and two wheels on either side. Along with ab rolling, you can also use this set to do planks and push-ups. The wheels help increase core stability and strength, burn fat from the belly area, and tone the abs, shoulders, chest, and arms. The wheels move together for a safe and controlled exercise experience.
Pros
Lightweight
Portable
Unique design for an ab roller
Can perform multiple exercises
Increases core strength
Burns fat
Tone the abs, shoulders, chest, and arms
Foam-lined handles
Wheels on each side move together ensuring safety and control.
Cons
Do not support heavier weight.
The wheels may not roll as they should.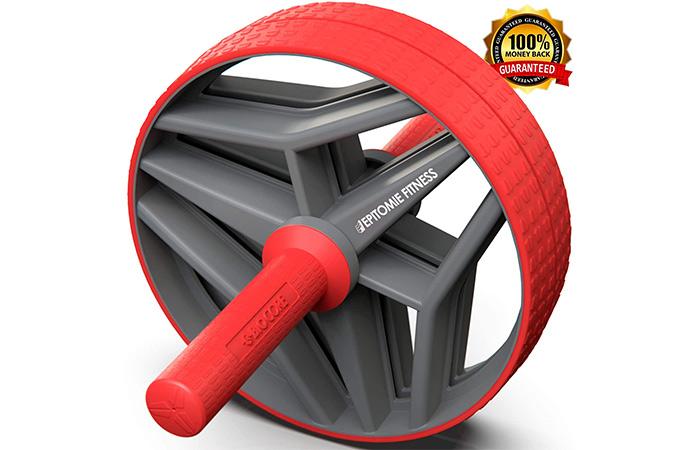 The Epitomie Fitness BIO Core Ab Roller Wheel features two adjustable wheels. You may bring the wheels closer or move them apart for maximizing and targeting various muscles in your core, shoulders, and upper back. It has non-slip handles, is wobble-free, and comes with a bonus kneeling mat. 
Pros
Stable
Lightweight
Easy to use
Comfortable handles
Adjustable wheels
Tones the abs, shoulders, and upper back
Lifetime satisfactionguarantee
Free kneeling mat
Cons
No instructions for assembling the equipment.
Does not support heavier weights.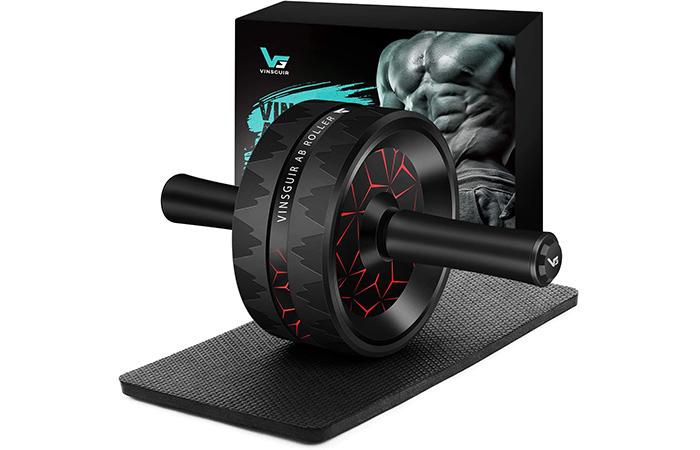 The Vinsguir Ab Roller ensures balance and stability. It is easy to install and disassemble. It comes with EVA rubber cotton handles for comfortable grip. The TPR soft rubber wheel surface ensures quiet operation. It targets the abs, chest, shoulders, arms, and upper back. This ab roller supports up to 440 lbs of weight.
Pros
Extra wide (8 cm)
Stable
Comfortable handles
Tones the abs, shoulders, chest, arms, and upper back
Easy to install and disassemble
Supports up to 440 lbs
180 days warranty
Lifetime customer service
30-day no hassle return
Free knee pad
Cons
Handles may detach.
No built-in resistance.
Price at the time of publication: $25.99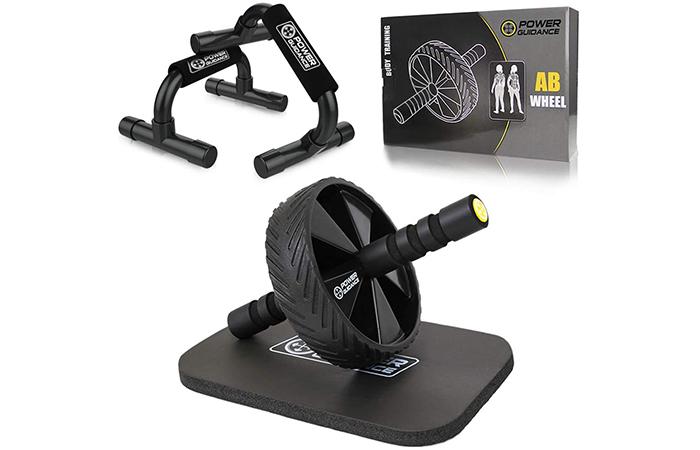 The Power Guidance Ab Wheel is made of high-quality hard plastic and steel that ensure durability, safety, and a higher load capacity. The wheel surface is 2" wide and is made of premium quality rubber material that reduces any wobble. It also decreases the risk of muscle injury. The foam handles make the grip sweat-free and comfortable. The ab roller targets the core muscles, upper chest, upper back, and arms.
Pros
Wide wheel
Stable, rubberized wheel
Made of steel
Foam handles for comfortable grip
Lightweight
Easy to assemble
Burns calories
Tones the core, arms, upper back, and chest
Supports up to 330 lbs
Free knee pad
Cons
Handles may bend after a few uses.
Breaks easily.
Foam handle grips may slip off.
Price at the time of publication: $24.99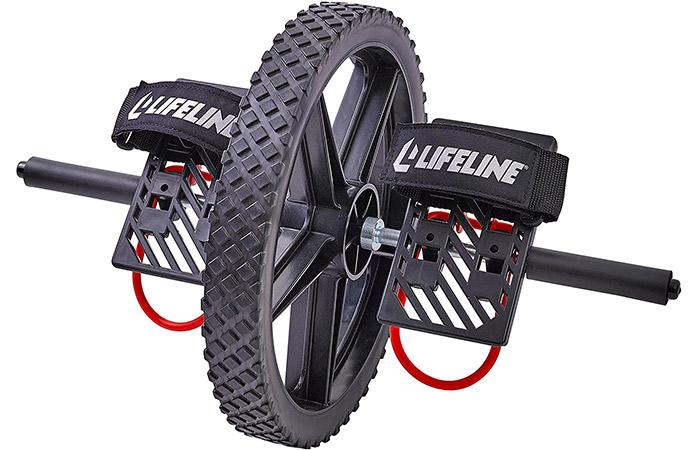 The Lifeline Power Wheel comes with a foot strap as well. This versatile ab roller helps increase balance, coordination, strength, and stamina. It targets 20 muscles in the body. It is designed for a full-body exercise and targets the core, arms, and legs. 
Pros
Full-body exercise
Easy to assemble
Comes with adjustable foot strap
Soft foam grip
Burns calories
Tones the abs, shoulders, thighs, chest, arms, and upper back
1-year warranty
Cons
May break easily.
Foot strap may not work properly.
Price at the time of publication: $49.97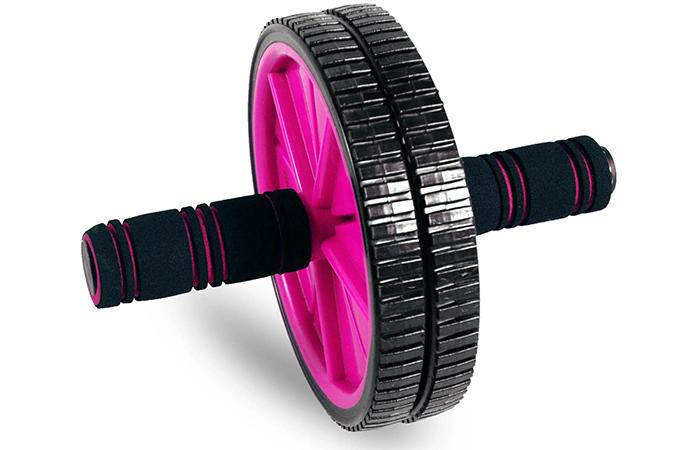 The Tone Fitness Ab Roller Wheel is a non-skid and stable ab rolling wheel that is compact and lightweight. It helps burn calories and targets the abs, shoulders, arms, chest, and upper back. The grip is comfortable and non-slip. It helps improve posture, balance, athletic performance, and overall body strength.
Pros
Wide
Anti-wobble
Comfortable grip
Anti-slip foam-lined handles
Lightweight
Cons
Wheels may not fit tightly.
Not easy to reassemble.
Price at the time of publication: $10.99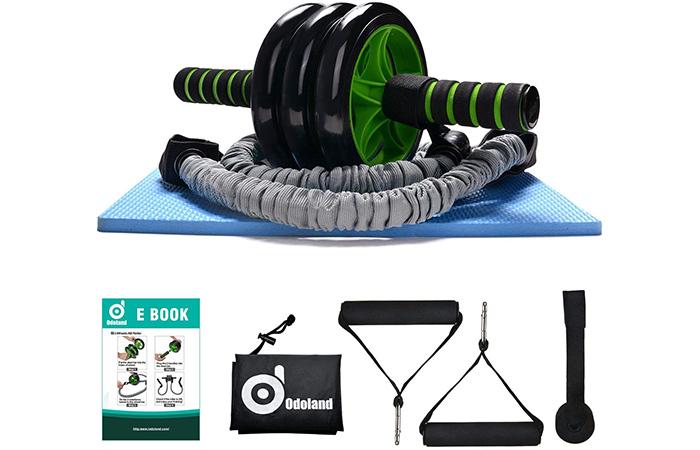 The Odoland 3-In-1 Ab Wheel Roller Kit is a full-body workout kit that comes with an ab rolling wheel, a resistance band, and handle attachments. It is designed to add stability to your workout movements. The workout extensions help add resistance to your exercise and activate the muscles of the core, arms, glutes, thighs, back, and chest. It also comes with a knee pad for support when you do knee push-ups or ab rolling. It is easy to store and portable. It comes with an e-book with an exercise demo. 
Pros
Full-body workout
Comes with resistance bands
Anti-slip grip
Stable
Lightweight
Portable
Targets the core, arms, legs, and glutes
Free knee pad
Free ebook for exercise demo
Cons
Assembling may take time.
Handles may slide off.
May not be sturdy.
Price at the time of publication: $11.99
These are the 14 best ab roller wheels you may buy. You can use them at your own convenience, at home, or on any stable surface. Before closing, here's everything else you need to know about ab rollers.
What Does An Ab Roller Do?
An ab roller is designed to mainly sculpt the abs. You get into a knee push-up position, hold the handles of the ab roller, and push forward to "roll" out. You  then roll back in to the starting position. This contraction and extension of muscles helps burn calories and reduces belly fat.
Ab rollers also activate the biceps, triceps, traps, lats, deltoids, pectorals, and obliques. 
Is An Ab Roller Effective?
Yes, an ab roller is an effective equipment to tone and sculpt your core and upper body. It increases strength and stamina. Also, it gives you a break from the traditional crunches, which can be harmful for your lower back. Hannah Shine, personal trainer, says, "An ab roller provides a full-body workout that targets abdominal muscles and strengthens the core, improving overall fitness and stability. Regular use can lead to improved posture, balance, and core strength." However, avoid ab rollers if you already have back pain or a slipped disc. Stop using it immediately if it is uncomfortable and causes pain.
Do I Need An Ab Roller?
An ab roller is a compact, portable ab exercise equipment that you can use on any stable surface. If you want to get sculpted abs, you may get an ab roller. Having said that, you can also get sculpted abs by doing ab exercises and eating the right foods. 
How To Choose The Right Ab Roller
The right ab roller has the following features:
Ergonomic design – Check if the ab roller has enough cushioning for a comfortable grip and easy movement. Check what material the wheels are made of – rubberized wheels add stability and good grip to the surface.
Stability – Check if the wheels are wobble-free and are made of a study material. Check if the wheel moves smoothly and doesn't stop moving. The wheel's stability can help prevent muscle injuries.
Knee pads – Check if the ab roller comes with knee pads. High-density EVA foam knee pads give protection to your knees when you do the ab rolling exercise. They reduce the risk of knee injury.
Why Trust StyleCraze?
The author, Aditi Naskar, has a diploma in Health & Wellness and has carefully curated the list of the best ab rollers for fitness enthusiasts and beginners alike. These ab rollers have been closely reviewed and selected based on user feedback on multiple online forums. While compiling these products, factors like design, ease, the safety of use, and budget have been considered.
Frequently Asked Questions
Will an ab roller give me abs?
Yes, it's a great tool that focuses on strengthening the lower abdomen, and using it regularly can surely help you shed enough fat and give you abs. But, you have to complement your workout routine with proper diet and sleep schedule.
How often should you use an ab roller?
You can perform core exercises with an ab roller twice weekly to get the desired results.
Is ab roller better than planks?
Ab roller is more complex and better than planks as it focuses on the overall stability of the body and the spine.
Is the ab wheel better than sit-ups?
Ab wheel is better than the sit-ups as it activates more muscles and enhances better stability and strength of the core muscles.
How long does it take to see results with the ab wheel?
With good consistency and a strict diet routine, you can see noticeable changes in your core in about three months of using the ab wheel.
Does ab roller work the lower back?
Yes, the ab roller activates your lower back muscles as well.
Recommended Articles