15 Best Ab Straps For Hanging Ab Exercises
Industrious, top-grade ab straps for advanced core strength training for toned abs.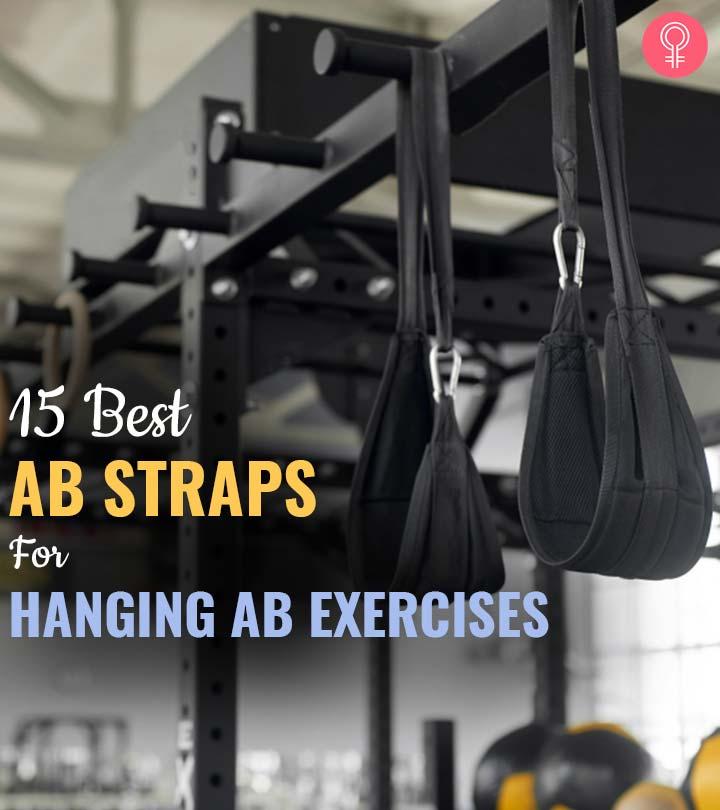 Achieving a chiseled belly and a fit core can be challenging. But you can make the process easier with the best ab straps mentioned in our list. They allow you to indulge in hanging ab exercises for core strengthening. One part of this strap has to be worn around your arm, while the other part needs to be attached to the pull-up bar. This equipment is ergonomically designed to prevent spinal injuries and correct your posture.
Jesse Feder, registered dietitian, Florida International University, says, "One of the biggest limiting factors when it comes to hanging core exercises is your hand grip. Usually your hand grip gives out before your abs do which can really hinder your abs workout. Ab straps are a great addition to your abs workouts to allow you to truly focus and develop the abdominal muscles."
Our list narrows down your search to the 15 best-rated ab straps available on the market. Swipe to grab them.
15 Best Ab Straps – Reviews
The DMoose Fitness Hanging Ab Straps are heavy-duty. They are extra-wide straps that have thicker elbow padding, rip-resistant nylon, and steel carabiners. They are highly durable as the nylon straps have double stitching, and the quality is high-grade. The thick arm padding provides frictionless support to the arms and elbows. The heavy-duty steel carabiners help hold the straps onto the pull-up bar firmly and ensure you remain fall-proof. These ab straps help maintain your posture as you train your abs for increased core strength. You can easily do vertical crunches, leg lifts, leg raises, and other hanging ab exercises with the help of these durable ab straps. The straps come in seven colors. They also have a lifetime guarantee backed by a full refund and replacement policy.
Pros
Extra-wide straps for a secure hold
Thicker elbow padding to support the arms and elbows
Rip-resistant nylon material with double stitching
Highly durable straps
Frictionless support to the arms and elbows
Perfect for maintaining good posture and increasing core strength
Available in seven colors
Lifetime guarantee
Full refund and replacement policy
Reasonably priced
Cons
Steel carabiners might be a tad bit small.
Price at the time of publication: $22.99
Build your core body strength with the Vikingstrength AB straps. These highly durable nylon straps come with double stitching, heavy-duty lock, and comfortable padding that allow you to work out with comfort, stability, and protection. The versatile design of these Ab straps is suitable for use on all types of bars indoors and outdoors. The kit has access to the brand's fitness mobile app, which allows you to track, plan and analyze your workout and growth. The app can pick from the pre-made workouts, or you can design your training plan to choose from over 750+ exercise plans with in-depth instructions.
Pros
Targets your core area
Padded arm loops
Strong clinch
Secured and protected sling
Durable
Nylon straps
Easy to install
Additional mobile app for easy and effective ab training
Cons
 Carabiner may get corroded
Price at the time of publication: $19.99
The RIMSports Ab Straps support up to 300 lbs. These heavy-duty straps are made of cotton padding and have long slings that provide risk-free stability and balance. They do not dig into the skin or cause pinching. These ab straps are compatible with all pull-up bars, chin-up bars, and home gyms. These straps take the pressure off the hands, support your upper body and the spine, allow good posture and full range of motion, and help you do more reps of hanging leg raises, knee-ups, etc. The sturdy metal carabiners provide stability to the straps and help make your intense abdominal workout more secure and smooth. Check out this video of the RIMSports Ab Straps to learn more.
Pros
Support up to 300 lbs
Made of cotton padding
Long slings provide risk-free stability
Do not dig into the skin or cause pinching.
Compatible with all pull-up bars, chin-up bars, and home gyms
Sturdy metal carabiners provide stability
Make workouts more secure and smooth
Reasonably priced
Cons
Straps are not adjustable.
Price at the time of publication: $20.99
The A2ZCARE Ab Straps are made from high-quality oxford cloth, pearl cotton, and PU leather. They provide the perfect support to your core muscles during your suspension training. The maximum load capacity of this strap is 300 lbs. The thick, soft, and sweat-resistant cushioned inside provides a soft touch to the straps. The hanging ab slings are designed with thick pads that add to their mild feeling. These slings are also developed with wide D-ring steel carabiners with rotation lock enabling them to attach to any bars easily. The short design allows these straps to fit perfectly in gym rooms of any size. You can easily do hanging leg raises, hanging trunk rotations, and hanging oblique knee raises with these functional straps and develop your rectus abdominis, abdominal oblique, and lumbar muscles.
Pros
Durable
Stretchable material
Thick cushioning
Sweat-resistant
Extra-thick slings
Prevents scratches on the skin
Gym-quality equipment
Effective grip
Improves muscle strength
Rotational carabiner lock
Can be attached to any bar
Easy to clean
Travel-friendly
Cons
None
Price at the time of publication: $22.11
The Pullup & Dip Ab Straps For Abdominal Muscle Training on Pull-Up Bar or Pull-Up Station are perfect for everyday use. The ab straps are designed to be wide, comfortable, and supportive to your elbows while you pull up. They help relieve pressure on your arms and shoulders and help you focus completely on your abdomen to achieve six-pack abs. They come with padded arm loops with a soft lining and are super comfortable while performing bodyweight exercises. They enable you to have a load-bearing capacity of 200 kg while concentrating on your abdominal workout. These high-strength nylon extension loops come with four length adjustments and easy attachments which suit your height and size.
Pros
Super comfortable
Easy attachment
Extremely durable
High quality build
Versatile and flexible
Easy assemble
Scratch-free material
Suitable for home or gym use
Portable
Travel-friendly
Cons
Not suitable for those with shorter height
Price at the time of publication: $29.9
The RDX AB Straps are constructed from N-TearX Maya Hide leather, powder-coated D-rings, and a high-quality carabiner. It is broad and has a moisture-resistant lining and strong cushioning. This workout tool can carry almost any weight without shifting or moving. Its large handles, EVA cushioning, and high-quality REX makes it far more comfortable and long-lasting. During hard abdominal training sessions, these straps provide maximum support, hold body weight, and endure wear and tear. Its thick neoprene padding reduces pain and aids in upper body engagement during your workout without fear of an unpleasant training experience. These straps are used by athletes in functional training, bodybuilding, and various combat sports to improve their abdominal muscles. It is compatible with any chin-up, pull-up bar in the gym, and ordinary door pull-up bars at home or outdoors.
Pros
Durable
Comfortable
Ample padding
Strong grip
Sweat-wicking
Adjustable straps
Can be attached to any bar
Improves muscle strength
Affordable
Cons
None
Price at the time of publication: $29.99
The Armageddon Sports Premium Ab Slings Straps are built with heavy-duty material for a secure fit. These highly durable nylon-made ab sling straps have an ergonomic design that fits everyone seamlessly, regardless of body type, and are easy to attach and detach to any bar. It comes with D-ring steel quick connectors, enabling you to work indoors and outdoors. These D-rings ensure that you don't have a strong grip on your weight. They provide stability during the workout. It is best suited for gym, home gym, and even outdoor parks to help you burn tons of calories.
Pros
D-ring steel quick connectors
Suitable for indoor and outdoor workout
Highly durable
High quality build
Versatile usage
Heavy-duty construction
Rip-resistant fabric
Comfortable arm pads
Cons
Price at the time of publication: $58.95
The PACEARTH Ab Straps support a weight up to 440 lbs. They are made up of 7mm thick neoprene material and designed with arm paddings that are covered with cotton flannel. These paddings offer greater cushioning, which provides joint support and reduces the stress on your arms. The detachable palm grips reduce the pressure on your palms and prevent the straps from scratching against your skin. These ab strings can be stretched from 22.2" to 34.2". The heavy-duty metal buckles are rip-resistant, which makes the product highly durable. Invest in these ab straps to gain enhanced stability during abdominal training, like leg raises, leg lifts, and vertical crunches.
Pros
Durable
Tear-resistant metal buckle
Stretchable ab strings
Cushioned paddings
Double stitched hanging straps
Sweat-resistant fabric
Detachable palm grips
Odor-free
Easy to use
Cons
Price at the time of publication: $21.99
The Gymreapers Hanging Ab Straps are incredibly functional and relatively easy for high-rep sets because of their adjustability, lightweight, and padding. They are designed to add to your core workout regimen as they offer isolation and stability with manual ab movements. They are made of rip-resistant nylon fabric and robust steel carabiners, which contribute to their capacity to offer stability and support while exercising. The padding is 12 inches long and 8 inches broad, and the straps are 18 inches long. They are in pairs and include two heavy-duty, six-inch carabiners. They allow you to work out at any place with regular door pull-up bars, chin-up bars, or multi-gym systems.
Pros
Durable
Adjustable
Multi-use
Effective grip
Easy to install
Comfortable
Compact design
Improves muscle strength
Can be attached to any bar
Cons
None
Price at the time of publication: $29.99
The DEAGLE SPORTS Ab Straps are equipped with steel carabiners and heavy-duty nylon straps. They provide extra comfort with abdominal fitness workouts. These ab straps are built with breathable, double padded straps that help you develop abdominal muscles with great efficiency. These pads are sweat and odor-resistant and reduce the pressure created on your arms. The slings can be adjusted to your arm length, and the extra-duty steel carabiners offer a secured lock system when hung on the rods. Set up these ad straps to the door hanging bar, chin-up bar, smith machine, or outdoor-pull up bar in less than 5 minutes and build your core muscles and stamina effortlessly.
Pros
Adjustable slings
Breathable fabric
Double padded straps
Sweat-resistant
Odor-free
Tear-resistant
Double-stitched fabric
Extra duty steel carabiners
Affordable
Portable
Cons
Might develop scratches on the back
Price at the time of publication: $14.99
If you are looking for versatile workout equipment, invest in the Spud Heavy Duty Hanging Abdominal Straps. This ab strap is built for heavy-duty work out with a guarantee of not ripping or falling apart. It is highly comfortable and does not cut into your skin or cause any discomfort. The webbing of this ab strap is wide and supports most of your upper arm, thus being suitable for all body types. You can test his ab strap's high quality and durability at up to 1500 lbs of tensile strength. They come with spring clips that are strong and big enough to fit almost any pull-up bar. It is perfect to train your upper abs, lower abs, and even your obliques.
Pros
Suitable to train upper and lower abs
Highly durable
High quality
Sturdy
Versatile
Ideal for indoor and outdoor workout
Rip-resistant
Comfortable to use
Value for money
Cons
Price at the time of publication: $84.99
The Ultimate Body Press Ab Straps have a foam padding that provides support and comfort to the lower back, arms, and shoulders. The extra-wide velcro upper section of the straps offers more safety while performing the exercise. The straps are comfortable and compatible with most pull-up and chin-up bars. They help perform hanging ab curls, leg raises, oblique crunches, and hanging crunches. 
Pros
Foam padding
Extra-wide velcro
Comfortable
Compatible with most pull-up and chin-up bars
Cons
None
Price at the time of publication: $13.95
The Grizzly Fitness Deluxe Hanging Ab Straps are made of nylon and offer maximum strength. Their heavy-duty, sturdy carabiner clip attaches to any chin-up bar and provides security during a workout. The straps are made of high-quality cotton padding. They are durable, tear-resistant, and sweat-resistant. The straps help maintain good posture and reduce stress on the lower back, shoulders, and arms.
Pros
Maximum strength nylon ab straps
Come with heavy-duty, sturdy carabineer clip
Can be attached to any chin-up bar
Secure and strong
High-quality cotton padding
Comfortable
Durable
Tear-resistant
Sweat-resistant
Cons
Price at the time of publication: $16.99
The Gladiator Gym Gear Hanging Ab Straps target, strengthen, and sculpt core muscles. You can efficiently perform hanging leg raises, vertical crunches, leg lifts, knee raises, and trunk rotations. These straps are compatible with any chin-up or pull-up bar in the gym, and standard door pull-up bars at home or outdoors. The extra-wide straps provide superior stability. The thicker edge-to-edge elbow padding, rip-resistant nylon, and steel carabiners offer comfort and security. The straps minimize stress on the forearms and reduce friction. 
Pros
Support weight of over 400 lbs
Extra-wide straps
Thick edge-to-edge elbow padding
Rip-resistant nylon
Superior stability
Compatible with any chin-up or pull-up bar
Comfortable
Secure
Cons
None
Price at the time of publication: $16.99
The Schiek Sports Heavy Duty Padded Ab Straps are eighteen inches long. They have a ¼-inch plush neoprene padding and heavy-duty D-rings. The straps are durable and ensure good grip through non-slip webbing. They provide maximum comfort while exercising. They are designed for ab crunches and cable pull-downs.
Pros
¼-inch plush neoprene padding
Heavy-duty D-rings
Durable straps
Anti-slip grip
Provide maximum comfort
Cons
No foam or cotton padding
Price at the time of publication: $24.95
These are the fifteen best ab straps you can buy online. If you are not sure how to use them, here's a step-by-step guide:
How To Use Ab Straps?
Press the D-link or the hook carabiner and attach it to the pull-up bar.
Do the same with the other ab strap as well.
Take your arms through the arm loops.
Place your upper arms and elbows comfortably against the arm loop.
Hold the straps with your hands with a firm grip.
Lift one foot and check if they are firm and safe.
Make the required adjustments.
Start doing hanging abs exercises!

The following section will help you make a better purchase decision. Take a look.
Ab Strap Buying Tips 
Check these points before buying an ab strap:
Maximum Load – To prevent falls and injuries, you must check if the ab straps will support your weight. Some ab straps are made for athletes and weight lifters, and some are made for petite women. Check which feel closer to your weight.
Comfort – Uncomfortable ab straps cause scratching on the skin. They also can dig into your skin and may slip. Buy ab straps that offer excellent comfort. While using ab straps, you must not feel any pressure in your lower back, shoulders, and arms.
Durability – Check the material of the ab straps, the loops, the stitches, and the hooks. The construction should have double stitching and should be made of rip-resistant fabric. The hooks are best when made of heavy-duty steel rather than just velcro.
Straps – Some ab straps are too long, and some are too short. Buy those that can be adjusted to the desired length. The straps should not be too thin. Wider and thicker straps ensure safety. 
Why Trust StyleCraze?
The author, Aditi Naskar, has a diploma in health and wellness and is a fitness enthusiast. She believes that exercises can improve core strength and help you stay fit. So, she carefully researched many products and checked their reviews online to compile this list of the best ab straps for hanging ab exercises. These products can help correct your posture while preventing spinal injuries.
Frequently Asked Questions
What do ab straps do?
Ab straps provide support to hanging ab exercises. They alleviate stress from the shoulders, arms, and lower back. The straps offer a secure and robust hold – keeping hands from slipping off the pull-up bars. Ab straps ensure better posture and a more efficient exercise routine.
Are all ab straps adjustable?
No, not all ab straps are adjustable. Check which could be adjustable before making a purchase.
How far can the straps hang?
This depends on the length of the ab straps. Some ab straps are extra-long, and some are too short. Purchasing adjustable straps for hanging ab exercises is recommended.
What is the weight limit for ab straps?
The weight limit of ab straps may range from 200 lbs to 1000 lbs. Some are built for athletes and weightlifters and have a higher weight limit.
Do the straps come as a pair?
Yes, the straps come as a pair.
Recommended Articles