6 Best Acne Body Sprays To Buy Online In 2023
Get rid of unsightly and sore breakouts on your body with these effective solutions. Body acne is as frustrating as it can get. You get even more annoyed when you realize you cannot wear fancy backless clothes for a few weeks. But the help is within reach; just choose the best acne body spray for your skin. These acne sprays are high in salicylic acid concentration, which works wonders against stubborn acne and even more obstinate acne scars. They also help prevent acne breakouts in hard-to-reach areas. This article brings you a list of six amazing, and highly effective body sprays to treat acne. Take a look!
6 Best Acne Body Sprays Available Right Now
Murad Blemish Control Clarifying Body Spray is a clinically-proven acne-fighting body spray for hard-to-reach body breakout spots. It is enriched with 0.5% salicylic acid that helps clear, treat, and prevent new breakouts from forming. It also contains glycolic acid whose exfoliating properties gently remove pore-clogging debris, and allantoin and blue lotus extract that helps soothe and reduce the appearance of acne-related redness. The menthol in it soothes and comforts irritated skin, and triclosan has a powerful antibacterial effect that helps fight acne breakouts. The quick-drying formula of this spray controls blemishes with a 360° spray that makes application easy, even in hard-to-reach areas. Multiple reviewers have highly recommended the product after noticing visible results.
Pros
Quick-drying formula
Prevent breakouts
Removes pore-clogging debris
Reduces the appearance of acne redness
Scented
Cruelty-free
Gluten-free
Sulfate-free
Paraben-free
No mineral oil
Cons

Pro Tip
Do not pop the acne. Curb the temptation by using an acne patch to cover it.
Price at the time of publication: $45.0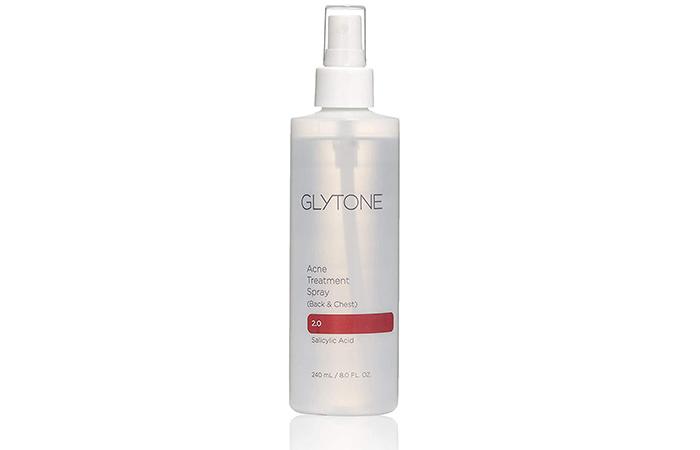 GLYTONE Acne Treatment Spray is a non-comedogenic acne-treatment spray. It is formulated with 2% salicylic acid that exfoliates the skin and clears breakouts. Its pore-cleansing formula penetrates deep into the skin to unclog pores and prevent new acne blemishes on the back, shoulders, and chest. It also works when sprayed upside-down for quick and simple application at any angle. Many reviewers on Amazon have also noticed visible results after consistent use.
Pros
Non-comedogenic
Easy to use
Clears skin breakouts
Fragrance-free
Oil-free
Sprays from any angle
Cons

Quick Tip
Do not use greasy, sticky lotions or cream that can clog the skin's pores. Use acne-friendly moisturizers.
Price at the time of publication: $42.0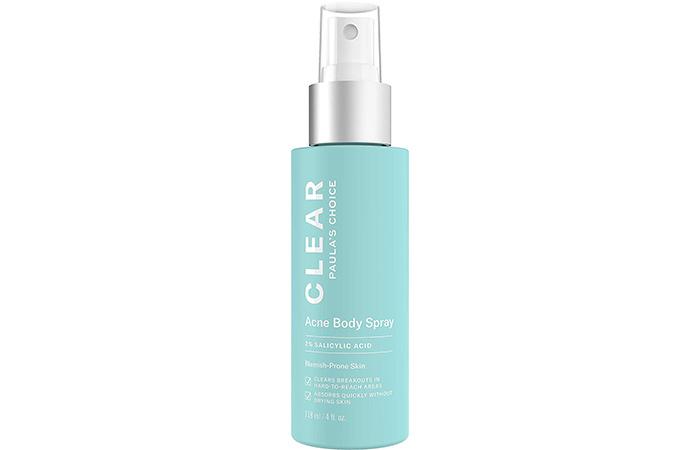 Paula's Choice CLEAR Acne Body Spray is the perfect treatment for blemish-prone skin. It is enriched with salicylic acid and licorice and barberry extracts. Salicylic acid penetrates deep into the pores to clear breakouts, licorice extract soothes and reduces redness and other visible signs of irritation, and barberry extract provides potent antioxidant properties. This liquid spray-on body exfoliator fights acne fast and prevents new breakouts, with visible results noticed by consumers as per the brand. It is gentle enough for daily use and suitable for all skin types, with multiple positive reviews online.
Pros
Exfoliates dead skin cells
Reduces fine lines and wrinkles
Fragrance-free
Paraben-free
Cruelty-free
Suitable for all skin types
Cons

Pro Tip
Refrain from using the same towel for more than three days, as damp towels are bacterial breeding grounds.
Price at the time of publication: $28.0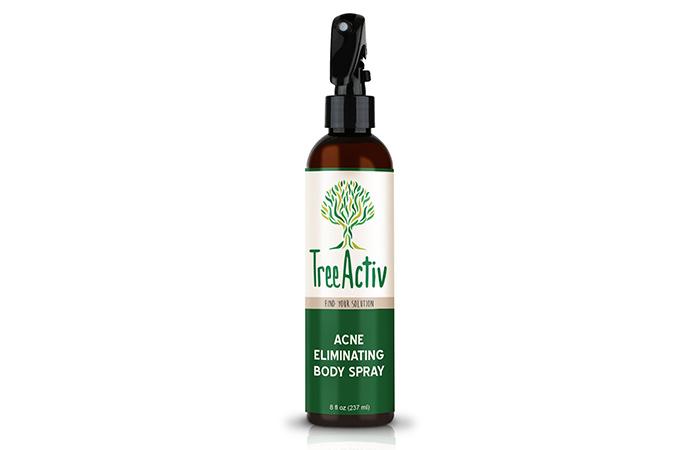 TreeActiv Acne Eliminating Body Spray is a natural acne-fighting body spray. It is formulated with salicylic acid and other natural ingredients like peppermint and tea tree water that help clear acne and hydrate your skin. This non-staining body spray helps clear existing acne on the back, chest, shoulders, butt, and thighs. It also works as a great aftershave cream that calms the skin and razor bumps and prevents irritation. It works as an effective disinfectant that fights bacteria and reduces body odor. This body spray moisturizes the skin, delivers the vitamins and minerals that your skin needs, and prevents breakouts, garnering positive reviews online.
Pros
Clears all types of acne
Prevents future breakouts
Removes dead skin cells
Mess-free application
Non-staining
Neutralizes harmful bacteria
Disinfectant properties
Reduces irritation
Easy to use
Scented
Cons
Not suitable for sensitive skin

Pro Tip
Tight clothes rub against the skin and aggravate acne. Wear loose, breathable cotton clothing.
Price at the time of publication: $19.99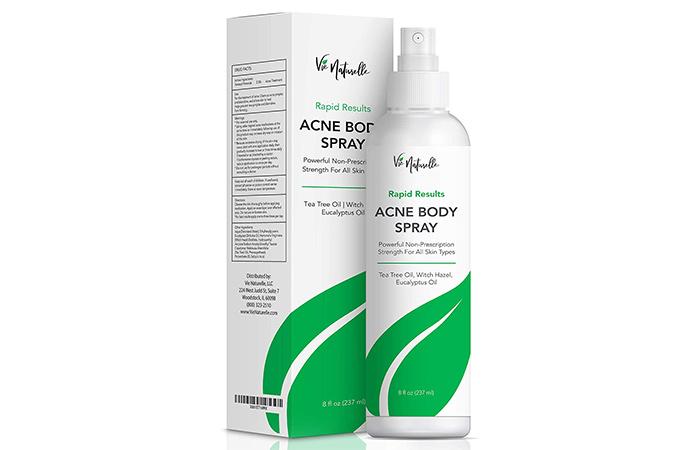 Vie Naturelle Acne Body Spray is a powerful exfoliating spray for all skin types. This acne body spray is formulated with a combination of benzoyl peroxide and salicylic acid that help treat acne with their medicinal and soothing properties. It can eliminate the acne on your back, chest, shoulders, butt, and thighs. This body spray prevents future breakouts while calming redness. This clinically-tested spray is infused with vitamins and minerals that moisturize your skin and is gentle on sensitive skin, with visible results reported by many reviewers.. It is also infused with essential oils, like eucalyptus oil and tea tree oil, and witch hazel extract to minimize pores and treat breakouts, blackheads, and bumpy skin without drying out your skin.
Pros
Prevents new breakouts
Reduces pore size
Eliminates blemishes
Moisturizes the skin
Scented
Suitable for sensitive skin
Dermatologist-tested
Allergy tested
Cons
Very strong fragrance
Stains clothes
Price at the time of publication: $19.97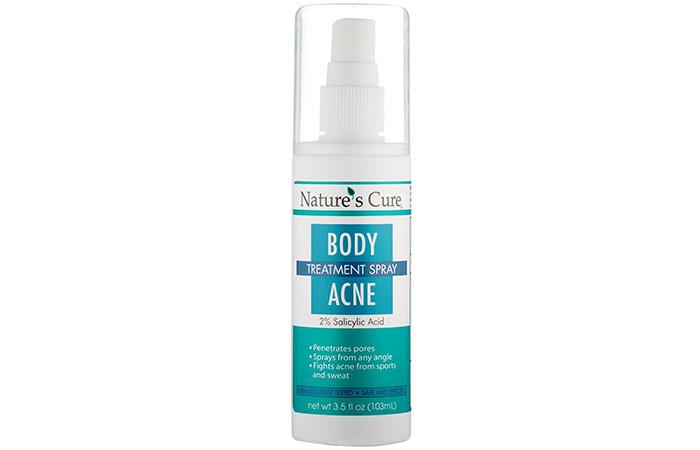 Nature's Cure Body Acne Treatment Spray is a dermatologist-tested acne-fighting spray. It is formulated with 2% salicylic acid that helps treat acne by penetrating deep into your pores. This spray fights the acne caused by sweating and friction from athletic gear and clothing. It has a specially designed pump that sprays from any angle for the treatment of hard-to-reach places. Many reviewers have noticed visible results after using this spray and highly recommend it.
Pros
Dermatologist-tested
Sprays from any angle
Penetrates pores
Easy to use
Cons
Unpleasant fragrance
Sticky formula
Price at the time of publication: $9.39
Body acne is not as common as facial acne, but it can still happen to anyone. While major acne outbreaks require immediate dermatologist's attention, for milder scenarios you may use some effective ingredients in your body care products to get rid of them, including the scars. Body sprays for acne are easy to use as they help transfer products even to the hard-to-reach areas on your back and body. Given below are some factors to consider while choosing the best acne body sprays.
Things To Consider While Buying The Best Acne Body Sprays
Acne occurs when pores of the skin get coagulated with dead skin, dirt, and excess sebum. Therefore, choose a dermatologically tested, non-comedogenic, lightweight, water-based formula instead of an oil-based one to prevent further clogging the pores.
Chemicals:Some mild chemicals like salicylic acid and benzoyl peroxide are helpful for acne. A combination of these two chemicals is highly effective in drawing out dirt and clearing out the pores. It also reduces skin inflammation and prevents future breakouts. Zinc is another ingredient that minimizes and controls extra oil production, while BHAs and AHAs are also helpful chemicals that gently exfoliate the skin and offer other benefits. Niacinamide reduces hyperpigmentation and marks caused by inflammations. These marks remain after the acne has healed.
Remember, although these are helpful chemicals, they cause dryness, and You need a formula with mild moisturizing ingredients that will lock-in moisture and soothe the skin.
Natural Ingredients: Natural oils like eucalyptus, witch hazel, and tea tree oil are good cleansers as well as a mild soothing agents.  Botanical oils and butters like shea also add the required moisturization to the skin without making it greasy.
Avoid any strong chemicals, especially sulfates. Though SLS is a common ingredient in these products, it strips the natural oils of the skin and causes dehydration, dry skin, and irritations. Also avoid artificial scents as they may cause allergies.
Since you are looking to buy acne spray, look for a slim bottle which is easy to handle. Choose a travel-friendly and easy to carry packaging. Also look for a locking system for the pump, or a cover to avoid unnecessary leaks and wastage.
Shawnda Dorantes, MSN, APRN, FNP-C, adds, "Salicylic acid products are typically available in concentrations ranging from 0.5% to 2%. Higher concentrations may be more effective at treating acne, but they can also be more irritating to the skin. It's generally best to start with a lower concentration and gradually work your way up if needed."
The Bottom Line
Acne sprays have been designed to get rid of stubborn acne, or at least reduce their effects! They prevent acne breakouts in hard-to-reach areas, while gently exfoliating to remove dead skin cells and pore-clogging dirt and oil. These acne sprays also help reduce red spots and inflammation while soothing irritated skin, such as the Murad Blemish Control Clarifying Body Spray, which provides amazing exfoliating and calming benefits. For everyday use, the Paula's Choice CLEAR Acne Body Spray is perfect due to its lightweight formula, and if you're looking for a spray that uses natural ingredients to fight against acne-causing bacteria, then the TreeActiv Acne Eliminating Body Spray is the one for you. Opt for acne sprays that are cruelty-free and have a quick-drying formula. However, avoid sprays that stain clothes and have an unpleasant odor. Opt for products with positive customer reviews and conduct a patch test before application.
Why Trust Stylecraze
Oyendrila, our in-house certified skin care coach, loves to write comprehensive beauty articles for her readers. She browsed many products on various platforms, and investigated their reviews on different forums, to pick the most worthwhile body sprays for you to check out to manage those acne flare ups. These body sprays were selected based on factors like formula, skin care benefits, packaging, and absence of harmful elements.
Frequently Asked Questions
How do you use body spray for acne?
• Cleanse your back thoroughly but gently using a mild cleanser.
• Take your body spray, hold it tight, and add a generous amount of the product to the acne areas.
• Wait for a few minutes for the product to seep in.
• Wear loose-fitting clothes to avoid rubbing the product off.
Is benzoyl peroxide good for back acne?
Yes, benzoyl peroxide is highly effective in killing acne-causing bacteria. It unclogs the pores on your back and prevents acne marks as well.
What causes body acne?
Body acne develops when sebum gets trapped in your hair follicles. Poor hygiene and excessive sweating are the most common reasons for developing body acne.
What's the reason for sudden acne outbursts?
Hormonal changes develop pimples all over your body. In addition, poor hygiene, consumption of fried food, and excessive stress are other prominent causes of developing pimples.
Does body acne go away?
Yes, body acne goes away on its own with a proper skin care regimen and healthy lifestyle changes. However, if it comes back frequently or doesn't go away with topical care, consult a dermatologist for better treatment.
Is back acne normal?
Yes, back acne is quite common. People with oily and acne-prone skin usually suffer from back acne.
How long does it take to clear back acne?
Proper medication and a healthy skin care regime clear back acne within six months.
Recommended Articles
The following two tabs change content below.