The 15 Best Acne Treatments That Work Effectively – 2023
Reduce inflammation, breakouts, and sensitivity and keep your skin gorgeous.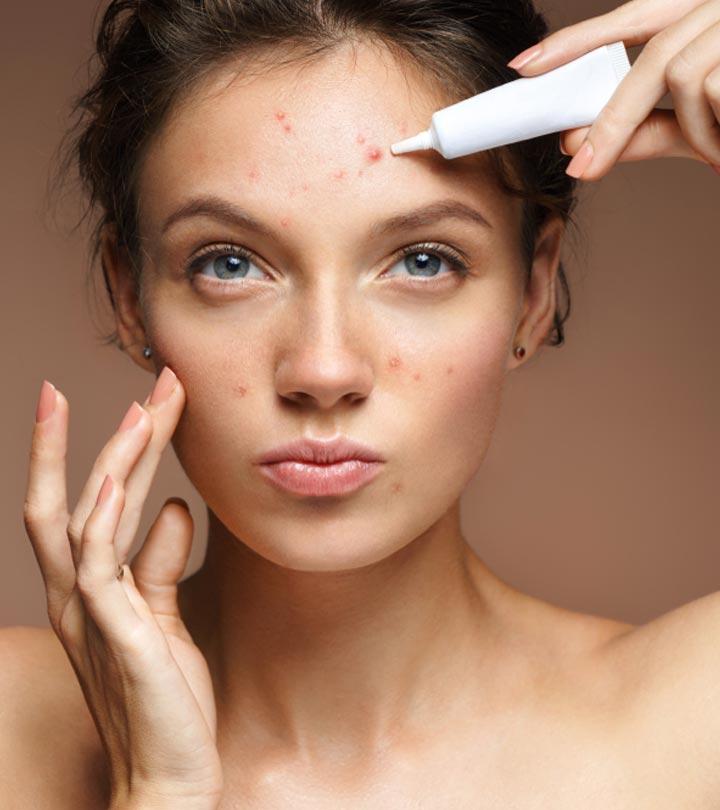 Acne breakouts may occur due to any reason like hormonal imbalance, genetics, consuming junk food, genetics, or hygiene issues. Acne vulgaris is painful and worse when left untreated. So, you need the best acne treatment as per your acne type and skin sensitivity. For example, the treatment that works wonders for acne cysts may not treat blackheads. So, choosing the right acne treatment is crucial if you want to achieve the desired results and flawless skin. From acne laser treatments to over-the-counter medications and face packs, there are several ways to improve your acne skincare routine.
Acne treatments may come in the form of cleansers, serums, wash, and much more. Since the origins of the issues are different, addressing different acne causes requires different formulae. Considering all that, coupled with the fact that the market is flooded with anti-acne products, it may become difficult to narrow down your search to your most ideal pick. SO, in this article, we bring you a list of the 15 best anti-acne products. Check them out below!
15 Best Acne Treatment Products For Blackheads, Whiteheads, And Cystic Acne
Who doesn't want to have healthy skin? Here is an Acne Foaming Cream Cleanser by CeraVe that ensures the same. This acne treatment for oily skin is formulated with 4% benzoyl peroxide that deeply penetrates your pores and removes excess grime and oil, correcting and preventing breakouts. With hyaluronic acid and niacinamide, this gentle cleanser locks in moisture, soothes skin, and enhances the appearance. Multiple reviewers love how effective this cleanser is on their sensitive skin.
Pros
Unscented
Paraben-free
Non-comedogenic
Treats blackheads, whiteheads, and cystic acne
Contains essential ceramides (1,3,6-II) to boost and protect skin health
Cons
Price at the time of publication: $13.27
This face and body wash makes its way to our list as one of the best acne treatment products for more reasons than one! As the name suggests, it features 10% micro-benzoyl peroxide that combats acne-causing agents, eliminates excess sebum secretion, and clears inflammation. Plus, this product is effective in curing severe acne cysts with consistent and committed usage.
Pros
Unisex
Long-lasting
Mild formulation
No harsh chemicals
Not tested on animals
Ideal for both teens and adults
Cons
Price at the time of publication: $24.92
An oil-free, non-drying skin treatment product that boosts skin health, resulting in a radiant appearance — what's not to love about this skincare product! It is formulated with an active ingredient named salicylic acid, which is a constituent of keratolytics – a group of skin medicating agents. This particular acid softens your skin's top layer, making it easier to eliminate dead and worn-out cells. Besides, its MICROCLEAR technology helps distribute the salicylic acid evenly to every part of your skin to fight acne, breakouts, and control sebum production. Multiple reviewers highly recommend this product for its gentle yet effective treatment.
Pros
Non-comedogenic
Results in clear skin
Prevents pore-clogging
Quick results (within 8 hours)
Eradicates swelling and redness
Includes 60 soft and hydrating pads
Cons
Might create a slightly itchy feeling at the beginning
Price at the time of publication: $8.47
Worried about acne cysts? Well, you won't have to anymore, with this acne treatment for oily skin. The 10% benzoyl peroxide in the formula facilitates in treating inflammation, unclogging pores, and killing acne-causing microbes. What we love the most is that it can be used for both face and body as a cystic acne-clearing cleanser for both teens and adults. It also contributes to eliminating blackheads, whiteheads, and redness for achieving clear skin.
Pros
Cruelty-free
Vegan formula
Maximum strength
Dermatologist-tested
Free of harmful chemicals
Cons
Rinsing off the product might be slightly difficult
Price at the time of publication: $24.95
Are you fond of skin serums? Then, you may want to check out this unisex 24 Hour Acne Serum by DRMTLGY ideal for all skin types. This top-rated acne treatment is formulated with 5% glycolic acid, a common type of Alpha Hydroxy Acid, that acts as an excellent exfoliator to maximize cellular turnover and clear debris. The best part about this face and body serum is that it negates blackheads, whiteheads, clogged pores, pimples, redness, scar marks, and breakouts within 24 hours! Before buying, have a look at this video of a tester's experience to know more details about the product.
Pros
Prevents over-drying
Effective spot treatment
Dermatologist-recommended
Free of sulfates and parabens
Reduces secretion of oil up to 85%
Contains 5% USP benzoyl peroxide to fight acne
Cons
Might not be effective in treating acne cysts
Price at the time of publication: $22.99
Don't miss out on this pimple treatment product by Proactiv, which has a bunch of skin benefits! Its smooth exfoliating beads effectively clears away dead skin cells, dirt, and grime from the face. Formulated with micronized benzoyl peroxide, this formulation deeply penetrates the pores, preventing clogging and lending you even and radiant skin.
Pros
Unscented
Suitable for all skin types
Fights acne-causing bacteria
Safe to use for adults and teens
HashHyaluronic acid to keep skin well-hydrated
Cons
Price at the time of publication: $20.45
Looking for the best acne treatment for adults? Then, this acne clearing face wash by Biore may be the right choice. Its natural charcoal extract eradicates excess oil, cleanses pores, and locks in moisture in your skin. What we love the most is its Skin Purifying Technology, which treats and prevents future blemishes, blackheads, and breakouts.  Plus, this holy grail product gives you the desired results in just two days! Watch this video to know more about a reviewer's experience of using the product.
Pros
Oil-free
Affordable
Non-comedogenic
Dermatologically-tested
Lends clear and healthy skin
Contains 1% salicylic acid to combat acne and soothe skin
Cons
Might not be suitable for sensitive skin
Price at the time of publication: $7.99
This popular acne treatment serum by BREYLEE would never fail to amuse you! With tea tree oil and camellia sinensis leaf extract, it gets rid of acne and breakouts effectively. It comes with deep penetrating molecules to prevent skin damage and soothe your pores. The best part is its mild and non-greasy formulation, which doesn't irritate or cause rashes on your skin.
Pros
Shrinks pores
Keeps skin hydrated
Complete skin repair
Made from natural ingredients
Enhances the metabolism of skin cells
Cons
Might not provide immediate results
Price at the time of publication: $12.99
This medicated gel cleanser is formulated with 2% salicylic acid that targets excess oil and acne breakouts. This dermatologist-tested formula exfoliates the skin and improves the appearance of pores while clearing acne breakouts. It is clinically-tested to reduce surface oil by 47%. The foaming texture doesn't irritate the skin and is allergy-tested and fragrance-free.
Pros
Oil-free
Non-comedogenic
Allergy-tested
Fragrance-free
Suitable for oily, acne-prone skin
Suitable for sensitive skin
Cons
Price at the time of publication: $15.99
Are you worried about severe acne? Well, you do not have to anymore with this salicylic acid-infused acne treatment product by Emuaid! This active skin correcting ingredient not only eradicates blemishes and breakouts overnight but also promotes healthy and immediate healing. Besides, it is an effective treatment for extreme skin conditions like cystic acne and rosacea.
Pros
Exfoliates pores
Non-irritating formula
Works on all skin types
Dermatologically-tested
Eliminates redness, swelling, and skin rashes
Cons
Price at the time of publication: $29.0
Here is the best acne and blackhead treatment scrub by AcneFree that will nourish your skin! It contains maximum strength salicylic acid that exfoliates and clears blackheads by eliminating dead skin cells and debris from the pores. As it is also formulated with jojoba oil and charcoal extracts, it also acts as a deep hydrating agent to repair and lock in moisture in dry and acne-prone skin.
Pros
Tightens pores
Fragrance-free
Gentle scrubber
Convenient to use
Removes excess oil
Cons
The consistency might be slightly thin.
Price at the time of publication: $7.99
Want to have clean and acne-free skin? You may want to check out this pore treatment product by Vichy. Formulated with salicylic and glycolic acid, it corrects acne and lends you soft, hydrated, and radiant skin. The best part about this moisturizing formula is that it is completely natural and safe to use as it is free of parabens, sulfates, GMOs, and other toxic chemicals.
Pros
Oil-free
Non-comedogenic
Soothes irritated skin
Non-greasy consistency
Works as an excellent makeup primer/base
Cons
May not treat cystic acne
Price at the time of publication: $25.0
It's a known fact that retinoid is good for the skin. With this acne treatment product formulated with Rx-retinoid, get ready to repair and protect your skin from acne! It will regulate the right skin cell turnover, cure inflammation, and prevent clogged pores. Also, this acne treating gel combats blackheads, whiteheads, pimples, and other blemishes with continuous usage.
Pros
Restores shine
FDA-approved
Dermatologist-tested
Reduces acne up to 87%
Lends an even complexion
Effective healing and protection
Cons
Might not be effective on sensitive skin
Price at the time of publication: $43.83
Considered to be one of the best facial treatments for acne, this is what you need to treat, nourish, and protect your dry and acne-prone skin! The blend of 2% salicylic acid and azelaic acid in the formula brightens your skin by fading spots, marks, blemishes, and breakouts. As an added benefit, it also treats flakiness and dryness with extracts of willowherb, probiotics, and hyaluronic acid. The brand claims to offer visible results after 4 weeks of use.
Pros
Unisex
FDA-approved
Oil-free formula
Clinically proven
Moisturizes and soothes skin
Cons
Slightly expensive
Might be a little watery
Price at the time of publication: $36.0
Say goodbye to painful acne and hello to this natural acne-treating facial oil by Herbivore. Formulated with jojoba oil and jasmine flower extract, it corrects and heals blemishes, eliminates oiliness, and breakouts effectively. It contains a deep blue component named Azulene, which is an anti-inflammatory agent that eradicates redness, puffiness, and blisters.
Pros
Vegan
Cruelty-free
No toxic chemicals
Ideal for all skin types
Results in even skin tone
Cons
Price at the time of publication: $14.0
When it comes to choosing the best acne treatment product, there are a few important points to consider.
How To Find The Right Acne Treatment For You
Being aware of the type of acne is the first step! When you have figured that out, deciding the acne treatments that work becomes easy.
1. Acne cysts
It is considered the most severe acne condition where the hair follicles combine with the dead skin cells, oil, and dirt, forming big pus-filled pimples or folliculitis. It may also cause inflammation and redness. In such cases, look for cystic acne treatment products formulated with hydrocortisone cream and benzoyl peroxide to treat and soothe your pores with their deep-penetrating mechanism.
2. Whiteheads
This is a condition where white zits develop in your skin. They mostly appear in the T-zone, and this happens when dead skin cells and oil get accumulated in the pores. In such cases, opt for products with salicylic acid (BHA). With regular usage, this component makes skin smoother by eliminating dead skin cells.
3. Blackheads
These are waxy black zits caused due to oxidation of bacteria, worn-out skin cells, and oil in pores. Exfoliation with products containing salicylic acid and hyaluronic acid can be the best treatment for this kind of acne.
4. Papules or inflammatory pimples
This is an acne condition where tiny, red blemishes appear on the skin with slight inflammation. This is caused mainly due to bacteria, and products with benzoyl peroxide can be the best for this. It fights against such acne-causing bacteria, and repairs and protects damaged skin.
5. Pustules
These are again pus-filled pimples with a yellow/white liquid. It is caused due to bacteria, and can be treated with benzoyl peroxide, zinc, zinc oxide, and sulfur-based products.
After analyzing the acne type, the following factors also need to be looked upon:
1. Toxic chemicals
While making a choice, opt for a product that is crafted without any harsh chemicals like parabens, sulfates, silicones, and GMOs. This is extremely important as these chemicals may worsen your acne and cause adverse skin conditions.
2. Oil-free and non-comedogenic
Mostly, acne-prone skin tends to be oily. Hence, to control excess secretion of sebum, go for a product that is oil-free and non-comedogenic. This formula will not only regulate oil production but will also prevent pores from clogging and blocking to avoid pimples/acne.
3. Other skin types
Sometimes, acne can also appear on dry, sensitive, normal/combination skin. Acne treatment for sensitive skin should be a mild formula with natural ingredients like essential oils and fruit extracts. When it comes to dry skin or skin conditions like eczema, psoriasis, or seborrheic dermatitis, opt for a hydrating and dermatologically tested formula with salicylic acid, ceramides, shea butter, aloe vera, etc. For normal and combination skin, niacinamide, hyaluronic acid, and other natural components like green tea and caffeine works well.
How To Use Acne Treatment Products In The Right Way
Use the product on affected areas once or twice daily. Never over-do by washing or scrubbing your skin as it may aggravate the acne.
Use only an adequate amount of product for treatment. Apply evenly on the affected areas and pat dry it to achieve the desired results.
If it is a gel or cream-based acne treatment product, make sure that you use a gentle cleanser and toner on your skin before application.
Follow it up with an effective sunscreen before you step out.
Why Trust Stylecraze
Kirtana Divakar, the author of this article, is a skin care enthusiast who loves exploring various skin care products and reviewing the best of the lot. She has done extensive research and read numerous online reviews and user feedback to compile a list of the best acne treatment products for our readers. The suggested list comes with options in varied formulations to treat different types of acne and suit different skin types and skin sensitivities.
Frequently Asked Questions
What acne treatments are safe during pregnancy?
Mostly, acne treatment products aren't recommended for pregnant women to prevent congenital disabilities.
Should you use an acne treatment product before applying serum?
Yes, you need to apply the acne treatment before serum. Also, remember to leave it to dry and then continue with your next skincare step.
Is acne treatment supposed to burn?
At the initial stage, using benzoyl peroxide can create a slight burning and itchy feeling on your skin. It is just a mild side effect and not a cause of worry.
How can I get clear skin overnight?
Following a night skincare routine comprising cleansing, toning, mild exfoliation, moisturizing, and mini facial treatment for acne helps. Also, make sure that you do not pick at the acne because that will only inflame it further. A night of good and relaxing sleep will also soothe the skin, eliminating acne-causing bacteria.
What products help get rid of acne fast?
Products formulated with retinol, salicylic acid, benzoyl peroxide, antioxidants, and natural ingredients like tea tree, rosehip, jojoba oils, etc., can heal acne and zits sooner as they possess anti-bacterial and anti-inflammatory properties that eliminate microbes and dead skin cells.
Jessica Kramer's Quote:
Acne spot treatments are used speed up the healing time of an active breakout as well as mitigate the after effects, such as pigmentation and scarring, of the breakout. Spot treatments are most effective when they are started at the very beginning of a breakout. Continuing to use stronger ingredients such as salicylic or benzoyl peroxide during the healing phase can cause the skin to heal less than ideal – leaving post inflammatory pigmentation or textural scars.
Ingredients such as salicylic, benzoyl peroxide, sulfur, and mandelic acid are all great for acne spot treatments. The use of Blue LED Light therapy has also shown to be a great, non-invasive treatment plan.
Recommended Articles: