10 Best Acrylic Nail Brushes Of 2022 For Beautiful Nail Art
Flaunt your perfectly brushed and designed nails to grab all attention wherever you go!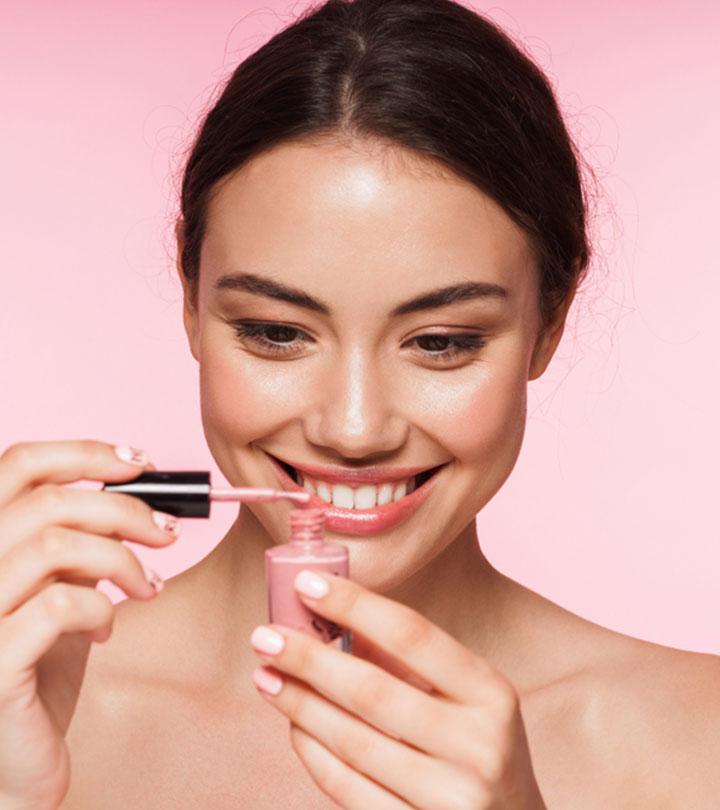 If you want to do some acrylic nails at home, all you need is the best acrylic nail brush at your service. To a nail artist, their nail brush is the only possession that matters. With the perfect brush, they can create art on your nails. According to several industry experts, good acrylic nail brushes will have a pointed tip crafted from animal hair, which helps in the smooth application of nail paint. An 8 size brush would be the perfect size because it would be large enough to cover the entire area but small enough to put the liquid where you want to without spilling over to your fingers. When it comes to creating art, you need the perfect brush to do so. Without that, it can make your nails look like a scene from a horror film. If you want to buy the right nail brush for you, you need to keep the weight, size, and shaft in mind before buying it. If you are confused and don't know which one to buy, fret not. Our list of top acrylic nail brushes will help you create the nail art of your dreams! Scroll down to check them out right now!
10 Best Acrylic Nail Brushes Of 2022 To Create Masterpieces
If you want to add some class to your nail equipment, this is the brush for you! This acrylic nail brush of size 8 is made of pure kolinsky crimped sable hair and is a round shaped brush. It features an oval handle with a blue and white swirl design manufactured from premium thick acrylic, which is light in weight and easy to hold in your hand. Its metallic pink ferrule adds to the durability and sturdiness of the brush by securing the brush hair and preventing it from shedding. The natural and premium quality kolinsky hair of the brush is soft and dense which makes it convenient to paint your nails, and also makes it ideal for fixing, shaping, and detailing on your acrylic nails. This product is also available in 5 different styles as well as different sizes depending on your proficiency level.
Pros
Crimped kolinsky sable hair
Round brush
Oval handle
Lightweight
Durable
Sturdy
Cons
You may have just found the perfect tool for professional salons and home DIY nail art. This high quality kolinsky crimped sable hair acrylic nail brush has a round shaped brush head with a smooth, redwood handle. The soft hair of the brush is secured by a hard, rust-proof, and crush-resistant alloy ferrule that prevents the hair from shedding. It's used with crystal liquid and powder for crystal armor. Extremely durable, it's ideal for daily use and very easy and convenient to handle. It's not known to split or deform over time. This nail painting brush is available in size 6, 8, 10, 12, 14, 16, and 18, and you can get them depending on your skill level.
Pros
Kolinsky crimped sable hair
Round shaped brush
Redwood handle
Alloy ferrule
Durable
Available in different sizes
Cons
Made of high quality kolinsky sable hair, this acrylic nail brush is softer and more flexible to use, and is ideal for professional manicurists as well. The dense bristles are in accordance with international standards, are longer than most available in the market, and have a better powder gripping power. The smooth handle has a beautiful visual effect as it's filled with liquid, round, pentagonal, and hexagonal sequins in gold and silver color. It also has fine sand to make it glitter and sparkle in your hand. AB glue is used to connect the handle and the copper tube, and metal stamping firmly locks the pen body and brush head so there's no question of them separating, making it a very sturdy and durable brush. Ideal for detailed workmanship, this nail art brush is a must-have.
Pros
Kolinsky sable hair
Dense and longer bristles
Sturdy and durable
Beautiful handle
Cons
Some may find the brush too hard for easy application
If quality and style is what you are looking for, this acrylic nail brush of size 12  is an ideal choice. It is made of precious rosewood and 100% kolinsky sable hair. It has a large round brush head that tapers to a fine point and is ideal for drawing lines and other fine art on nail tips.  The brush has a large belly for bold strokes and can cover a large area at a time. It has a durable, rust-proof, and crush-resistant alloy ferrule that does not allow it to shed hair, and so can be used for long. Its sleek design and high quality hair bristles make it easy and convenient to use. It's suitable for both professional and home use and should be an integral part of any nail art kit.
Pros
Kolinsky sable hair
Round brush head
Alloy ferrule
Rosewood handle
Sleek design
Durable
Cons
This crimped acrylic nail brush is made of 100% soft kolinsky sable hair which is natural and smooth, and therefore easy-to-use. The brush has a round shaped, dense head which is ideal for acrylic powder, nail carving, and nail extensions. It features a sturdy alloy tube that is resistant to splitting or deforming and holds the bristles firmly in place to prevent shedding and forking. Made from natural, high quality hardwood, the nail painting brush's handle is durable, stable, sweat-resistant and easy to hold. This brush is a perfect tool for both nail professionals and beginners, and is great for professional salons and home DIY nail art.
Pros
Crimped kolinsky sable hair
Round shaped brush
Dense bristles
Sturdy alloy ferrule
Hardwood handle
Durable
Cons

Some may find it difficult to clean
This acrylic nail brush is made of high quality kolinsky hair which makes it more flexible, softer, and more absorbent with good ductility and color as compared to other nail brushes. The bristles are crimped to avoid splitting and are very durable and long lasting. The brush head has a separate straight tube for its protection and prevents forking. It's ideal for acrylic nail extensions, and nail carving as it's lightweight and comfortable to hold. It features a smooth, black and white striped handle which is visually pleasing, and is secured to the brush head by a seamless silver metal ferrule. This brush is convenient to use and perfect for nail art by both beginners and professionals.
Pros
Crimped kolinsky sable hair
Metal ferrule
Durable
Attractive handle
Lightweight
Comfortable to hold
Cons
With 6 detail brushes, this acrylic nail brush set caters to all your requirements for perfect and attractive nail art. It includes a size 2 and 8 acrylic brush, a size 4 and 6 flat acrylic nail  brush, and a size 4 and 6 round brush. These brushes neither rust, shed hair, or fall apart, and are extremely sturdy and durable. The bristles are dense enough to have an excellent paint holding capacity with a smooth flow and application, and also have remarkable spring and resilience. This set has an aluminum body and cap so that the brushes are always protected. The handles have colored crystals that glitter and add to their beauty and make them look luxurious. The nail brush set comes wrapped in a roll-up PU leather bag, which is extremely soft to protect all the brushes and is easy to carry. The varied sizes and brush types let you try your hand at any kind of detailed work with outstanding results!
Pros
Versatile set
Durable and sturdy
Attractive handles
Caps for protecting the brushes
Cons
Some feel the bristles shed
If you are tired of nail brushes that fail you with their shedding and fragility, this crimped acrylic nail brush is made of 100% natural kolinsky hair and promises to give a smooth and even application to your nail art. This oval brush features a black, smooth handle that is attached to the brush head with a silver colored metal ferrule that is pinched and ensures the bristles don't shed. The brush comes with a protective layer of glue on the bristles that needs to be cleaned with alcohol and shaped before use. This durable and easy to use brush is ideal for both beginners and professionals.
Pros
Crimped kolinsky hair
Durable
Easy to use
Comes with a protective layer
Cons
The handle might chip in some cases
Durability and precision combine in this size 12 professional acrylic nail brush that features a wooden handle and natural kolinsky sable hair. The bristles are long, crimped, and flexible and nicely cut into an oval shape. They hold liquid well and retain their pointed shape, but can be easily flattened too and help you to control the acrylic ball volume without wasting any product. The brush features metal stamping and glue filling, making it durable without falling apart. The long handle is made of hard crimped redwood, and is lightweight, sleek and easy to hold. This nail brush comes with a clear cap, a clear box and a sealed bag and is ideal for all kinds of nail art.
Pros
Crimped kolinsky sable hair
Oval shape
Lightweight and sleek
Easy to shape
Holds liquid and acrylic well
Metal stamping and glue filling
Cons
Your search for the perfect brush might be over with this acrylic nail brush size 14  that's made of high quality, dense kolinsky sable hair that doesn't shed and is durable enough for daily use. The application is smooth and easy with this brush and can be used for the most intricate nail art. The brush handle contains an oil with sparkly sequins, which move  back and forth during application, making it a visual delight. The bristles are connected to the handle with an aluminum ferrule which gives it a longer life span. The brushes come with the bristles coated with paste for protection, so before use remove the paste by gently massaging the bristles under running water. Each brush comes in a hard plastic tube to protect and store the brush for later use.
Pros
Kolinsky sable hair
Smooth application
Aluminum ferrule
Easy-to-use and clean
Durable and long lasting
Attractive glitter handle
Cons
The brush you use will decide how quickly, easily, and successfully you can get your nails done. Now that you have been through our review of the 10 best acrylic nail brushes, let's go through some important factors to consider when choosing a brush.
How To Choose The Best Acrylic Nail Brush
Acrylic nail brushes come in sizes ranging from 4 to 22, but most beginners use brushes ranging in the 6 to 12 range as it's easier to control the application of the polish with them. The ratio of powder to liquid is another important factor while doing acrylic nails, and it's easier with smaller brushes. Experienced and professional artists find a bigger brush easier and faster. For amateurs, using larger-sized brushes is difficult and messy. It's advisable to gradually work your way up to using bigger brushes rather than jumping right to it.
Usually, an oval brush is used for acrylic nails, but a round or square brush can be used while using odorless acrylic, as the monomer is thicker than conventional acrylics. Oval brushes give better control and the pointed tip allows it to get into small spaces so that you have a smooth finish. Some brushes are crimped, and pressed at the base to create a flatter surface as a flat acrylic nail brush holds more liquid.  Square brushes offer more coverage and spread easily down to the cuticles. But if you have smaller nails, it may be difficult to control how the monomer spreads on the nail and may get some on your skin. Round brushes aren't too common and enable you to get close to the cuticle, but again most people find it difficult to form the acrylic ball that goes on to your nail with it.
The quality of the bristles of your brush will decide whether you get a smooth, clean finish. For a sleek look, you need to ensure that the bristles don't break easily, or spread out. Kolinsky sable hair brushes are obtained from weasels and are the hot favorite of most nail technicians as they are durable, easy to maintain, and retain their shape. They also hold a lot of acrylic liquid and release an optimum amount depending on the pressure applied. There are other sable hair brushes that use hair from a type of marten. They are also effective but may not have as high a quality as kolinsky hair but are better than synthetic brushes. Synthetic brushes which use nylon are also good as they are durable, maintain their shape, and are not derived from animals.  However, nylon acrylic nail brushes are not good at holding the acrylic liquid, so it's difficult to make the acrylic ball that goes on the nail. They also get easily damaged by acetone during cleaning.
A brush that is too long or heavy can be tiring or unwieldy to hold for a long stretch of time. Many nail artists use traditional artist brushes over nail brushes while working with fine details.
Why Trust StyleCraze?
Chaitra Krishnan is passionate about makeup and shares how to give your manicure a makeover using various tips. She shows how acrylic nail brushes will help you achieve the perfect results in her guide. Following an intensive review of every product review on the market, she assembled a comprehensive and detailed list of the top products. The acrylic nail brushes will help you achieve the perfect look at your home that you have been dreaming of.
Frequently Asked Questions
What's the best acrylic nail brush size?
According to experts, the best acrylic nail brushes are size 8, as they have a precise, pointed tip, and are made from natural kolinsky or sable hair. They are small enough that you can focus the liquid directly where you want, but also large enough to give decent coverage of your nail bed. It's recommended that you start with a size 6, gradually move to an 8, and then to a size 12, or more, depending on your skill.
How should acrylic nail brushes be cleaned?
After use, give your nail brushes a wipe down with some monomer and a lint-free cloth. If the product build-up is more stubborn, fill a shallow dish with some monomer and let your brushes soak from 2 hours to overnight, depending on how much acrylic build-up there is. Rinse the bristles with warm water, put your brushes on a towel and allow them to dry. Soak them again in some fresh monomer for 2 hours and lie them flat on a towel and allow them to dry naturally.
How can acrylic nail brushes be prevented from getting hard?
Add enough monomer to a glass container so that the bristles are covered but ensure that the monomer doesn't come on the ferrule or handle. It might take a few days for the product to soften and you need to ensure that there is always enough monomer to keep the hair of your brush covered.
How long do acrylic nail brushes last?
On an average, acrylic nail brushes last 3 to 12 months, but with very good care, a brush can last as long as 2 ½ years.
Recommended Articles