11 Best Adhesive Bras With Reviews To Try In 2023
You gotta dazzle in that backless LBD without worrying about your bra-strap showing.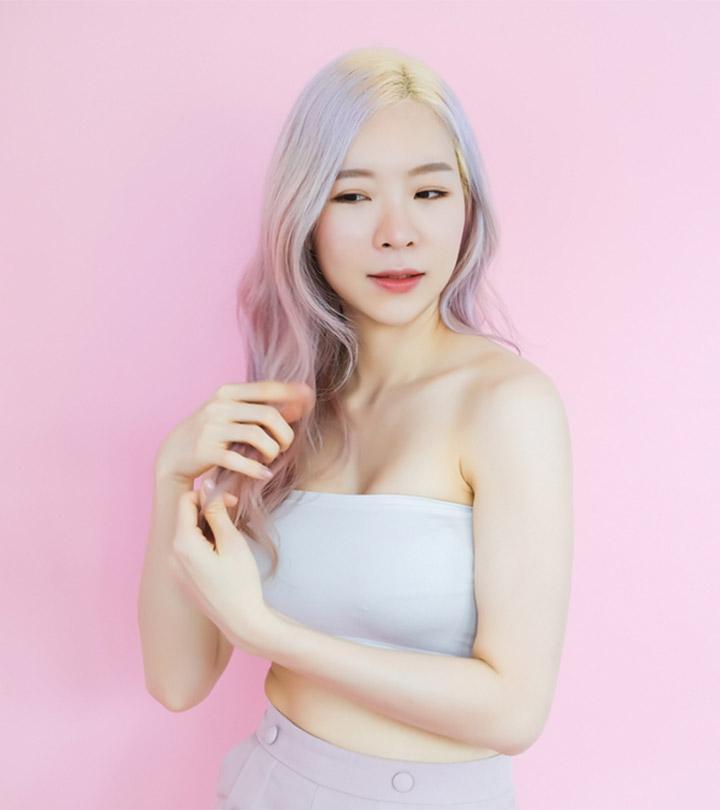 There is nothing wrong with showing off your bra, but sometimes wearing the wrong bra can ruin your outfit. If you are stepping out in a deep neck top, gorgeous gowns, or backless dresses, you need to wear the best adhesive bras. On the other hand, if you are someone who loves to experiment with different styles, cuts, and silhouettes, an adhesive bra is going to be your ultimate choice. Celebrities and influencers often consider it a "magical kind" because it helps them handle all the high glam looks without any hassle. Adhesive bras offer the right kind of coverage and support, and it is a must-have in every woman's wardrobe.
Whether you have a large cup size or a tiny bust, there is an option out there for you. If you have never tried wearing an adhesive bra before, finding one might be a little overwhelming amidst so many options. Don't worry, because we have got you covered. In this post, you will find a list of 11 amazing adhesive bras that will prevent any wardrobe malfunction from occurring. Keep reading to explore our options!
11 Best Adhesive Bras That Are Comfy And Invisible
Pros
4 color options
Easy to clean and maintain
Reusable for multiple wears
Skin-friendly material
Does not slip down
Cons
Might not be as supportive
Price at the time of publication: $23.99
Pros
Reusable
Doesn't fall off
3 color options
Hypoallergenic adhesive
Comfortable
Cons
Might be slightly constricting on the nipples
Price at the time of publication: $14.99
Do you have sensitive skin? We did our homework to match you with the best self-adhesive bra that will promise to take care of your skin while helping you slay your favorite fits. The MITALOO Strapless Push Up Bra has a pull-on closure that helps create the appearance of extra cleavage and is convenient to wear. If you're looking for the best adhesive bra for wedding dresses, this one has biological glue inside the cups that keeps the dress attached to your chest throughout the day. From experimental gowns to low-cut dresses, this reusable adhesive bra will be your constant BFF.
Pros
Soft and healthy material
Gives a fuller look
3 color options
Reusable
Suitable for sensitive skin
Cons
Might not offer much coverage
Price at the time of publication: $14.99
They say your intimates make or break your look. This adhesive bra for DD cup sizes is guaranteed to do the former in a hot minute. Made with a skin-friendly silicone material that is soft and comfortable to wear, this backless adhesive bra gathers your breasts to create an attractive shape. The lightweight design and advanced medical adhesives in the bra ensure that it stays up for a long time and doesn't slip. Featuring an ultra-fitted side, 2 nipple covers, and a nude design, you can trust these adhesive strapless bras to be fail-proof with any outfit.
Pros
Buckle closure
Washable and reusable
Push-up effect
High-quality materials
7D adhesive
Cons
May not offer too much support
Price at the time of publication: $18.69
A self-adhesive silicone bra that is completely invisible and stays on no matter how much you sweat — now that's the dream. Featuring a detachable strong front clip that is easy to fasten and remove, along with a mango-shaped cup design, these fabric adhesive bras lift, support, and gather your breasts. With 2 color options like black and beige to choose from, this adhesive plunge bra should be your go-to choice if you're in the mood to nail some risqué looks. From halter necks and backless fits to tie-up tops, the silicone self-adhesive bra will enhance your look in no time.
Pros
Comes in a pack of 2
Soft and comfortable material
Convenient front clip
Reusable
Breathable
Mango-shaped cups
Cons
Might take some getting used to
Price at the time of publication: $16.99
Are you an ardent enthusiast of fuss-free products and silhouettes? We're playing cupid to match you with silicone stick-on bras that are bound to become your favorite. Featuring a soft and comfortable self-adhesive material, this creation should be your pick if you're looking for a seamless look. The adhesive bra pads simply stick to your bust and lift breasts from the top to give them a boost. Made completely out of silicone, this adhesive stick-on bra will seamlessly fit into your swimwear, wedding gowns, formal dresses, and more for a gorgeous and flattering body shape.
Pros
Reusable
Easy to clean
Pull-on closure
Portable
Lifts instantly
Comfortable and lightweight
Cons
Adhesive may not be too strong
Price at the time of publication: $15.99
The Flizzot Strapless Backless Push Bra is a minimalistic yet high-quality find that looks and feels great. Made with a comfortable fabric that has a non-toxic and skin-friendly gel, this is the best investment if you need something that lends you the same degree of freedom as wearing no bra. From supporting and lifting your breasts with ease to making you feel comfortable, trust this self-adhesive bra for a glamourous look on a whim. Another great thing about this backless strapless adhesive bra? It comes with a pair of silicone nipple covers to help with adjustable cleavage and the ultimate coverage!
Pros
Buckle closure
Non-toxic biological gel
Backless push chest buckle
Comes in a pack of 2
Easy to clean
Reusable
Cons
Fabric might form a crease sometimes.
Price at the time of publication: $13.99
After scouring through hundreds of adhesive bra reviews, we've found one that is actually sweat-proof. The Adarados Strapless Adhesive Bra has an adhesive made out of natural plants while the material of the bra is super comfortable and soft. Featuring a whimsical 3D Stereo Cup Model, this adhesive bra provides unparalleled push-up effects and makes you look alluring in any outfit. With an advanced adhesive and micro-edge design, this adhesive backless bra will wick away sweat and not slip off that easily.
Pros
Front buckle design
Washable and reusable
Seamless silhouette
Easy to clean
Soft and smooth material
Does not slip down
Cons
Price at the time of publication: $16.99
Pros
Bioadhesive
Stereo cup model
Wing-shape push-up
Reusable
Natural silicone
Cons
Price at the time of publication: $14.99
If you have sensitive skin but love being draped in avant-garde silhouettes and plunging necklines, it's wise to have the right adhesive plunge bra in your sartorial stash to nail the look. Made from sticky and skin-friendly biological silicone, the TITU U-Plunge Backless Strapless Bra features a deep U-shaped plunge design, which gives your breasts a lifted effect. Available in shades like beige and black, the invisible bra has a medical-grade adhesive that safely sticks to your chest and makes you look fuller. From risqué dresses to experimental jumpsuits with low necklines, this is the best pick to slay high-glam looks with complete confidence.
Pros
2 color options
Skin-friendly material
Soft texture
Reusable
Unique design
Highly flexible
Cons
Might not be true to size
Price at the time of publication: $18.99
Lace-up self-adhesive bras are often more impactful when it comes to coverage and support. This option combines top-notch fashion aesthetic, functionality, and performance into a striking adhesive bra. Made with high-quality materials like nylon and spandex, the bra is supremely lightweight and breathable, which helps to give you a relaxed fit. The coolest part about this bra is that it features various air holes that together enhance the permeability of the bra and keep you comfy and dry for long hours.
Pros
Comes in pack of 2
Soft and comfortable
Reusable
2 color options
Breathable material
Cons
Might not be true to  size
Price at the time of publication: $8.99
Now that you have a roster of the best bras to take your pick from, find out what you should keep in mind and the factors you should consider when purchasing an adhesive bra.
How To Choose The Best Adhesive Bra
When investing in the best adhesive bra, choose one that features skin-friendly materials like a biological gel. This will ensure that the bra doesn't cause any irritation or adverse effects on your skin.
One advantage of buying an adhesive bra is the fact that it helps to give breasts a fuller look while lending it coverage and support. Therefore, it is ideal to try on the bra before purchasing it. This will help you analyze its fit and benefits for your body type.
It is essential that you feel comfortable and relaxed in a self-adhesive bra. Make sure that it isn't too tight or too loose. The bra should have a snug fit with double thickness while lending you maximum coverage and protection.
A strapless adhesive bra has the tendency to lose its stickiness over time. So, it is best to research before investing in an adhesive bra. Make sure that you have weighed all the pros and cons of the shelf life before you buy such a bra.
Why Trust StyleCraze?
The author, Priyam Gupta, is a fashion enthusiast. She loves to experiment with new styles for various occasions. She believes that your bra can make or break your outfit and, therefore went through hundreds of online reviews to curate the list of the best adhesive bras that are perfect for strapless outfits. These bras offer the right kind of coverage and support, and it is a must-have in every woman's wardrobe.
Frequently Asked Questions
Can you wear adhesive bras every day?
No, it is not ideal to wear an adhesive bra every day. The sticky gel in these bras can cause irritation and skin rashes if worn for a long duration of time.
Does the adhesive bra work?
Yes, an adhesive bra works efficiently to lend you coverage and support. The bra cups adhere entirely to your chest and stick to your breasts for minimum effort and maximum impact.
How do you get adhesive bras to stick?
Adhesive bras feature a sticky gel that instantly sticks to your breasts for a 'pushed up effect.' While wearing the bra, make sure to place it vertically on your chest instead of horizontally. This will ensure that it sticks easily.
How long do sticky bras last?
It is advisable to not wear sticky bras for more than 8 hours as it can lead to skin irritation and severe rashes.
How do you remove an adhesive bra?
In order to remove an adhesive bra, use a gum spirit remover on a soft cotton ball. Pull away the adhesive bra from your breasts as much as you can, and then use the cotton ball dipped in gum spirit remover to soften the adhesive so that it comes off.
Is an adhesive bra reusable?
Yes, most adhesive bras are reusable. However, before you use them again, remember to clean them properly.