9 Best Adjustable Kettlebells
Get the two-in-one benefits of meeting your fitness goals without crowding your living space.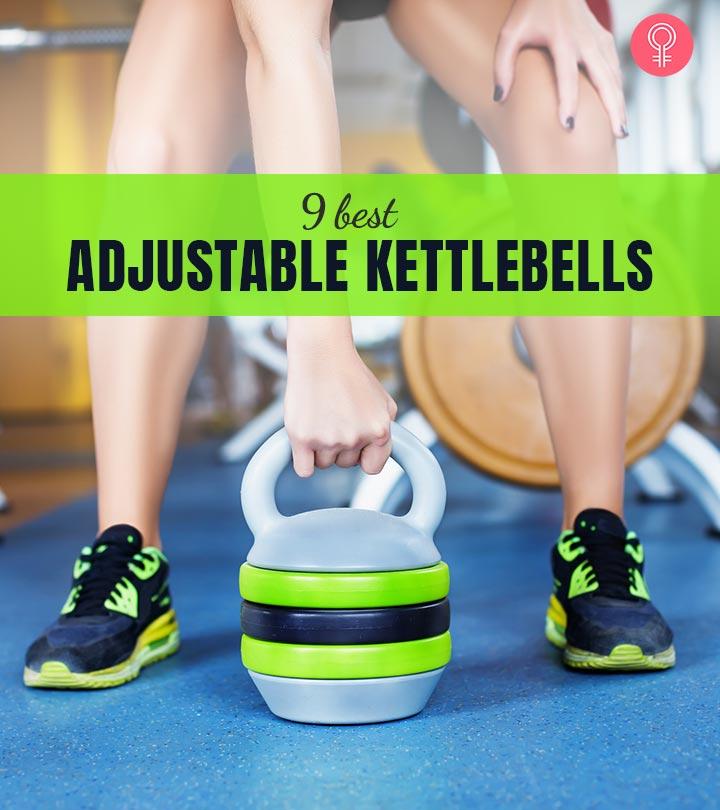 Love working out with your kettlebell, but don't have space at home? The best adjustable kettlebells are your apt solution. Unlike the standard set, which has multiple weights, your adjustable kettle has all your different weights in one! If you feel like stepping up your workout game, buy these adjustable ones.
Plus, they are ideal for storing in small places, making them a great investment. Exercising with these powerful exercise equipment gives one a full-body workout in less time. Isn't that wonderful?
So here's a list of the top adjustable kettlebells to look at! Scroll down to know more.
Benefits Of Using Kettlebells
Kettlebells offer the following benefits:
Condition the body
Improve core strength
Improve body balance
Improve flexibility
Strengthen and build muscles
Tone the body
Improve body coordination
Stabilize muscles
Burn fat
Improve posture
Improve bone and joint health
Now that you know the benefits, let's look at the top adjustable kettlebells you can buy online.
9 Best Adjustable Kettlebells
The BowFlex SelectTech Adjustable Kettlebell has only one adjustable weight. You can increase its resistance between 8, 12, 20, 25, 35, and 40 lbs with a turn of its dial. It is easy to store and can easily replace six kettlebells – thanks to its resistance capacity. You also get access to 24 trainer-driven exercises that focus on foundational kettlebell techniques and a wide range of weight exercises, like swings, rows, and twists. It tones your arms, legs, and core and is suitable for cardio, strengthening, and conditioning workouts. This kettlebell has an ergonomic handle with durable molding around the metal plates. If you want to know more about the benefits of this product, check out this quick review on YouTube.
Note: You need to be careful with the kettlebell as dropping it may cause an internal component malfunction.
Pros
Access to 24 trainer-driven workouts
Easy to use
Good weight increments
Quick weight adjustments
Cons
The locks of older models can wear down.
You need to place the plates at the right angle, or they don't slide in easily.
Long design
Do ab and core workouts, leg workouts, and back workouts comfortably at your home with the Titan Fitness Kettlebell. This kettlebell strengthens your muscles and is a wonderful addition to your exercise regimen, irrespective of whether you are a professional or a beginner. It is designed with six removable cast iron plates that weigh from 10-40 pounds. You can remove or add them according to your needs. It's wide handle is made of black powder-coated cast iron that makes it durable. Here's an honest review of the product.
Pros
Weight adjustable
Versatile
Easy to use
Wide handle
Cons
The plates are not marked/color-coded according to their weight
This kettlebell provides six weight levels in 4-pound increments. It comes with a base pad holder for the weights. You can increase the weight from 16 to 36 pounds (4-pound increment plates) with a patented weight adjustment system. It has a cast-iron handle that offers a good grip and is easy to use with one or both hands. It also has a sturdy rounded base for push-ups. The weight plates fit inside the kettlebell shells. This compact adjustable kettlebell has a simple locking pin for securing the weights and a cast-iron handle. The round part of the kettlebell is the main weight, and you can add increments to this weight. It helps burn fat, improve strength, increase joint mobility, improve muscle stability, strengthen the core, and improve cardio fitness. It comes with a 90-day warranty.
Pros
Sturdy
Easily adjustable weights
Cast-iron handle
Well-balanced
Durable
Cons
The rubber gaskets securing lock pin may wear down or fall out after some time.
The weights may not slide in place easily.
This adjustable kettlebell is made from solid cast iron and strengthened with a powder coating. It has four removable spacer disks with 2.5, 5, and 10 lbs weight. The bottom plate is non-removable. The traditional u-bar handle provides a superior grip to control the kettlebell and the locking pin helps to secure all the plates in the stack. You can use this to build, tone, and strengthen your muscles, while also using them in overall body building and circuit training. Here's a video featuring a detailed review of the product.
Pros
Wide grip handle
Durable
Versatile
Cons
Difficult to change plates
The Rocketlok Adjustable Kettlebell has a solid cast steel body and handle. It comes with weighted interior cylinders milled from solid steel. It has a molded polyurethane cap with a sliding lock mechanism that keeps the weights tightly secured. It has adjustable weights of 24, 28, 32, and 36 pounds. You don't need any additional tools to add or reduce weights. It uses a sleek patented design that retains the traditional kettlebell shape and maintains the center of gravity at all weight levels.
Pros
Easy weight adjustments
Good tolerance
Good grip
Sturdy
Versatile
Cons
The plastic lock may get stuck.
The Bruteforce Adjustable Kettlebell Sandbag is part kettlebell and part sandbag. You can increase the weight of the sandbag to increase the weight of the kettlebell. It comes with a soft rubber handle with a drop-in liner that prevents any sand leaks. It is great for CrossFit workouts. It is durable and made to withstand heavy beating. Though the sandbag only comes in one size, you can load it up to 45 lbs. The outer shell is made with heavy-duty 1000D mil-spec cordura, and the inner filler is made with tear-proof ballistic nylon. It comes in two colors – black with silver webbing and camo with black webbing. It has double-wall protection, HDPE stiffener spill-proof seal, and an antimicrobial contoured rubber handle. It can be used as a regular kettlebell and dropped from shoulder height. It comes with a 30-day money-back guarantee with a Brute Force shield warranty.
Note: Do not sling, slam, or drag it to the ground.
Pros
No sand leaks
Easy to store
Durable
Portable
Well-built
Cons
The PEAKFORM Kettlebell is ideal for exercising in the home and office. You can adjust the weight of the kettlebell between 10 lbs to 40 lbs. Each plate weighs 5 lbs and secures with the safety lock. The core kettlebell stand is made of steel material, while the plates are made of cast iron. You can use this kettlebell for various exercises, including row, swing, twist, squat, etc.
Pros
Space saving
Ergonomic handle
Strong and durable
Non-slip rubber base
Cons
None
Strengthen your muscles with the Bibowa Adjustable Kettlebell. It is designed with removable cast iron plates that can be adjusted up to 40 lbs. This kettlebell is suitable for both home and gym use. The set comes with a large handle offering the flexibility of exercising with ease.
Pros
Durable
Wide handle
Easy to use
Cons
None
The PowerBlock Adjustable Kettlebell has a space-efficient design for small spaces and keeps the workout space neat and organized. It comes with 4 weight increments – 18, 22, 26, and 35 lbs. It comes with an ergonomic handle with a contoured shell that provides extreme comfort. In addition, it has a flat bottom design so that you can place the kettlebell on the ground safely. This adjustable kettlebell helps you do cardio, strength, and conditioning workouts while toning the body.
Pros
Easy weight adjustments
Sturdy
Versatile
Flat bottom design
Cons
None
Before you go ahead and buy an adjustable kettlebells, you need to keep a few factors in mind. Check out the buying guide below.
Buying Guide To Pick The Best Adjustable Kettlebells
Weight Range: Check the weight range to make sure it is perfect for your workout routine. If you are a beginner, go easy at the beginning, and as you build stamina, keep increasing the weights. See if the increment range is good for you as some adjustable kettlebells come with 5 lbs increments or 4 lbs increments.
Maximum Weight: Make sure the maximum weight is quite well over your own weight plus your regular workouts. This makes it more reliable and useful in the long term.
Durability: Check the reviews to see how strong and durable the adjustable kettlebells are. Check if the material is rust-free or resistant. Make sure the handles are strong with a firm grip.
Handle Width: The handle width may be convenient for some but difficult for others. Make sure to check the dimensions of the handle width before buying a particular kettlebell. Make sure both your hands can fit on the handlebar for better use.
Why Trust StyleCraze?
The author, Aditi Naskar, has a diploma in health & wellness and writes well-researched product reviews for StyleCraze. For this article, she went about researching a wide range of adjustable kettlebells and analyzing hundreds of reviews posted by users on trusted online forums. These easy-to-use kettlebells are weight adjustable, versatile, and are apt for ab, core, leg, and back workouts.
Frequently Asked Questions
What is the difference between an adjustable kettlebell and standard kettlebells?
In a standard set of kettlebells, each weighs a different weight and cannot be used together. An adjustable kettlebell comes with a certain main load, and the weight can be increased with additional weight plates, dumbbells, or sand. Adjustable kettlebells are more convenient in small spaces.
What are the best exercises to use the adjustable kettlebell?
Kettlebells can be used to improve stamina, build muscles, strengthen the core, and tone the arms, legs, thighs, shoulders, and back. They improve flexibility with their increased range of motion. You can perform exercises like swing, thrusters, clean and press, snatch, pistol squat, shoulder press, and so on.
What are the benefits of adjustable kettlebells?
Adjustable kettlebells are extremely convenient as it allows you to have a range of different weights in just one piece of equipment and hence take minimal space. They are also more affordable and can be a good addition to your home gym.
What is the best kettlebell weight?
The most recommended weight for kettlebells is 8 kg for women and 16 kg for men. However, it can also depend on your own fitness level and goal.
Do kettlebells work your full body?
You can perform both strength and aerobic moves with a kettlebell and can target muscle in your entire body.
Recommended Articles