9 Best Adjustable Kettlebells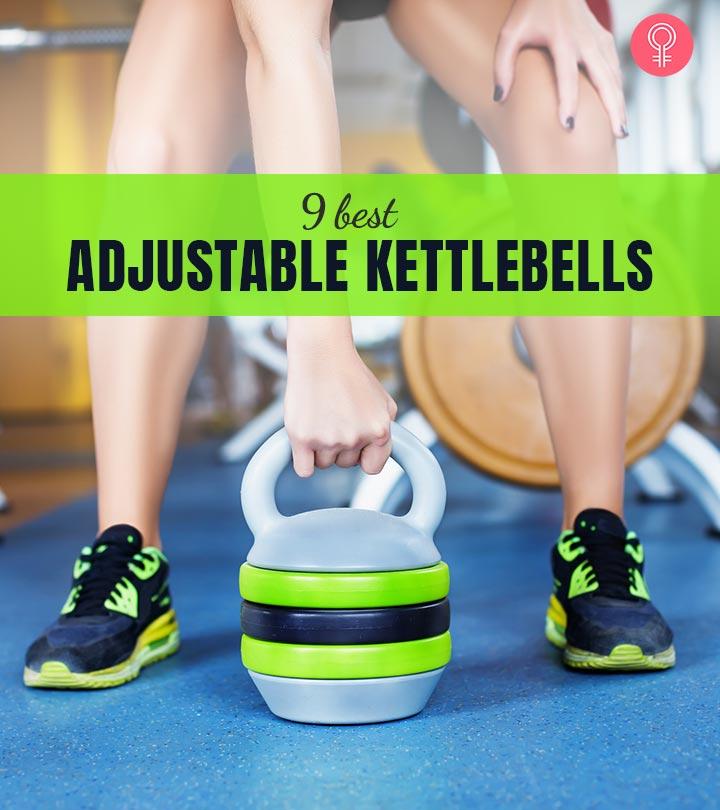 Kettlebells are a great addition to your regular workout. They help improve stamina, build muscles, and improve overall health. But keeping a standard set of different sizes of kettlebells handy might not be convenient for everyone. Instead, you can opt for adjustable kettlebells. Adjustable kettles have one main weight and handle set. You can add weight plates in increments or dumbbells to increase the intensity of your workout. They are great space savers. In this article, we have listed the 9 best adjustable kettlebells, along with their benefits and a buying guide. Check them out!
Benefits Of Using Kettlebells
Kettlebells offer the following benefits:
Condition the body
Improve core strength
Improve body balance
Improve flexibility
Strengthen and build muscles
Tone the body
Improve body coordination
Stabilize muscles
Burn fat
Improve posture
Improve bone and joint health
Now that you know the benefits, let's look at the top adjustable kettlebells you can buy online.
9 Best Adjustable Kettlebells
The BowFlex SelectTech Adjustable Kettlebell has only one adjustable weight. You can increase its resistance between 8, 12, 20, 25, 35, and 40 lbs with a turn of its dial. It is easy to store and can easily replace six kettlebells – thanks to its resistance capacity. You also get access to 24 trainer-driven exercises that focus on foundational kettlebell techniques and a wide range of weight exercises, like swings, rows, and twists. It tones your arms, legs, and core and is suitable for cardio, strengthening, and conditioning workouts. This kettlebell has an ergonomic handle with durable molding around the metal plates.
Note: You need to be careful with the kettlebell as dropping it may cause an internal component malfunction.
Pros
Access to 24 trainer-driven workouts
Easy to use
Good weight increments
Quick weight adjustments
Cons
The locks of older models can wear down.
You need to place the plates at the right angle, or they don't slide in easily.
Long design
The Empower Adjustable Kettlebell is designed for women. It is a 3-in-1 kettlebell weight set that provides a smooth workout. It comes with a patented click and twist design that effortlessly adjusts weights. It has weights of 5, 8, and 12 lbs. You can use this kettlebell for a full-body workout that tones the glutes, hips, thighs, shoulders, arms, and back. The kettlebell has an increased range of motion, which improves flexibility and strength. It provides fast full body movements that burn calories quicker. You get a workout DVD along with this kettlebell weight set. It has a soft-touch plastic shell and a wide handle for comfortable and easy use. Simply remove or add in the plates to reduce or increase the kettlebell weight.
Pros
Doesn't rust
Click and twist design
Versatile and compact
Good for beginners
Sturdy
Wide grip handle
Comes with a total body workout DVD
Cons
Stiff springs make removing weights difficult.
Packaging issues
This kettlebell provides six weight levels in 4-pound increments. It comes with a base pad holder for the weights. You can increase the weight from 16 to 36 pounds (4-pound increment plates) with a patented weight adjustment system. It has a cast-iron handle that offers a good grip and is easy to use with one or both hands. It also has a sturdy rounded base for push-ups. The weight plates fit inside the kettlebell shells. This compact adjustable kettlebell has a simple locking pin for securing the weights and a cast-iron handle. The round part of the kettlebell is the main weight, and you can add increments to this weight. It helps burn fat, improve strength, increase joint mobility, improve muscle stability, strengthen the core, and improve cardio fitness. It comes with a 90-day warranty.
Pros
Sturdy
Easily adjustable weights
Cast-iron handle
Well-balanced
Durable
Cons
The rubber gaskets securing lock pin may wear down or fall out after some time.
The weights may not slide in place easily.
The PowerBlock KettleBlock has a patented compact design that makes it perfect for small storage. It keeps your workout space neat and organized. It can handle weights from 8-40 lbs and replaces eight kettlebells or 186 lbs of kettlebells. It comes with a color-coded easy weight reference chart. Use the selector pin to choose weights within seconds. It improves stamina and flexibility, strengthens the core, and builds muscles. You can get a full-body workout and a better range of motion using this kettlebell.
Pros
Space saver
Sturdy
Easy to use
Quick weight adjustments
Smooth and heavy-duty handle
Color-coded reference chart included
Cons
May be too light for advanced workouts.
May take time to get used to.
The weight from the base may cause bruising.
The Rocketlok Adjustable Kettlebell has a solid cast steel body and handle. It comes with weighted interior cylinders milled from solid steel. It has a molded polyurethane cap with a sliding lock mechanism that keeps the weights tightly secured. It has adjustable weights of 24, 28, 32, and 36 pounds. You don't need any additional tools to add or reduce weights. It uses a sleek patented design that retains the traditional kettlebell shape and maintains the center of gravity at all weight levels.
Pros
Easy weight adjustments
Good tolerance
Good grip
Sturdy
Versatile
Cons
The plastic lock may get stuck.
The Bruteforce Adjustable Kettlebell Sandbag is part kettlebell and part sandbag. You can increase the weight of the sandbag to increase the weight of the kettlebell. It comes with a soft rubber handle with a drop-in liner that prevents any sand leaks. It is great for CrossFit workouts. It is durable and made to withstand heavy beating. Though the sandbag only comes in one size, you can load it up to 45 lbs. The outer shell is made with heavy-duty 1000D mil-spec cordura, and the inner filler is made with tear-proof ballistic nylon. It comes in two colors – black with silver webbing and camo with black webbing. It has double-wall protection, HDPE stiffener spill-proof seal, and an antimicrobial contoured rubber handle. It can be used as a regular kettlebell and dropped from shoulder height. It comes with a 30-day money-back guarantee with a Brute Force shield warranty.
Note: Do not sling, slam, or drag it to the ground.
Pros
No sand leaks
Easy to store
Durable
Portable
Well-built
Cons
The Weider SpaceSaver Adjustable Kettlebell comes with a workout DVD and fitness journal. It adjusts from 10 to 40 lbs and takes up little space. It has an oversized powder coated handle for non-slippery grip and easy single-double hand usage. It provides the perfect combination of cardio and strength workouts to burn fat, build muscle, increase core strength, and boost cardio fitness.
Pros
Sturdy
Easily adjustable weights
Non-slippery grip
Easy to transition from one hand to the other
Comes with a Powerbell Workout DVD and fitness journal
Cons
The screws may back out, causing the weights to fall.
The handle may get loose over time.
The plates may rattle while working out.
Jillian Michaels is a leading health and wellness expert with hit NBC weight loss and training series, like The Biggest Loser and Losing It With Jillian. This is an adjustable 20 lbs kettlebell with a space-saving design. It has a single 5-pound handle and five 3-pound increment weight plates. It comes with a 30-minute instructional DVD and exercise chart for a better fitness routine. It helps tone and strengthens the muscles and core and build cardio stamina. It has an adaptable design that helps increase workout intensity. This adjustable kettlebell comes with a 90-day warranty.
Pros
Good weight increments
Sturdy
Easily adjustable weights
Comes with a 30-minute Jillian Michaels fitness DVD and exercise chart
Cons
The base of the kettlebell may cause bruising on the forearm.
The Anbo Adjustable Kettlebell has a space-efficient design for small spaces and keeps the workout space neat and organized. It comes with 5-pound weight increments from 10 to 40 lbs. It comes with an ergonomic handle with a durable molding around metal plates. It has a flat bottom design, so you can place the kettlebell on the ground. This adjustable kettlebell helps you do cardio, strength, and conditioning workouts while toning the body.
Pros
Solid and sturdy
Versatile
Easy weight adjustments
Flat bottom design
Cons
Before you go ahead and buy an adjustable kettlebells, you need to keep a few factors in mind. Check out the buying guide below.
Buying Guide To Pick The Best Adjustable Kettlebells
Weight Range: Check the weight range to make sure it is perfect for your workout routine. If you are a beginner, go easy at the beginning, and as you build stamina, keep increasing the weights. See if the increment range is good for you as some adjustable kettlebells come with 5 lbs increments or 4 lbs increments.
Maximum Weight: Make sure the maximum weight is quite well over your own weight plus your regular workouts. This makes it more reliable and useful in the long term.
Durability: Check the reviews to see how strong and durable the adjustable kettlebells are. Check if the material is rust-free or resistant. Make sure the handles are strong with a firm grip.
Handle Width: The handle width may be convenient for some but difficult for others. Make sure to check the dimensions of the handle width before buying a particular kettlebell. Make sure both your hands can fit on the handlebar for better use.
That was our round-up of the top 10 adjustable kettlebells that are great for beginner and intermediate workouts. If you have any previous injuries, it is advisable to consult a doctor before using them. Remember, these weights are heavy. Hence, be safe while using them. Go ahead and buy the kettlebell that suits your requirements and improve your overall fitness routine.
Expert's Answers For Readers' Questions
What is the difference between an adjustable kettlebell and standard kettlebells?
In a standard set of kettlebells, each weighs a different weight and cannot be used together. An adjustable kettlebell comes with a certain main load, and the weight can be increased with additional weight plates, dumbbells, or sand. Adjustable kettlebells are more convenient in small spaces.
What are the best exercises to use the adjustable kettlebell?
Kettlebells can be used to improve stamina, build muscles, strengthen the core, and tone the arms, legs, thighs, shoulders, and back. They improve flexibility with their increased range of motion. You can perform exercises like swing, thrusters, clean and press, snatch, pistol squat, shoulder press, and so on.
Recommended Articles
The following two tabs change content below.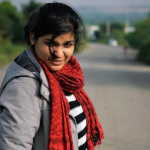 Anjali Sayee is a writer and an introvert. From studying Aeronautical Engineering and wanting to design her own airplane to writing articles on hairstyles, she has been on quite a journey. She believes that hair is one of the key factors that define a woman's personality. To quote her, "What's the first thing they do in the movies to show a personality change? Change the hair – because it has a life of its own." She's here to help you find the hairstyle you need. This bookworm is a self-professed Wholocker, a talented drummer, and an amateur photographer.