11 Best Adjustable Sports Bras Trusted By Athletes
Playing athletic sports require undivided dedication and comfortable innerwear.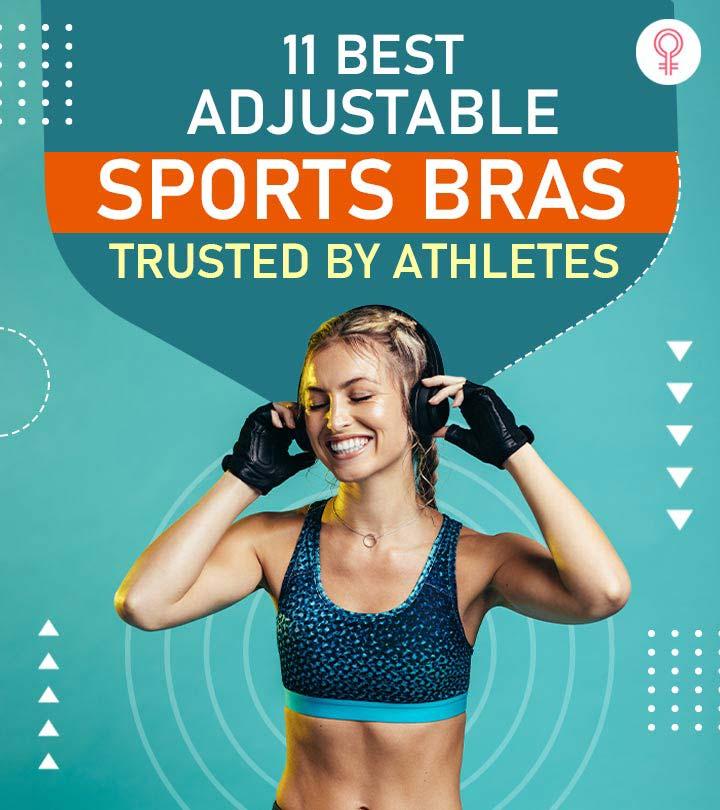 Finding the perfect sports bra need not be a struggle anymore. Once you discover the comfortable that adjustable sports bras provide, there will be no looking back. Investing in the best adjustable bras designed to provide a customized fit can be the game-changer you need to make your workouts enjoyable and stress-free. Adjustable sports bras, as they are popularly called, are equipped with straps that have velcro or clasps to ensure a snug fit and offer just the right amount of support to minimize bounce and bust movement.
Scroll through our list of the best adjustable sports bras created to check all the boxes and are a must-have for all serious sports enthusiasts.
11 Best Adjustable Sports Bras Trusted By Athletes
The U-back Champion Spot Comfort Sports Bra is crafted from a combination of cotton, mesh, polyester, spandex, and nylon to provide maximum support while minimizing bounce. The mesh front panel powered by moisture-wicking Double Dry technology and gel-infused straps take care of moisture management and relieve shoulder pressure. Plus, it features an adjustable padded triple hook and eye closure for easy on and off. The smooth lining, a tag-free back, bottom band, and wire-free molded cups add to the comfort and support provided by this sports bra.
Pros
 Machine-washable
 Tag-free back
 Breathable mesh
 Gel-infused straps
 Padded closure
 Moisture-wicking fabric
 Triple hook-and-eye closure
 Chaffing free lining
Cons
The four levels of adjustment in the Glamorise Custom Control Sports Bra offer innovative, customizable support. It features an adjustable front panel over seamless cups that provides optimal bounce and compression control. The adjustable, crisscrossing MagicLift design shapes, supports, and lifts your breasts without the help of a wire. This moisture-wicking sports bra is made from a blend of polyester, polyamide, and elastane to keep the skin cool and dry. It has a two-way stretch back with a 3-level hook and eye closure and wide non-slip straps that stay in place.
Pros
 Moisture-wicking fabric
 Four adjustment levels
 Easy on and off
 Machine-washable
 Cushioned band
 Breathable mesh panel
 Wide, cushioned straps
Cons
The silky-soft, moisture-wicking fabric of ANGOOL Strappy Sports Bra is made from a blend of polyamide and elastane soaks up the sweat, keeping you cool and comfortable. The adjustable crisscross back supports your bust while allowing freedom of movement. Its pull-on closure enables easy wearability. This full-coverage bra comes with removable cups, making them easy to clean. The high-elastic wide band provides added support and compression.
Pros
 Lightweight
 Breathable
 Moisture-wicking fabric
 Removable cups
 Easy to clean
 Full coverage
 Crisscross back
 Doubles up as a tank top
Cons
Get unbeatable bounce control with the TrainingGirl High Impact Racerback Sports Bra. Its front adjustable shoulder straps bonded with Velcro padding reduces pressure on the shoulder and provide a secure and supportive fit during exercise. The bra is crafted from high-performance nylon, and spandex fabric makes it moisture-wicking, durable, and super-soft. The one-piece molded cups offer full coverage to eliminate spillage and reduce bounce. Plus, the innovative mesh racerback design with strategically placed cut-outs promote breathability. The three-level adjustable hook and eye closure give back control and make it easy to put on and take off.
Pros
 Breathable fabric
 Full coverage
 Stain-resistant
 Moisture-wicking
 Bounce-control
 Shockproof
 Wide closure
 Racerback design
Cons
The high-quality Syrokan Full Coverage Sports Bra converts from a racerback to H-back with just a simple switch of the straps. This full-coverage, moisture-wicking, padded sports bra has a 100% polyester lining with a polyamide and spandex body. The lightweight fabric wicks the moisture, keeping comfortable and cool during workouts. Its front-adjustable Velcro straps provide a customizable fit and optimal support for high-impact sports while shock absorbing wide underband and light padding provide bounce control. The a hook and eye closure ensure easy wearability and personalized fit.
Pros
 Convertible design
 Full coverage
 Moisture-wicking fabric
 Lightweight
 3-level hook and eye closure
 Wirefree cups
 Superior bounce control
Cons
Sports bras for large breasts that supports while proving bounce control are hard to find. Not anymore! The unique construction of the Under Armour Women's UA Infinity High Sports Bra uses one-piece injection-molded padding in a figure-eight shape to follow the natural shape and contour of your breasts. It provides an aerodynamic support during high-impact activities like running and court sports. The HeatGear fabric is a blend of polyester and elastane that delivers a next-to-the-skin feel while it wicks away sweat and dries quickly. Mesh panels are strategically located to offer ventilation and breathability. It is fitted with adjustable crisscross straps and a three-level hook and eye closure for a customizable fit.
Pros
 Moisture-wicking
 Quick-drying fabric
 Breathable
 High-impact bra
 Pull-on closure
 Unbeatable bounce control
 Chaffing-free
 Ergonomic support
 Machine-washable
Cons
The frustration of taking off a bra after a sweaty exercise routine is real. The stylish Newlashua High Impact Sports Bra features a zipper closure in the front, making it easy to wear and take off. It's made from a blend of polyester and spandex fabric with a four-way stretch that wicks moisture while supporting your bust. The adjustable X-style cross straps give a secure fit to protect against shock and prevent the bra from slipping. The anti-slide zipper comes with extra hooks to prevent it from sliding down during exercise. This high-impact sports bra has contoured supportive cups that have removable pads for easy washing.
Pros
 Wide straps
 Machine-washable
 Easy on and off
 Removable pads
 Moisture-wicking fabric
 Safety hooks
 Non-slide straps
 Wire-free
 Movement control band
Cons
The extra back support on the Yvette High Support Sports Bra makes it ideal for high-impact sports like running and aerobics. The stylish double back straps prevent slipping and sliding during workouts while relieving pressure on the shoulder and can be adjusted for a secure fit. The superior fiber structure of the polyester and elastane blend provides support in all directions and wicks moisture to keep the skin cool and dry. It is designed with a mesh panel in the front center for ventilation and has a hook and eye closure for enhanced fit.
Pros
 High-impact sports bra
 Wire-free cups
 Lightweight
 Moisture-wicking
 Breathable
 Wide straps relive pressure on shoulders
 Enhances range of motion
 Machine-washable
Cons
 Difficult to get on and off
The WALK FIELD Adjustable Sports Bra doubles up as a fashionable crop top and a supportive sports bra. It is made from nylon-polyester blend fabric that is lightweight, breathable, quick-drying, and has a four-way stretch. Plus, its fitted with lightweight, removable cups that offer light support for low-impact exercises like yoga and Pilates.
Pros
 Removable pads
 Breathable fabric
 Quick-dry
 Lightweight padding
 Low-impact sports bra
 Doubles up as a crop top
Cons
 Straps dig into shoulders
The pullover Fruit of the Loom Adjustable Sports Bra has a cute sports bra with V-neckline and shirred front. It comes with an adjustable racer-back design that provides back support and a secure, comfortable fit. Its cotton and spandex blend fabric makes the bra lightweight, breathable, and moisture-wicking. And the tag-free design prevents irritation or chafing while exercising. You get white, heather gray, and black bras in this three-pack set for easy pairing with joggers and sweatpants.
Pros
 Machine-washable
 Back support
 Tag-free
 Moisture-wicking
 Hook and eye closure
 Full coverage
 Back smoothing
 Wire-free
 Breathable
Cons
 Not true size
 Smaller cups
The easy on and off Cordaw Zip Front Sports Bra is fitted with a secure locking zipper in the front that has a double hook closure for added support. The adjustable crisscross straps provide customized fit while the cutout detail on the back enables maximum ventilation. It is made from a blend of nylon and spandex that provides four-way stretch support and wicks moisture to keep the body cool and dry. The wide elasticized band ensures the bra stays in place during high-impact exercises. It has a smooth shell-like front for a stylish look and comes with removable pads for extra coverage and shape.
Pros
 Machine-washable
 Removable pads
 Moisture-wicking fabric
 Four-way stretch
 Easy on and off
 Full coverage
 Money-back guarantee
Cons
 Shoulder straps slide down
The struggle to find a sports bra that fits perfectly ends with these 11 adjustable sports bras. They are specially designed to provide comfort and support during high-intensity workout sessions. These bras have velcro straps that can firmly hold your breast and support your back. In addition, these bars are made of moisture-wicking material that is breathable, and machine-washable. However, some products may not be true to their size. Hence, remember to measure your cup size to avoid fitting issues.
Why Trust Stylecraze?
The author of this article, Srijani Roy Chowdhury, is a fashion connoisseur and loves writing comprehensive articles on latest trends. To curate this list, she has studied various products in detail and gone through hundreds of user feedback on trusted e-commerce sites. These bras are super stretchable, offer full coverage, and ensure proper back support during high intensity workout sessions.
Frequently Asked Questions
Should a sports bra be really tight?
No, your sports bra should never be very tight. They should fit you snugly and support your breasts as you move around.
How do I make my sports bra looser?
You can loosen it by pulling the back portion of the strap away from the slide adjuster.
Do sports bras flatten breasts?
No, a sports bra does not flatten or affect the size of the breasts. They are meant to provide support.
Why is it so hard to put on a sports bra?
Sports bras are full coverage and hence can be difficult to put on initially. If this problem persists, the size may not be right for you and you should opt for a bigger size that fits comfortably.
Is it OK to wear a normal bra to the gym?
No, regular bras cannot provide enough support for your breasts in heavy workout sessions.
Recommended Articles
Best Low-Impact Sports Bras
Best Sports Bras For Running That Provide Great Comfort
Best Plus-Size Sports Bras With The Perfect Fit For Workouts
Best Sports Bras For Small Chests For A Well-Fitted Look