10 Best Aerobic Classes In Indore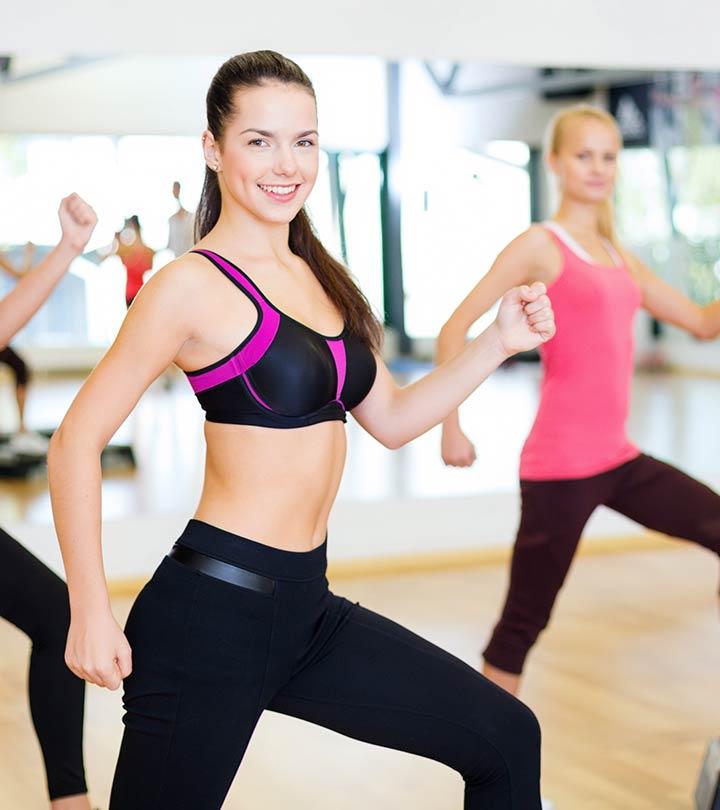 Ever thought of joining aerobics classes? Getting trained in aerobics classes is probably the best way to attain a body with good shape and flexibility, right? Aerobics includes body movements that tone the body parts well and also help one lose excess weight. At the same time, aerobics is also enjoyable as it includes moving the body to some peppy beats and is fast enough to lift one's mood. Talking about Indore, there is no dearth of aerobics classes in the city. In fact, quite a few of them are recognized for the remarkable results that they deliver to their members.
Top 10 Aerobic Classes In Indore:

Listed below are aerobics classes located in Indore that would help you if you are interested in joining them:
1. Peak Physique:

One of the most prominent names among aerobics classes in Indore is that of Peak Physique. The fitness center offers a vast range of programs designed to ensure the fitness of its members. The programs include aerobics and dance classes, gymnasiums, cardio-vascular workout training, weight gain and weight loss training and diet regulation programs. The classes have delivered excellent results over the past few years. Also, it is known to have the best fitness trainers as its faculty.
Address: 17, Stilt Floor Brilliant Centre, Opposite Basket Ball Court, Race Course Road, Race Course Road, Indore – 452001
Contact Details: +(91)-9893402445, 9039901999, +(91)-731-4257421
[ Read: Aerobic Exercises To Reduce Belly Fat ]
2. I Fit Gymnasia:

I Fit Gymnasia is another aerobics center in the city that is popular with the folks residing in its vicinity. The center offers separate sessions of aerobics for men and women. Alongside, there are facilities for steam bath, yoga and a fully equipped gymnasium. The center also holds dance classes for various Indian and International dance forms along with kickboxing and karate.
Address: 10 Narmada Nagar, Above Easy Day, Main Road, Annapurna Road, Indore – 452009
Contact Details: +(91)-9425903908, 9425056232, +(91)-731-2799050
3. Mangosteen Fitness:

Situated on the Curewell Hospital Road, Mangosteen Fitness center has all the facilities that one desires in a fitness center. They have aerobics classes for men and women here, along with yoga and meditation sessions. The center has a largely equipped gymnasium and health club. Also held are power yoga sessions with pilates and weight loss training for all those who need special focus on their body.
Address: 5th Floor Pushparatna Solitaire, Interstar Diamonds & Ice Balls Building, Curewell Hospital Road, New Palasia, Indore – 452001
Contact Details: +(91)-9826130858, 9977620002,+(91)-731-3059169
4. Talwalkars, Indore:

A branch of the famous fitness center franchise, the Talwalkars fitness center has earned immense respect from the city residents. The center offers aerobics classes from expert professionals. It also provides fitness and diet classes. The center has expertise diet and fitness consultants who offer instant guidance to the people who are overweight.
Address: 153, Opp Rani Sati Gate, Y N Road, Indore – 452003
Contact Details: +(91)-8358095465
[ Read: Aerobic Dances And Their Benefits ]
5. Barbarian Power Gym:

The Barbarian Power Gym offers specialized aerobics classes for all categories of its members, whether male/female or young/old. Alongside, it has separate gymnasiums for men and women and offers power yoga and other yoga classes. The center has expert trainers for aerobics and gym. It has also received some splendid reviews from its customers in the past.
Address: 4th Floor, C21 Mall, At Mall, A B Road, Vijay Nagar, Indore – 452010
Contact Details: +(91)-731-4040406, 4040409
6. Nerve Physiotherapy And Fitness:

Those staying around Annapurna Road can choose Nerve Physiotherapy and Fitness center for taking aerobics classes. The center has special aerobics classes for men and women and also offers fitness workouts and Zumba classes.
Address: 201 Sai Sawli, Sahjeevan Nagar, Annapurna Road, Indore – 452009
Contact Details: +(91)-9009193810
7. Always 21:
The reason that Always 21 fitness center makes to this list is for its excellent training faculty. The center offers excellent aerobics classes separately for men and women and also holds training and weight loss sessions for its members.
Contact Details: +(91)-9479977077, 9981423167, +(91)-731-2577577
Address: 215, Sector- A, Opposite Bombay Hospital Near Mahalaxmi Mandir, Mahalaxmi Nagar, Indore – 452010
8. Royal Fitness Club:

The Royal fitness club is renowned for offering private aerobics and fitness classes to its members. The gym also holds state of the art infrastructure with a fully equipped fitness center and gymnasium.
Address: 199, Swarnbagh Colony, Near city bus depot, Behind Dainik Bhaskar press complex Anurag Nagar, Ring Road, Indore – 452010
Contact Details: +(91)-9755555722, 9826038915, +(91)-731-6055551
9. Maxfit- The Fitness Studio:

Maxfit studio is located at Bhawar Kuan area of Indore and is known for the special children's aerobics classes it offers. Apart from that, the center also provides fitness and aerobics sessions for men and women separately.
Address: 4, Aditya Nagar, Opp. Mata Gujri Girls, Near Vishnupuri, Bhawar Kuan, Indore – 452001
Contact Details: +(91)-7415614000, 7415313000
10. Star Gym:

Located in New Palasia, the Star Gym is equipped with world class equipment. It offers some wonderful fitness and aerobics classes for men and women in the city.
Address: 1st floor Shekher central, Near Sanghi Brothers, Above Vespa showroom, New Palasia, Indore – 452001
Contact Details: +(91)-8989175919, 9753399990, 8819811106, 9993061405, +(91)-731-4214081
Finally, one can just say that there are loads of options when it comes to fitness in Indore. Hence, if you too want to get fit, then why the delay! Reach out to the aerobic classes in Indore, closest to you and get started! Also, do not forget to share your thoughts with us!
Recommended Articles
The following two tabs change content below.

Latest posts by Amanpreet (see all)