15 Best Affordable, Customer-Loving Skin Care Brands To Try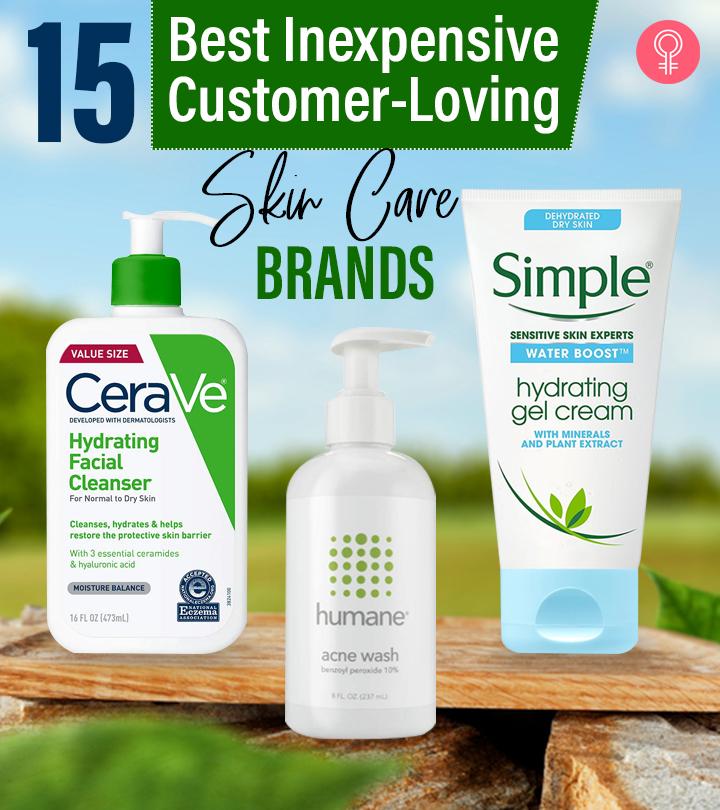 Are you looking for the best affordable skin care brands that won't break the bank? Don't be concerned! We've got you covered.
Skincare does not have to be pricey all of the time. Although expensive products may appear appealing, we must sometimes give budget skincare brands a shot, as they have long been the cornerstone for most of us. Keeping our skin healthy can necessitate the use of various products on a daily basis. Budget-friendly choices are always good, whether it's for our morning or night skincare regimens or everyday sun protection and pollutants. That's why we've compiled a list of the 15 best affordable skincare products and brands to include in your daily beauty regimen. Continue reading to find out more!
15 Best Affordable Skin Care Brands Everyone Can Buy Easily
No products found.
Dove is a well-known brand throughout the world, and for a good reason. Its body cleansing products feature a special Moisture Renew Blend technology enriched with fatty acids. It replenishes the lost moisture and keeps the skin nourished and healthy. The products are crafted with gentle surfactants that, unlike soap, properly cleanse the skin without stripping it of its natural oils. Apart from the dermatologically approved formulas, it offers a wide range of cleansing options so that you can choose the product that's best for your individual needs and preferences.
Must-have Product: Dove Deep Moisture Nourishing Body Wash
CeraVe is a reputed name in the beauty industry. This is because it is developed by dermatologists and has a complete line of effective skincare products, ranging from cleansers to moisturizers for various skin types. Most CeraVe products contain the three essential ceramides – 1, 3, and 6-II – all of which are needed for healthier and radiant skin. This product line delivers results through its patented, controlled-release technology, which helps rebuild the skin's protective barrier and locks in moisture throughout the day.
Must-have Product: CeraVe Hydrating Facial Cleanser
All Humane products are a perfect example of minimal skincare as they contain limited ingredients or only those required to do the job well. They do not have any toxic, harmful, or questionable ingredients in any of their products. This means they do not use any SLS and SLES, parabens, formaldehyde, formaldehyde-releasing agents, phthalates, mineral oil, retinylpalmitate, oxybenzone, coal tar, hydroquinone, triclosan, or triclocarban. All Humane products are manufactured in the USA at an FDA/cGMP-compliant facility. These formulas are dermatologist-tested for safety and are all cruelty-free.
Must-have Product: Humane Acne Wash
The foundational philosophy of RoC is an inspiring history of firsts. It created the first SPF sunscreen that proactively prevented signs of aging. RoC was also the first to discover a method for stabilizing retinol. By formulating retinol with other ingredients like Vitamin E and using innovative packaging, RoC made it possible for daily use. Even today, retinol remains one of the most significant anti-aging discoveries in the history of skincare. Every RoC product is scientifically crafted and tested to ensure the highest quality, and once the formula is crafted, it goes through rigorous testing to determine its safety and effectiveness.
Must-have Product: RoC Multi Correxion Revive + Glow Vitamin C Serum
Simple is another brand that believes in clean skin that is readily available to all. It has developed itself to create safe products for sensitive skin by systematically excluding all those ingredients that can harm the skin or our environment. It only uses ingredients that have passed the strict mildness criteria. Simple is an environmental-friendly brand as it uses recycled bottles for all its products. It is also a cruelty-free brand.
Must-have Product: Simple Water Boost Hydrating Gel Cream
La Roche-Posay aims to provide expert skin care to those who need it by partnering with dermatologists from the development stage to the recommendation stage of all its skin care products. It is committed to offering highly effective products suitable for all skin types and for anyone with skin concerns like acne and aging. La Roche-Posay is dedicated to spreading the word on sun safety and protection against harmful ultraviolet rays through high-quality sunscreen and skin cancer awareness messages. The deep-rooted dermatological heritage of this skin care brand is developed according to a strict formulation charter. It combines safety and efficacy by providing effective ingredients, like the soothing antioxidant thermal spring water, which is strictly selected to be compliant with sensitive skin.
Must-have Product: La Roche-PosayToleriane Double Repair Face Moisturizer
Hawaiian Tropic's skincare products are inspired by the exotic ingredients that native Hawaiians use to protect themselves from sun damage. This brand is known for providing excellent sun care products that have a pleasant smell and protect the skin. Its SPF sun care line's reputation lies in the first and only protective sun lotion that provides 12-hour moisturizing ribbons. Today, Hawaiian Tropics remains one of the most effective and luxurious choices for outdoor lovers and sports enthusiasts worldwide, bringing their 'Aloha Therapy' philosophy to life.
Must-have Product: Hawaiian Tropic Sheer Touch Lotion Sunscreen
The Eau ThermaleAvene brand is dedicated to sensitive skin. Its main aim is to improve all skin types by leveraging pharmaceutical and dermatological heritage and expertise. All the products from this skincare range are clinically proven to soothe, soften, and calm the skin.
Products to buy: Eau ThermaleAvene Thermal Spring Water, Soothing Calming Facial Mist Spray
Green Goo is a women-owned, family-operated business, based in Colorado. Its products are made in the USA with 100% natural ingredients. This brand aims to make organic products more available and more affordable to the masses while creating awareness about sustainable business and healthcare practices. It is committed to its time-honored infusion process, its high-quality ingredients, and simple yet effective products. The formulas are created with only the finest plant ingredients and are slowly infused in enriching oils to maximize their potency. From first aid and pain relief to moisturizing skin care and sunscreen, there's a Green Goo product for everything your skin needs.
Must-have Product: Green Goo Natural Skin Salve
Neutrogena is a dermatologist recommended brand that offers a wide range of skin and hair care products. As a consumer-centric company, its products are always inspired by true consumer preferences and needs. They are scientifically tested and proven to deliver real results. These products may take longer to develop due to the high-quality requirements and because they do not cater to passing trends. Neutrogena products never go out of style. And this brand has managed to stay true to its values, all while competing in a broad range of beauty and skincare categories worldwide.
Must-have Product: Neutrogena Cleansing Facial Towelettes
No7 has always focused more on natural ingredients and its herbalist roots with an apothecary style skincare range known as No7 Original Formula. It tries to create more choices for its customers to find the right skincare solutions, which leads to the introduction of various ranges for different age groups and different skin types. More recently, breakthrough innovations have come in the form of their groundbreaking age-defying serums, specially designed to respond to the different needs of skin as it ages. Continued investment in the research and development and responding to the ever-changing needs of millions of customers every day has helped No7 become one of the favorite beauty brands among the masses.
Must-have Product: No7 Protect & Perfect Intense Advanced Skincare System
Olay harnesses all the effective, evidence-based ingredients in its skin care formulas. Every line it launches is known to be well-designed. Olay encompasses the power of innovation as it has partnered with world-renowned dermatologists to launch new products that work at the surface cellular level for younger-looking skin. It treats the various skin concerns of its users effectively. Olay offers beauty solutions for women of all ages and reminds its customers that every day is a chance to be the best possible version of yourself.
Must-have Product: Olay Masks Vitamin C+AHA Resurfacing Peel
The GarnierSkinActive skincare range is formulated with 96% naturally derived ingredients. This line of moisturizers, cleansers, and facial mist products is paraben-free, silicone-free, dye-free, and sulfate-free. It is created to provide affordable skincare products that can soothe, purify, and refresh all skin types. These products are formulated with various ingredients like rose water, green tea, and aloe juice. While the rose water line instantly soothes and comforts skin, the green tea line instantly purifies pores and mattifies it. The aloe juice line, on the other hand, refreshes the skin for a naturally healthy look.
Must-have Product: GarnierSkinActive Ultra-Lift Anti-Wrinkle Eye Cream
Over the years, Derma E has introduced many extraordinary products, each embedded with the belief that skin health can be noticeably improved with the right combination of potent vitamins, wholesome nutrients, and exceptional ingredients. Derma E has grown tremendously over the years to be one of the largest natural facial care brands in the US. This brand focuses and believes in the concept of clean beauty. It is committed to ingredient safety and the kind of impact its formulas have on the user's skin.
Must-have Product: DERMA E Vitamin C Intense Night Cream
L'Oréal is known to create world-class skincare formulations at very affordable prices. This brand is ideal for maturing skin and reduces the appearance of age spots, fine lines, and surface wrinkles. It also provides sun protection thanks to the SPF 15 in its products.
Must-have Product: L'Oreal Paris Skin Expertise Age Perfect for Mature Skin
Why Trust StyleCraze?
Oyendrila Kanjilal is a certified skin care coach and has reviewed hundreds of skin care products. She especially loves the brands that provide quality products in a pocket-friendly range. So, she closely reviewed and selected these affordable skin care brands based on user reviews and feedback available on multiple forums and brand websites. The above products keep the skin nourished, hydrated, and healthy without breaking the bank.
Recommended Articles