The 13 Most Affordable Sweaters To Curl Up In This Winter
Spend a leisurely winter by snuggling up in style with your cute, comfy sweaters.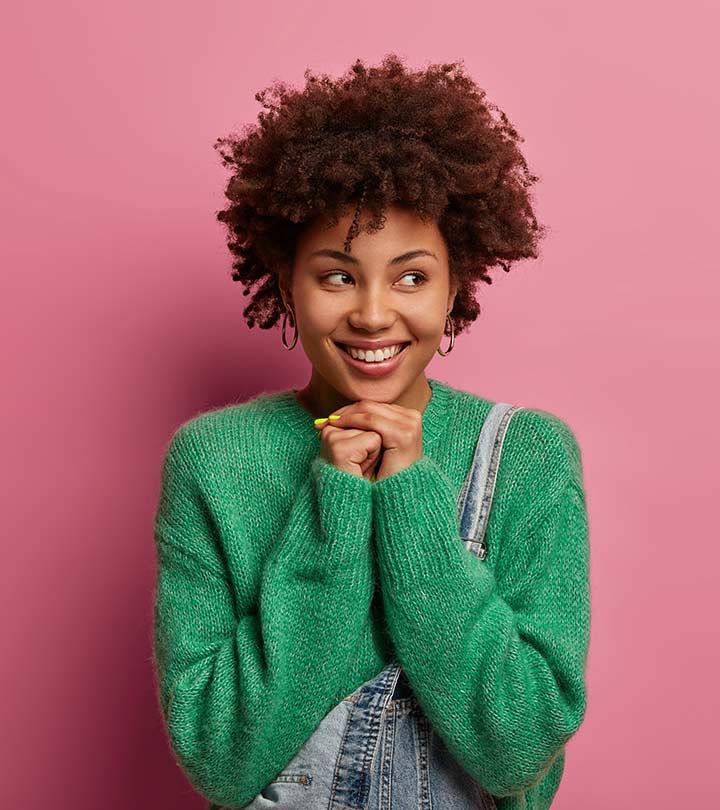 The winter is at its peak, and it's time to flaunt yourself in super stunning yet affordable sweaters. So, are you wondering where to get these sweaters from? We have your back with our list of sweaters that are curated below. So, be it your obsession for layering or simply showing off cutesy sweaters, this list will meet all your fashion needs at ease. We bet you'll love how comfy, warm, soft, and stylish these sweaters are! The best part is that you won't have to worry about drilling holes into your pocket because these sweaters are pretty affordable and worth every penny.
No matter what your fashion aesthetic may be, be it quirky, elegant, or sassy, we have it all here. This versatile list of sweaters is bound to make people go swoon over your outfit. From open cardigans to chunky pullovers to casual cashmere sweaters, you will find every type of sweater to satiate your fashion mood. Let this winter fashion diary be full of special outfits because why not? So, come on now, ladies, what are you waiting for? Go ahead and shop till you drop because you deserve this winter splurge session!
13 Most Affordable Sweaters To Ring In The Holiday Season
ZESICA's high-quality sweaters are all the prep you need for freezing temperatures as they keep you warm with a composition of viscose,  polyester, and nylon. The open cardigan can be paired with any basic piece from your wardrobe and the leopard print is sure to elevate its appeal. There are 2 roomy front pockets that act like hand-warmers and are great for stashing your on-the-go essentials.
Pros
Breathable
Lightweight
Can be dressed up or down
2 big front pockets
Available in 10 colors
Relaxed fit
Cons
Some may find the sleeve cuffs slightly wide.
Price at the time of publication: $35.99
These cheap cute sweaters feature a turtle cowl neck designed to keep you warm and toasty. The 100% acrylic fabric feels soft against the skin, while the cross-wrap design laden with full sleeves gives off an elegant look. The thick, decorative buttons go all the way down to the asymmetrical hem, which does its part in adding some structure to these cheap long sweaters. Paired with a classic beanie, this one would be perfect for your weekly book club meetings!
Pros
19 color options available
Turtle cowl neck
Soft and smooth
Decorative buttons and hem design
Breathable
Lightweight
Cons
Might emit a slight odor at first
Price at the time of publication: $43.99
These inexpensive sweaters by Amazon Essentials use soft yarn that blends 55% cotton, 25% modal, and 20% polyester together. The crew neckline allows the top to sit gently on your chest while accentuating your collarbones. With ribbing at the arm cuffs, hems, and collar, this sweater's lifespan is extended with a stylish, wintery look. Boasting a snug, second-skin feel, these cheap winter sweaters only need a pair of distressed jeans to complete the look.
Pros
Lightweight
Breathable
45 colors and prints available
Snug fit
Ribbed cuffs, collar, and hem
Crew neckline
Cons
Price at the time of publication: $25.1
GRACE KARIN offers a range of good-quality sweaters that are cropped for a figure-flattering look and feature 9-point length sleeves for coverage. Composed of 65% viscose and 35% acrylic, the sweater comes with a fabric that's just the right thickness to keep you from overheating or freezing without being weighed down. As the shrug has an open front, it pairs well with everyday camisoles or cute sleeveless dresses. The button closure is great for retaining some extra warmth, or you can leave it open to flaunt whatever outfit you have decided to put together for daytime wear.
Pros
Lightweight
Breathable
Cropped fit
Button closure
Soft fabric blend
Available in 17 colors
Cons
Might have a slightly scratchy tag
Price at the time of publication: $26.99
If you've been tearing through the thrift shops for beautiful and cheap knit sweaters, this one from Floria comes with a fabric composition of viscose and nylon and a button-down collar. They offer a clean look, making them ideal for work or morning classes. Incredibly soft to the touch with a ribbed hemline and sleeves, the affordable plus-size sweater traps your body heat to keep you cozy even when you happen to be running from one air-conditioned lecture to another on a gloomy day.
Pros
Available in 29 colors
Button closure
Ribbed hem and cuffs
Soft and smooth
Lightweight
Breathable
Cons
You might have to size up.
Price at the time of publication: $32.99
If these cheap sweaters for women from Yibock aren't Pin-worthy, we don't know what is. From running an errand to attending a Christmas get-together at the office, you can throw them on for any casual event where you also want to showcase a hint of style. Crafted with acrylic and spandex, the material is smooth yet stretchable enough to provide you with a wide range of motion. The chunky waffle knit features ribbed trims and is slouchy for a chic look. The 2 front pockets are lined for easy storage so you can even go hands-free with these best sweaters for work!
Pros
Available in 31 colors
Stretchable material
Soft and smooth
2 front pockets
Ribbed trims at hem
Lightweight
Cons
Might be slightly oversized for petite women
Price at the time of publication: $40.99
Turtlenecks are some of the most effortlessly sexy articles of clothing out there, and this one tops them all because it provides you with all-around warmth. Fashionolic's cheap sweaters for fall are silky smooth with a 95% rayon and 5% spandex combination that moves along with you. Sitting close to the skin, these tops flatter your curves and are made to wick away moisture so you don't need to deal with sweat in these tops, which is why they make for the best work sweaters.
Pros
Moisture-wicking
Breathable
Smooth texture
Stretchable
Available in 27 colors
Snug fit
Cons
Might shrink slightly in the first wash
Price at the time of publication: $17.99
LuckyMore's affordable sweaters for fall are baggy with a waffle knit pattern and offer convenience with their pullover style. The oversized look can be worn as is or pushed off one shoulder to give you a trendy ensemble ready for brunch with your girls. With a V-neck that gently graces the chest, your shoulder curves are given a spotlight of their own. These cute sweaters for cheap might be the only cold-shoulder you'll ever want to give!
Pros
12 color options
Oversized fit
V-shaped neckline
Batwing sleeves
Lightweight fabric
Warm and stretchable
Cons
Price at the time of publication: $22.99
V28's cheap cool sweaters feature such fun prints that everyone's going to be complimenting your Christmas ensemble! The 15 winter-themed patterns covering these tops all have ribbed detailing at the neckline, hemline, and sleeve cuffs for added warmth. Made with 100% acrylic, these cheap oversized sweaters also allow your skin to breathe and are a must-have for end-of-the-year parties.
Pros
15 prints available
Ribbed hems, cuffs, and neckline
Breathable
Lightweight
Soft and warm
Comfortable
Cons
Might have a slight initial odor
Price at the time of publication: $29.99
Another 100% acrylic make, Aleumdr offers the best cheap sweaters that are lined with faux fur to take coziness to the next level. Complete with a hood and 2 front pockets, this cardigan is any winter fanatic's dream come true. The cable knit pattern is accentuated with ribbing on the cuffs and pockets while the chunky wooden buttons add a rustic charm. Simple enough for weekend barbecues, these are the best inexpensive sweaters that also stretch to accommodate movement.
Pros
Faux fur lining
Wooden button closure
Lined hoodie
Ribbed cuffs
2 front pockets
Available in 11 colors
Cons
Some might find it slightly bulky.
Price at the time of publication: $50.99
Featuring a cotton-polyester blend, Hirate's affordable women's sweaters are a must-have for anyone looking to break out of solid colors this winter. The 4 fun color combinations that sport the ever-so-classic leopard print let these cute sweaters transition well from day to night. Size down for a figure-hugging fit or size up to keep these cheap cozy sweaters relaxed and layer with your favorite basics.
Pros
Lightweight
4 color combinations
Breathable fabric
Soft and smooth
Can be dressed up or down
Cons
Some might find the sleeves a bit short.
Price at the time of publication: $9.99
If you miss the sun and want to bring summery vibes into the fall months, this sweater by Goodthreads is the way to go. Easy to care for owing to the 100% cotton, you can buy these sweaters for cheap despite the durable quality. They are slightly longer with side slits that give your upper body enough freedom to move. The shaker stitch on this tunic-length pullover is sleek and has ribbing at the neckline, hems, and sleeve cuffs to keep you cozy.
Pros
25 color options
Lightweight
Sturdy fabrics
Tunic-length
Side slit design
Ribbed neckline, cuffs, and hems
Cons
Price at the time of publication: $38
Knittons' cheap wool sweaters are made of 100% midweight merino wool, which makes them feel buttery-soft against your skin. Italian cashmere yarn is also used to keep the fabric from wrinkling and lend it a luxurious stretch. Wear-resistant with a non-fade color, these affordable cashmere sweaters also don't pill or shrink after being washed, lasting you a long time. Pair them with fitted bottoms like jeans and leggings or relaxed ones like joggers for a flattering silhouette.
Pros
Available in 11 colors
Soft and smooth texture
Wrinkle-resistant
Wear-resistant
Anti-pill material
Anti-fade color
Cons
Price at the time of publication: $69.99
Now that we've seen some of the most affordable sweaters for women available on the market, let's learn how you can choose the right one before winter comes.
Things To Consider When Buying Women's Sweaters
It's super important that you choose the right fabric to keep warm and remain comfortable during the winter months.
Cashmere, albeit luxurious, is a natural wool fiber that is extremely soft and ultralight against your skin. Pure cashmere is difficult to find, and this fabric is often mixed with other filler materials for texture and shape. The best thing about this fabric is that it is durable and will stay in your wardrobe for a long time.
Wool is commonly used for sweaters and combines comfort, function, and style. Long-lasting natural fiber, the wool you find in sweaters comes from merino sheep, which keeps these tops waterproof. The only downside of this material is that it can cause itching, especially to those with sensitive skin. You can avoid this by finding wool blended with cashmere or using your sweater only after a couple of washes.
Cotton isn't used very frequently but is a great choice for people who live in areas with mild winters. Even though it's low on insulation, the fabric is breathable and prevents you from overheating. Without being itchy, cotton makes for great lightweight sweaters, especially if you're an active person.
Synthetics such as polyester or rayon are very soft but not water-resistant like animal fibers. They also aren't your best bet for long-term use as they wear out and pill quickly.
There is a wide variety of styles offered in the realm of sweaters and the type you choose depends on your necessity and preference. Cardigans that are open can have a button closure for when you want to warm up. These are great paired with basic clothing pieces and a treat if you love layering. Pullover styles can be oversized or snug depending on what you want to pair them with and where you would like to wear them.
Not all sweaters have pockets, but this is a feature to be considered if you like being hands-free. Usually placed in the front, pockets can also be used to keep your hands warm during the chilly weather and stash your phone or wallet.
Why Trust StyleCraze?
Priyam Gupta has a deep interest in fashion and loves writing reviews about different products. She has carefully selected these affordable sweaters based on user reviews and feedback on multiple forums and brand websites. The sweaters listed in this post are available in different styles, colors, and patterns that make you look sassy.
Frequently Asked Questions
What is the best fabric for a sweater?
Wool is undoubtedly the warmest fabric you can use for sweaters. On top of high-quality insulation, it is also sturdy and durable, lasting you years.
Which type of sweater is good for winter?
Fleece or fleece-lined sweaters are generally lightweight and make for great casualwear during the winter time.
Is synthetic wool cheap?
Wool is a natural fiber that is quite expensive, which is why a majority of people opt for acrylic. This fabric is artificial or synthetic wool, resembling it closely in terms of warmth but costing much less.
How long should a women's sweater be?
The perfect length of a women's sweater is the tunic length that goes below the belt buckle, but above the curve of the bum.
Should sweaters be tight or loose?
A women's sweater should not be too tight for you to suffocate. However, it can be slightly loose.
Should we sleep with a sweater?
No, you should never sleep with a sweater on as it may lead to various health and skin-related problems.
How do you style a sweater?
A sweater is one of the most versatile pieces of clothing. It can be paired with jeans or trousers. You can even layer a coat over it for added cold resistance.
What type of sweaters are in style?
Cardigans, turtlenecks, and knitted sweaters are in style right now.
Recommended Articles