11 Best AFO Braces For Foot Drop
Take care of your foot problems the right way with the correct size, fit, and support.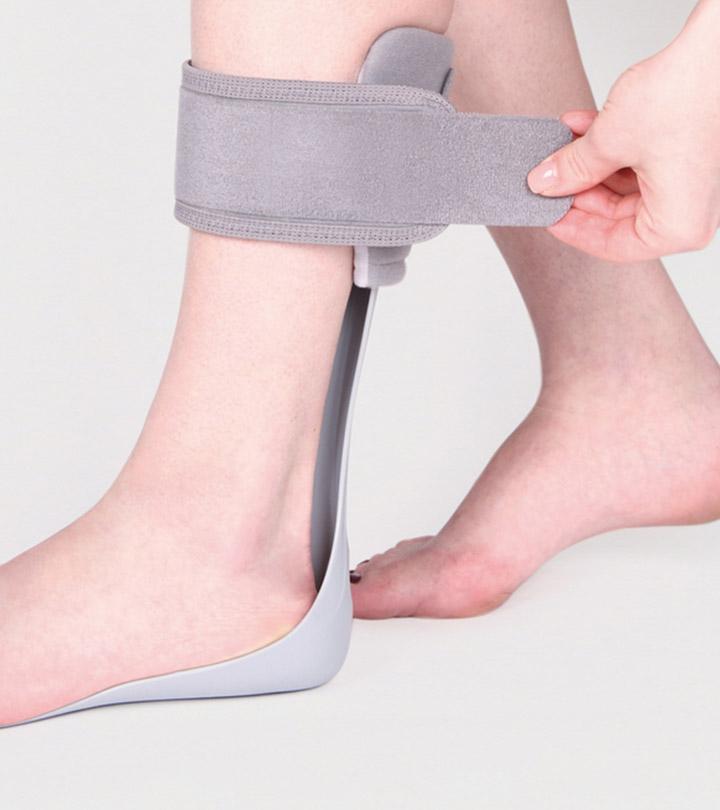 Foot drop, aka drop foot, is a medical condition where the person feels difficulty in lifting the front part of the foot. This condition makes you uncomfortable while walking, and you may even need to drag the front part of your foot. This is when you need the best AFO brace for drop foot correction.
Conditions like cerebral palsy, multiple sclerosis, or stroke can lead to a musculoskeletal condition causing muscle weakness as the brain cannot send messages to the specific muscles in the feet.
An AFO brace helps in walking pattern correction and foot alignment. In this article, you can find the 11 best AFO braces that will help you get relief from foot drop. Scroll down to learn about all of them!
What Is An AFO Brace?
AFO is an abbreviation for Ankle Foot Orthosis. Jeremy Kring, a fitness and weightloss expert explains, "The AFO brace supports the front of the foot and joint. It is specifically designed to limit the speed the foot plantar flexes when pushing off, and helps prevent the foot from dropping when the leg swings when walking, thereby preventing the foot from dragging or tripping."
In the following section, we have listed the top 10 AFO braces available online.
11 Best AFO Braces For Foot Drop
This AFO brace is the best mobility solution for individuals with foot drop or similar conditions that require dorsiflexion (raising the foot upwards towards the shin) support and/or assistance. It is a functional and comfortable brace. It allows an affected foot to perform naturally while walking.
It is used in gait improvement and increases confidence in one's walking ability. The product is designed to work with most lace-up shoes and boots to provide stepping stability. The package includes a FootFlexor wrap, eyelet clips, and a tension cord that helps lift the toe while walking.
Specifications
Pros
Cons
Lack of instructions on how to assemble
Price at the time of publication: $56.13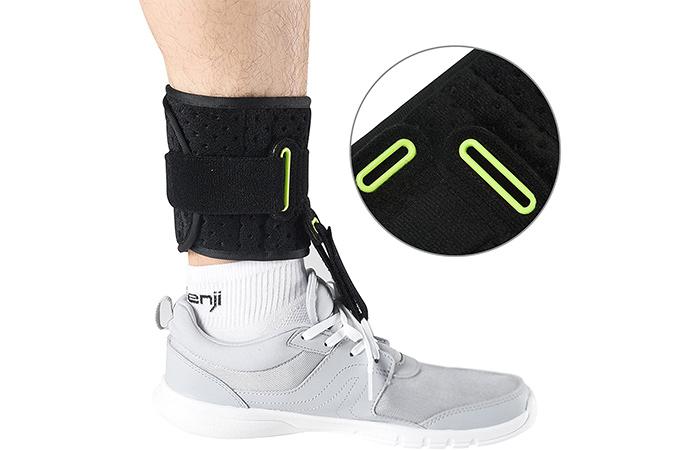 The Tenbon Ankle Support Ankle Foot Orthotic Brace is made of velvet fabric, sponge, plastic sheet, and nylon tape. It has a cushioned ankle wrap. This wrap is made from breathable, 3-layer material that can be worn for longer periods for ankle joint control.
The product is used to manage pain and discomfort caused by post-stroke foot drop, plantar fasciitis, stress fracture, Achilles tendonitis, Charcot-Marie-Tooth disease, diabetic neuropathy, muscular dystrophy, etc. It also provides a visible improvement in gait that offers support for drop foot or similar complaints. The brace is convenient for neuromuscular rehabilitation and can be worn with a laced shoe, slip-on shoe, and sandals.
Specifications
Pros
Lightweight
Value for money
3-layer material for comfort and extended use
One size fits all
Cons
Price at the time of publication: $22.99
Get rid of all discomfort in your feet and move freely without tension by wearing a NEOFACT AFO foot brace. This orthopedic device provides amazing lateral support and gives a comfortable cushion to minimize any discomfort due to nerve injuries, muscle tension sclerosis, peripheral neuropathy, and neurological disorders. This adjustable foot brace helps you to improve mobility and gain much-needed confidence for pain-free movement. The bolster is lightweight, comfortable, and easy to wear. It can be used during walking, resting and sleeping, and other activities. It is made of high-quality neoprene, which makes the brace breathable and skin-friendly. It has an ergonomic open-heel design approved by expert therapists and comes with 3 high tension straps along with 1 low tension strap, providing heel strike assistance and lower extremity support. These straps are relaxed and allow proper blood circulation while also correcting your limb movement and walking pattern.
Specifications
Pros
Ergonomic design
High-quality material
Approved by therapists
Comfortable to wear
Ideal for indoor and outdoor use
Fit for everyday wear
Easy to put on
Comfortable
Lightweight
Skin-friendly
Breathable
Cons
Price at the time of publication: $53.9
The Furlove AFO Brace is made from velvet fabric, sponge, plastic sheet, and nylon tape. It has a cushioned ankle wrap. It is made from breathable, 3-layer material that can be worn for a long period. The sole of the foot brace can be removed during the day and can be used with shoes and shoelaces.
The sole and ankle part of the brace can be connected at night to correct its use and prevent rebound. The foot brace has contact buckles and magic paste closures that allow for easy adjustment. The walking aid is suitable for people with stroke foot drop, plantarflexion resistance, Achilles tendonitis, muscular dystrophy, neuromuscular weakness, etc.
Specifications
Pros
Easy to use
Durable
Sturdy
Cushioned ankle strap for added comfort
Cons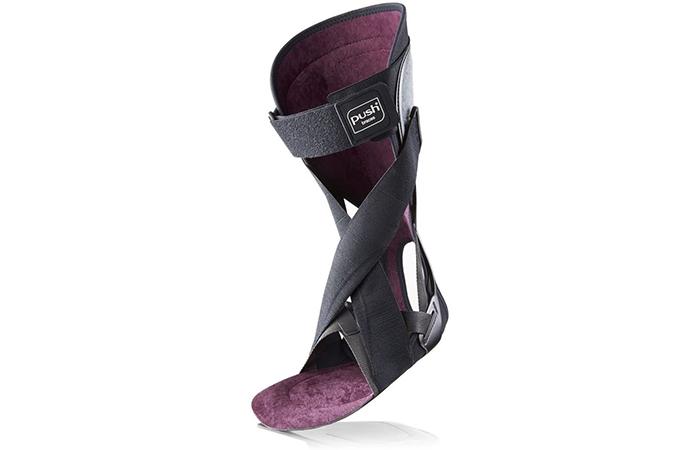 The Push Ortho AFO Brace has a unique strapping system that allows for an adjustable level of dorsiflexion. This unique strapping system also gives the ability to wear the brace with a wide variety of shoe styles.
It is flexible and gives users added comfort. It improves one's ability to walk on uneven surfaces and even climb stairs. It has adjustable levels of dorsiflexion assistance for all stages of recovery during orthopedic rehabilitation.
Specifications
Pros
Flexible
Stable
Unique design allows for wearing brace with different shoe styles
Cons
Price at the time of publication: $299.99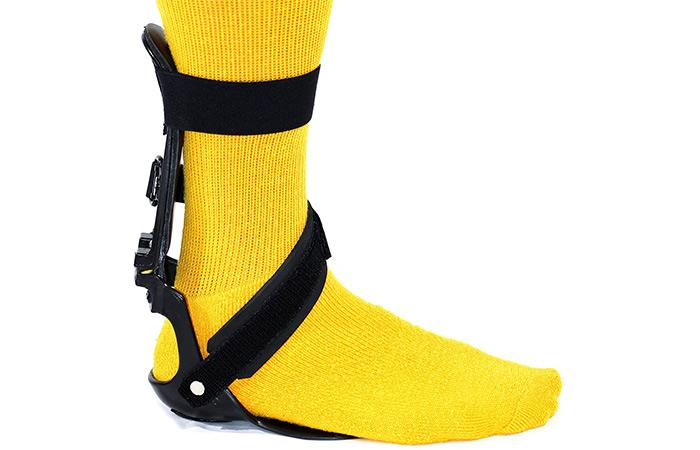 The Step-Smart Drop AFO Brace is low-profile, lightweight, and energy efficient. It offers functionality and comfort. It is an articulated brace that maintains ankle action and feeling and flexibility in the toes. It also has shock absorption at heel strike and natural toe breaks.
It has a patented "Jacob Joint" technology that allows one brace type to be used by many alleviating foot drop symptoms. Another added advantage of this brace is that many insurance companies cover this brace under their policy.
Specifications
Pros
Lightweight
Stable
Jacob Joint technology allows one brace type for many foot drop symptoms
Covered by several insurance company policies
Cons
Price at the time of publication: $229.0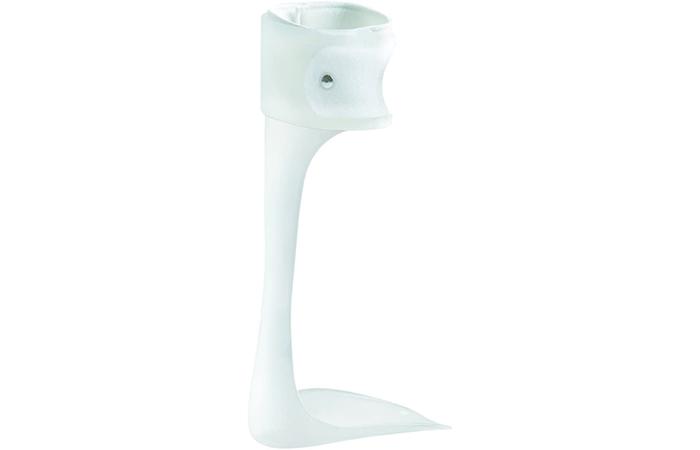 The Orthomen Ankle AFO Brace is durable and lightweight. It gives medial/lateral support for unstable ankles as well as greater rigidity to resist muscle spasms. It fits easily into any footwear. It gives excellent stability.
This foot brace is suitable for people with peroneal nerve injury or sciatica nerve lesions. The brace is made of durable PP material. This bilateral AFO is specifically designed for both the left and right feet. Click on the video to know everything about the product.
Specifications
Pros
Lightweight
Fits easily into any footwear
Durable
Cons
Price at the time of publication: $52.99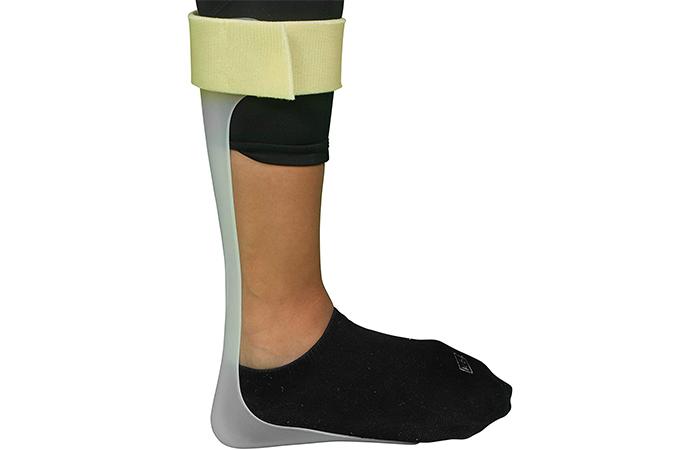 The Mars Wellness AFO Brace provides static dorsiflexion assistance and lateral stability for the entire foot-ankle area. It has an injection molding that allows for a thicker polyethylene. It is vertical and ensures rigidity. The low arch and open heel give the splint a streamlined profile that fits easily into any shoe. A padded hook-and-loop strap secures the brace around the calf.
It is designed to aid foot drop that is related to CVA or nerve palsy or heel cord tightness. The brace supports the foot in a proper position. Its anatomical design also compensates for atrophy, avoids calcaneus irritation and also provides optimal flexibility of toes.
Specifications
Pros
Lightweight
Value for money
Streamlined profile allows the brace to fit in any shoe
Optimal flexibility to the toes
Cons
May get damaged easily
Not durable
Price at the time of publication: $37.99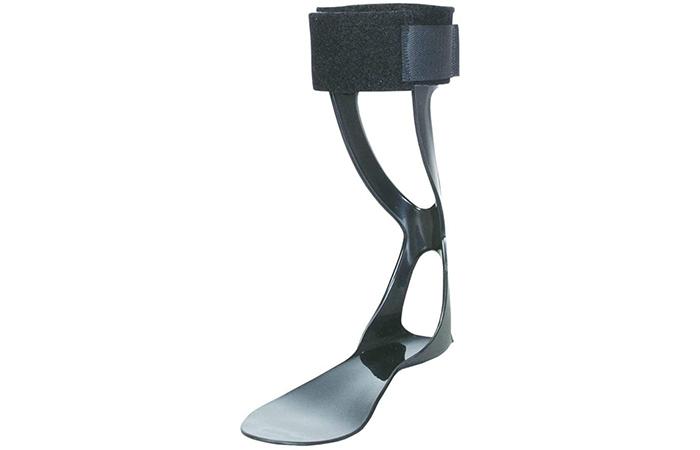 The AliMed Swedish AFO Brace is an injection molded polypropylene splint. It provides static dorsiflexion assistance and lateral stability for the entire foot-ankle area. The injection molding allows for a thicker polypropylene on the vertical aspect for better rigidity.
It may also be trimmed with a pair of ordinary scissors to make a thinner footplate. The brace can fit into any shoe, thanks to the low arch and open heel. It also comes with a padded hook-and-strap that secures it around the calf.
Specifications
Pros
Lightweight
Comes with a padded hook and strap
Can be easily trimmed for comfort
Cons
Can get easily damaged
Not durable
Provides no support/flimsy
Price at the time of publication: $37.75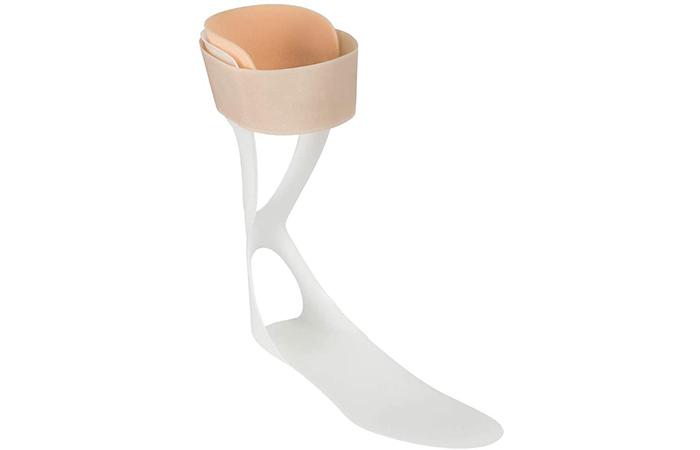 The Ossur AFO Leaf Spring Foot Brace is a pre-fabricated polypropylene ankle-foot orthosis. It is designed to support flaccid drop foot (where the foot can not move at all). It provides support to the toes and has a thin, flexible foot plate that is easy to trim.
There is no heel in this foot brace, making it more comfortable to wear. It also provides a better fit to shoes. This brace comes in small and medium sizes. It is suitable for people with an average height of 5 feet 8 inches. The brace's variable thickness also offers strength.
Specifications
Pros
Lightweight
Sturdy
Value for money
The absence of a heel makes it more comfortable
Cons
Price at the time of publication: $59.99
The Ossur's Foot-Up Drop Brace provides dynamic bracing support for drop foot, plantar fasciitis, Parkinson's disease and disorders that require dorsiflexion support. It lifts the toes and keeps the ankle in alignment while supporting the foot.
The plastic inlay fits between the tongue and shoe laces, which remains invisible when worn. The cushioned ankle wrap is designed with a breathable, three-layer material. The adjustable ankle cuff fits comfortably, and the foot-up helps improve your gait. Take a quick look at the video to find out the process of wearing the Ossur Foot Up Drop Foot Base.
Specifications
Pros
Lightweight
Suitable for all kinds of shoes
Ideal for daily use
Breathable
Comfortable wear
Includes a plastic shoe inlay
Cons
The velcro straps are unstable
Price at the time of publication: $44.79
How To Find The Best AFO Brace – A Buying Guide
1. Style & Design – There are various types of foot drop braces with different styles. The two usual styles are boot braces and lightweight braces. The boot styles are usually bulkier, and the lightweight versions are much lighter as they are made of breathable material. Choose a brace that is suitable for you and will ensure free movement. A lightweight brace is usually preferable as it does not put stress on your legs.
2. Comfort – You should consider a brace that is not too loose or too tight. It must stay in place. A brace must also go well with most types of shoes.
3. Material – The braces available on the market are made from various materials, like lightweight cotton, nylon, neoprene, foam, and composite plastics. Nylon and neoprene materials are known for being lightweight and give you more flexibility. The foams offer better support and stability. The foams offer better comfort. Pick the one that suits your needs.
AFO braces allow those with the foot drop condition, whether it is a temporary or permanent condition, to return to their normal lives. But regardless of the cause, the brace allows for better recovery and quality of living. Speak to your primary care provider or doctor to understand your requirements in order to choose a brace that suits you the best.
Why Trust StyleCraze?
The author of this article, Aditi Naskar, has a diploma in health and wellness. She is passionate about providing researched-backed articles to her readers. She went through multiple reviews and user feedback to handpick products that were of high quality. She understands that the best AFO braces minimize ankle and foot flexion. Besides that, the braces also provide great support for drop foot or similar complaints.
Frequently Asked Questions
How long does a foot drop take to heal?
A foot drop may take up to 6 weeks to heal. However, it may take longer if the injury is severe. Other medical conditions and major injuries may cause a permanent foot drop condition.
What shoes are best for treating foot drop?
Shoes that hold the ankle more firmly are good. High top tennis shoes seem to be the ideal choice. Many orthopedic surgeons and orthotic/prosthetic practitioners recommend cross trainers for the condition.
Does foot drop cause balance problems?
Yes, a foot drop may cause balance problems.
Can I sleep in lightweight braces?
You can sleep in lightweight braces. It is recommended you speak to your primary care provider as they may direct you to wear it while sleeping. This makes selecting a comfortable brace even more important.
How long should you wear an AFO brace?
An AFO brace is worn for up to 4 hours. Recheck your skin after 4 hours and if you don't find any swelling and the skin is just pink in color, you can reapply the brace for the next 4 hours. If you find any discoloration or discomfort, discontinue use.
What type of brace is used for drop foot?
AFO brace is used to treat foot drops. The brace can be either solid or hinged. A solid AFO is used in severe cases.
Recommended Articles