27 Best African Hairstyles For Women To Try
Look no further for inspiration and ideas; these incredible styles are all you need.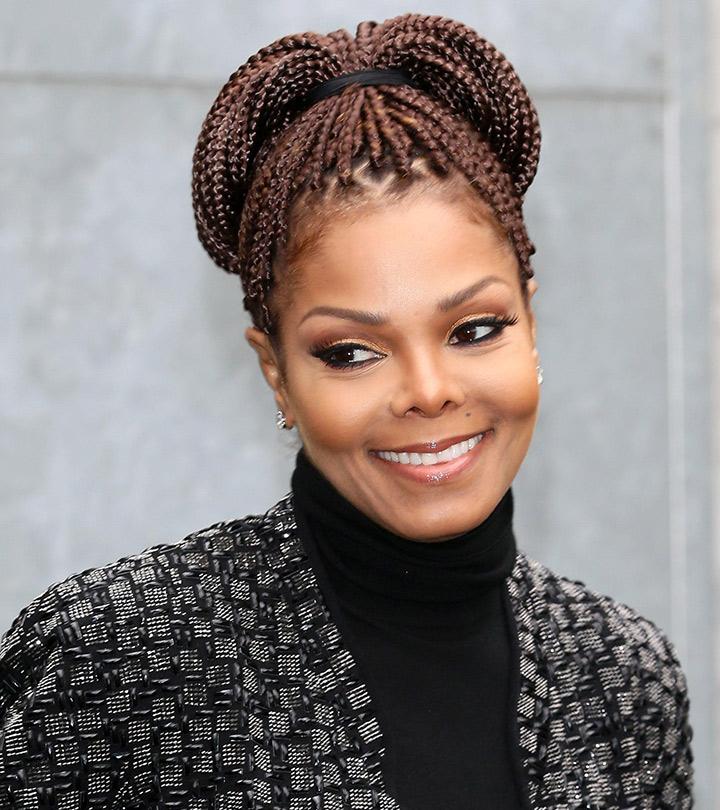 The thing about Afro hair is that it is truly versatile. You can sport a wide variety of African hairstyles that girls with straighter hair can only dream of. Box braids, Bantu knots, dreadlocks, crochet braids, weaves, or relaxed hair — you can have so much fun, whatever your preference is. Here are styles to inspire you, which will certainly turn heads as you walk by.

Before You Get Started
Use sulfate-free products to reduce frizz, provide moisturization, and prevent hair damage.
Invest in a good leave-in conditioner to help detangle and style your hair easily.
Avoid braided hairstyles as it overstrains your hair and increases your risk of hair loss.
Relaxed Hair
You want long hair- like really long hair. But the length is barely noticeable due to the shrinkage. No matter how much time passes, it feels as though your hair shall never get to a point beyond your shoulders. But the length you crave for, it is just a few steps away. It is necessary to stretch out your hair, before you go for any kind of temporary or permanent treatment. And straightening out your hair yourself is not that hard, if you follow this comprehensive guide on how to.
And now that your hair is all straight and sleek, here are styles you can try out on your relaxed hair.
Top 27 African Hair Styles
1. Texturized Low Ponytail
This hairdo completely changes the way you look. The hair was relaxed, waved mid-way down and then brushed to create this stunning look.. Pair it with a simple '90s slip dress and you have got yourself a stylish look!
How To Style:
Make a middle parting. Then, apply a smoothening serum on the comb's teeth and use it to smooth down the hair on top of your head. To complete the style, pull it back into a low ponytail and spritz some texturizing spray to add volume and texture to your curls.
Is this for you? 
While this hairstyle is suitable for all face types, square and round faces look the best with this hairstyle as it accentuates their facial features.
2. Fringe
Blunt bangs- they are chic, stylish, and frame your face oh-so-well. Unfortunately, as great as they look, they only work for straight hair. If your hair has undergone a permanent straightening treatment, you can go right out and get them.
How To Style:
If you have already got your hair straightened, this style requires absolutely no effort. Just work a conditioning serum into your hair, brush and flaunt this style.
Is This For You?
The bangs work for all face shapes, but the length of the rest of your hair is something to be considered while getting something like this done.


StyleCraze Trivia
In America, the name "bangs" refers to a shorter hairstyle cut straight across the forehead, while in Britain, this style is known as a fringe. The term "bangs" was first used in 1878, and it is believed to have originated from the adverbial meaning of "abruptly" in the phrase "the hair is cut bang off."
3. Side Shave Curls
From macho to androgynous to feminine, shaved sides have, indeed, come a long way. It looks fabulous on treated or natural hair, which has made more and more women opt for this trending haircut. Rihanna, a true inspiration, makes the soft, ombre curls look supremely glamorous.
How To Style:
Start with hair that has already been straightened. Work a volumizing product into hair – something that adds a lot of shine. Now, take a large barrel curler and style loose curls. When you're done, sweep hair off to a side to show-off your shaved head and set with a medium hold hairspray.
Is This For You?
This style looks great on everybody.
4. Braided Bouffant
This is a great style that works on straightened hair or hair that has been stretched out. The braided halo looks elegant and makes you feel as pretty as a princess.
How To Style:
You need to work a conditioning product into your hair and brush out any tangles. Then sweep the hair off to one side and begin French braiding, adding sections of hair as you move along. When you finish off with the braid, tuck it in and pin.
Is This For You?
This is a very adaptable style that works for most. If you have a wider face, you can always add more volume to the braid.
5. Bee Hive
This vintage style remains the favorite of many. It is easy to recreate and looks stunning on straightened hair. And the best part is, you can add your own flair to it by styling it with accessories of your choice.
How To Style:
You can start by applying a conditioning serum to your hair and smoothing it out. Section off the top and gather the rest in a high ponytail. Divide the ponytail into sections. Leaving the bottommost section intact, tease the other sections to create volume. Fold the teased sections onto the base and secure with a hair tie. Smooth out the last section and wrap it around the bun. For the front part, rub pomade between your palms and smooth the hair out. Then tuck it away and finish by spraying a generous amount of hairspray.
Is This For You?
With this hairstyle, you can go as big and as voluminous as you want. Sporting this hairstyle is the perfect way for channeling one's inner diva.
6. Side-Swept Curly Bob
This is a really chic style for those with short, straightened hair. The curls are loose and a little messy. This hairstyle fits just about any occasion.
How To Style:
Apply a volumizing spray to hair, and part it off to one side. Using a medium barrel curler, style curls. Tease and spray the bottom sections for more volume and then, let the curls rest atop. Finally, set with a strong hold hairspray.
Is This For You?
This short, messy style looks best on those with long faces.
7. Side-Swept Waves
This is a simplistic hairdo that is practically effortless to style. The side-swept, wavy bangs jazz up an otherwise bland ponytail.
How To Style:
First of all, you need to apply a volumizing product to your hair, brush it out and let it dry. Gather hair into a ponytail at your nape, and using a large barrel curler, curl the ends. Finger-comb through the pony to make it look less structured. Now, for the bangs, brush it in an upward direction and curl it away from your face. Then, sweep it sideways. And spray with medium hold hairspray to keep everything in place.
Is This For You?
This hairstyle works for everybody.
8. Blunt Bob
Who can deny the allure of a short, symmetrical bob? It is a timeless style that can never really die out. Instead of falling flat, the hair here has been gently curved inwards to frame the face.
How To Style:
Work a volumizing product into damp hair and brush as you blow-dry. Then, drape hair over the brush and run it under the blow-drier. Set with a flexible hold hairspray.
Is This For You?
This works best on petite faces.


StyleCraze Trivia
Selena Gomez, Margot Robbie, Rihanna, Kim Kardashian West, and Rowan Blanchard are just a few celebs who have recently sported this hairstyle, demonstrating that it is undoubtedly here to stay.
9. Voluminous Bun And Bangs
You want bangs but aren't too certain about pulling it off. You can commit to the idea and take the plunge or you can always have faux bangs, like Rihanna here. The bangs add an extra edge to the voluminous bun and you can recreate it quite easily, either through folding your own hair or by using extensions.
How To Style:
Gather all of your hair into a high ponytail. Then, divide it into sections. Take the topmost section and brush it forward, so that it rests across your forehead. And make sure to pin it at the base and use hairspray so that it stays in its place. With the rest of the sections, tease and spray to create a lot of volume. Take one section and wrap it around the base of the ponytail. Do the same with the other sections, wrapping one over the other, to get a fuller, voluminous bun. Just pin everything in place and mist hairspray to keep the bun from falling apart.
Is This For You?
This hairstyle goes really well with long faces.
10. Beachy Waves
An extremely versatile style that goes with just about any outfit. This is easy to style and pull off.
How To Style:
Start by spritzing a sea salt spray on damp hair. You can let your hair air dry or use a blow-drier, but make sure that you keep scrunching as your hair dries to get this tousled look.
Is This For You?
This style works for everybody.
11. Mohawk
Mohawks have to be the edgiest look around. Gone are the days when it was majorly sported by bikers. The Mohawks you see around are stylish, fashionable and totally feminine. And they are so versatile, you can style them to reflect your personality and make them your own.
How To Style:
This Mohawk certainly is reminiscent of the more traditional styles. To get this look, you need a strong hold gel or pomade. Make sure that your hair is a little damp before you begin. Using the gel or pomade, stretch your hair upwards and gently curve the end. Make sure you get all the strands that have not been shaved for a neat, chic look.
Is This For You?
This style looks amazing on those who have long faces.
Senegalese Twists And Dreadlocks
You have put in the effort. You have taken care of your dreadlocks over the months, washing them, rolling the loose strands and waxing them up. Finally, they are locked into place. You find yourself waxing them less and less often. No loose strands anymore. And you congratulate yourself on the success of your dreadlocks. It is quite fun to just let them be but if you're ever in a mood for a little change, here is how you can style your hair.
12. Fully Braided Bun
If the dreadlocks you have opted for are of the braided variant, then you can recreate this supremely elegant style. This can also be achieved by braiding tiny sections of hair and putting them up. But matured dreadlocks make this a less time-consuming process and there is no scope for loose strands, which lend this updo a rather neat look.
How To Style:
Gather all your locks into a high-top pony and secure with a hair tie. Taking a few locks at a time, wrap it around the base of the ponytail. Tuck and pin to keep it in place. And stay far, far away from styling gels and sprays to maintain your dreadlocks.
Is This For You?
This works for those who have thin-braided dreads. Thicker locks make it difficult to recreate this style.
13. High Braided Pony
Neither a bun nor a pony, but something in between. The dreadlocks lend a neat and elegant look to an otherwise simplistic style.
How To Style:
Gather your locks in a high ponytail then fold the end of the locks unto it.
Is This For You?
This style works for those who have opted for medium-braided dreadlocks.
14. Side-Swept Dreadlocks
This is a rather feminine take on the classic dreadlocks. The dreadlocks here have been made using the back-brushing and rolling method, but this style works on all types of dreadlocks, except for the really thick one.
How To Style:
Sweep your locks to the back and secure them with a hair tie.
Is This For You?
This works for all types of dreadlocks and all face shapes.
15. Dreaded Mohawk
Dreadlocks work for all lengths of hair. That has to be the most awesome thing about them. If you are already sporting a Mohawk, you can make dreadlocks from the unshaved hair. Or if you already have dreadlocks, you can save off from the sides to add a new twist to a true and tried style.
How To Style:
The dreadlocks have been twisted and knotted unto themselves to create this style. To add more flair, you can always dye your dreadlocks.
Is This For You?
This style is for those who are willing to commit to dreads. This style looks good on everybody.
16. Ponytail and Loose Locks
To get dreadlocks and then forget that they exist. A lot of styles that work on plain hair can be revamped to suit dreadlocks. Putting them up in a ponytail is just one of them.
How To Style:
Just let the dreads in the front be, and pull back the rest into a high ponytail.
Is This For You?
This works for dreadlocks that haven't fully matured.
17. Side-Swept Senegalese Twists:
Senegalese twists are a long-term hairdo. They require a lot of effort and can be kept for months. This is another take on the twists, with the addition of cornrows and side-swept braids.
How To Style:
If you were planning on getting Senegalese twists done, you can start with getting cornrows on one side, from the temple to the crown, so that the braids remain flexible. Then sweep hair off to one side and pin it back.
Is This For You?
For this hairstyle, length is more important than texture. Although this can be pulled off by girls sporting shorter hair, to have cascading braids, longer hair works better.
18. Cornrows and Dreadlocks
Now, why go for a single style when you can have everything? This hairstyle is a combination of cornrows, dreadlocks and loose curls that has been styled into a ponytail.
How To Style:
This is a complicated combination of a multitude of things. Now, you don't need dreadlocks that are fully matured. Just back brushing and setting with wax will work. One section has been braided into cornrows while the bangs are partly loose and partly dreaded, and the rest of the hair has been pulled into a ponytail. A volumizing product has been used on the loose curls to give it extra body.
Is This For You?
This style works on hair that is not very tightly curled.
Natural Hair
Coily hair is awesome. Period. Who needs chemical treatments and a truckload of styling tools when what you have far surpasses what it can be? Whether you are already a natural or are headed (no pun intended) in that direction, here are some ideas on how to play up the natural texture of your hair.
19. Half Up, Half Down Ponytail
This casual yet elegant hairstyle is something you should try out! The bounce at the bottom and the volume at the top create a stylish and youthful appearance. The best part is it can be worn to a red carpet event or a casual brunch with friends.
How To Style:
A simple hairstyle that can be recreated in a matter of minutes. Make a half-high ponytail with your hair. Remove any hair from beneath the half ponytail. Keep a few loose locks on either side of your face to complete the look.
Is This For You?
This casual and versatile hairstyle is ideal for any hair type and face shape.
20. Curly Bob
Why even go through all the effort to stretch and tame your curly locks when it can look so amazing with the minimum of effort. If your hair coils naturally, all you have to do is let it be and look awesome.
How To Style:
All you have to do to attain this style is work a shine boosting serum through your damp hair. Finger-comb in all directions and let it air-dry. But see to it that the products you use does not weigh down your hair. You can always top it off with hairspray to keep your hair intact all day long.
Is This For You?
This style works for just about anybody.
21. Coils
This is a great way to flaunt your Mohawk without having to relax your hair. You play up the natural texture of your hair and top it off with a cute headband to add a girly touch.
How To Style:
Work a conditioning serum through hair and brush it back. Stretch and blow-dry the top to hold it down and set it with hairspray. Tousle the rest to give it a slightly messy look.
Is This For You?
This style works best on those with oval faces. Although, if you can pull off a Mohawk, you can probably pull this style off as well.
22. Pulled Back
A simple hairstyle, super-easy to recreate and great to look at. If your hair is on the longer side, this is a great look to sport.
How To Style:
Apply a conditioning product to your damp hair and part it down the middle. Stretch your curls and pin them so that they lie flat. Let the rest of your hair be, maybe finger-comb them a little to separate the curls.
Is This For You?
This works for most kind of curls but those with really kinky hair might have to put in extra effort to stretch their hair out and use hairspray to make their hair lie flat.
23. Stretched Pixie
This is a rather unique way to style a pixie. The hair, although it has been stretched, still retains some of its texture.
How To Style:
To recreate this style, first and foremost, you need pomade. You can also use a strong hold hairspray, but pomade gives better results. You need your hair to be damp. Take some pomade between your palms and work it through your hair in an upward direction. Alternatively, you can stretch your hair by blow drying it, lifting it, and spraying a strong hold hairspray.
Is This For You?
This style works for those who have really kinky hair, for that slight zigzag texture to show through.
24. High-up Pony with Side-swept Bangs
Now, this is an example of a simple style that has been elevated to another level. The curly bangs, the cornrows, and the voluminous pony, all amp up the simplistic style.
How To Style:
Apply a conditioning product and section off hair. Starting at the temples, braid a few sections of cornrows. Finger-comb your bangs out and tie the rest of your up.
Is This For You?
This works for all types of curls, although the results might end up being a little different.
25. Side-swept Curly Pixie
Who says bangs can only be pulled off on straight hair? You can rock curly bangs, just make sure that they are wispy and asymmetric so that they don't end up looking heavy.
How To Style:
It is really important to separate and maintain the curls. For this, you need to work a conditioning product into damp hair. Let it air dry. Finger-comb and sweep bangs off to a side. You can set it with hairspray, if you want to.
Is This For You?
This style works on hair that forms tight curls naturally.
26. Faux Updo
The thing about curls is, there is always so much volume there. What better way to use the natural texture than to put it in an updo? And if you have short hair? Well, you can always fake it.
How To Style:
Use a conditioning serum on damp hair. Finger-comb it as it dries to maintain your curls. Put your curls up and set it with a strong hold hairspray.
Is This For You?
This works on hair that has S-shaped curls.
27. Buzz Cut
You want to make a statement, but dealing with your hair, styling it – it's not really your thing. Great! Then this look is perfect for you. Low maintenance – yet so edgy!
How To Style:
Finally, a style that requires no styling! Even though that is the case, make sure that you hair remains properly conditioned to add that shine.
Is This For You?
This hair cut makes your face the center of focus and really emphasizes your facial features. Got a feature to flaunt, then you should surely try this style.
Infographic: 7 Most Attractive African Hairstyles For Women
It is incredible how you can style natural hair in various ways and create myriad stunning looks. From a braided bouffant and to protective twists to faux updos, there are so many hairstyles you can experiment with to embrace your curly locks and natural hair texture. Check out the infographic below to find the 7 best and most appealing African hairstyles you can try out.

African hairstyles showcase and celebrate African heritage. Whether you opt for classic African styles like braids, twists, and afros that flaunt your naturally textured hair or relaxed hairstyles perfect for the red carpet, there are many ways to style your beautiful locks. After years of being oppressed, the nappy movement has made many African women embrace their stunning coily locks and bask in their natural glory. Celebrities like Rihanna, Janet Jackson, and Zendaya are here to give you some inspiration to style your hair. So, try them out for yourself!
Frequently Asked Questions
What is the name of African-style hair?
African hair is called afro hair or kinky hair.
Why do Africans braid their hair?
In many African cultures, certain types of braids are done as a cultural practice to appease the Gods. Moreover, African hair is extremely coily and tends to get dry and damaged without proper care. African braiding techniques are used to create protective hairstyles to protect it from the elements and allow healthy growth.
Do African braids damage your hair?
If not done carefully or not properly cared for, African braids can damage the hair and scalp. In extreme cases, it could lead to hair loss.